It's hard to believe we moved into this home over seven years ago. I update this page as we update our home! Every six months it's changing!
I feel like it's taken awhile for our house to really feel like us, and not just us but a true cohesive space. I spent a long time trying to make my style "work" in this house and finally took the plunge and started to really make some big changes and do larger remodel projects that reflect our style. So seven years in, here is how we are looking!
Pacific Northwest House Tour
Dark Exterior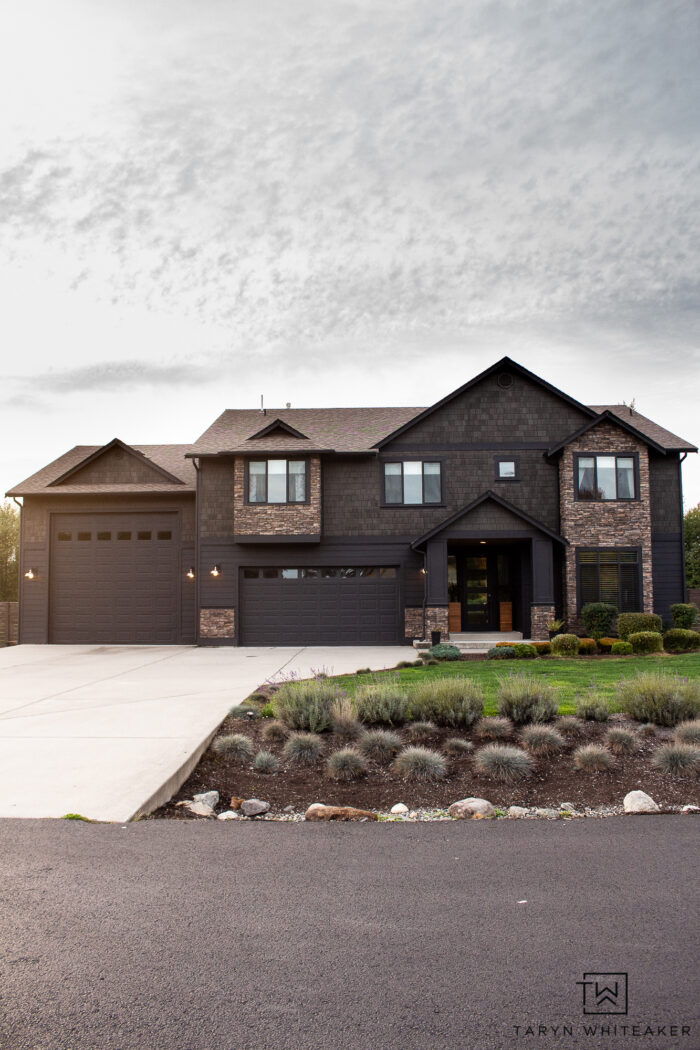 This spring we gave our exterior one big makeover! We took our very beige home and turned it into a dark and moody pacific northwest home. Choosing all black exterior was a big decision but I am so happy that we went with it! You can read more details on our black exterior here.
I feel like our exterior finally reflects the style inside our home.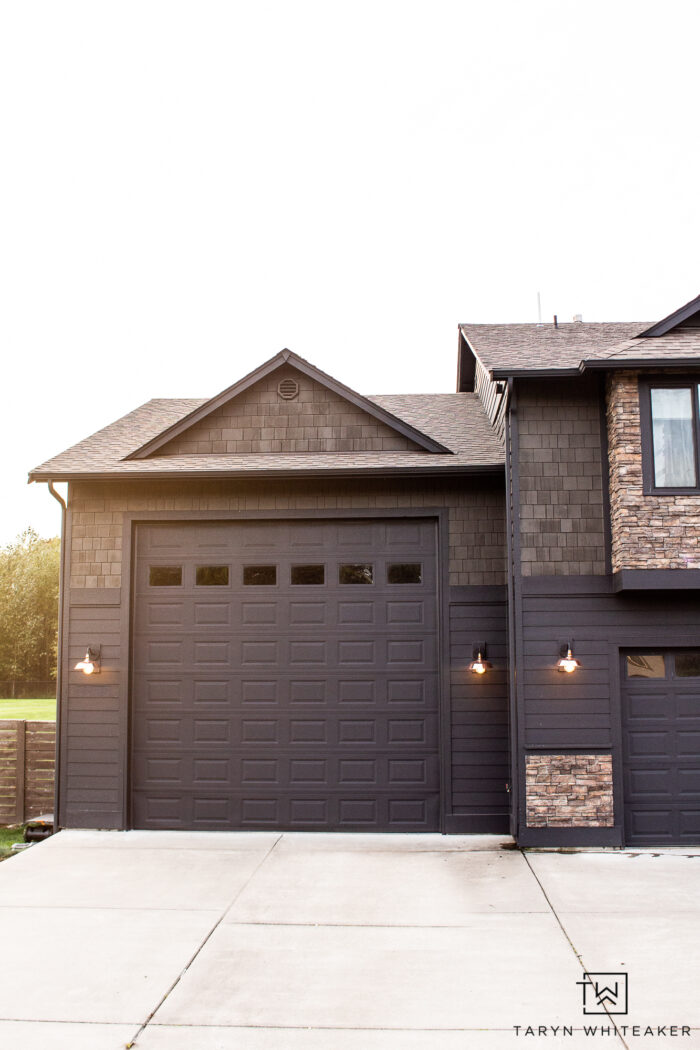 I get a lot of questions about this large garage door! It's designed for an RV storage. I think this is more common around where we live? It would also work great for a boat. We don't have either so we turned this large, extra garage into a home Crossfit gym and my workshop.
Shop Our Porch
Chic Entry Way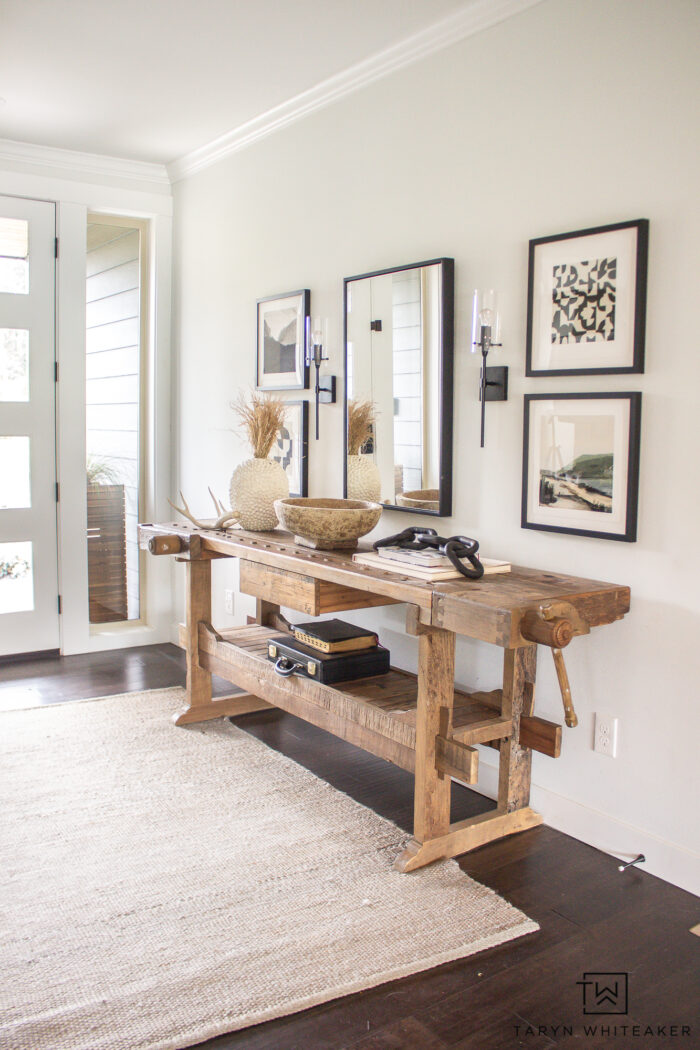 As you enter you have our entry way, I have my favorite carpenter's console table and oversized mirrors, I added sconces to this space this year along with new artwork and a mirror. You can see the full post here!
Shop This Room
Rustic Office Design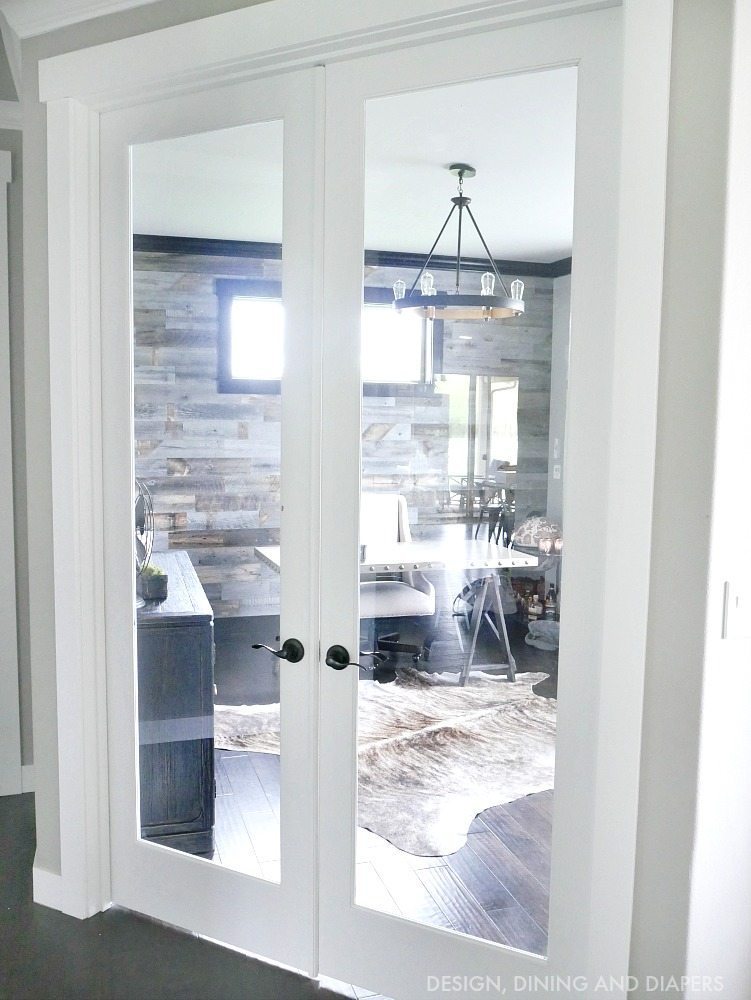 Right off our entry way is my husband's office. This was a project that took me over a year to complete but I'm so glad I kept working on it until my vision was met. It is a mixture of both masculine and rustic and a classic look. It's been a few years and I still love every inch of it! This is probably one of the rooms I am most proud of because I really pushed myself and executed a design that I absolutely love. I love sitting in here at night in this cozy den space working away and looking around at all the touches. I have no intention of changing anything in here! But maybe I should update the pictures :)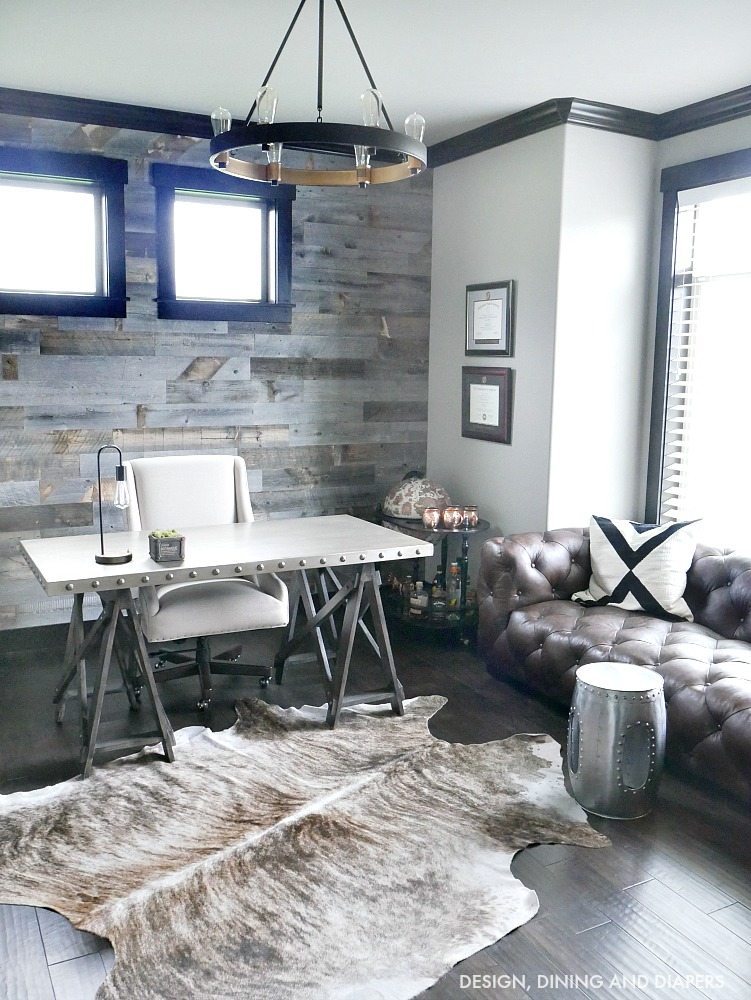 SHOP THIS ROOM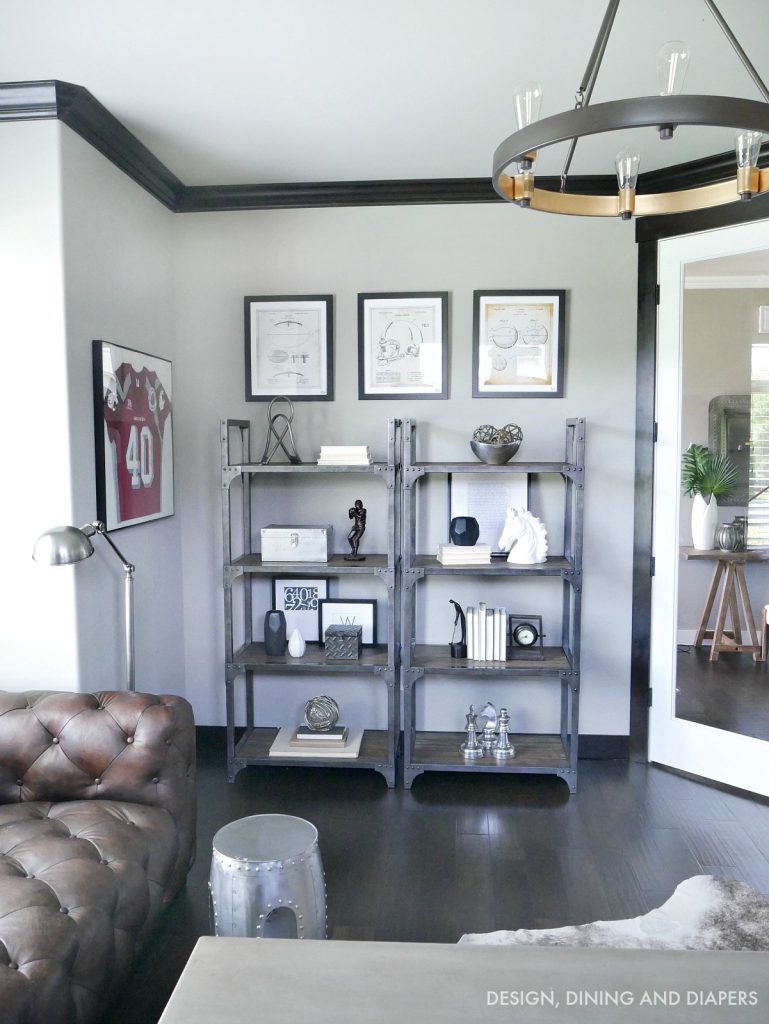 Through the glass French doors you can see right out into the entry and all the kids running and screaming by all day :)
Downstairs Bathroom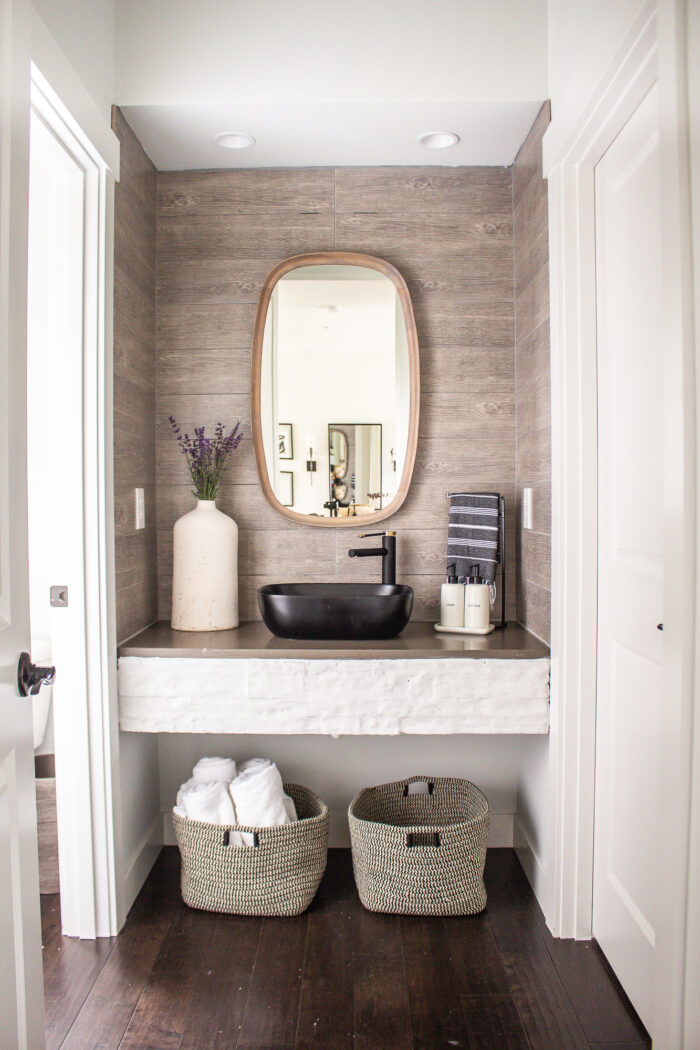 I just completed a big refresh on our downstairs bathroom for the first time since we moved in! It's been on my list for 7 years and it feels so good to be polishing everything off down here! You can see the full before and after photos in the bathroom reveal blog post. This bathroom makeover was all about working with what I have and I am pretty darn happy with how it all turned out!
The vanity area is separate from the shower and toilet. So let's take a closer look at this space!
For the past 7 years, this room has literally been empty with no decor. It finally feels like a completed space now and one that is welcoming to guest. Heck, someone could actually take a shower in here now that we have a shower door!

Black and White Kitchen Makeover
A few years ago, I took the plunge and (sorta) spontaneously decided to give our kitchen a big facelift and finally make this space our own! It was something I had thought about for many years, but decided to just jump in and make it our own. Boy does it feel good! I liked our kitchen before, but it never felt like me. At all.
What I love most about this kitchen makeover is that we really did change THAT much and it made all the difference in the world. I changed out the backsplash, painted the kitchen island and trim work white, added sconces, and open shelving, and lastly took out the microwave and put in a range hood.
The new tile added SO much to this kitchen. I decided to extend it up to the top of the shelves and really create a statement piece with it.
Shop Our Kitchen

Outdoor Living Space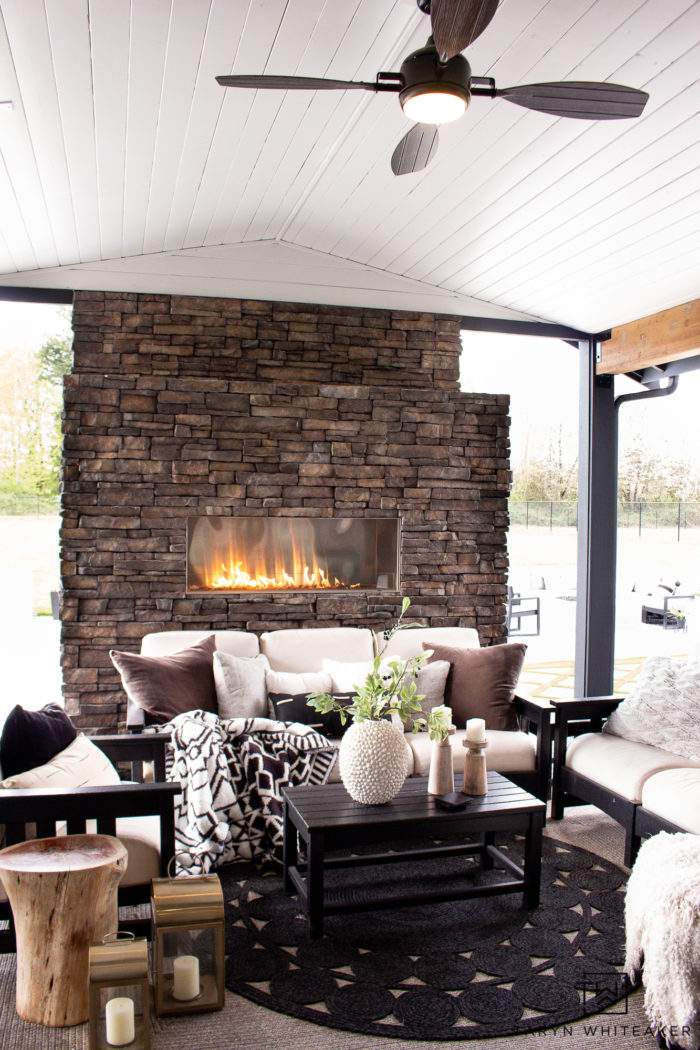 Moving out to our outdoor space. It's one of my favorite spaces. It's where we hang out in the summer evenings and cuddle up in the winter. This spring I added some fresh accessories out here to give it some texture and warmth. The freshly painted ceiling really brightens up this covered patio. I love the look of natural wood, but I do feel like it was making it too dark in here.
The other update I made out here was refinishing our deck. It needed it, but honestly I am not 100% happy with the new product. I love the black, but it is SO hard to keep clean and it always looks dusty and muddy. I don't know if I would use this product again.
SHOP THIS ROOM
New Backyard Design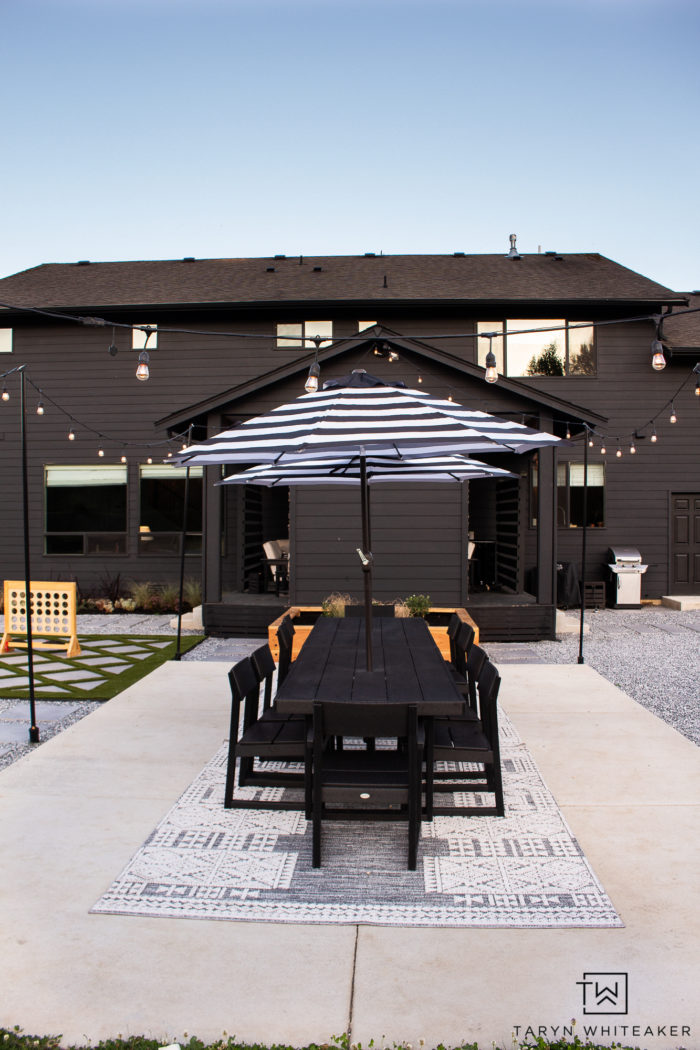 Our backyard was our main project we have been working on now for about a year! It's crazy to think about where we started from just over a year ago. We literally had no backyard design, just grass. And to think we now have entire space to hang out as a family and entertain. We now spend SO much time out here. It has truly been a labor of love, but worth every second.
Over the course of this year, we laid all the pavers and gravel, installed these DIY hanging string lights, built the large planter box, and have been adding furniture and decor.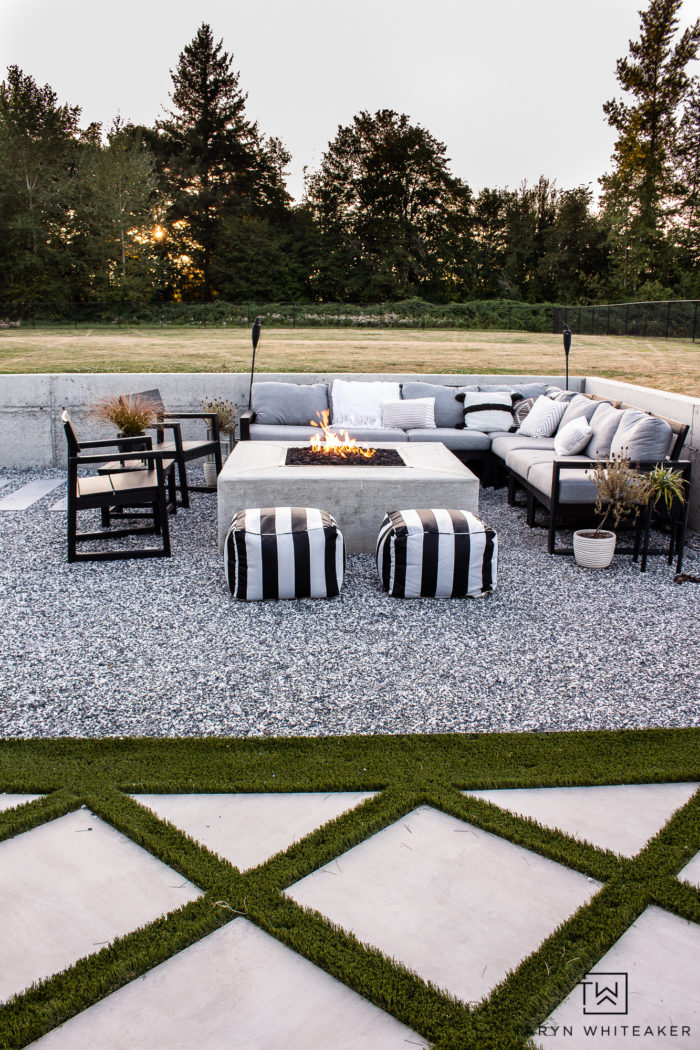 This is probably my favorite section of our backyard! I am obsessed with the PaverTurf grass we put in. It adds color and texture to the backyard and the pattern is exactly what it needed back here. The whole project was incredibly rewarding. You can see the full PaverTurf tutorial here.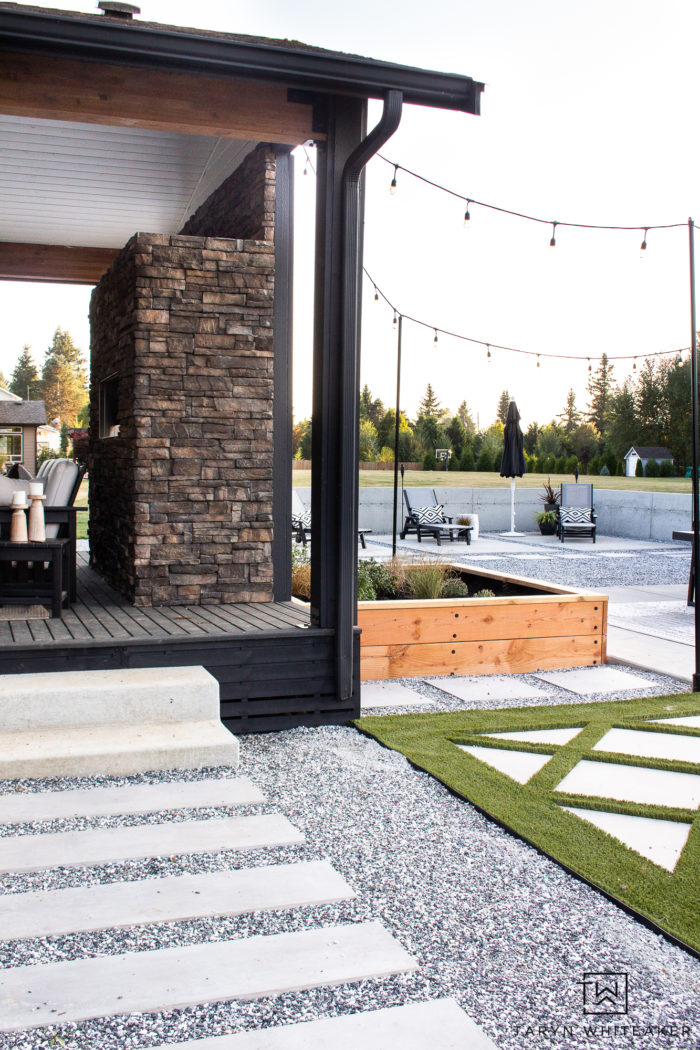 Current Living Room
Our very IN PROGRESS family room that I hope to finish in the next few months! Over a year ago I decided it was time to completely redo our family room. So I rearranged furniture, sold some pieces, moved a couch upstairs and our console table to the entry way… with every intention of ripping out the carpet, putting hardwoods in and starting over in here. Well it still hasn't happened yet! SO here is our very in progress family room, waiting to be worked on! You can see what it used to look like all styled here.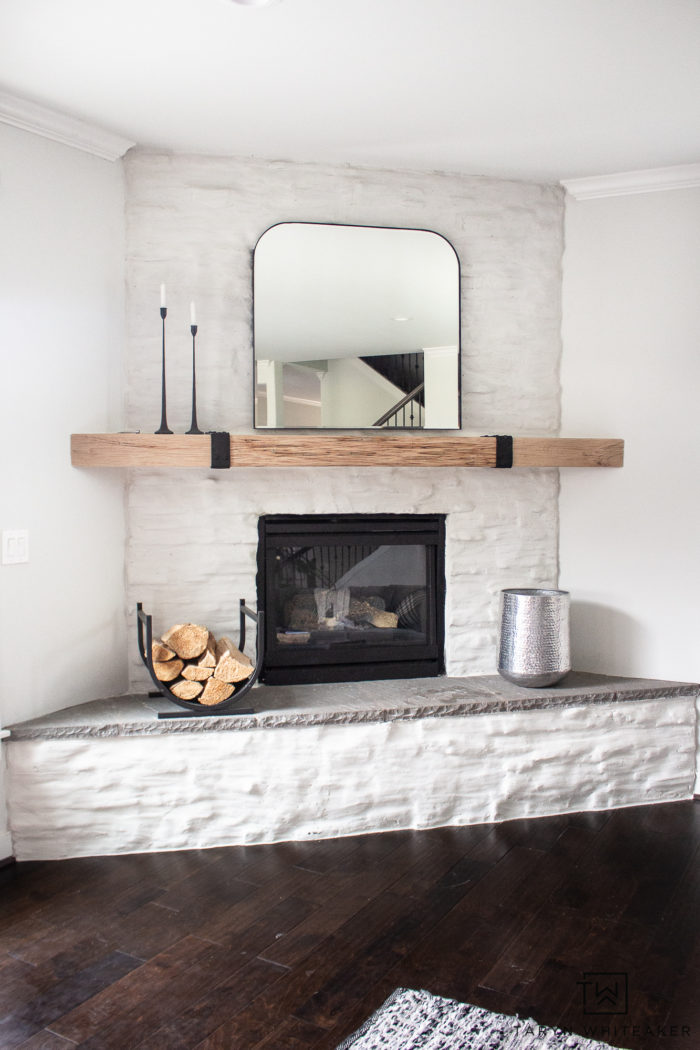 The one thing we DID finish in here was our fireplace makeover. I took our very dark stone fireplace and did a German schmear coverage on it for a brighter but also more rustic European look.
Now, let's head upstairs!
Staircase Makeover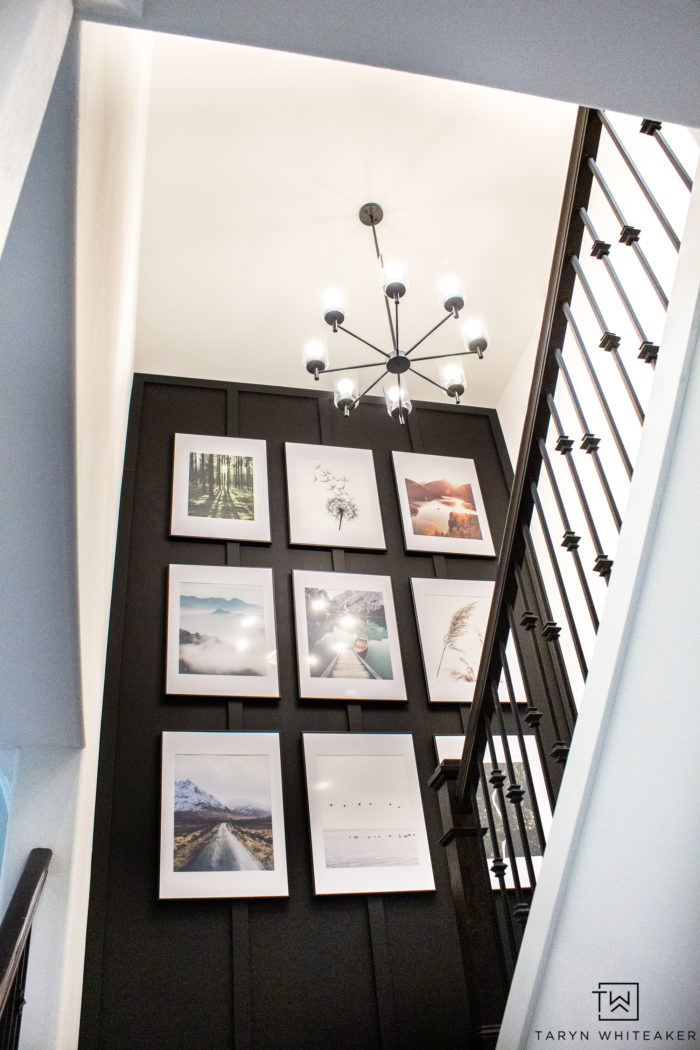 Another big project we recently completed was our staircase gallery wall. For years I've wondered what to do with this place in our home. One huge blank wall. Do we add a window? Do stone all the way up? Add a huge shelf? And then I had this idea of doing the trim work and oversized gallery wall. I LOVE how it turned out and changing out the light fixture also made a huge difference!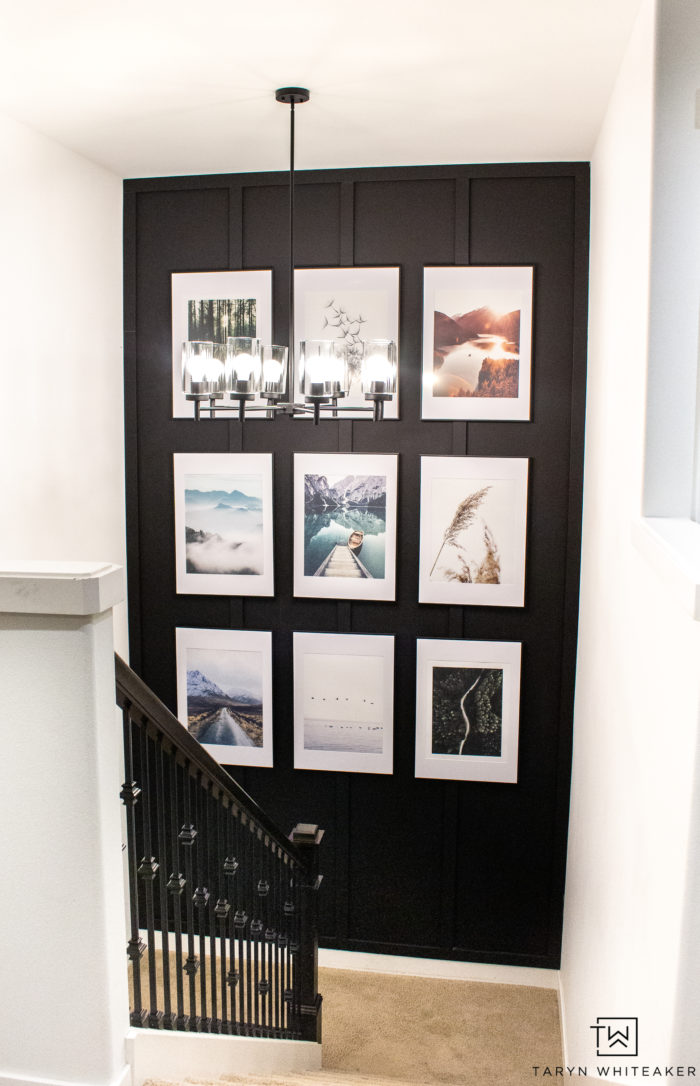 Now we just need new carpet! And I would love to change the railing to something more modern, but that's not on a priority list.
Hallway Gallery Wall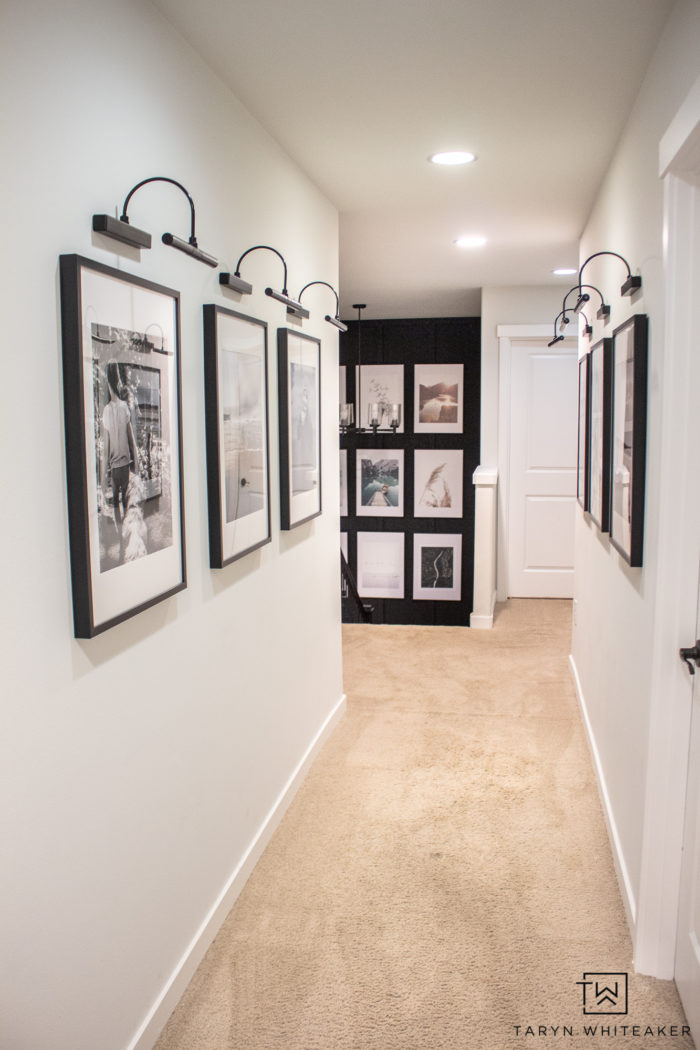 To add a little personalization to the upstairs hallway, I added large black and white prints of the kids and these amazing wireless art lights!
Shop This Post
Primary Bedroom
This year we finally revealed our master bedroom! It's been a long process over the past five years, slowly chipping away at this space. A few years ago we installed hardwoods in here, hung the barn door and revealed our new bedding and brick wall. And now it's done!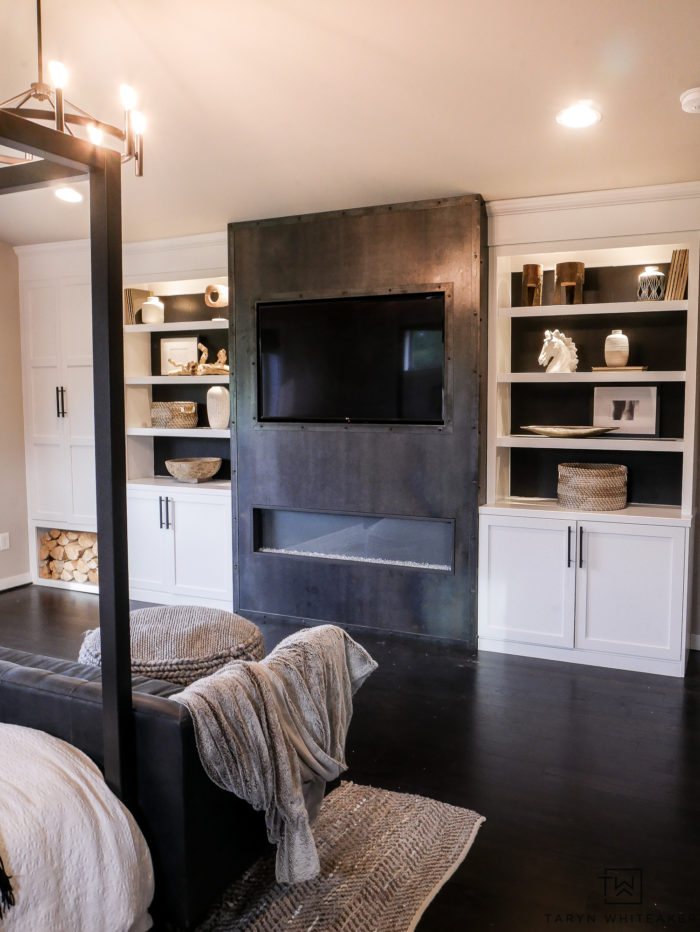 On the opposite side of the room we did custom built-ins with a metal fireplace. This really made our entire room! It made it feel even bigger and we love the extra storage and warmth it brings to the space. It's our own little oasis and we spend a lot of time in here in the evenings watching TV. Way more than we ever thought!
Shop This Room

Whimsical Little Girl's Room
Our daughter's room got a nice little makeover this year too! Her pink whimsical room was the very first room I revealed in this house and after five years she is now 9 and ready for more of a tween room! She requested a blue and white bedroom and it was so fun to design it together. She had lots of opinions!
We literally cleared EVERYTHING out of this room except for the sofa! We had that in our previous home and it happen to fit so perfectly in her window and it just works so well. We did all new furniture and accessories including a wallpaper accent wall.
She is growing up so quickly, it's crazy that she is already in a tween room.
SHOP THIS ROOM

Kids' Shared Bathroom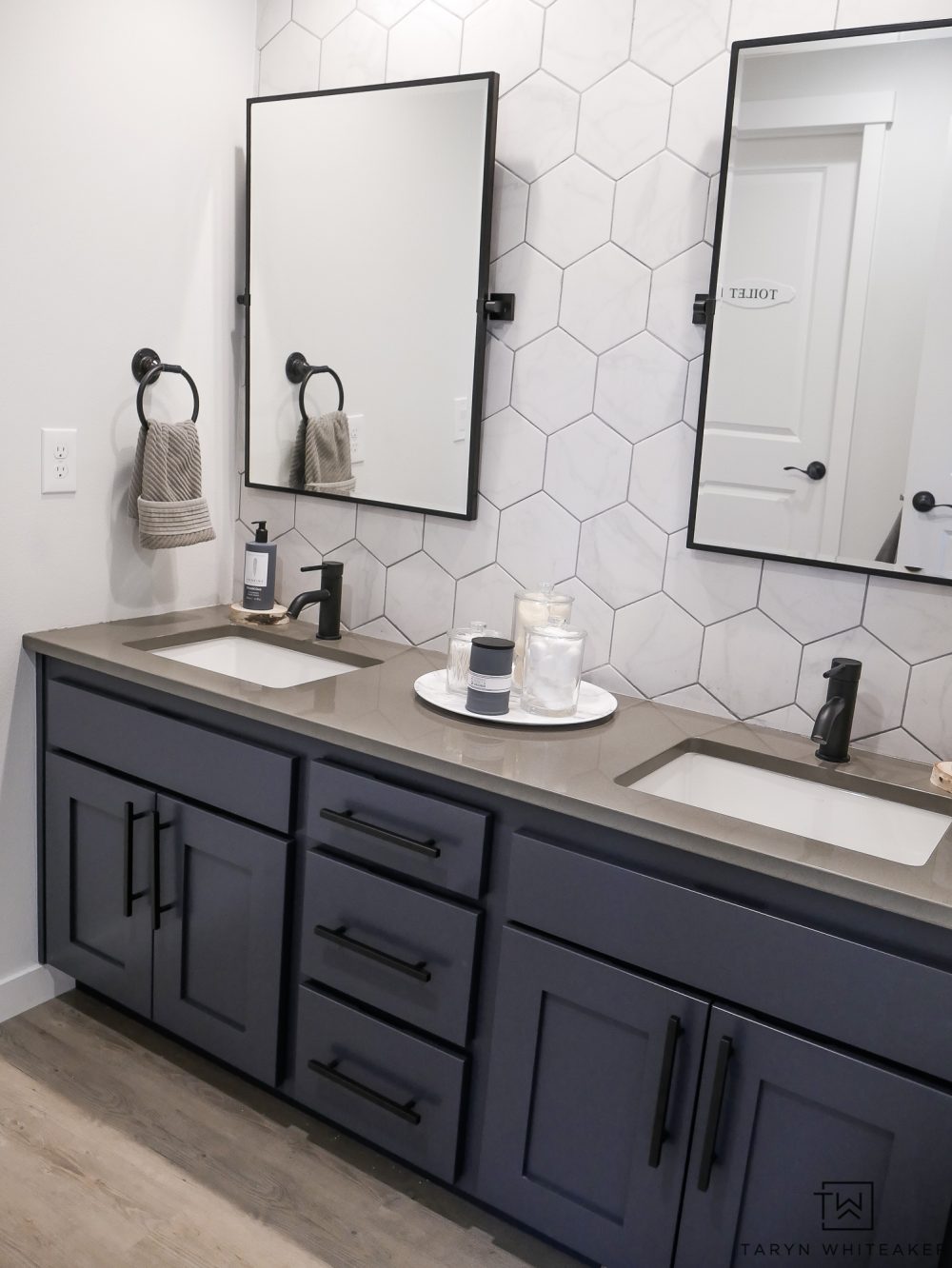 This bathroom renovation was another great makeover project! We turned our basic builder grade bathroom into a space that truly fits our style! The hexagon tile makes a big statement an I'm so happy with how it turned out. You can see the full reveal here.
SHOP THIS ROOM

Rustic Boys Room
My middle son's room has been evolving over the years! I've done many variations of his room but this one was done in partnership with HIM! He had asked to help design his new room and wanted to add green along with a skiing/mountain theme.
This large scale mountain mural is one of my favorite pieces in this room! It makes a statement!
Modern Adventure Boy Room
This was my latest huge room reveal! This Modern Adventure Room complete with a tree house bed is one of my favorite rooms ever. We turned my son's nursery into a big boy room and I absolutely love how it turned out. But this year we took it one step further with DIY Tree Silhouettes and custom DIY Ombre Wall.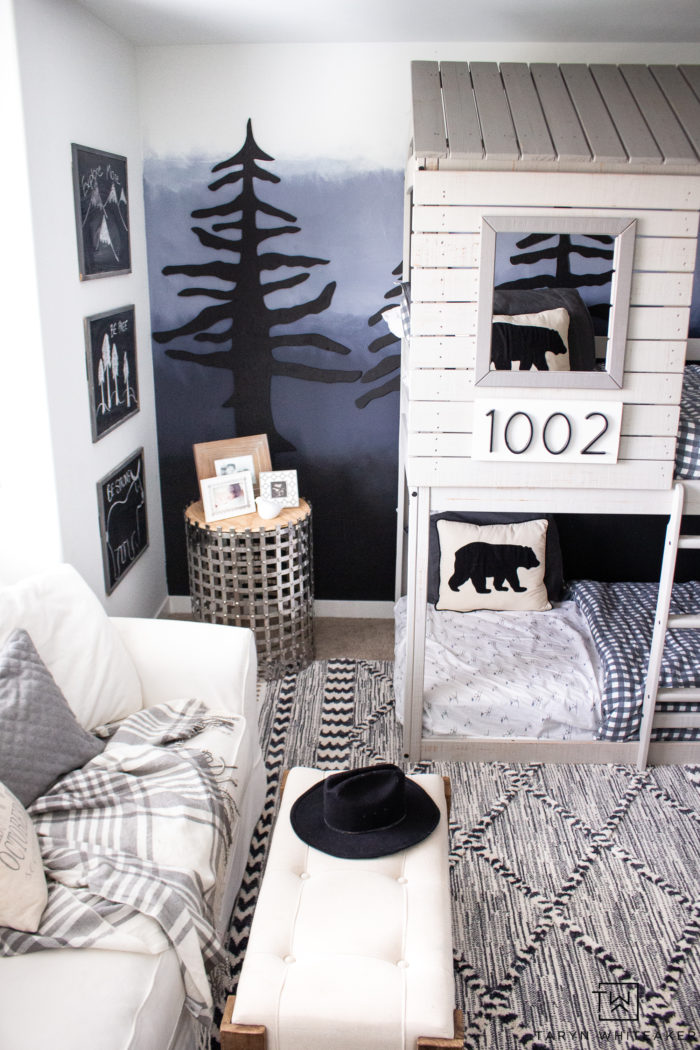 We kept a lot of the same elements from the nursery long ago, but also managed to transform it into a complete different space with new furniture and some pops of deep color!
SHOP THIS ROOM

Black and White Geometric Bathroom

We gave a basic builder grade bathroom a completely new look with the help of the grid wall paper and more industrial touches. There is still so much more I'd like to do in here to update it even more, but this was a great start!
I currently have this bathroom completely gutted! I can't wait to share the full reveal soon!
SHOP THIS ROOM


Moody Movie Room
Our movie room was one of many big projects in 2020! When we decided to homeschool our kids last year, it was the push I needed to finish off this space and make it a place for us to hang out, study and do school. It was a great year, but i'm glad to have this back to just the movie and hang out room now :)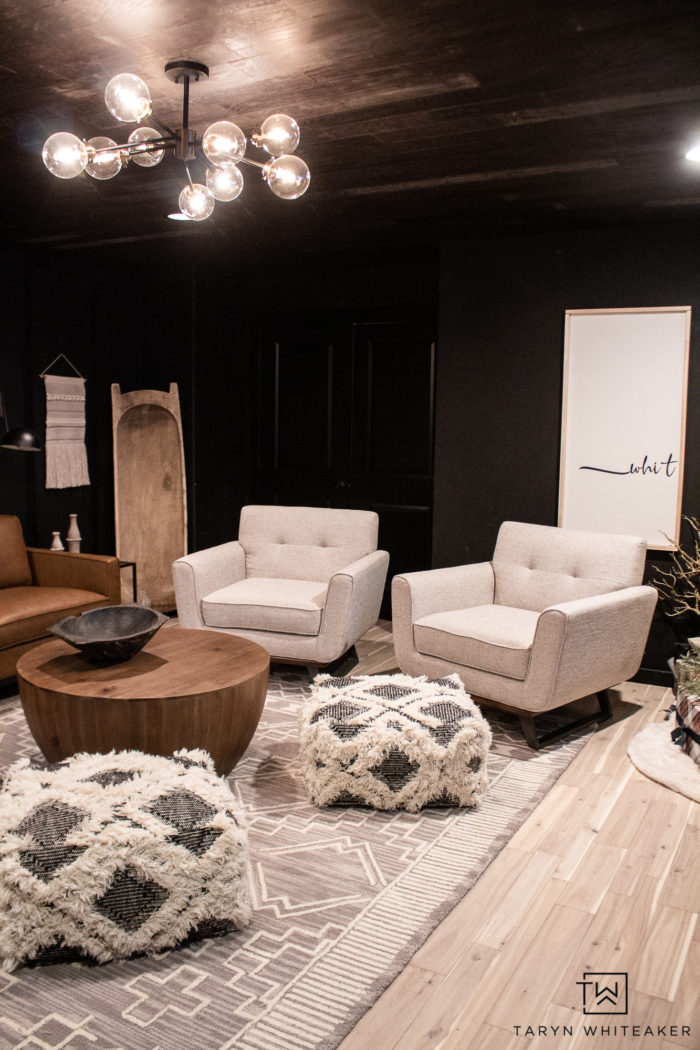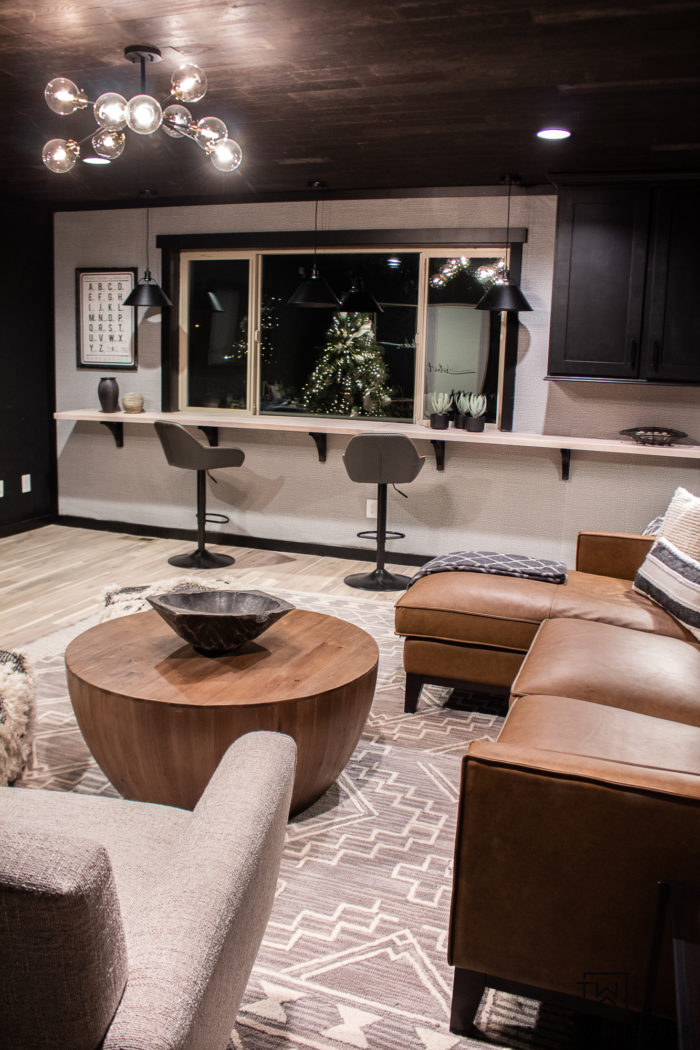 Shop This Room
One of the small projects I did in the movie/playroom this year was this little corner! I created these personalized signs for one of the blank walls and added a little corner for the kids to create in.
Industrial Laundry Room
Our small laundry room was one of my most recent makeovers! We had a very small basic laundry room and I wanted it to feel polished and something that went with the rest of the house. We added cabinets, a backsplash and new accessories and it completely changed this space!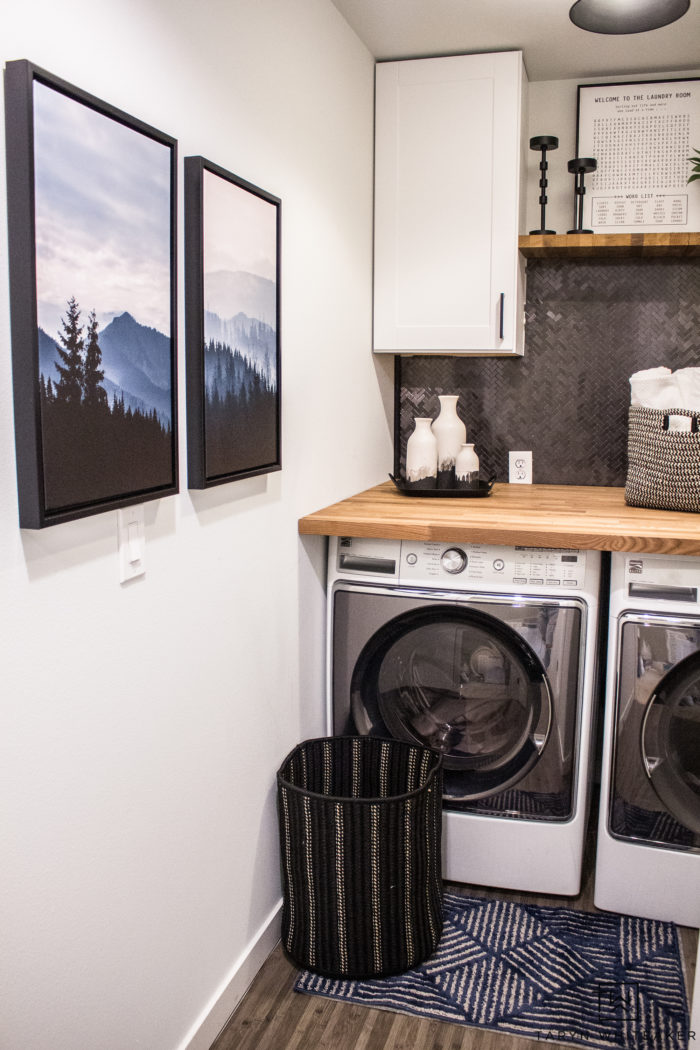 Shop This Room

Thanks for taking a tour with us! I'm looking forward to seeing what the year brings!