You guys! Our backyard is coming along and it feels SOOOO amazing. It's crazy to think about where we were last year on this project.. one big grass backyard with no patio or living space. It's been so much hard work and planning, but we have honestly done more than we expected up to this point, so I can't complain about that! I share a lot more backyard progress on Instagram and stories, so if you aren't following along there yet, DO THAT NOW! The last project we completed back there were DIY Backyard String Lights and today I'm sharing the whole process!
Easy DIY Backyard String Lights
Installing string lights in your backyard seems to be a popular project! And I can completely see why, because those twinkle lights sure make your space feel magical! I have actually hung string lights before, and that method still works if you want to do concrete posts, but they didn't last as well as I had hoped. After a lot of research and learning from my mistakes, I completely changed my method for installing outdoor string lights. I got it right this time and I'm showing you everything I used!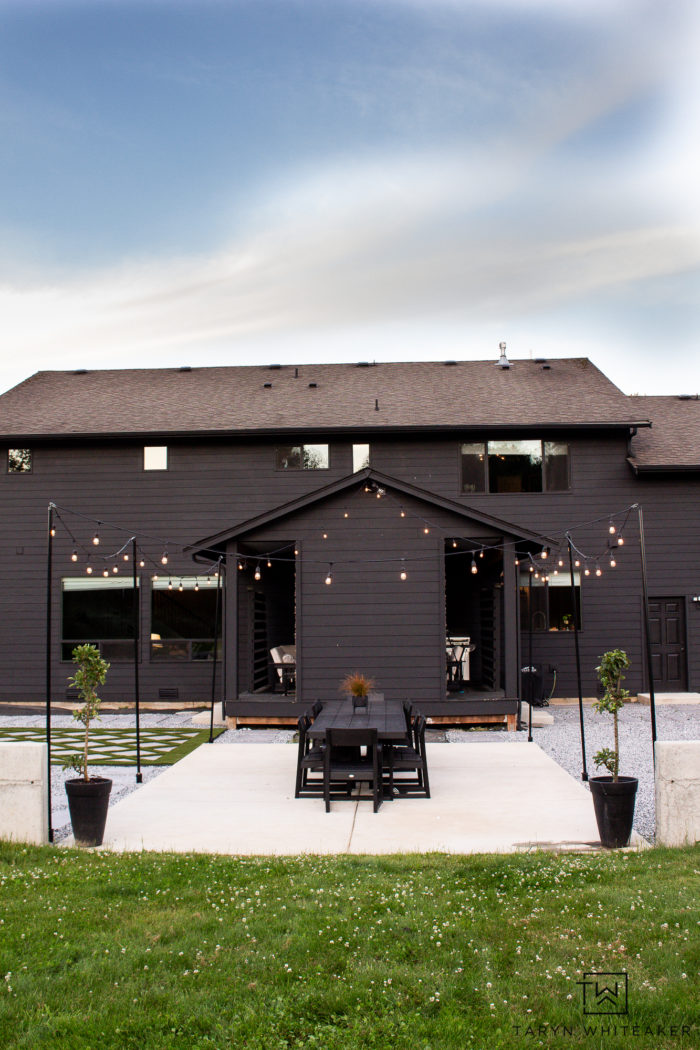 Brian and I both agree that the new string lights definitely add dimension to the backyard design and make it feel taller. Not only does it add a cozy and intimate feel to the dining area, but it also provides much needed lighting at night for the rest of the yard. They aren't just for show! We actually needed the additional light, we don't have a ton of exterior lights in our backyard and it would get pitch black in the night hours. This at least provides a nice glow throughout.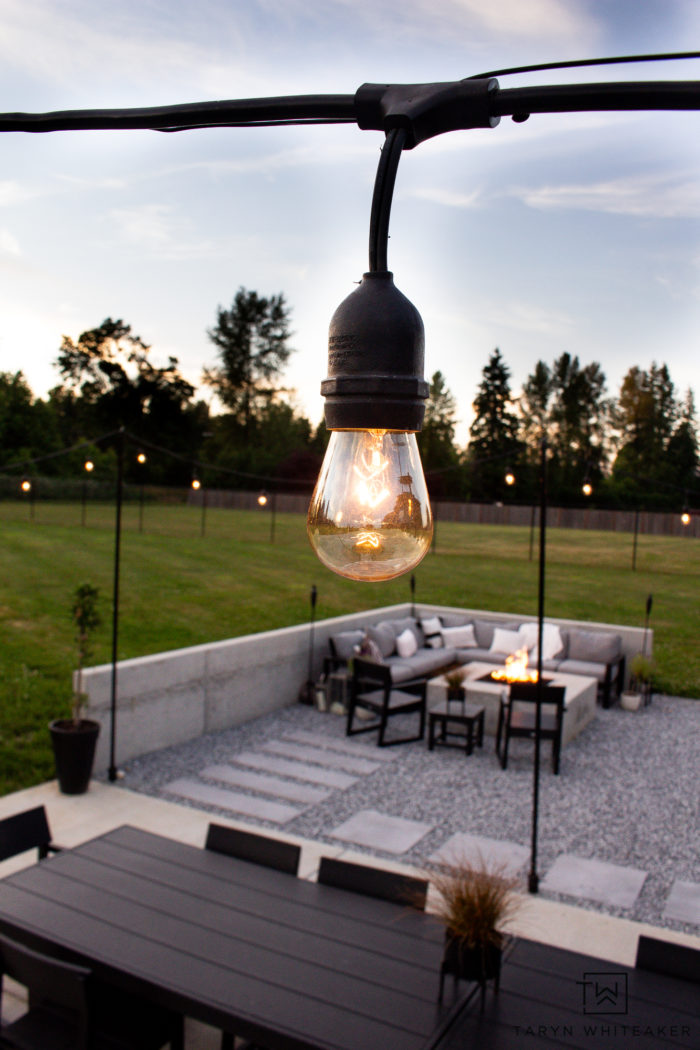 But seriously, outdoor twinkle lights do make it feel magical. I keep saying I feel like we are on vacation when we are sitting back here!
How To Hang Outdoor String Lights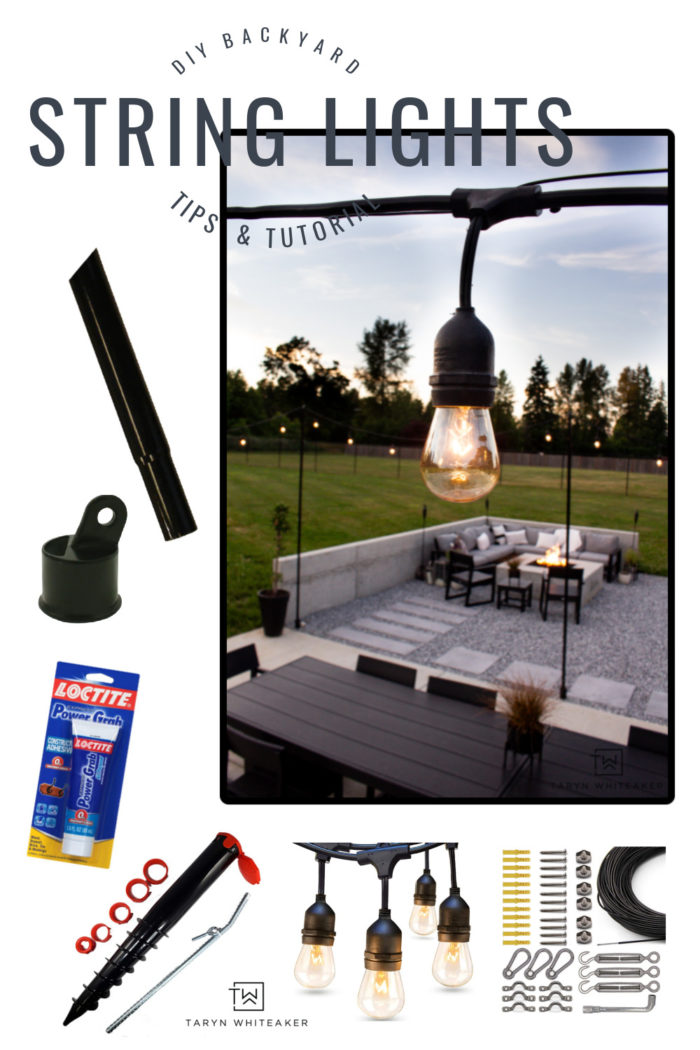 Supplies
*The light kit includes carabiners, but they weren't wide enough for the string light cord so I got bigger ones. Also, I didn't use everything the kit, just the wire and the wire clamps. You can see what I used below in the tutorial. But if you have wood fence posts to connect to or your house siding, you would probably use more of it.
Total cost for this project using 6 poles :
No-Dig Ground Anchors
Ok guys! I searched high and low for the perfect way to anchor in the poles for the string lights. I used a concrete base in the previous way we did hung them, but I didn't want to use concrete this time around for a few reasons. One, I needed to get really close to the patio and we have pavers and other surfaces to work around. I also didn't want to be stuck with extra concrete in the ground back here in case we ever changed things up.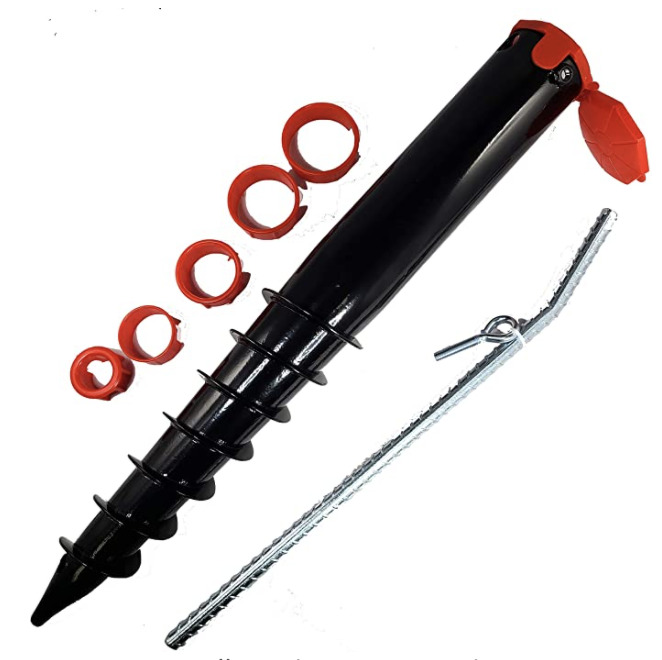 So after searching for hours on the internet, I came up with a few solutions 1) Anchor light posts directly on top of the concrete slab. But then those would be very permanent and if we ever took them down we would have holes in the patio. Didn't love that.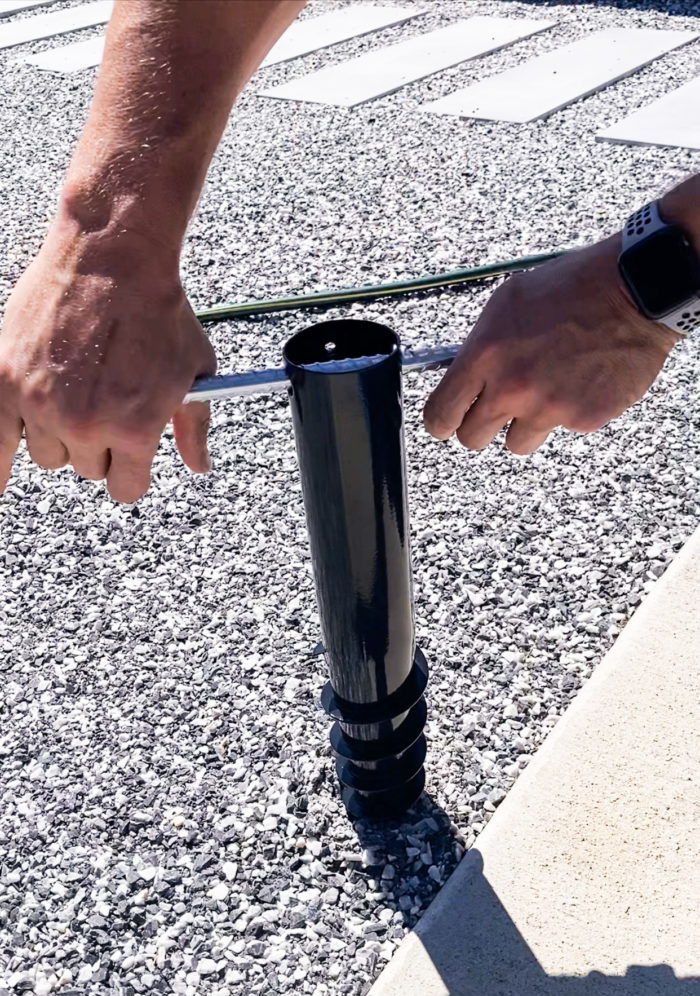 2) I found these No-Dig Ground Anchors on Amazon, they are made specifically for installing flag poles, umbrellas or light poles. And they are AMAZING. They go down about 24″, I was afraid that they wouldn't be deep enough to support the 10.5′ poles, but they are SUPER STURDY!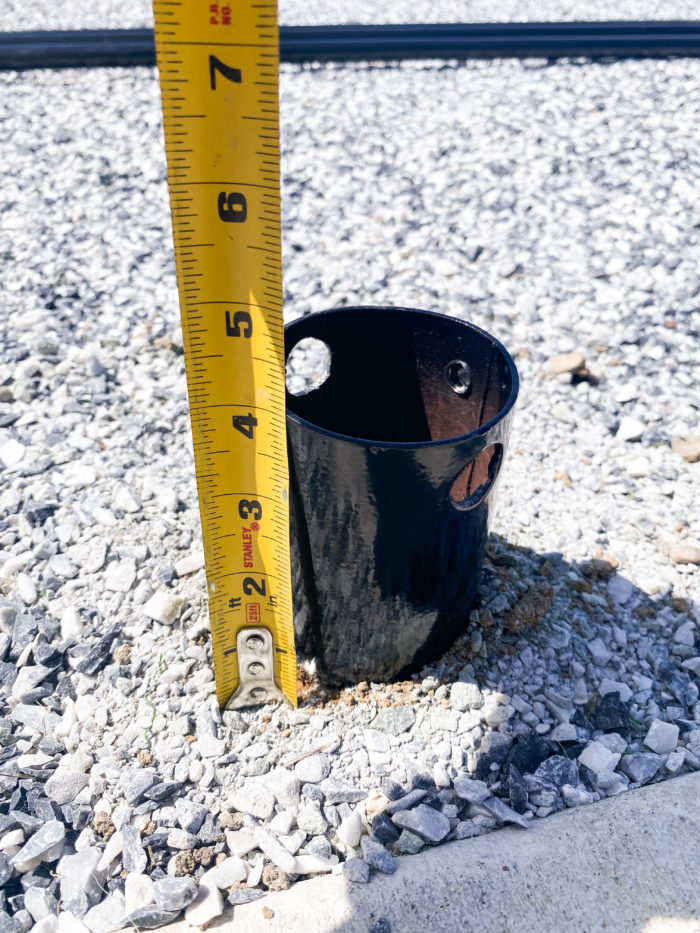 The kit comes with everything you need to twist them into the ground. I did one, but honestly they are tough. I had to bring my husband in to help me get drive these into the ground. Every soil, and ground will be composed a little different, but we actually couldn't get them down all the way. Ours stick up about 4″ and that's ok. I just made sure they were all the exact same height above the ground, so the poles remain level.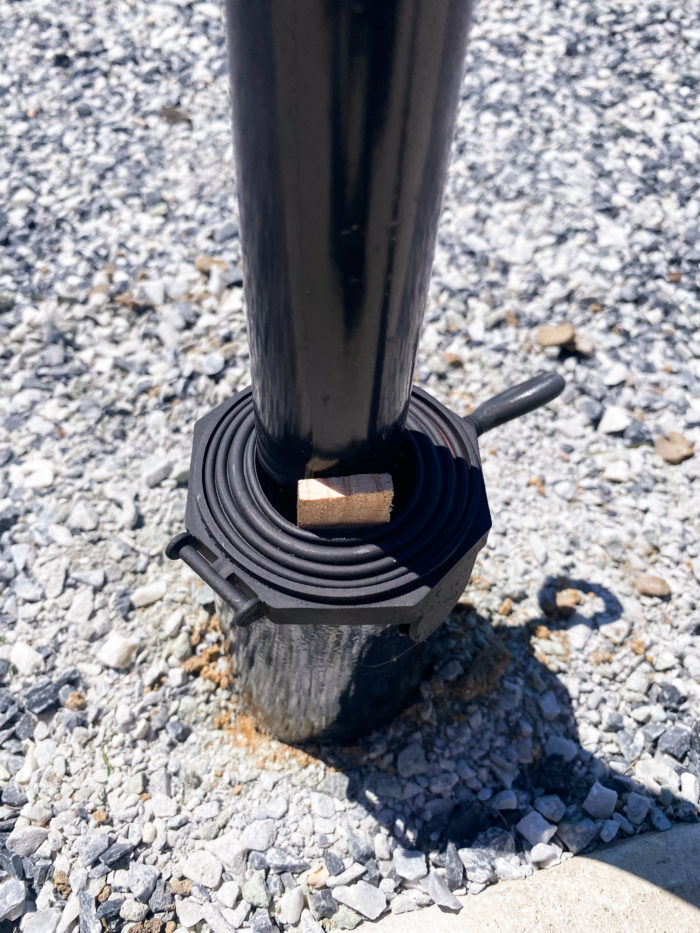 There are sizing caps that come with the anchors, you put the cap on that fits the width of your pole. When we discovered that they would be above ground a little bit, I spray painted the caps black so they look better with the overall backyard design.
TIP: The caps that fit our poles the best had a small gap around the pole which caused it to lean about 1/4″. This actually makes a big difference. So I cut small wood shims and placed them in the gaps. Make sure you push the poles up straight and then place the wood shim in the gap that supports them in the right direction.
They say not to place the anchors more than 20 ft a part, we did ours 13 ft and that seems to be working awesome. I definitely wouldn't go too much more than that.
DIY String Light Poles
Once the posts are in, you are ready to finish up the project. No waiting time! I decided to use 10.5-ft L 17-Gauge Vinyl Coated Steel Chain Link Fence Top Rail poles for my posts. They were the height I needed and were thick enough to withstand a little pressure. I also liked how these 1-3/8 Black Rail End fit perfectly on top and created a hook system for the lights, which means I didn't have to drill through the metal to add a hook.
To ensure everything was secure, I added Loctite Construction Adhesive to the inside of the cap before I placed them on top. The glue dries quickly and is made for metal.
Stringing The Lights
Hanging the string lights was actually the most time consuming part of the project and honestly you might be able to figure out a better system than we did. Do you HAVE to use wire? Honestly, we aren't sure. We added wire this time around to make sure these weren't going anywhere and were very secure, but at the end of the project I think the pole system is probably more important than the wire.
I think if you have poles that are very secure, don't have a lot of bend in them and can withstand the weight of the lights, you might not need the extra wire. But we put it in just to be safe.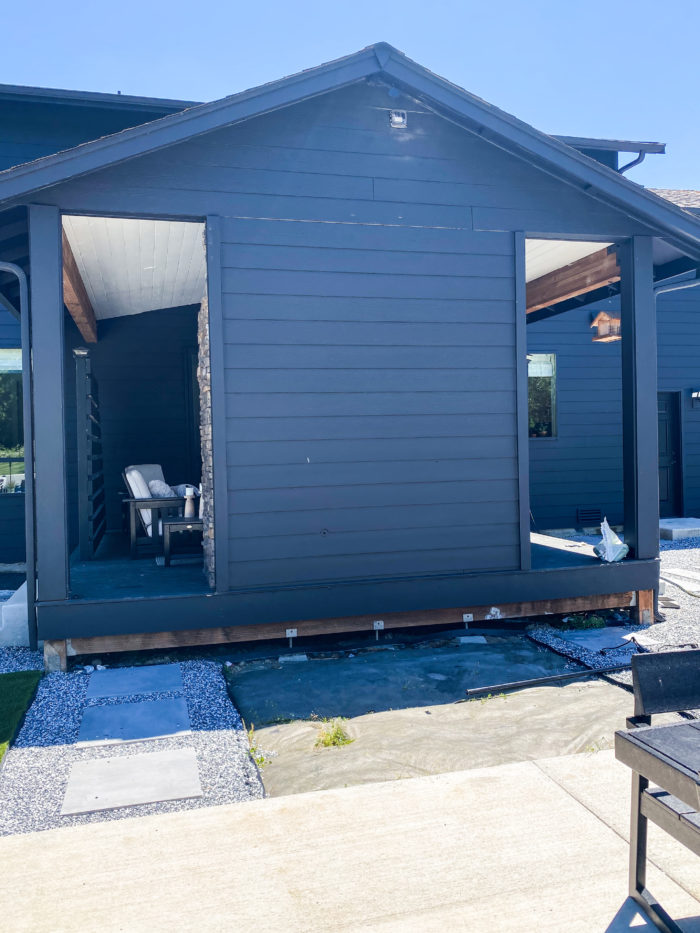 Where to start: we had an outdoor outlet installed at the roofline on the backside of our covered outdoor patio. This was the perfect place to plug in the lights and start the design focal point. We started at the peak and then went down to the first pole.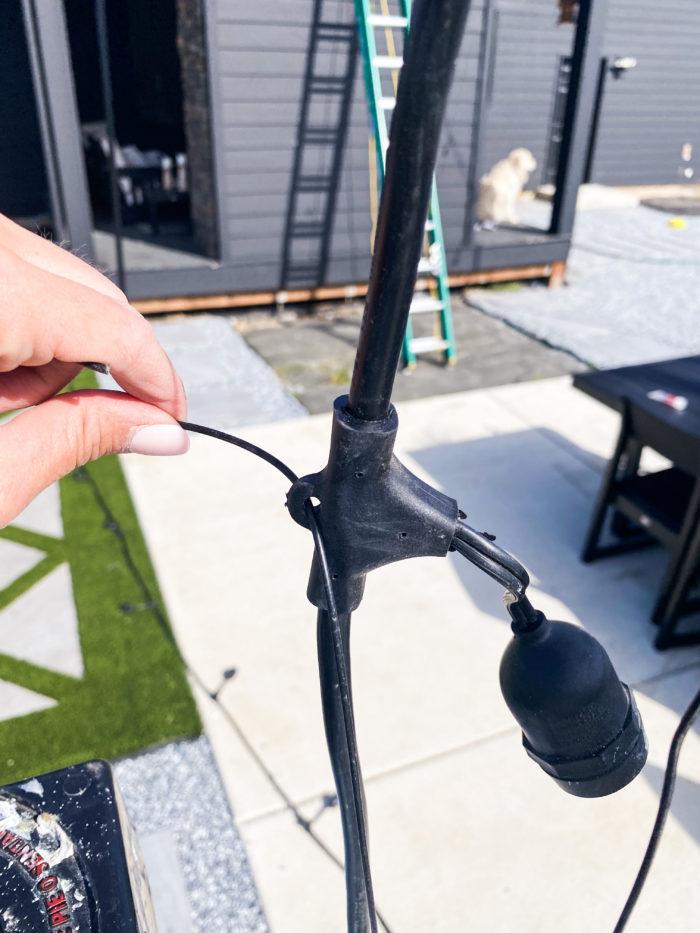 You need to string the wire through the loops in the lights as you go, this part is definitely easier with two people! I would pull the wire through while my husband fed it through the previous loop. The wire is very long when you start out and honestly gets tangled extremely easily. It was definitely a pain point of the project.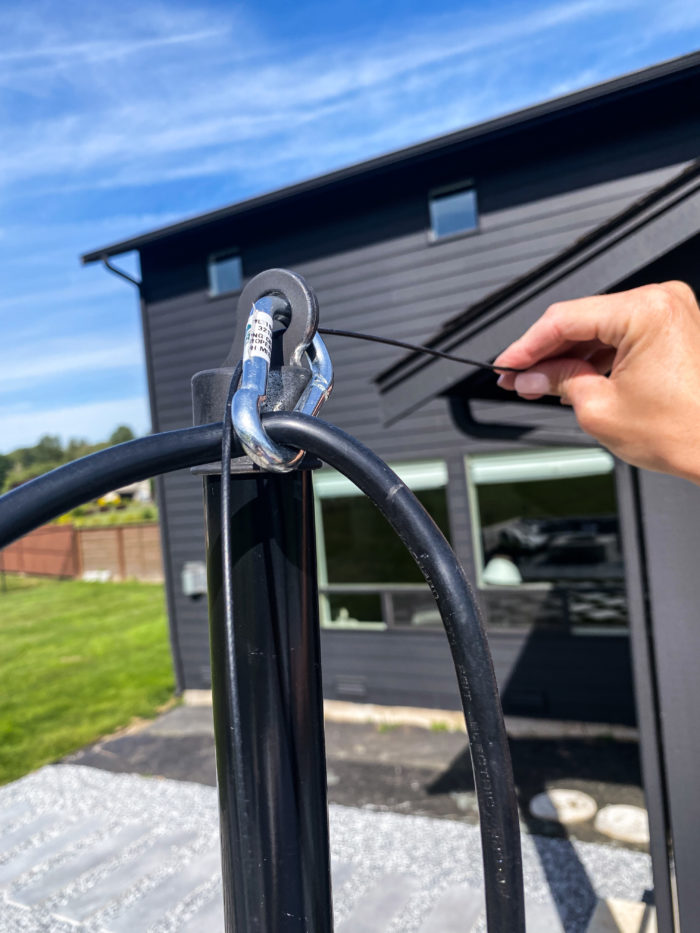 Using a ladder, secure the light strand to the first pole using the 2.5″ Carabiner. I just looped it through the wire and the hook on top of the pole. Push the wire down into the narrow part of the carabiner to keep it from slipping.
Then keep repeating the process between each pole until you are back where started!
We really lucked out and ended up only have 3 extra light sockets left when we reached the peak of the house again, so I just used a zip tie to secure tuck the excess strand under the roof.
DIY Backyard String Lights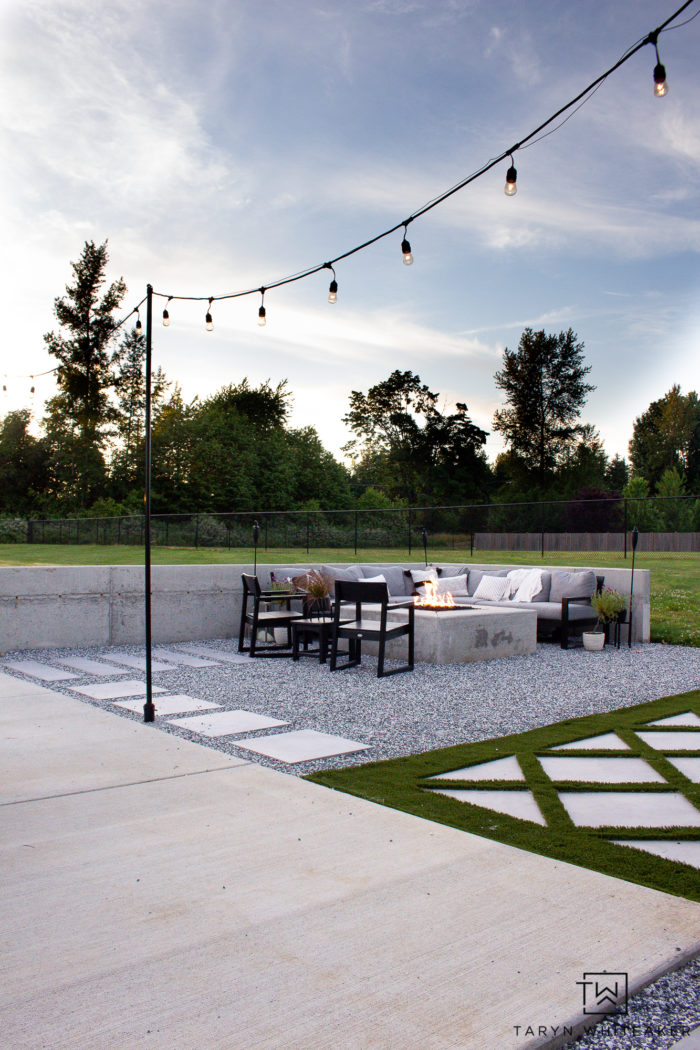 We are so happy with how this project turned out. So much easier and better than the previous system.
I had a few questions regarding removing the poles during winter. Totally doable! You can simply pull the poles out and put the solid caps on top of the anchors so they don't fill with water or dirt.
Watch The Process