Disclosure: This post is in partnership with Yardzen, all opinions are 100% my own.
There is one big, huge space that I have yet to really share on here. Our backyard! We have lived in this house for almost 6 years and I have spent that entire time working on the inside of our home and making it our own. I have honestly completely neglected our backyard and all it's potential! Earlier this year my husband asked if I could prioritize more outdoor projects this spring and summer and start to make it more of a functional and livable space. I'm so excited to finally get started on our backyard and to turn it into a dream space to entertain and hang out. Ready to see our backyard design plans?
Backyard Design Plans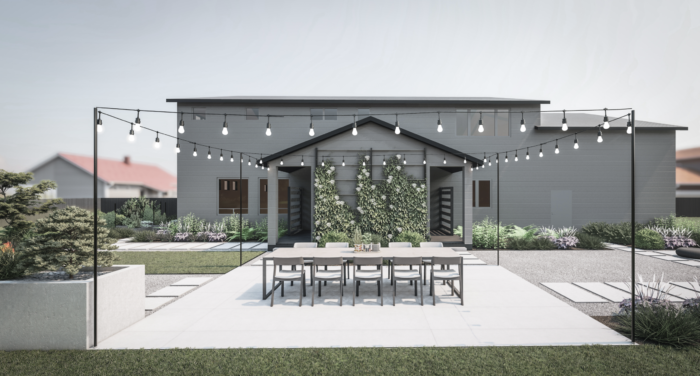 You guys, I'm in shock with the designs Yardzen did for us. They made our backyard look SO good. I literally feel like they got into my head and took every thing I have been thinking about and put it into the most cohesive and gorgeous backyard for us.
My Goals
I know you want to see more already right? Before I dive in too much farther, I want to breakdown my goals for this space and the things we were looking for when we had Yardzen design it.
A modern, cozy, and organic look and feel to our backyard
A patio for a large 12 person table
A firepit area with seating and a square concrete fireplace
A space for lounging and hanging out
Ideas for decorating the back of our house and the out door living space.
A garden on the side of the house
Incorporate hanging lights somehow :)
Yardzen Design Process
Working with Yardzen has been so amazing. They have a great process for capturing everything you want in your space and ask you to send them inspiration pics. They also have you take a style quiz so they can match the appropriate look and type of plants you want.
I can honestly say that we were blown away by the designs. I opened them up and I think my jaw literally dropped. They completely exceeded my expectations and it was so cool to see our boring backyard be brought to life. The incorporated everything we wanted. Now let's take a deeper dive into everything.
Phase 1
While we would LOVE to be able to do the entire backyard TODAY. That just isn't a reality for us. We will be breaking the backyard down into a few different phases, some we will hire a contractor for and some we will do ourselves to save money. Plus I like doing them anyway!
The first priority for us is to pour the patio and have a space for us to dine outside. Along with the hanging lights! This will FOR SURE be happening this summer!
This part will also include the landscape on the back of the outdoor living space and the wall plant.
We will also include the two gravel seating areas on each side. The firepit area willl have the gravel and then the concrete wood burning firepit.
I also love that they included an area of turf right in the center of the outdoor space. This will make it so easy since we won't have to mow it and it will be great for outdoor games next to the fire pit. This is so brilliant!
On the opposite side will be the second gravel seating area with pavers. A place for lounge chairs, a few small tables and poufs.
We will also include as much landscape as we can get done ourselves during this time!
Phase 2
Phase 2 will be continuing to add to the seating areas by installing the large concrete planter wall that will border our outdoor oasis. This will also include the additional landscape that goes inside the planters and a few more fruit trees to make it feel extra lush.
Phase 3
Phase 3 will include the garden area! I'm so excited for this to be done. I am not a gardener at all, in fact I'm pretty terrible. But I do want to learn and have something fun to do with the kids. I want to add hydrangeas, lots of peonies, fruits and vegetables and all the goodies!
I love the look of this area, I think it will be such a fun place to find peace and just enjoy learning something new with the kids. We will likely DIY this entire area and I'm so excited!
I can't wait to sit out here at night and enjoy this space!
Want Your Backyard Designed Too?
Head to Yardzen to learn about their packages and how their process works. You won't be disappointed! This helped us hone in on our vision SO much.