We have this unique space between my boys' rooms that can serve as a little homework station. It already had built in desks and the perfect view into the courtyard. I love how this little extra space can be so versatile whether its used for homework, art projects, lego building or even my own office one day. It just adds something special to the upstairs. A space like this can often be forgotten or not a priority when it comes to decor, but I wanted this whimsical black and cream study design to feel cozy and full of character. I just finished it up and I can't wait to take you on a little tour.
whimsical black and cream study design
The homework nook is right at the top of the stairs, you can actually see the ceiling and the mural from when you are standing down at the bottom of the stairs in the living room. I LOVE the view from walking up the stairs and catch a peek in here.
Before Space
Here is what the space looked like before. It was great as is, other than the dated countertops. It was simple yet functional. My goal, I didn't want to over decorate this space, instead give it some character and also keep it functional. The vintage mirage mural adds that character and doesn't require a lot of other decor in the space since it makes such an impact. Otherwise, the rest of the decor was simply functional.
Whimsical Modern Wall Mural
The mural is definitely the show stopper in the room, but also so is the chandelier! In the middle of the project, I discovered that there was a Jbox already in the center of the ceiling, so it would be easy to replace the oversized pendant lights that blocked the windows with a large statement chandelier instead. I found this globe chandelier and immediately knew it was perfect for in here. It added a hint of modern to a more traditional space.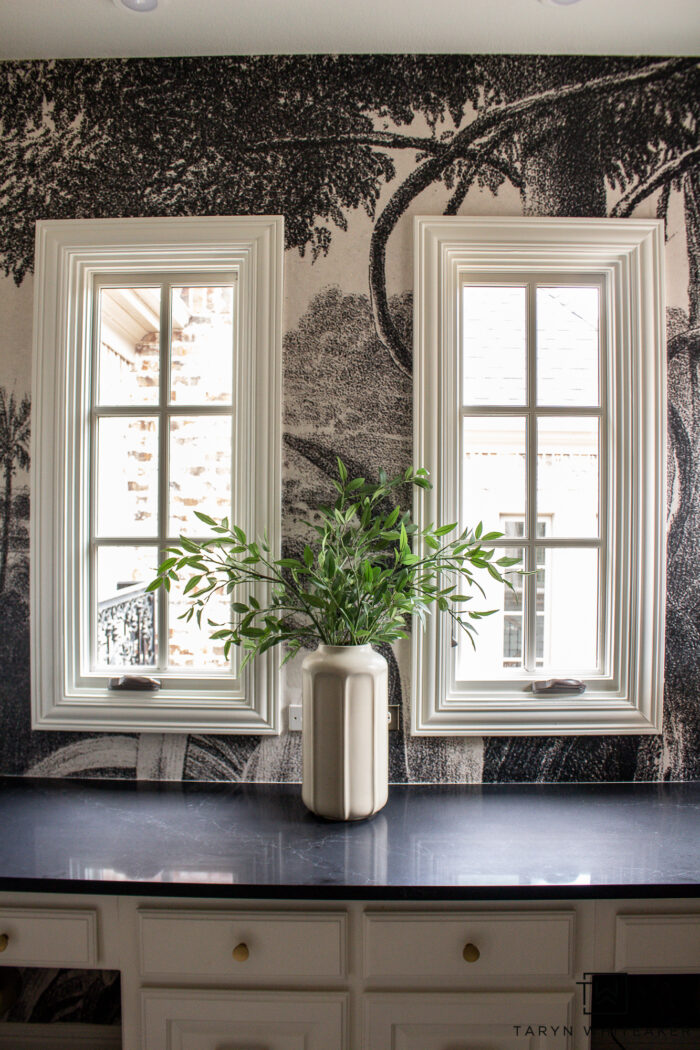 The beautiful paned windows are now fully open and you can see the detail of the space and they won't block the mural. You can now get a closer look at the new countertop as well. The countertop is actually the reason why this makeover start in the first place!
When I built the DIY Floating Buffet down in the dining room and added the countertop on it, I realized that I could actually get TWO countertops out of one slab, which then resulted in me redoing this room at the same time. I went with Noir Blanc from Vadara Quartz. It's a very soft black with white veining through it.
All About The Brass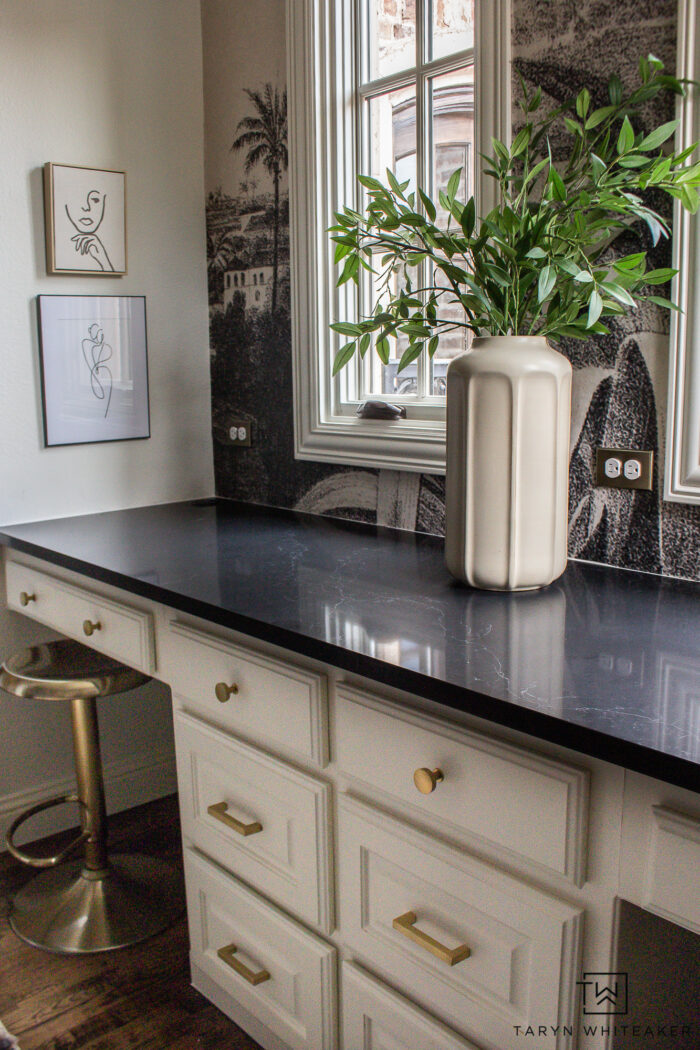 I played around with the idea of painting the built ins a dark green in here to do something a little different. But once I saw the sample of the mural, I decided it matched the current cream color so perfectly that I didn't want to touch them. Plus a lot less work! I did however add brushed brass hardware to them to add a more custom look.
For the stools, I went on a hunt to find adjustable brass stools that would fit under the desk space. It was a little hard than you might think. I ended up with these viral bar stools I now see tons of people using, BECAUSE THEY ARE ONLY $85! I've seen them listed on quite a few sites and they are always in and out of stock, but here is a link for them!
I do question whether I added too much brass in here. I love the new little mushroom desk lamp, but I feel like it might clash a bit with the stools. So there is a strong chance I'll swap that out one day down the road. I think I need a black one…
Adding The Right Decor Pieces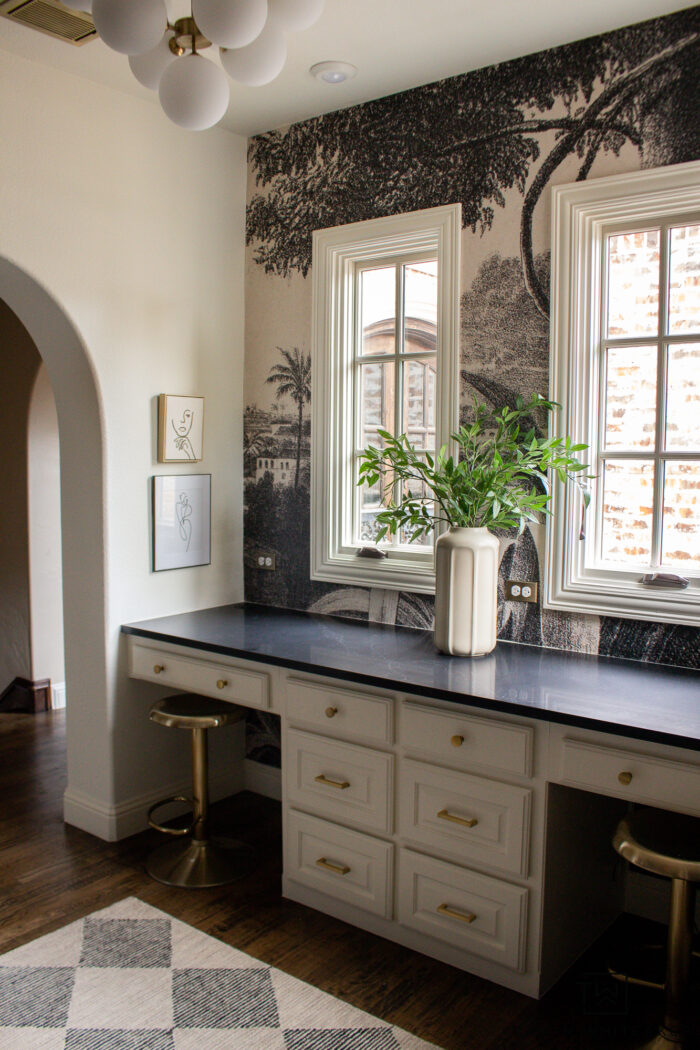 With the architecture of our home being more traditional, it's important to bring in a few more modern pieces to help balance out the design. I added a few modern artwork pieces and this gorgeous checkered rug. I've had my eye on it for awhile and finally found a place for it! I cannot believe how perfectly it matches the mural.
Off to the side I found this beautiful small cabinet to fit all of MY art and crafts in. Aka my Cricut and all the things I don't want my kids into :) I love this one and this one from Arhaus but it's a bit pricey, I think this one I found is a close match for a fraction of the cost.
I did some simply styling with an arched mirror and little white vase with real flowers from our yard for a pop of color.
I really love how this whole space turned out. It's different, it's a statement, it's cozy and I love how you have to walk through here to get to my son's room. It's a little hidden gem of the upstairs now.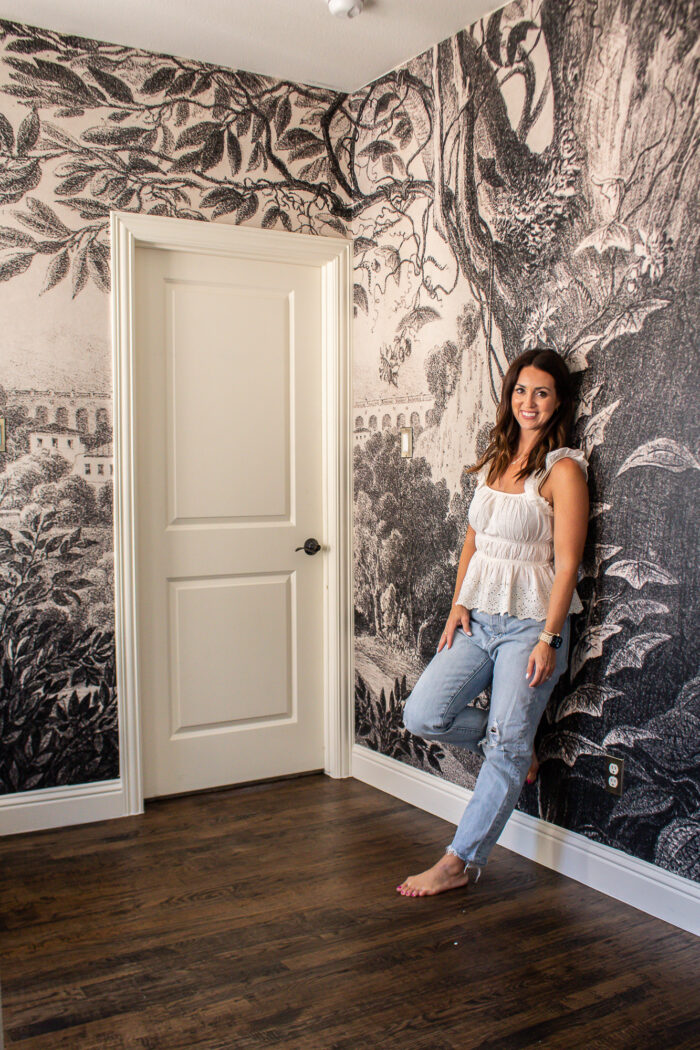 You can watch how I installed the wall mural here.
whimsical black and cream study product links