I'm kicking off a brand new room makeover project TODAY! We have lived without a dining room or any form of a table for 6 months and it's time to finally have a place to gather. We finally caved right before Christmas and brought our outdoor table inside so we had a place to eat, and now it's time for the real deal. I have been dreaming and planning of this space since we moved in and I am really excited to see it all come together. Since we won't have a formal dining room, this acts as our day-to-day space along with a place where we will entertain. I want it to be elegant but also cozy. I have done probably 5 different design plans for this space and I'm happy to finally share the final elegant warm toned dining room design plans.
Current Dining Room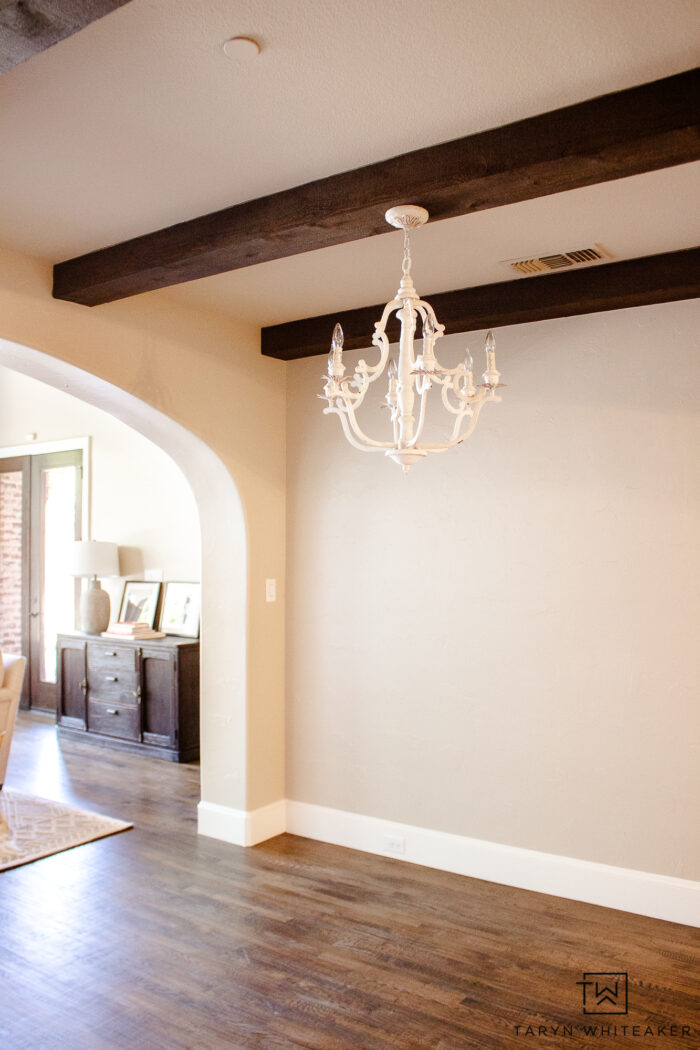 Here is our current dining room space. I LOVE the beams and I am so happy they are here. We will just be softening the paint color with a cream/tan lime paint, adding wall sconces and then switching out the fixtures and furnishing it.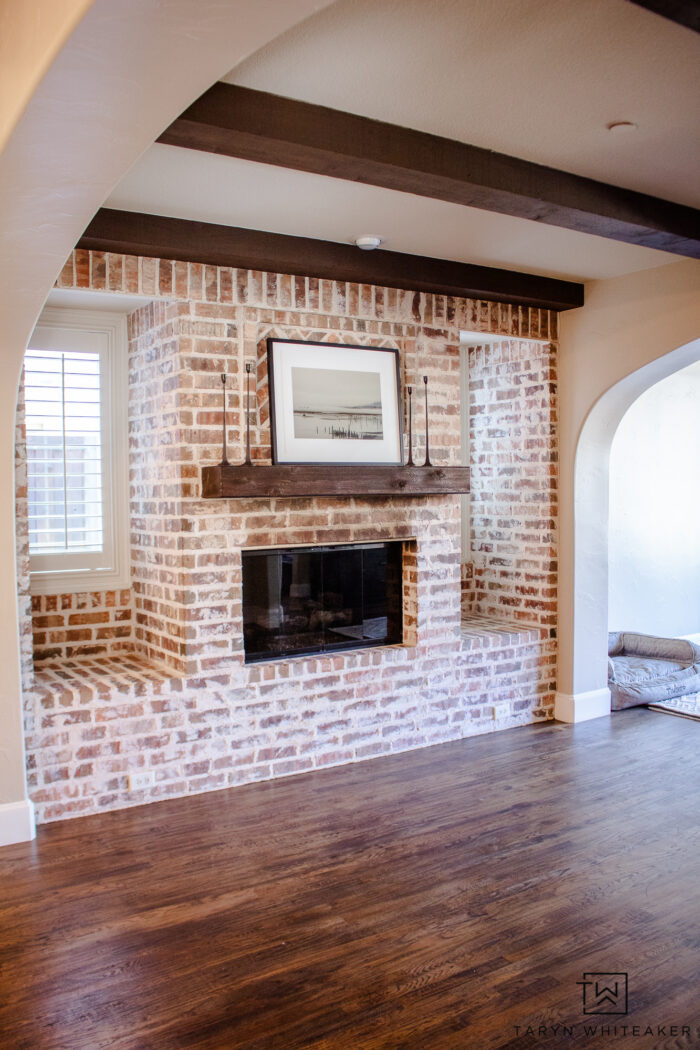 On the opposite side of the dining room is the charming brick fireplace and window seats. I have custom window seats being made and am adding some new pieces for the mantel. I have a very love/hate relationship with all of the plantation shutters in our home, which you will hear me talk about often!
Here are the full design plans!
Transitional Dining Room Design Plans
Working off of the warm hardwoods and dark beams, I did a very elegant warmed toned design for this space. Pulling in a contrasting lighter wood for the table and chairs and adding in warmth with the brass fixtures. I always love a good pop of moody decor and fell in love with this print from Pottery Barn. Only probably is, it's pretty pricey so I have a DIY version happening!
The other big project in this space will be building a floating buffet table on the back wall. I love to entertain and often times a buffet is the easiest way to serve expect I don't like how it ends up taking over our whole kitchen island. I often times still need that space for cooking for for appetizers and more often that not, people like to sit at the island and converse while I'm in the kitchen. Soooo I will be building a buffet!
I'll be getting started on the whole transformation TOMORROW! The electricians were already here last week and now my part starts.
SOURCES