Sometimes when my larger projects are taking longer than expected, I start to get antsy and I need to complete something to give myself a little motivation. I had to bring out my lime wash paint last week for some touch ups in the dining room and decided to give our downstairs powder room a little refresh. Nothing extreme or major, but proof that just a few changes and a couple of days can make a space feel so different. Here's a quick glimpse at our transitional powder room decor with a few surprise elements.
Transitional Powder Decor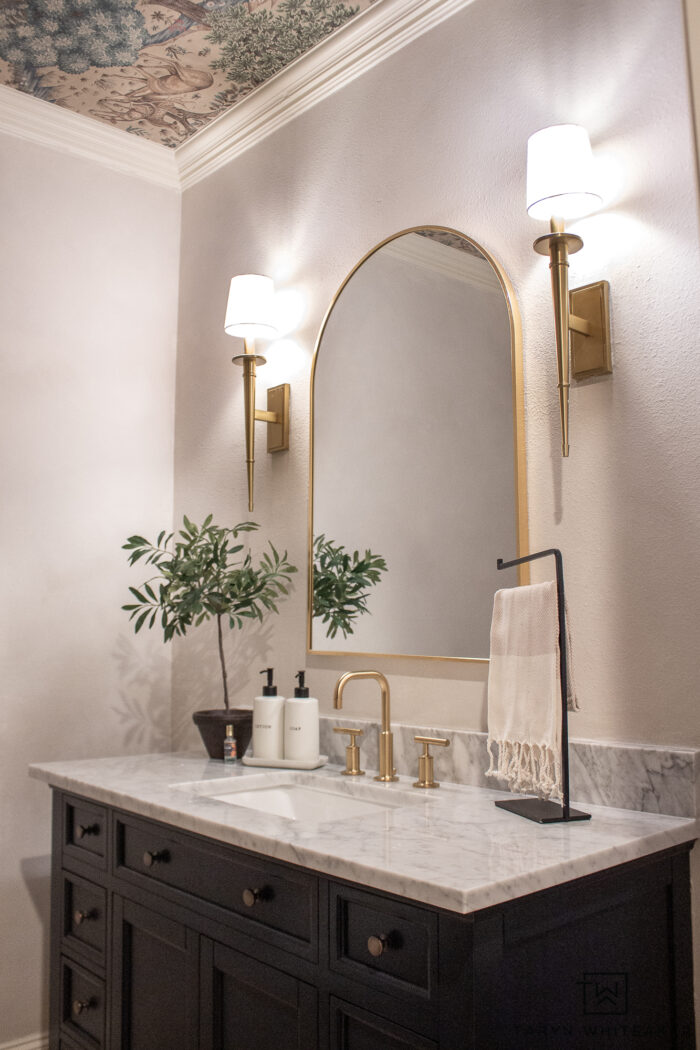 Powder Room Before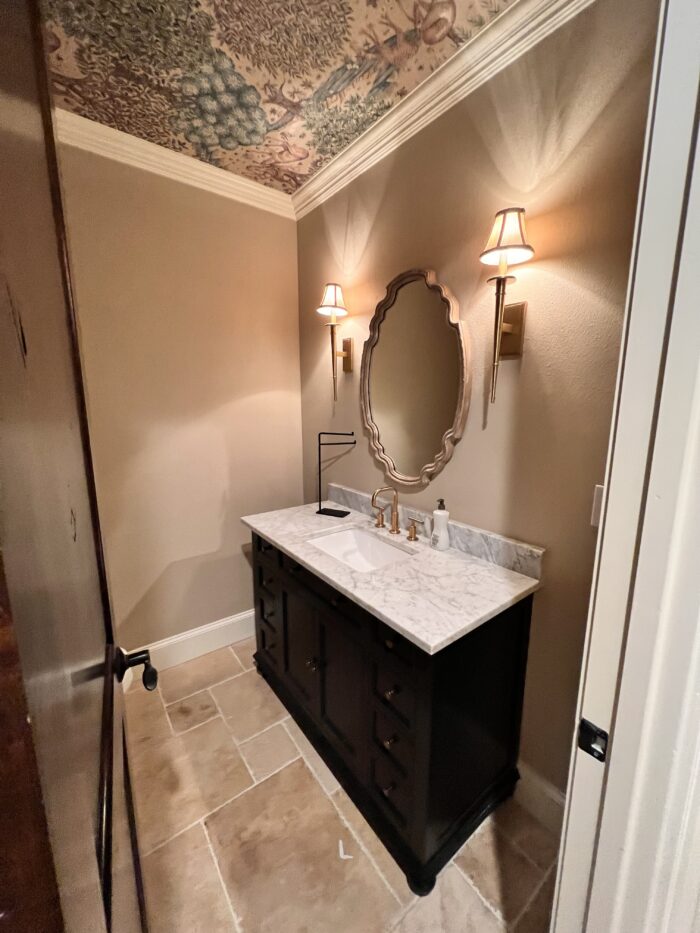 This is our main bathroom for our downstairs. My biggest complaint is that it felt SO DARK. The two wall sconces are the only light sources, the walls were a little dark and the mirror was beautiful, I actually loved the finish on it but it wasn't entirely my style.
I have much larger design plans for this bathroom but it doesn't NEED to be redone. So right now, I just want to focus on making a few small changes that will freshen it up and brighten it up with limited expenses.
Lime Wash Walls
One of the biggest changes was simply lightening up the walls. I used left over lime wash paint from our dining room renovation. It's a very soft oatmeal color. I used the lime wash primer and then did 1 coat of plateau at 100% and the second coat at 50% so you can see more variation in the walls.
It's a little hard to see the full look in photos, but it's a very organic look. I love the matte finish and the softness it brings to the space.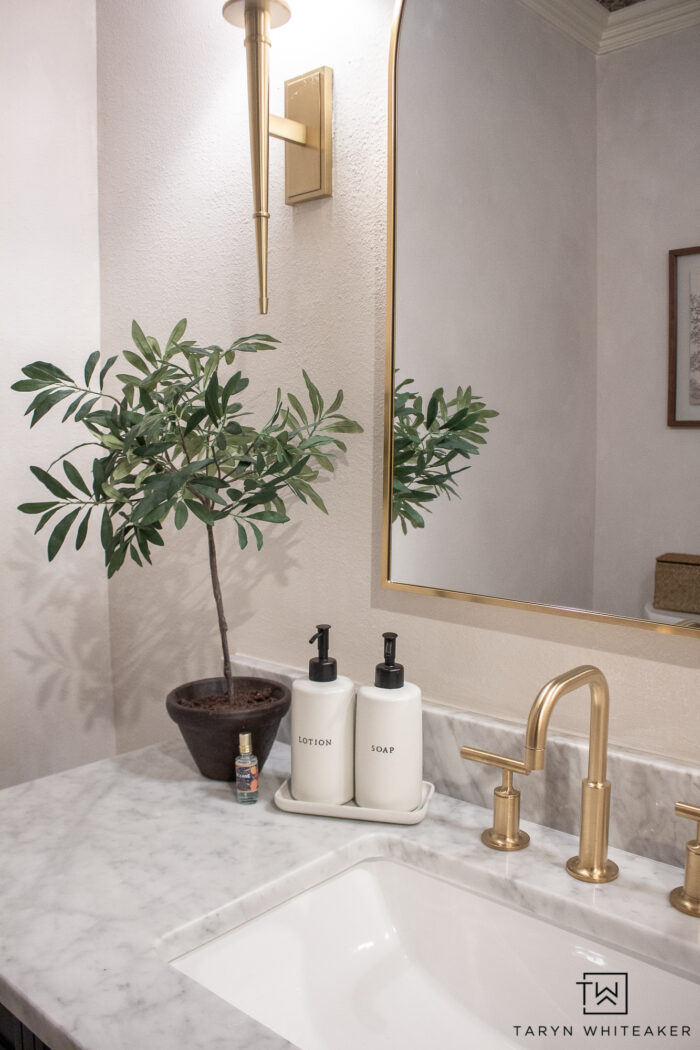 There is another trick I used to brighten up the bathroom without changing the light fixture. I changed the bulbs from 2700K to 3000K and swapped out the shades to white sconce shades to allow brighter light through. Between the paint and the small lighting tricks, it made a huge difference.
I found this gold arch mirror for just $75 which was the perfect delicate touch to the vanity. I also added a small olive plant, decorative soap dispenser and hand towel stand. I have a small obsession with Turkish hand towels and have them in almost every bathroom. They add so much texture.
Decorating Around A Toilet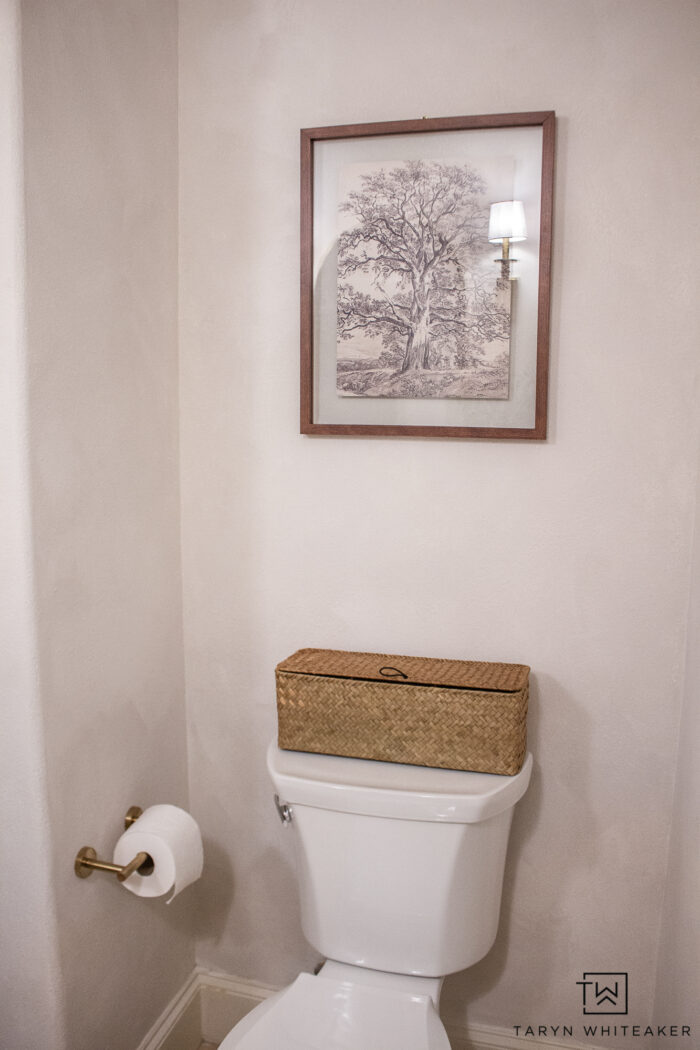 I found these vintage tree sketches on Amazon, they are AMAZING! They come on a canvas sheet and are very high quality. I bought the pack of 4 but only ended up using 1 print. I thought it blended so well with the wallpaper on the ceiling. I found the frame at Hobby Lobby!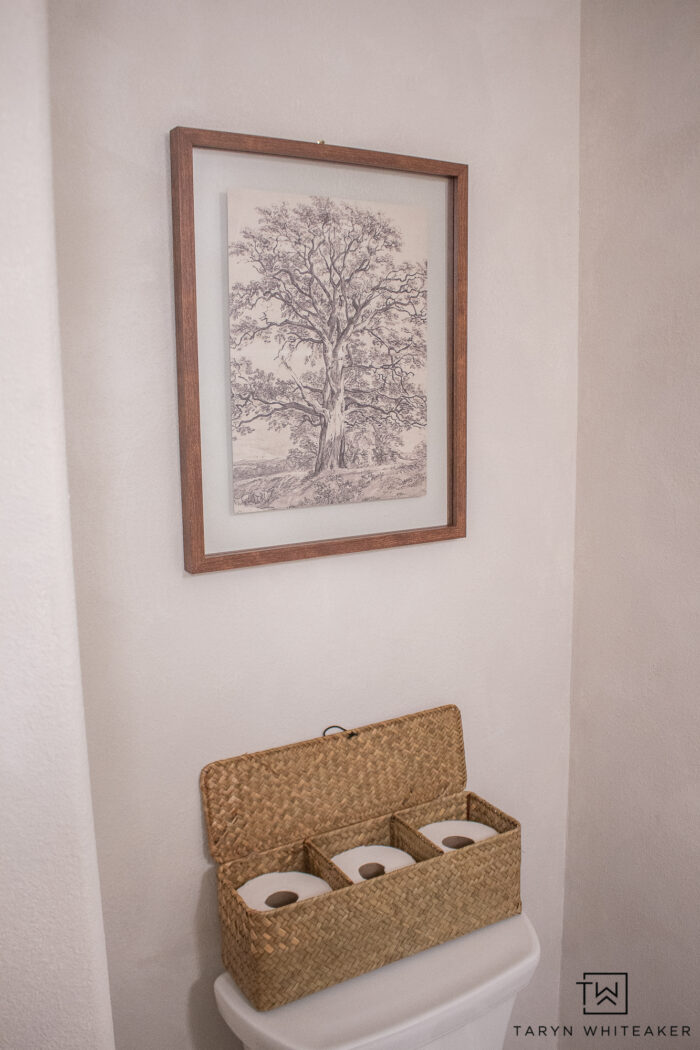 Above the toilet I added this cute woven basket that holds extra TP. Great spot for guests to know where to replace the roll. You could also put feminine products in here as well.
On the ceiling is this charming and sweet wallpaper called The Brook from Morris & Co. It's such a unique look. For now I love it and the character it brings to the space.
Single Vanity & Countertop Combo
Despite how it appears in photos (and even in person) the vanity is actually a very dark blue. It's much darker than it even appears on the website. It was already here when we moved in, but I did find it online for you! Vanity and countertop combo.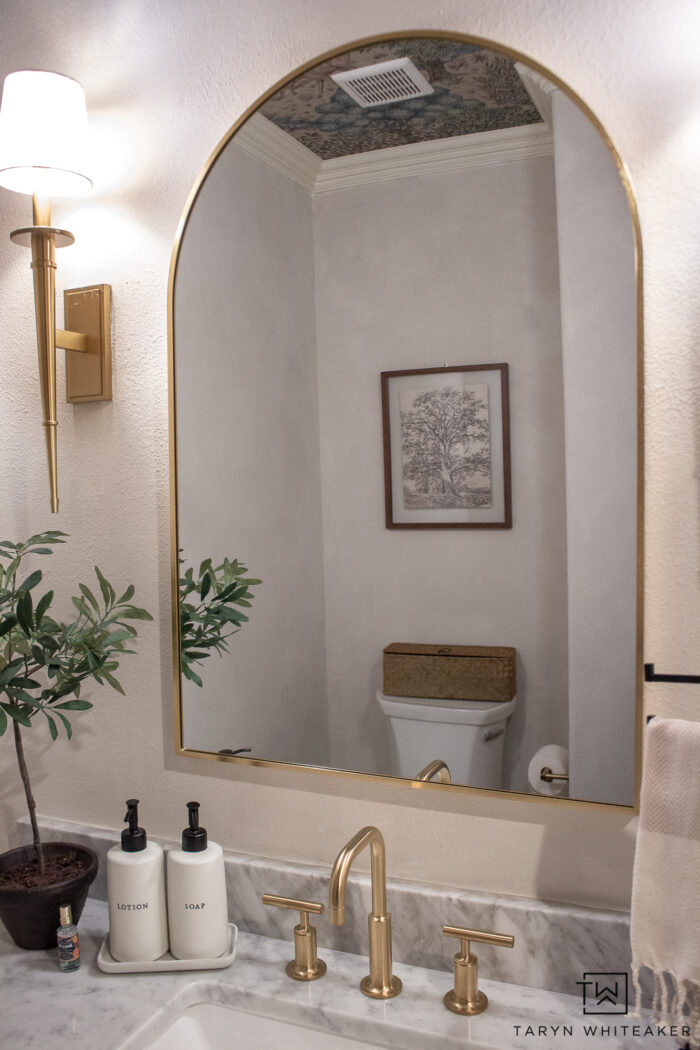 Powder Room Design Board