I clearly remember about 3 years ago randomly deciding it was time to redecorate our family room. It was something I had thought about for a long time, ripping out the carpet, painting the fireplace and getting new furniture that fit the space better. Decorating around a corner fireplace and an add carpet angle is definitely challenging. When I started selling the furniture, I never expected us to then head into a crazy whirlwind of the next two years that would delay the whole project. But her we are, it's finally done (well almost, there are always tweaks to be made). So let's finally tour our cozy modern living room.
When designing this space I had a few parameters to work with. One, I wanted it to be one big living space versus two seating areas. I wanted to take the focal point away from the fireplace in the corner and move it to the center of the wall. And I wanted furniture that reflected our personal style and had a cohesive looked.
Cozy Modern Living Room Reveal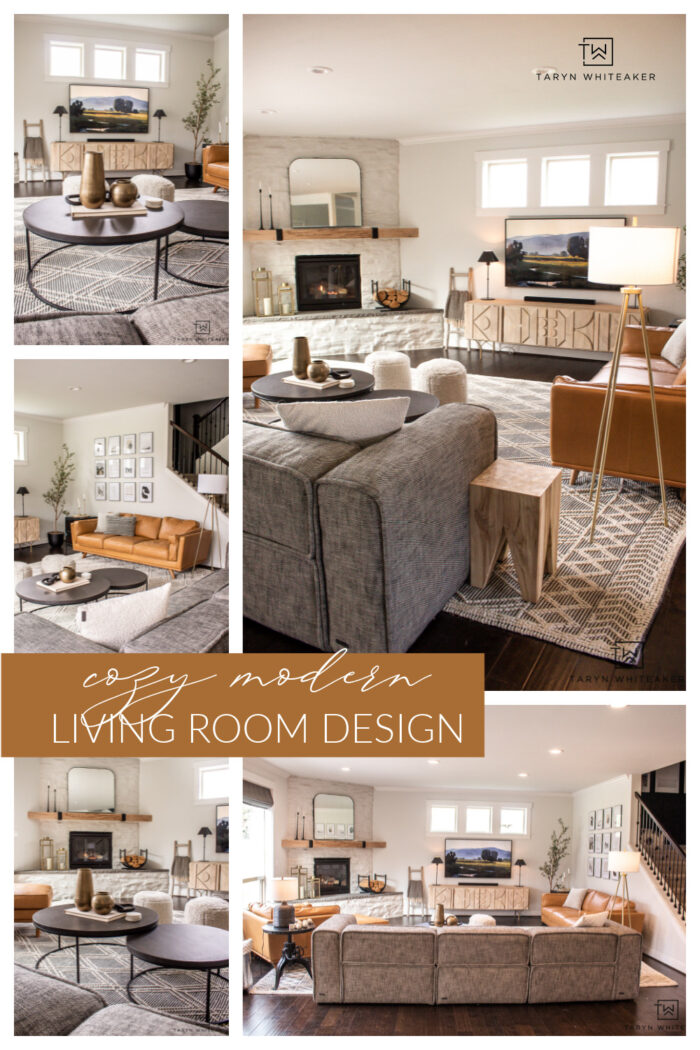 When designing a space that my entire family will use and enjoy, I always include their input on furniture styles and colors. One of my husbands requests was to incorporate a cognac leather sofa into this room, he loves it. And also the accent chairs need to be comfortable and not just for design. I made sure to incorporate those requests into the design.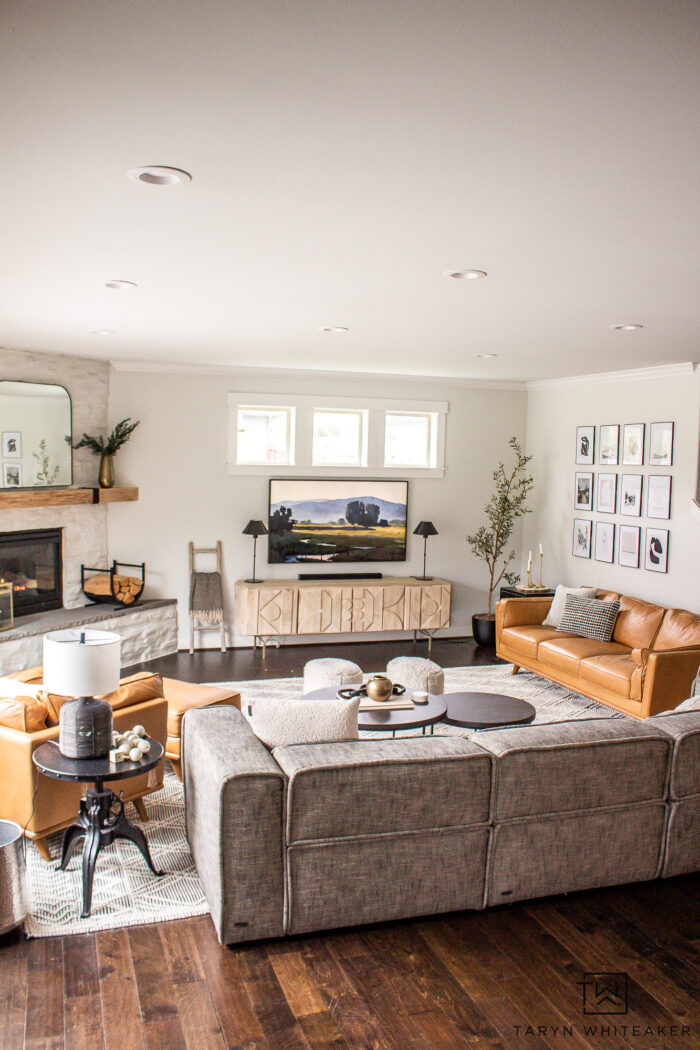 Having a family with three kids, who spend a lot of time in this room, I wanted it to feel cozy and welcoming but also have a modern cohesive look to it. Something that still felt like a well-designed room but would also be practical for our family.
Before Room From 2015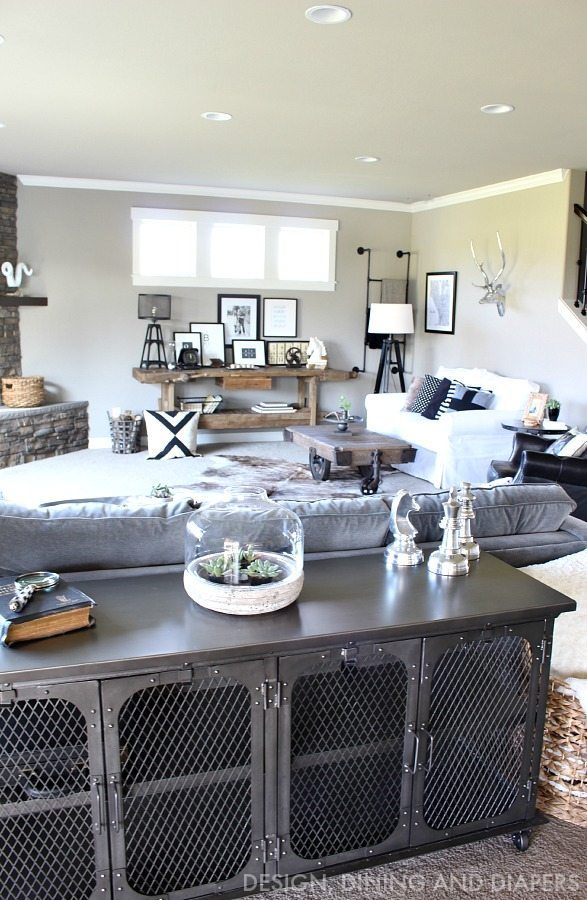 Here is a look at how I originally designed this room 7 years ago! It was such an awkward space to work with, the weird carpet angle, the spacing between the TV, the corner fireplace, it was just all challenging. Plus, I feel like when I first moved into this home i was still trying to find my style.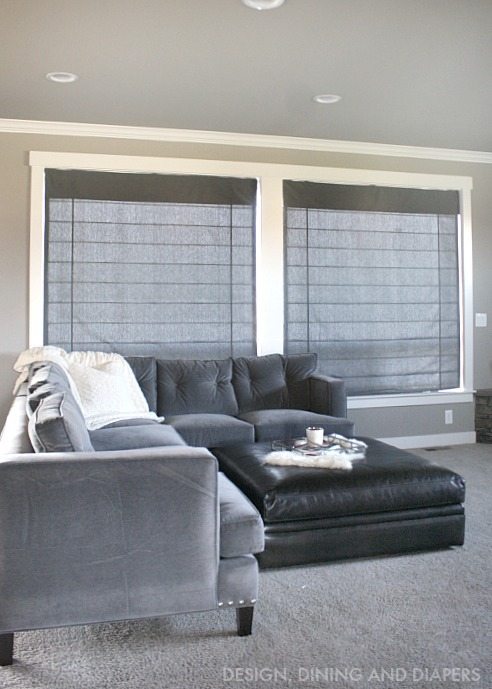 Installing Hardwoods
My first big project in this room was ripping out the carpet. OH my gosh this felt so amazing. Something I have wanted for so long in here. This was my first time installing hardwoods and it was actually a lot easier than I expected. My brother helped me out and it went really smoothly!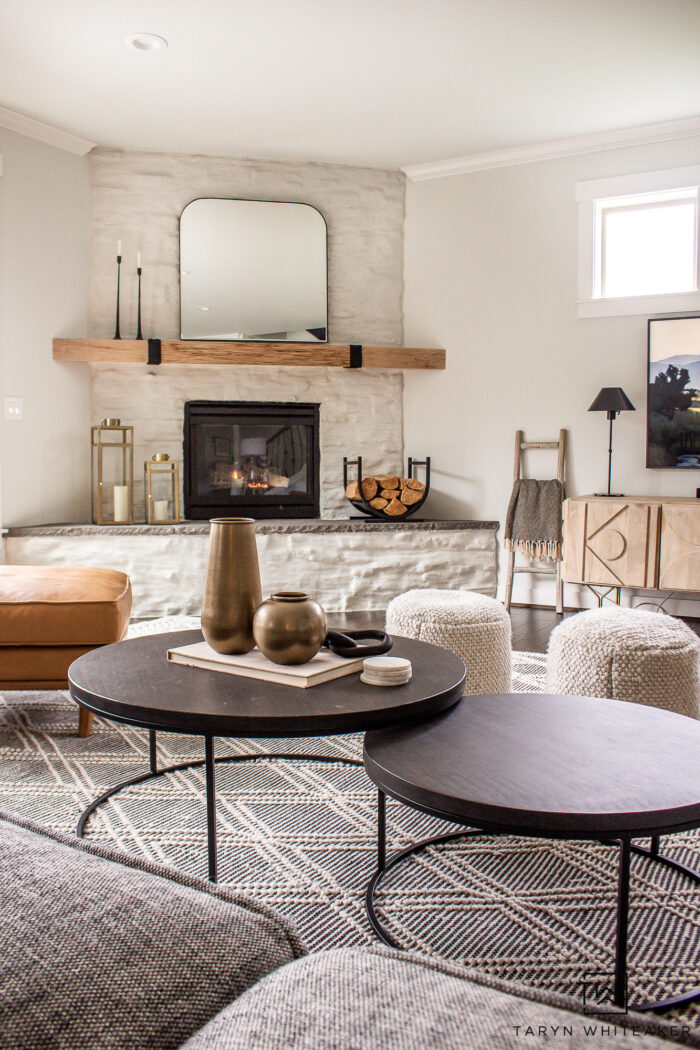 Next up, I lightened the dark stone fireplace by putting a german schmear plaster over it and making a new mantel. These two changes alone made such a huge difference! I never though it would take another year to complete the rest, but projects take time and with supply chain issues, I had to learn a lot of patience on this project.
Neutral Living Room Design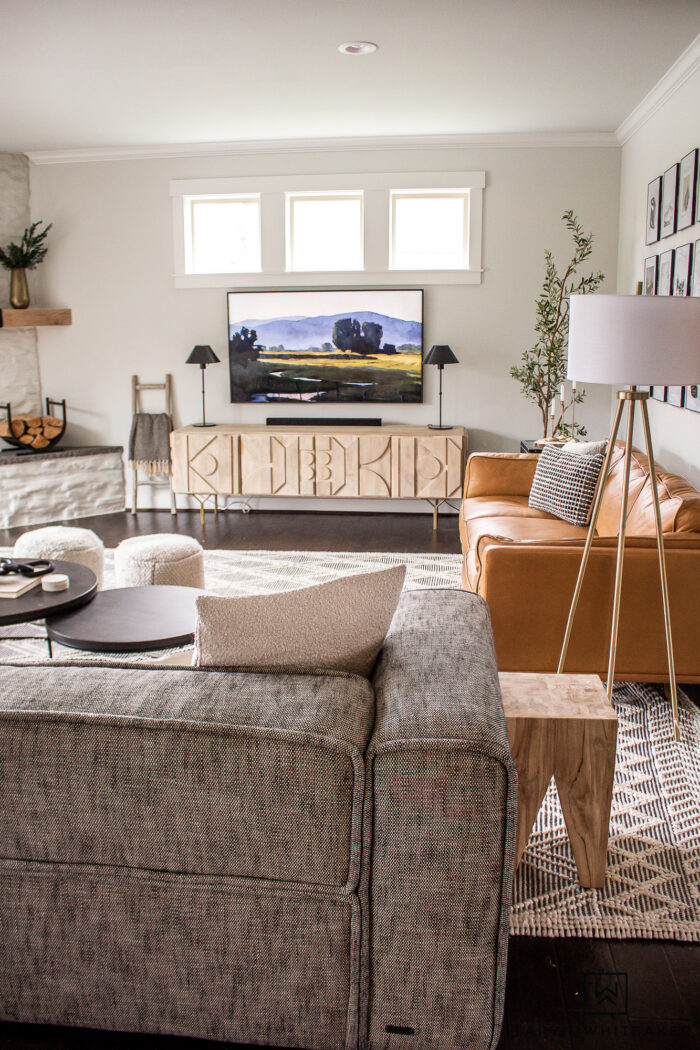 It feels so amazing to finally have this room complete. Our downstairs is now almost finished. It feels like such a cohesive space that flows from the front door all the way into our main living space. I can't wait to take you on a big tour soon!
Mid Century Modern Furniture
I was incredibly fortunate to work with Article on the large pieces of furniture for this space. I wanted more mid-century modern furniture pieces. I was looking for clean lines that looks modern but also feels comfortable.
I went back and forth on doing a sectional, or a sofa with a chaise, etc. but ultimately I think it flows best in here to do one large sofa (Quadra Sofa), an 84″ sofa on the wall (Timber Sofa) with an accent chair (Timber Chair and Ottoman) on the opposite side. I actually like the look of two accent chairs, I was hesitant to do two with the larger size but I definitely think I might want to add a second now.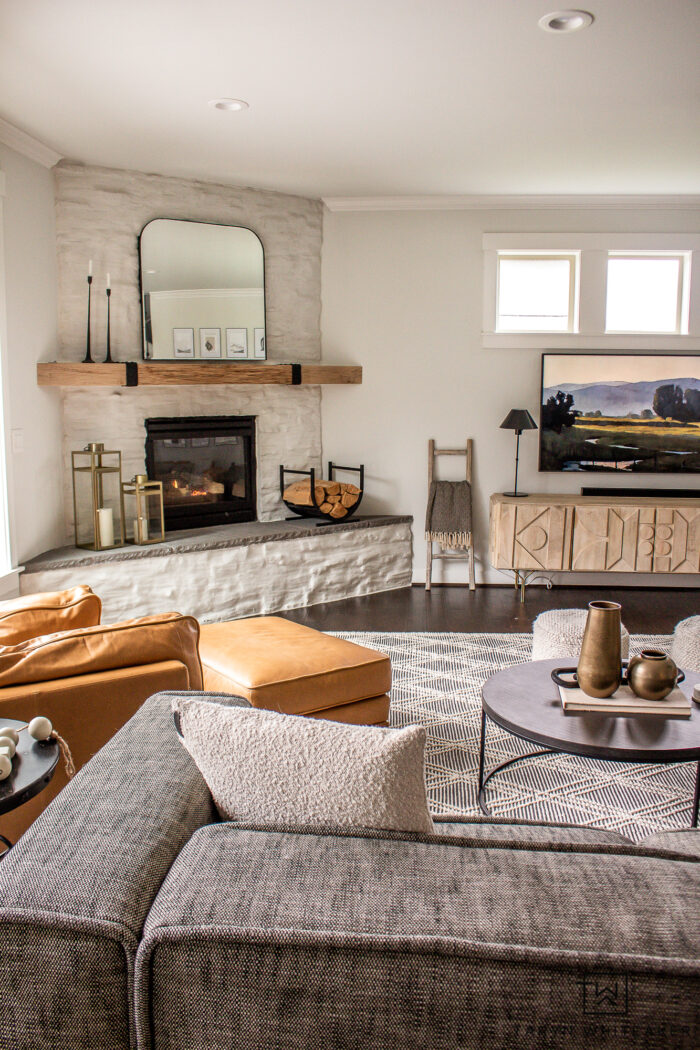 To pull the look together I wanted to add a little contrast by mixing wood tones with black accent pieces. I found this gorgeous modern nesting coffee tables. With such a large space, I love that I can separate the tables and move then to one sofa or the other. Depending on what company we have over and what our needs are.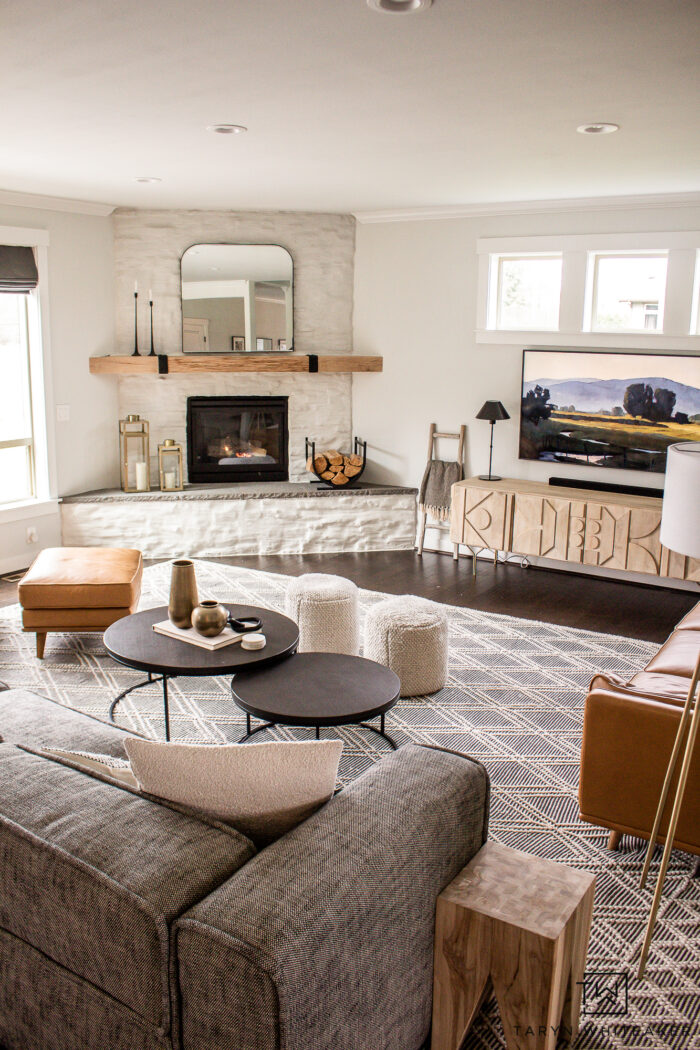 Modern TV Console Display
One of the things that needed to change from our previous living room set was the TV placement. When we moved into this house the fireplace was designed to have a TV hanging above the mantel. Naturally we hung it there since it was designed for it. But over the years we realized that it wasn't working for us. One, my husband didn't like looking up at at TV and two, a tv really throws off my decorating plans!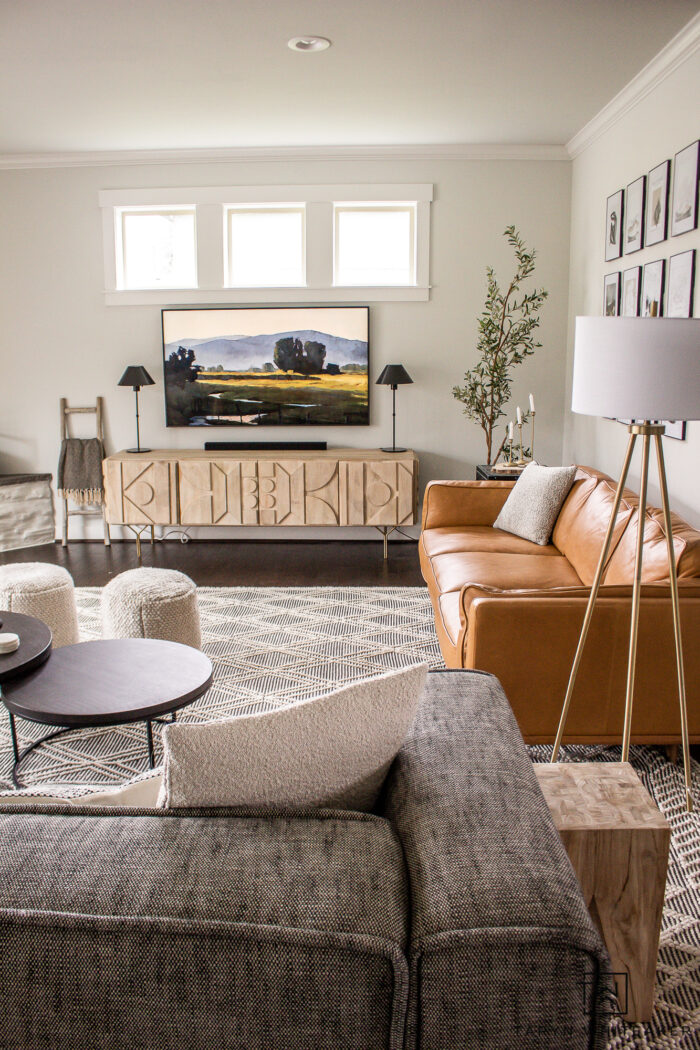 Ambiance Lighting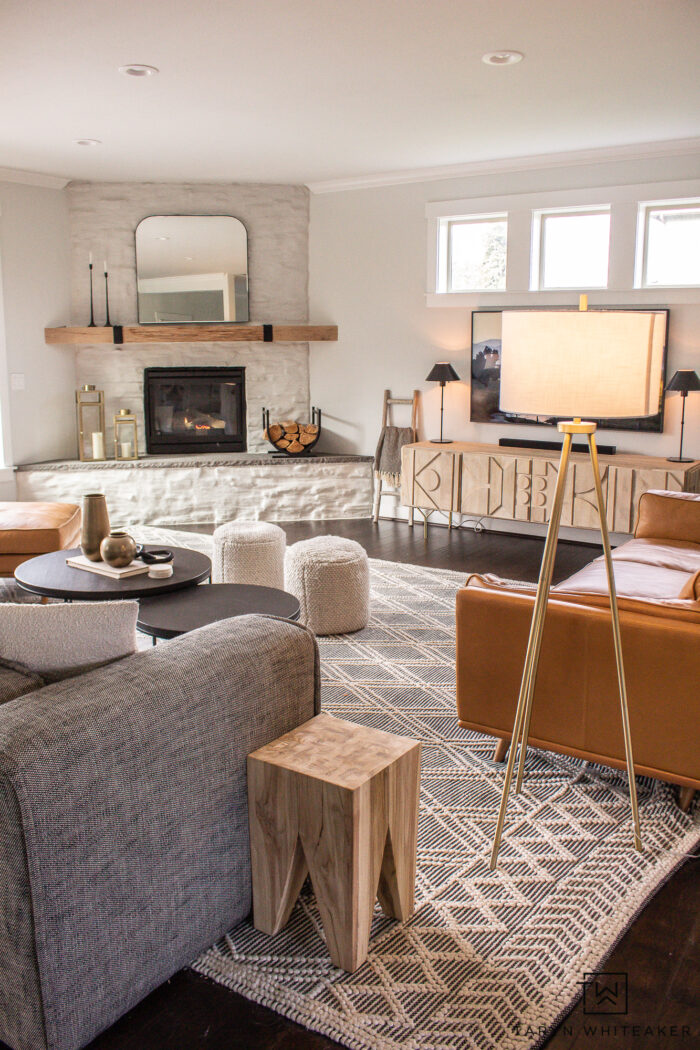 I am all about ambiance lighting. Especially living in a place where we have long dark winters, adding accent lighting is a big priority for me. In the evenings (let's be honest, in the winter all day), I love turning on all the lamps and seeing the warm flow cast around the room. I think accent lamps always make a room feel so warm and cozy.
I wanted to show you a few pics of how this space looks when I enjoy it the most. The days when I have the fire going, all the lights turning on and the cozy vibes strong.
Shop This Room
Furniture
Home Accents