This post is in partnership with RTA Outdoor Living and Coyote Grills. All opinions are my own.
The FINAL project in our backyard is DONE! I've kept this corner empty since last year waiting for the perfect idea. We were originally going to add landscaping to this section, but after a lot of thought we realized it was the perfect place to install a modern outdoor kitchen. This truly would be the last feature that would turn our backyard into the ultimate entertaining space.
Best part about this kitchen, we built it! Which means YOU can too. In fact, you could easily build your own outdoor kitchen in just a weekend. Today, I'm going to walk you through every detail!
Modern Outdoor Kitchen Design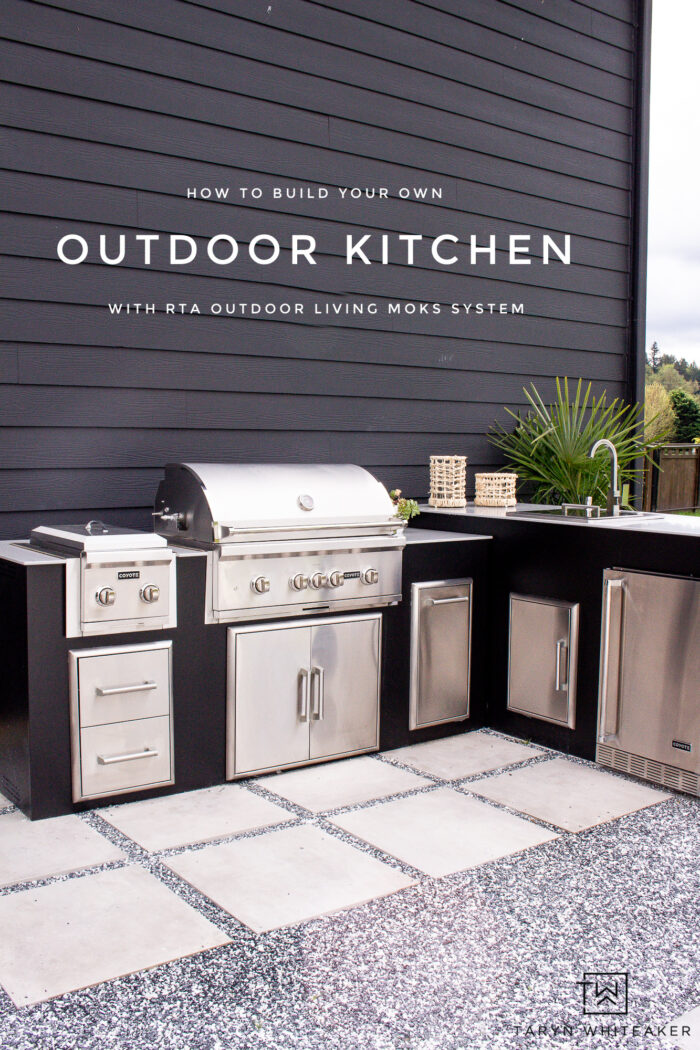 You guys, this is the biggest upgrade from our small BBQ we've had for 12 years (see pic below). I cannot even believe it's in our backyard!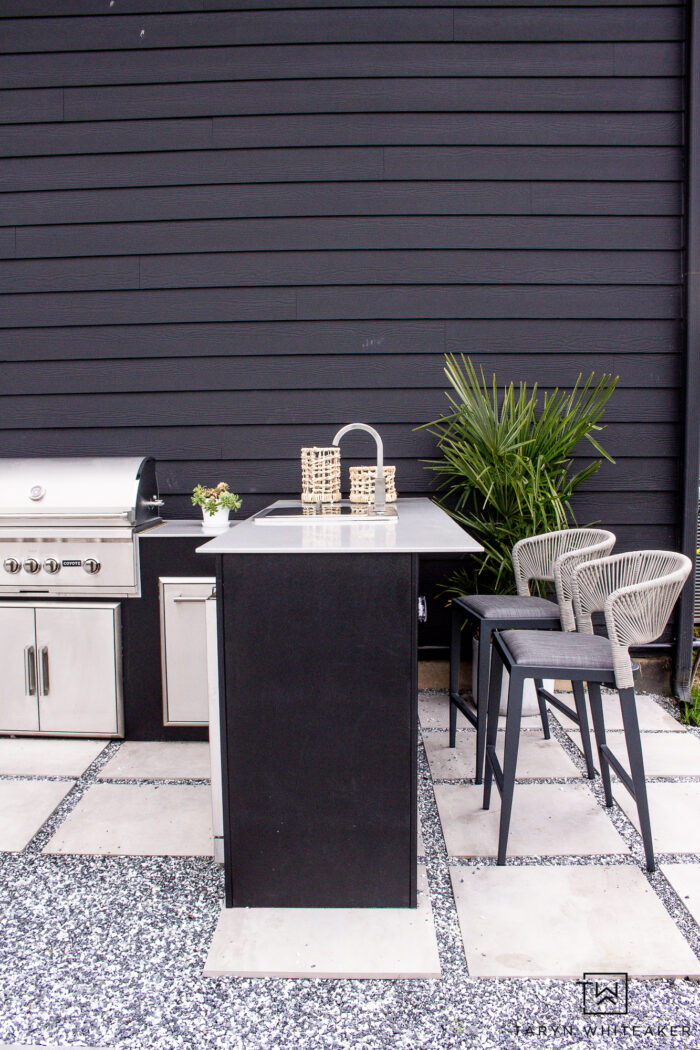 Look at this beauty! It includes everything we wanted for this space; a grill, burner, garbage, hand washing sink, fridge for bevies and a bar for guests to hang out and chat with the chef.
Space Before
If you need to visualize what this area looked like before. This is our yard from exactly two years ago. Can you even believe it? It's amazing what new house color, hardscape and a gorgeous outdoor kitchen can do!
And yes, we had the AC unit moved to the side of the house so we could open up this space and make it functional.
RTA Modular Outdoor Kitchen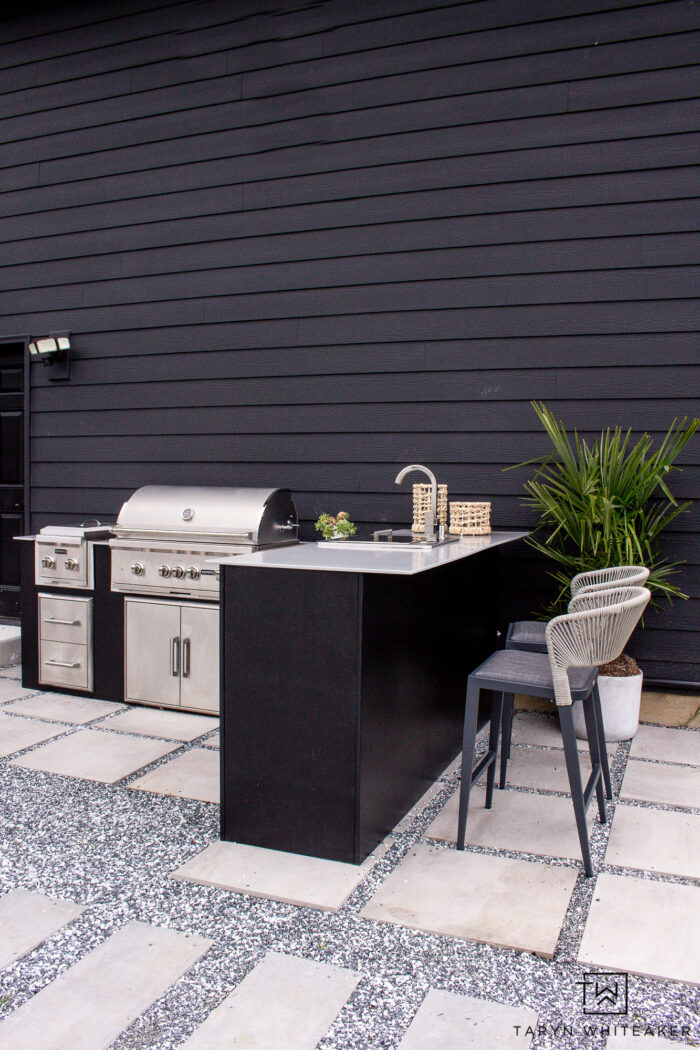 I did quite a bit of research on outdoor kitchens and decided to go with RTA Outdoor Living. I love how you can customize their outdoor kitchens to fit your needs and build it yourself! You'll just have to hire someone to do the plumbing for a gas line and put in an outdoor outlet (for a fridge) if you don't have one already.
I went with their MOKS Modular Kitchen. These come pre-designed and you can mix and match your build based on your needs for your outdoor space. We went with the L-shape to fill this corner. Having the bar facing into the backyard and being able to watch everything that is happening seemed like the perfect view.
I was able to hand pick all of the appliances to fit our kitchen needs. I wanted this space to be a full functioning outdoor kitchen so we could take all the food prep and and cooking outside and enjoy our company more.
The MOKS Pre-Designed Kitchens come in multiple colors. You can definitely find one to match your exterior and outdoor space. I went with black to match our monochromatic backyard design. White would have been too stark but the black seemed to be cohesive with all of our outdoor furniture.
Coyote Outdoor Appliances
The easy thing about the RTA Outdoor MOKS Kitchen designs is that they are specifically engineered to fit the Coyote Appliances. When you purchase the modular design, it includes the appliances as well. The Coyote appliances are top of the line and are sure to grill up the perfect meal for your guests.
If you decide you want to have a sink in your kitchen, here are a few things I learned! Have your plumber come out prior to picking out a sink and see if you can plumb a line to it if you want it connected to your water and drainage systems. We were hoping to plumb our sink but we were unable to based on the location. Instead had to plumb it has a portable hand washing station. Which is completely fine since it's not every day use. Just something to keep in mind before deciding on this feature.
We went with the Coyote S Series Grill that includes interior lighting, rotating rotisserie, smoker box, and ceramic flavorizers. I can't wait to show you more on this! Plus, Isn't it just gorgeous?
Designing Your Outdoor Kitchen
For us, this kitchen is all about entertaining! A set up for us to make drinks, cook dinner and hang out on those warm summer nights. We wanted this kitchen to complete our yard and truly be an experience for our guests.
This kitchen is also designed with storage in mind! The access doors under neath all of the appliances make it easy for maintenance. Also, the entire structure is modular so you can actually take it apart if you need to! The countertops can be taken off if you need to more access to the inside. Watch the video at the end of the post to see how easy it was to construct, it's just as easy to take it a part!
This set up is perfect for someone who wants to put together a kitchen themselves, or you could hire someone to do it for you. Either way, it could easily be done in a weekend.
Now who is ready to come over for a cocktail?
Shop This Outfit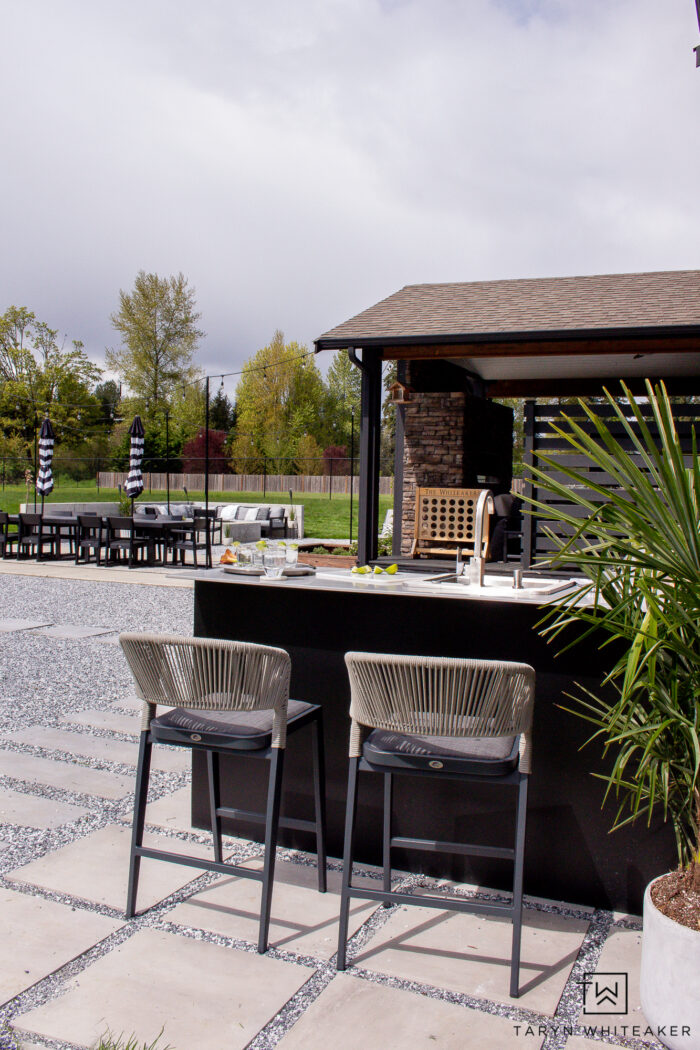 This is the last piece to our backyard and I cannot wait to show you the full reveal SO SOON!
Watch How Easy It Is To Assembly