It's only taken me six months to write this post and share our full exterior makeover that we did last spring. I've shared glimpses over the past few months with our new porch decor and backyard progress. Today, it's time for a full look at the before and after of our exterior over the past 7 years! When we purchased our house 7 years ago, the number one thing I disliked about it was our exterior color. But since it was a brand new home, we couldn't justify painting it, there were a lot of more important projects to get to. This year we finally NEEDED to paint our exterior and I couldn't be happier with our dark home exterior makeover.
Let's break it down and take a look at it from all angles. I'm sharing all the paint and stain colors and what I'd do differently.
Dark Home Exterior Makeover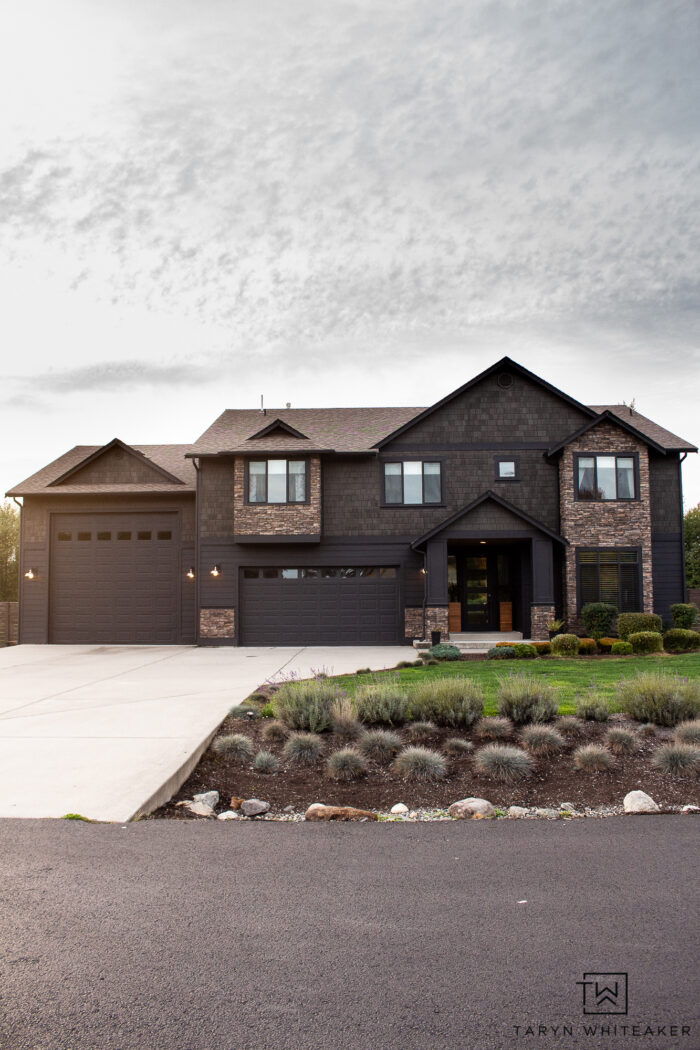 Picking out the perfect paint color for our home was not easy! Painting your exterior is a lot different than painting a room in your home, that you can change any time you want. Your exterior is a different story. While a lot of people are brave and paint their homes themselves, this was not a project we were about to take on. Which means, this was an investment for us.
I knew I wanted to go dark with our home. I love the dark moody look of a darker exterior, especially living in the PNW. Last January, I shared my dark exterior inspiration and used that as my guide when picking paint colors.
Before and After Exterior Makeover
Let's take a look back at what our exterior looked like when we moved in. Our exterior was tan on tan and a big ditch that we had no idea what do with!
We ended up tackling our ditch makeover a few years ago and added in landscaping and a dry stream. I've never fully shared that project but I might soon!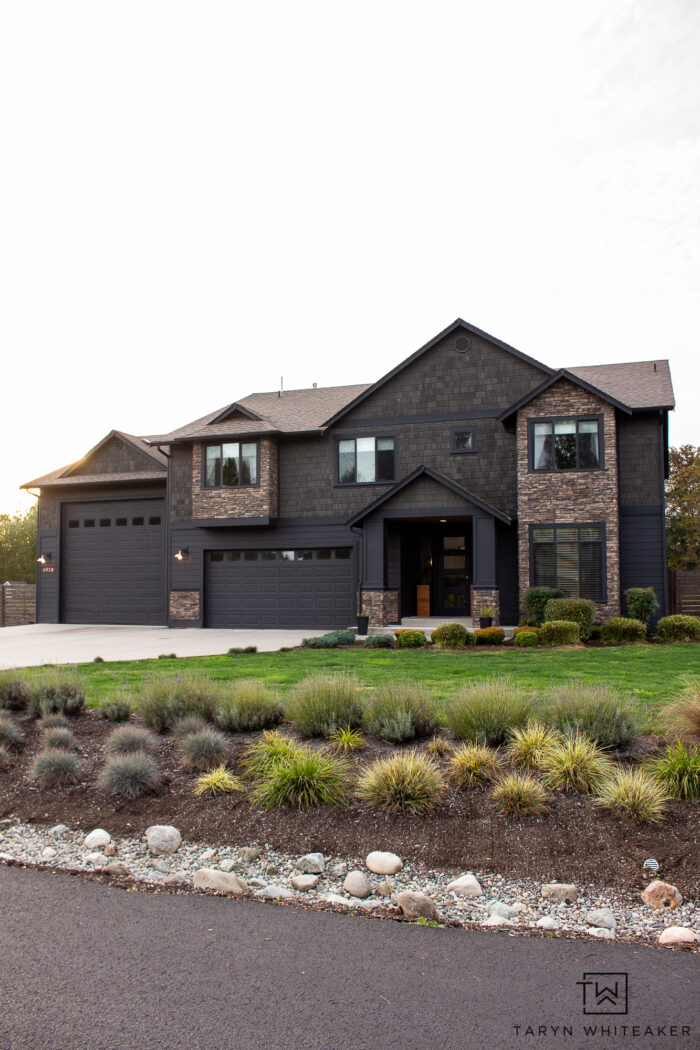 Here is how that view looks today! There were definitely moments of worrying that the dark exterior would be too dark or would look out of place in our neighborhood, but I absolutely LOVE it! I think the tone of the stain and the contrasting stone soften the black. I also love that we kept the original stone and yet for some reason it looks completely different with the new exterior color. If I was designing a home from scratch, I would have chosen a lighter stone with a white wash or lime wash. With working with what we have, I think it turned out so great.
Dark Exterior Paint Colors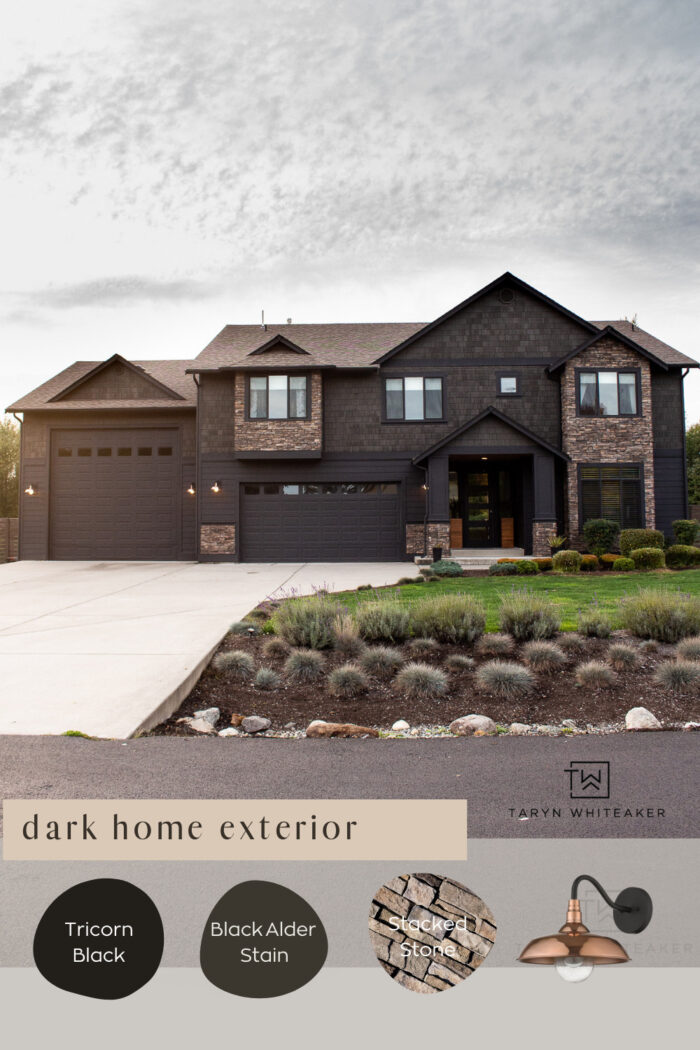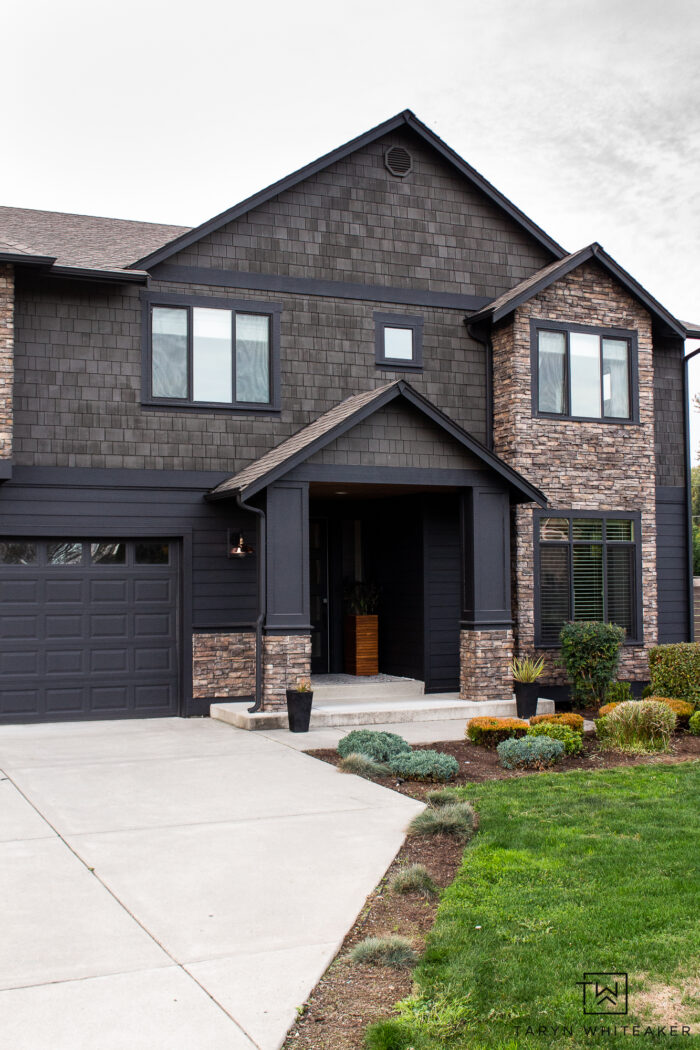 So what exactly are the paint colors?
I went with Sherwin Williams TriCorn Black in flat on the entire exterior including the trim. I wanted a solid modern look.
On the shingles I did Sherwin Williams Black Alder Solid Stain. I went back and forth on whether or not I liked the color. I had originally envisioned a darker more charcoal tone on the shingles. When the painters started applying the stain I was afraid it was pulling olive green but now that it's all done, I think it helps warm up the black and blend with the stone. It ties it all together.
Painting Vinyl Windows
So about the windows. Did we paint our vinyl windows? Yes. Do I recommend it? I'm undecided on that. It's not recommended to paint vinyl windows, but it can be done. I absolutely love the way they look but we have had some issues. The paint is not chipping off at all, it's been great. But the paint seems to be causing the vinyl to shrink and not stay in place.

Exterior Lighting
To finish off the entire exterior makeover, I switched out all of the sconces to these copper sconces.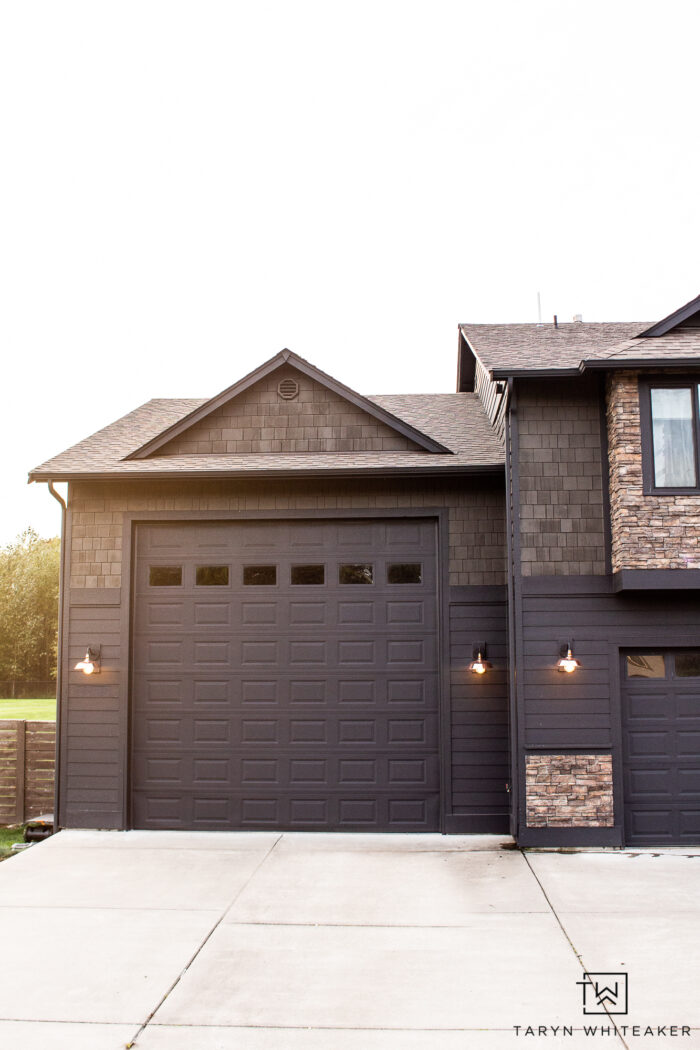 Tricorn Black Exterior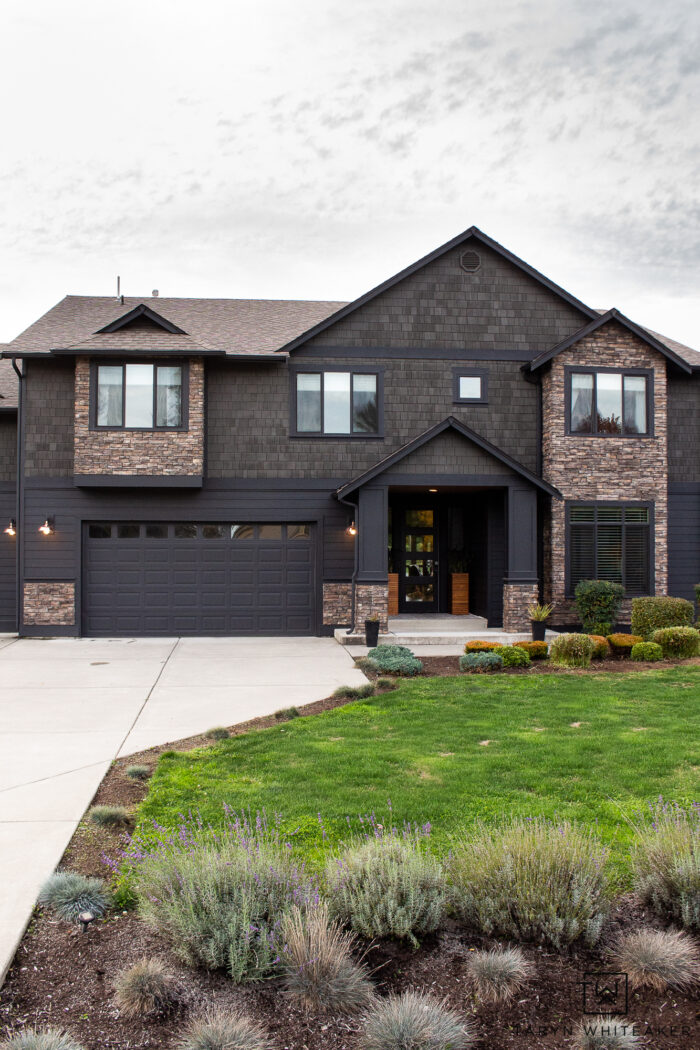 I'd love to switch up the landscaping in the front of our home. The plants and shrubs were here when we moved in. They have grown up so much over the past 7 years. They aren't exactly my style, and aren't symmetrical anymore. I have a few different ideas for this space. Either ripping it all out and putting in a brick patio in or having it completely re-landscaped.
Backyard With Dark Exterior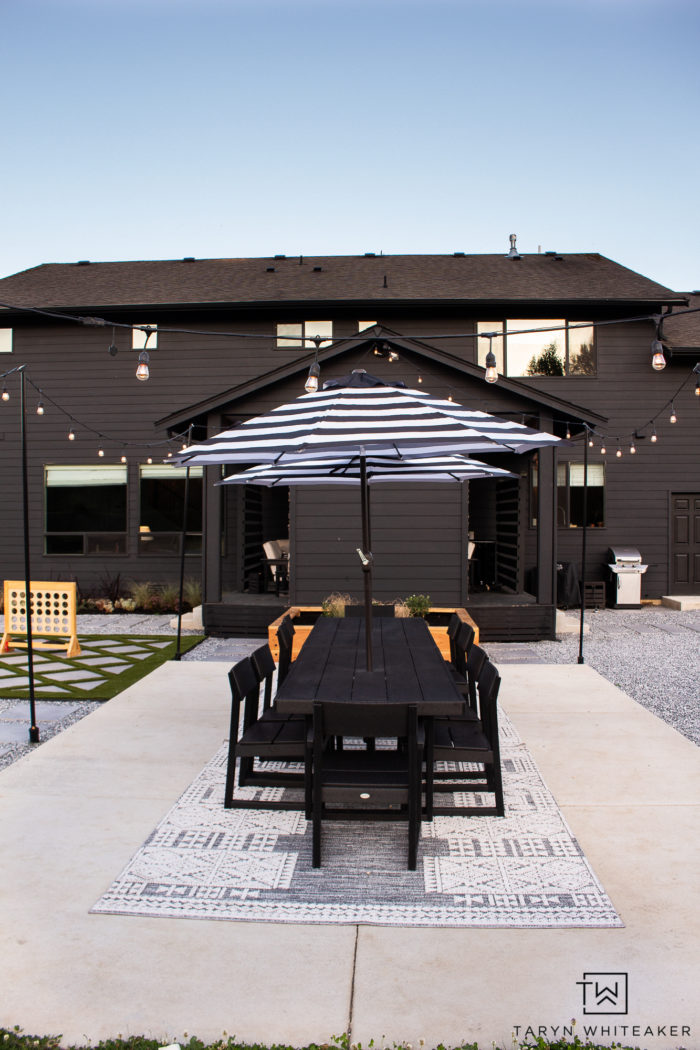 Here is how the dark exterior looks with our new backyard design. I love seeing the contrast. I have one more section to finish and then I'll do a full reveal out here!