It's time to start discussing exterior paint colors! I have wanted to paint our exterior since we moved and it's it finally time because we actually NEED to do it now! I have gone back and forth on colors for awhile now but I have officially decided on a modern dark exterior. But finding the right dark exterior can be tricky! I have spent hours over on and off over the past few months gathering dark exterior inspiration.
One of the things that IS staying is our stone on the exterior of our house. So when looking for inspiration, I wanted to find homes that had the dark exterior mixed with a lighter stone.
UPDATE: Check out our NEW DARK EXTERIOR! You can tour our home exterior here and see what color we picked!
Dark Exterior Inspiration
Charcoal Exterior with Black Accents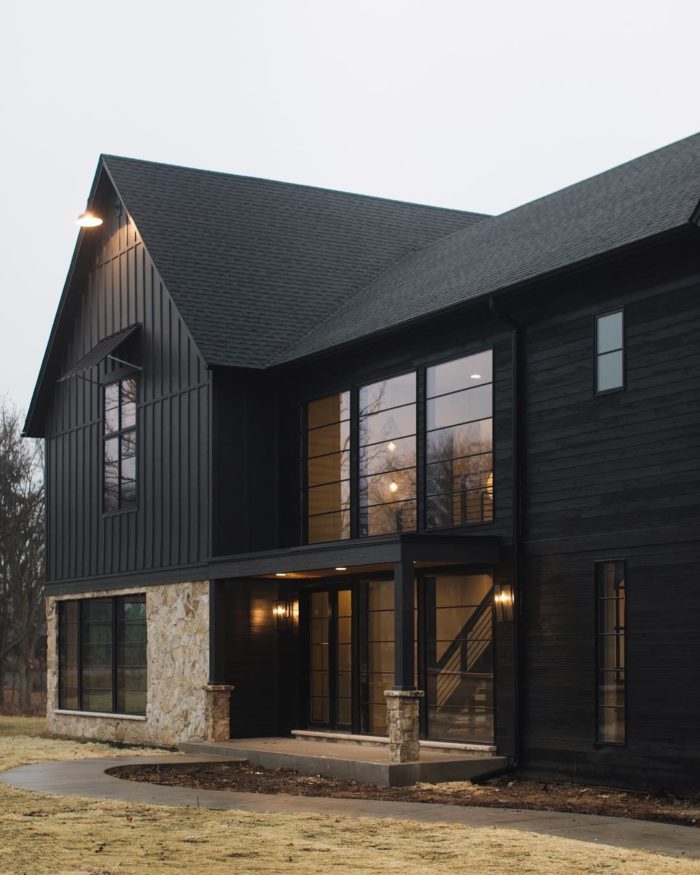 This home found on Stoffer Photography Interior is absolutely gorgeous. I would love to go this dark, however I feel like it's more appropriate for a mountain house or one on a lake.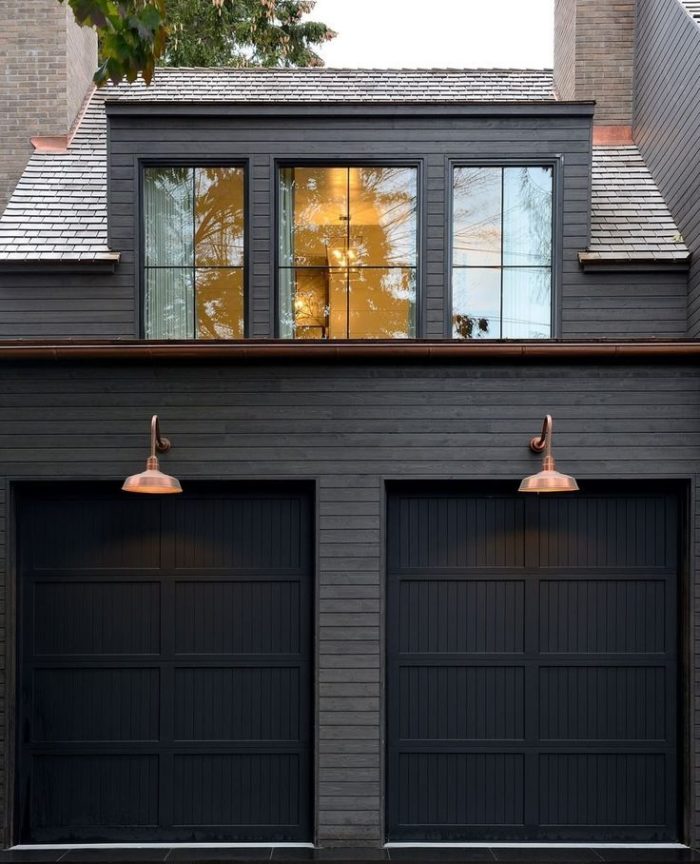 I have seen this house form Muskoka Living pop up allll over Pinterest and so many other places. I have gathered so much inspiration from this home. I love the darker charcoal exterior with the black garage doors and windows. I am obsessed with the pop of copper! I would love to do this but I am not sure if the copper will age well with how much rain we get here. I am going to some more research on this!
Stone On Exterior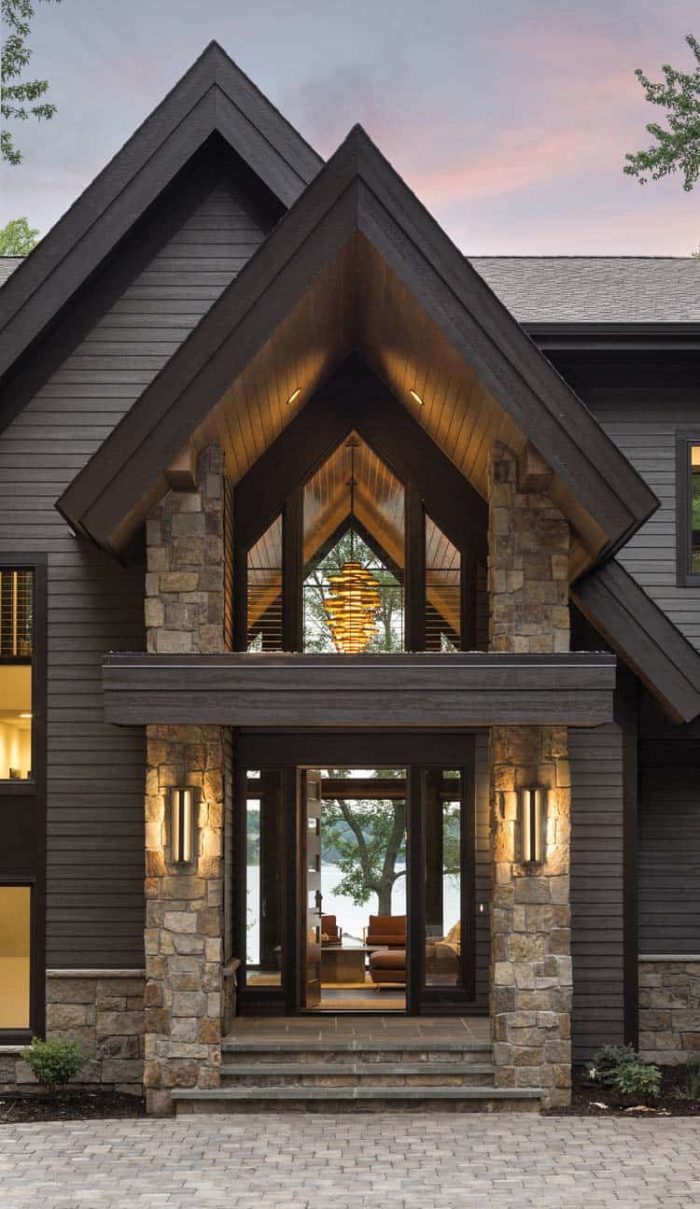 One King Design did this gorgeous rustic home. Our stone is on the warmer side like this one, which has helped me see what our house wood look like with with the darker exterior against the stone. I also like how they did the subtle black trim.
Ok this modern farmhouse from Raili Ca Designs is simply stunning! I love the mix of the black and white exterior. I am not sure our house would be able to pull this look off as our structure is different, but I had to include it.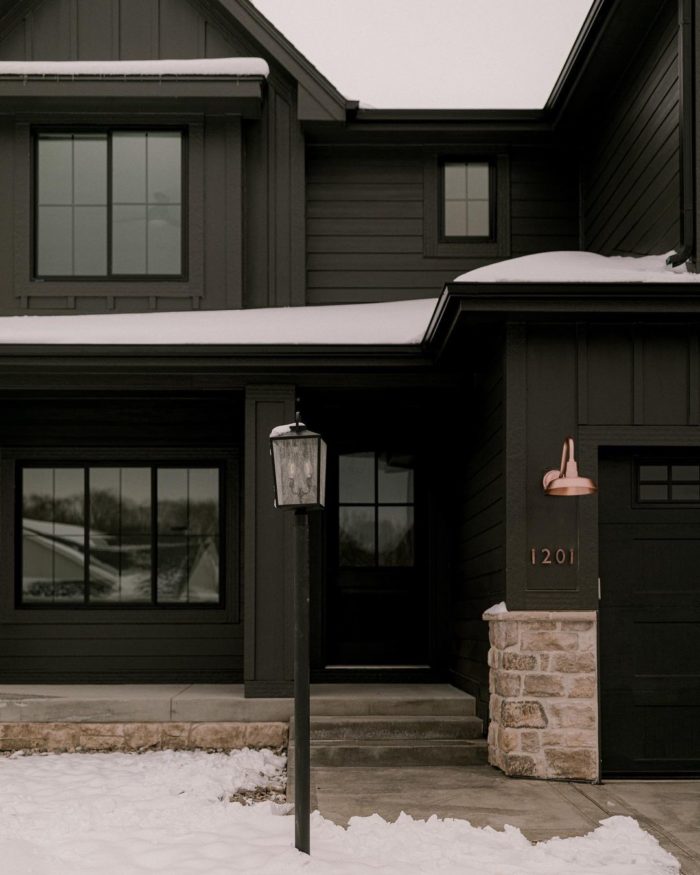 This dark exterior from Black Birch Designs is another beauty. After studying all these looks I keep noticing that most of them have the same trim and siding color and just the garage, front doors and windows are black. This is something that is helping me refine the details of how our exterior will be painted and how to achieve the look we want.
Chris Loves Julia just finished their exterior this fall and I loved following their process! They have a lot of stone on the front side of their home as well.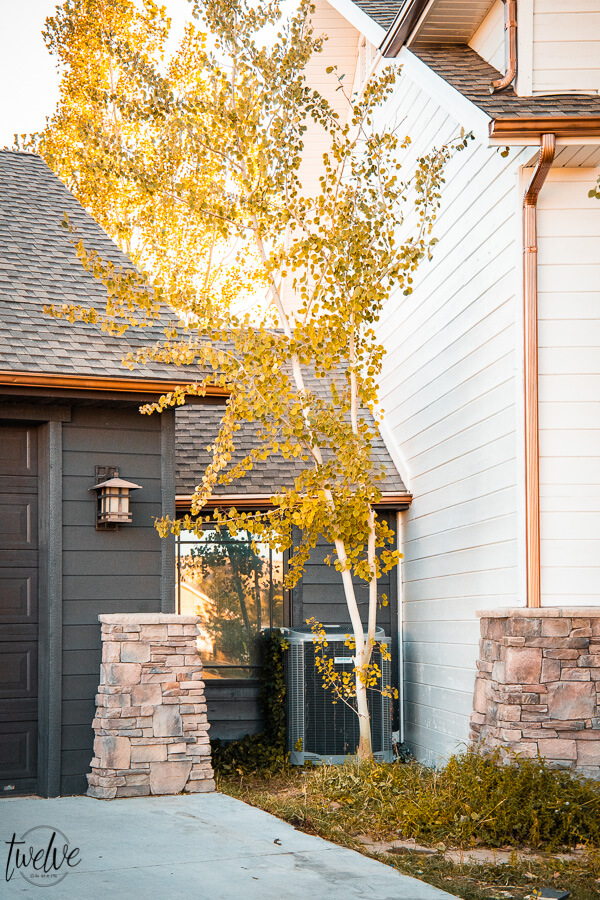 I stumbled upon this pic from Twelve on Main and again, the dark exterior with the white and the stone and copper accents! SO good!
OUR HOME!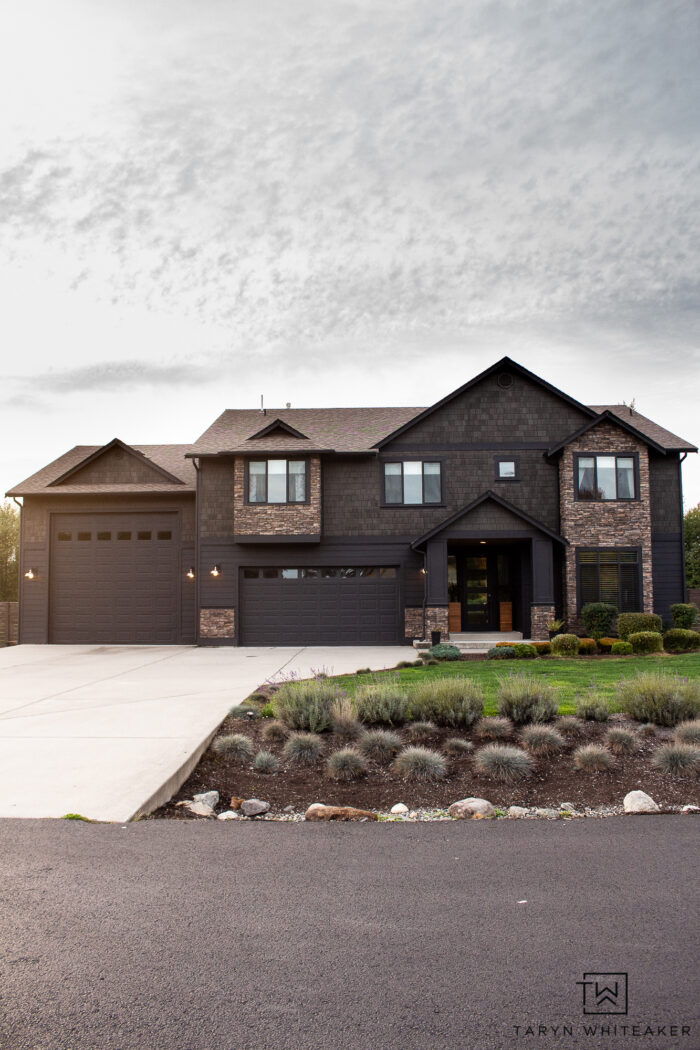 Here is how our home turned out! I gathered inspiration from the homes above and tested A LOT of paint. We absolutely love the new color. You can read about it here.