Another project checked off the master 2022 project list! When I originally designed our moody bonus room back in 2020, part of the room was being used for online learning. So I designed this space to be multi-purposeful. I wanted it to be a cool, moody lounge space. A place to hang out and watch movies. A cozy space for game nights and winter hang outs. But it also needed to be a functional for homeschool. A lot can change in a few years, and now it's time to make some needed changes to this space.
I think this post is a perfect example how easy it is to change the look and feel of a space with pretty minimal effort.
Dark TV ROOM
This truly is the moody lounge space of my dreams. I love love the vibe in here. It has enough warmth and cozy factors that it doesn't feel "too dark". It's the perfect place to watch sports games and cozy up on a winter night. The changes I made to the window fall feel really good. Let's take a look at where we started.
Window Wall Before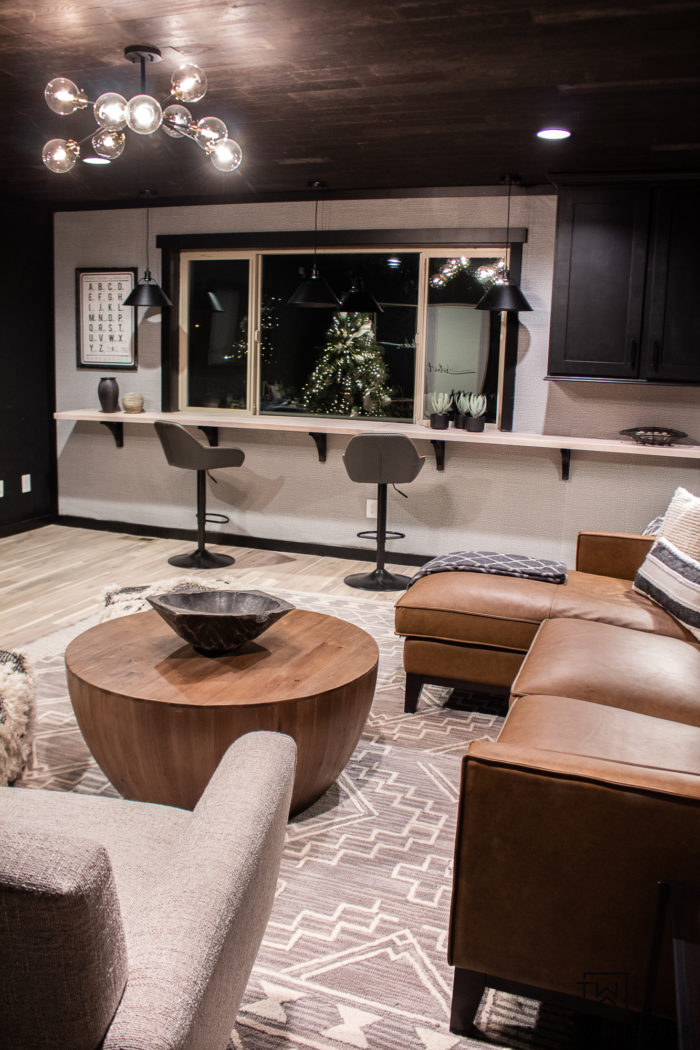 I designed the window space to have a cabinet to hold books and materials, I put a lighter wallpaper up to brighten up the space since this is where the kids will be sitting. To be honest, I didn't love it. But I completed the plan and sat with it for awhile. But here we are a few years later and the kids are back in public school, the wallpaper was beginning to bubble and the cabinet felt too large. I felt like it was time to change things up a bit and compete the moody lounge look.
What Wasn't Working
From a design perspective. Here's what needed to change. 1) remove the wallpaper 2) take down the cabinet, it was only used for home school materials and we don't need it anymore. Plus it was a little too large for this space. 3) remove the trim work that wasn't done the best and clean it up.
Moody Sitting Area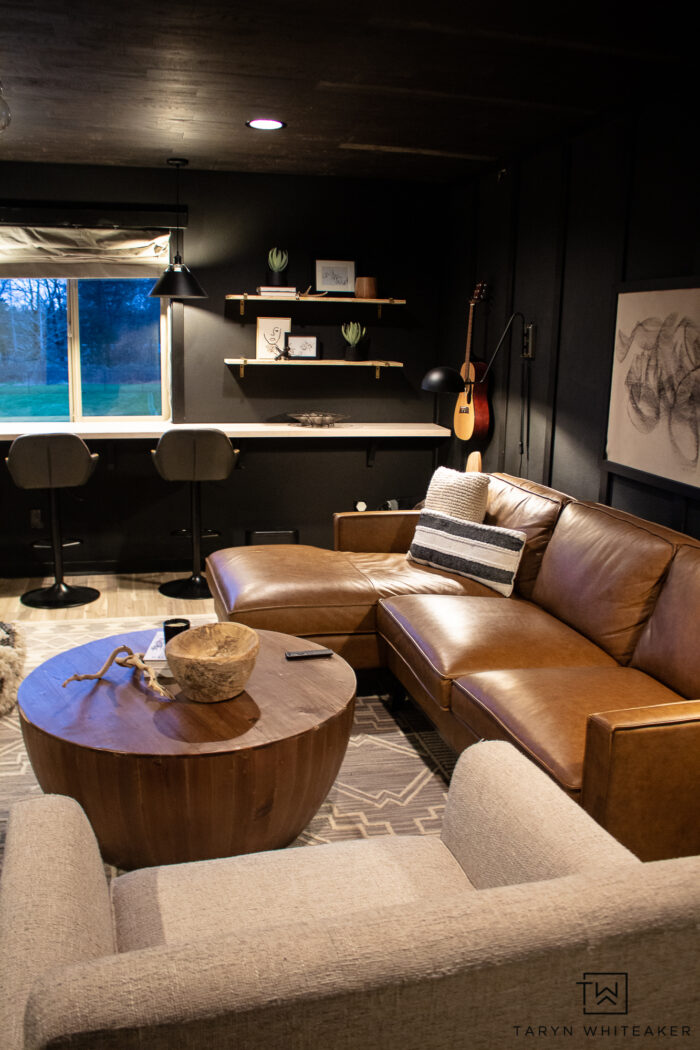 I only changed 4 things from the two pictures 1) removed the wallpaper 2) took down the cabinet and replaced it with open shelving 3) removed the extra trim work 4) added back out window treatments.
I cannot believe what a difference it made. It feels so moody and clean. I was afraid it would feel tooooo dark, but I actually love it all black (it's actually a really dark dark charcoal, called Rebel by KILZ).
Antique Brass Floating Shelves
One of the main changes I did in her was open up the space a little more by removing the larger cabinet and replace it with these open shelves. I love the contrast of the light natural wood against the dark walls. I think this flows so much better with the rest of the room and makes it feel so cohesive.
DIY SHELVES: To make the shelves, I ordered these antique brass brackets and cut my own shelves. It was a really budget friendly project!
The cabinet really closed this corner off, this makes it feel so much more open and adds a pop of decor.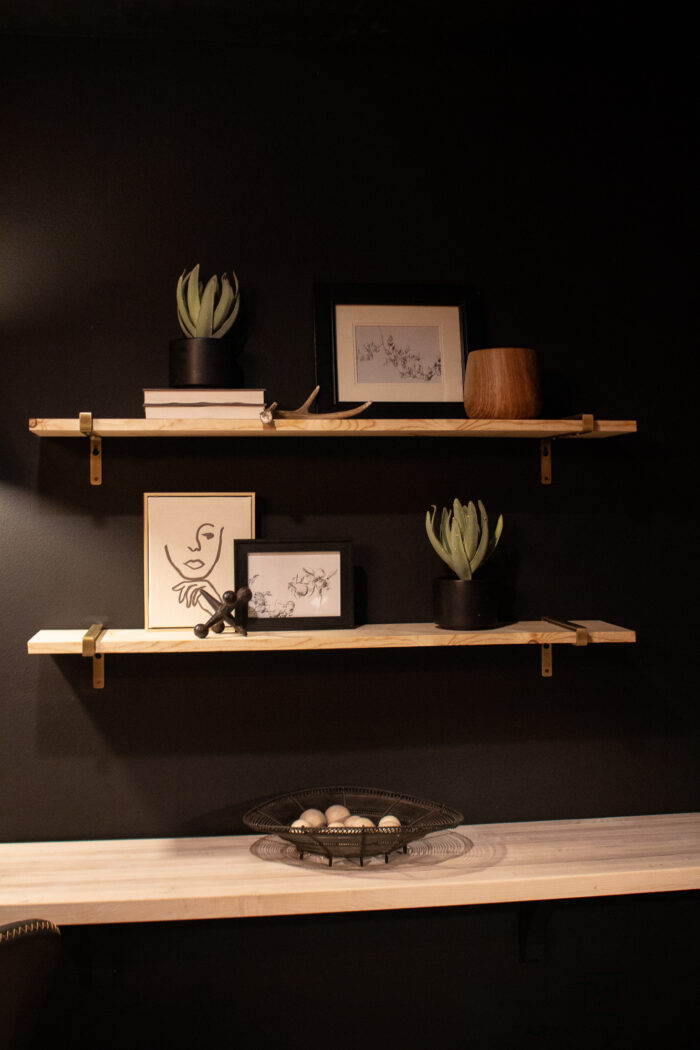 Almost everything here I already had. BUT I did find the cool modern canvas print this week and knew it would work perfectly in here.
DIY Bar Seating Area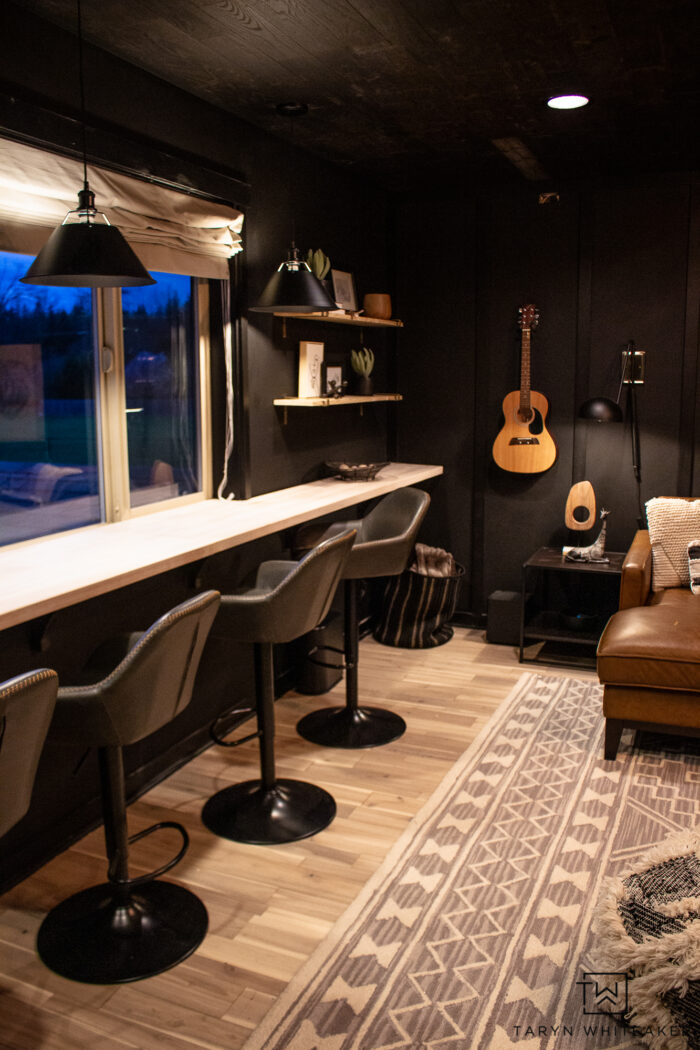 When I designed this space, I wanted to take advantage of the large window and also create as much seating in here as possible. For two purposes, homeschool and also if we ever have people over. The bar area can be a desk space (I often take calls from up here) or a bar for hanging out.
I built the countertop using butcher blocks and cut them to frame the window. The color competed a little bit with the hardwoods, so I gave it a very subtle white wash to lighten them up.
I added these faux leather barstools, which are actually extremely comfortable! I find that the quality is far better than you would expect. They are adjustable in height, which my kids love. I actually use these when I give them haircuts!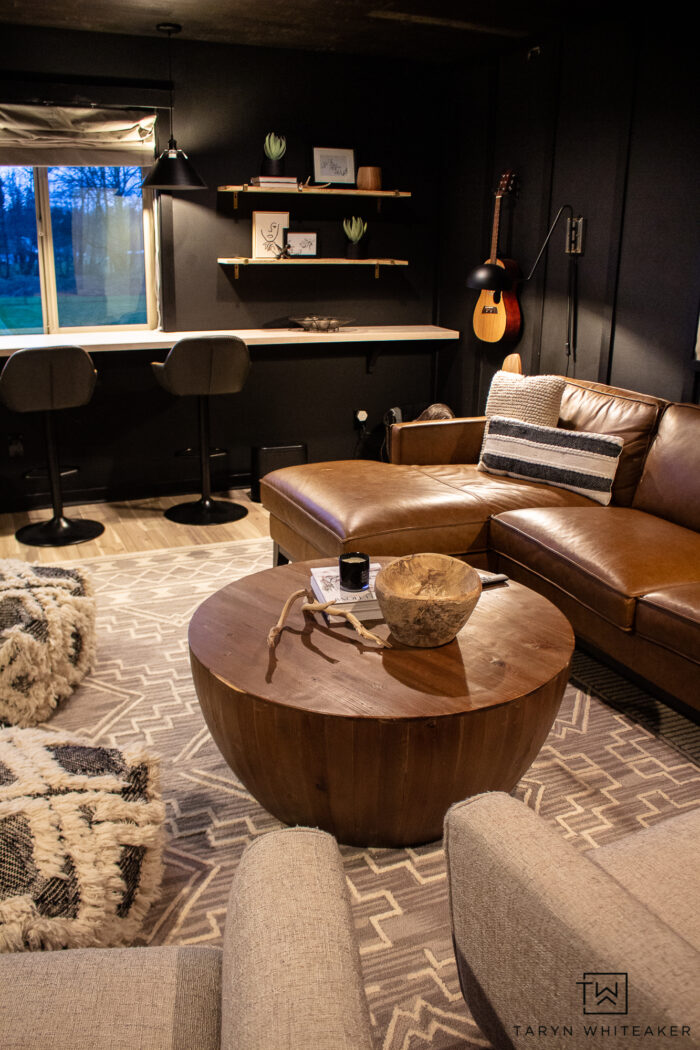 This space makes me so happy! My one last BIG project I have always wanted to do in here is have custom built-ins done. Or I would do a wall-to-wall DIY row of cabinets to add storage for toys and media.
SHOP THIS ROOM