Disclosure: This post is in partnership with TFS Natural Home by The Futon Shop. All opinions and product selections are my own.
We are just about 2.5 months into this house and it is slowly becoming our own! With every single piece we add, whether it's a picture, a light fixture or a chair; every day it starts to feel more like us and it feels SO GOOD. Our home has a very European influence, which I love, but I'm working on adding those more modern elements to it. Today, I have one of our first room makeovers, our transitional formal living room.
Transitional Formal Living Room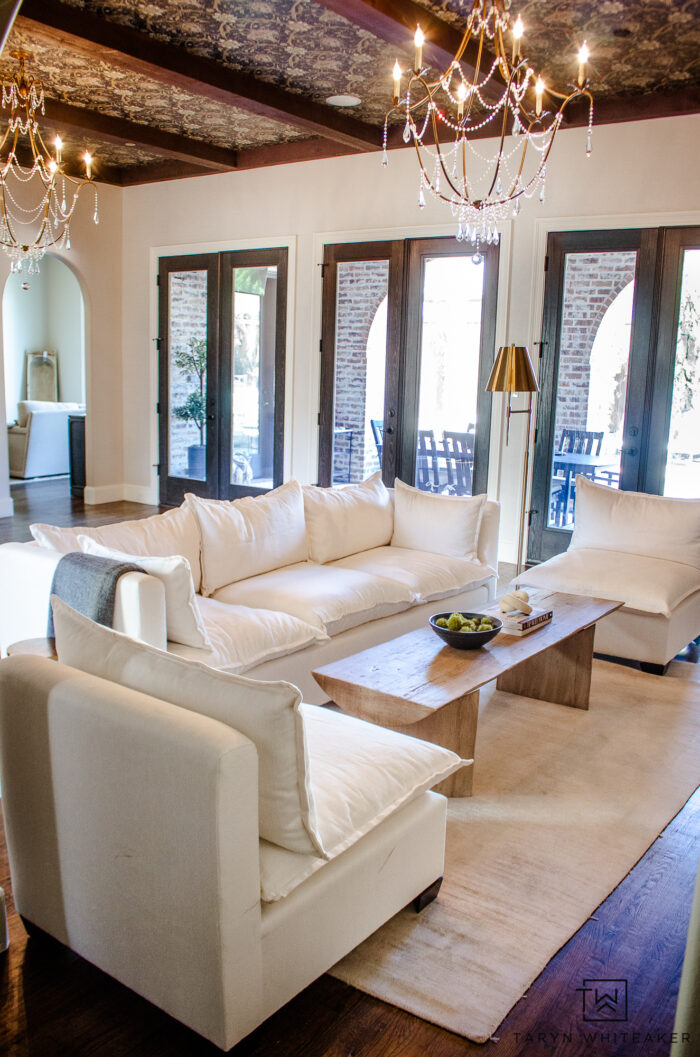 Our formal living space is right off the entry of our home. It is a large space with room for two separate seating areas. The section I am showing you today is our formal fireplace. This room already has so much character with the beams, ornate wall paper and the statement chandeliers. I actually love the European influence of this space, but I wanted to balance the style by bringing in more modern furniture.
I had a very specific style I wanted for this space and I found the perfect sofa and chairs at TFS Natural Home by The Futon Shop to complete the look. I chose the Organic Modular 2 Arm Sofa and the matching Modular Chairs in natural hemp color. I love the clean lines, the pillow seating and organic material. THESE ARE EXACTLY WHAT I ENVISIONED!
Before Living Room
When we first moved in, we put temporary furniture in here that we had brought down with us. All of these pieces were great in the rooms they were previously in, and I still love each of them. But they weren't working in here. Proof that picking the right pieces; ie. size, color, style and material will completely transform your space!
Formal Seating Area
With the dark beams and moody wallpaper, I wanted to bring some balance in the room with lighter furniture. Since there is so much going on in the ceiling, I wanted to keep the furniture and decor very monochromatic to help balance the space.
While I wouldn't have picked the wallpaper or chandeliers myself, they make such a statement in this room and they are really growing on me. My goals longterm is to bring more modern elements into this room and see how I feel. I still might change them in the future but for now they are staying :)
TFS Natural Home by The Futon Shop Sofas
Let's chat a little more about these sofas and why I love them. First of all, every piece is made in the USA and is made from organic material including organic wool and latex. Even the frames are bench made with certified sustainable wood that's kiln-dried to prevent warping, wrapped in wool supported with latex and coconut coir. TFS Natural Home by The Futon Shop prides itself on "farm to furniture". The quality of the craftsmanship is definitely notable.
The cushions are all removable with a zipper enclosure, making it easy to clean. I will note the the "natural hemp" color is very light. I absolutely love it for this space since it's more of our formal living space, but I don't know if I would choose this color for our every day couches. But there are 16 other colors you can choose from to fit your space!
TFS Natural Home by The Futon Shop also has a few other sofa styles to choose from! Shop them here.
The sofas face our our cast stone fireplace and I am so excited to have one in this house. The detailing is just perfect and it adds so much character to this room. I just updated the sconces on either side of the fireplace with something a little more minimalistic. I used the mirror from our previous fireplace, but I'm thinking I might need to go a little larger? Still trying to decide a few things in here!
Downstairs Layout
This room opens up into our backyard, so you get so much natural light from those three french doors.
And that archway in the distance takes you into our every day family room, for perspective.
I can't wait to show you more of the house soon! It's an ever evolving project of making it our own.
Watch A Video
Shop This Space