The last few months have been a complete whirlwind! From selling our house in Washington, to taking a cross country road trip to Texas and now getting settled into our "new to us" home in the Dallas area. I have shared all the real-time updates on my IG but I just haven't had the chance to actually document all of the big changes on the blog! In July, we officially said good-bye to our modern Washington home I have spent the past 8 years working on. A home we truly loved.
Turning this house into OUR home has been a journey. To think back on where we started and what we turned it into is honestly mind blowing to me. Even though it's been years of big and small projects, it wasn't until this past year that I really felt like we "completed" this home. And to walk away from that has definitely been bitter sweet.
Before I begin to share about our new home in Dallas, I wanted to take a moment to do a final home tour of our Washington home. After 8 years, I need one last home tour to be documented so it can have it's own permanent spot here on the blog and a place in history. So many projects were completed right up until the end (yes I was installing a shower door the morning it listed!). So here we go.
Our Final Washington Home Tour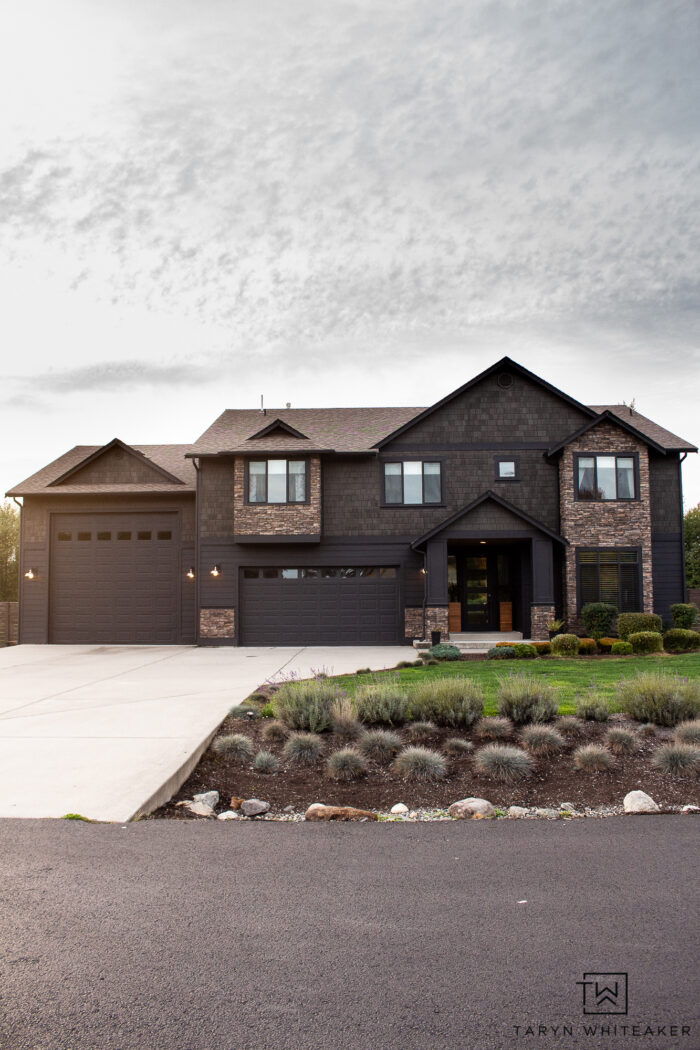 This was the first home we purchased as a married couple. The first home that truly felt like home. The place where we raised our babies and toddlers. And the first home I really fell in love with. It was ours. And leaving it was not easy for us. But we also knew it was right.
I look back on the past 8 years and see how much my style has changed. Maybe changed isn't the right word, more like evolved. When we first moved in I was really finding myself as a designer. I loved modern farmhouse. I knew I loved mixing modern and rustic elements together but farmhouse also didn't feel quite right for me personally. I began to stretch myself into trying new styles, going for the big projects and just seeing where that took me.
Dark Exterior
It's been such a fun process to look back on. To see my wins and fails and everything in between. In spring of 2021, we took our exterior from a basic beige to dark and moody. You can read about that entire process and see before and after photos here.
Shop This Space:

Entry Way Decor
Shop This Space:

Rustic Home Office Decor
My husband's office was one of the first spaces that I did in this home that I absolutely loved. You know you did good when 6 years later, it hadn't changed! I also took most of the furniture and pieces in here with me to the new home. You'll see a lot of the same pieces used in a completely different way in our new home office.
The office looked right out into the entry way, it was a great location and perfect space for an office.
Shop This Space:

Downstairs Powder Bath
Our downstairs powder room was a really fun refresh project. I didn't want to rip anything out because the tile and countertop were still in great condition and good neutral tones. So I worked with what I had to make it more rustic and organic.
You can see the full reveal of the powder room here along with before and after photos. This bathroom is more than a powder room though, it's actually a full bath downstairs. It is just an interesting set up with the sink between the bathroom and office.
Here is the shower area. I left everything in here the same, but painted and added a frameless shower door along with more decor.
Shop This Space:

Open Downstairs Floor Plan
Our downstairs was one big open floor plan. I loved it at the time but I'm actually happy to be in a home with more designated spaces. I think it was so great with little kids to have an open space where you can see them at all times. But I also felt like we were ALWAYS together down here. Especially when entertaining, there aren't a lot of spaces to have separate conversations. I think maybe I've just grown to love more traditional home layouts. But this worked perfectly for us while we were here.
Our living room makeover was a project I had wanted to do FOREVER. While it felt so good to get it done, it also made it hard to leave a space that finally felt put together and done. You can view the full reveal of our living room here.
We were fortunate that the buyers of our home purchased a lot of the furniture in here, which was great! I was so happy that they loved what we did in here as well.
I keep getting asked if my style will change in our new home. Here is how I look at it. I will always have a more modern aesthetic, but that will adapt to the style of the house. Since we lived in the PNW, my style was definitely influenced by nature and style of the northwest region to create a very modern Washington style home. In our next home, I will still have my neutral modern style, but it will adapt to the style of the home and our new region.
Shop This Modern Washington Home Living room:

This view gives you a better perspective how our downstairs flowed. The living room off to the right, dining area in the center and and then the kitchen on the left.
When we moved into the home, I immediately knew that I wanted a live edge table for our home. I LOVE the look of them but I they were all so expensive and I didn't find any that were the right tone I was looking for. So we found a lumbar yard with live edge slabs and had someone custom make it for us. I always thought we'd have this piece forever and I was sad that it just wouldn't work in our new home, but I'm really grateful a friend bought it from us and their sweet family is enjoying it!
In 2019, we did a big kitchen refresh. We kept the original cabinets and countertops, but removed cabinets, adding open shelving, replaced the backsplash and painted the island and trim work on the ceiling.
Shop This Space:

Staircase Decor
This spring we had all of our carpet replaced and while it was a bit of an ordeal, we truly love how it turned out! It reallllly needed to be replaced and the texture of this carpet was perfect. You can read all about our new carpet selection here.
Our staircase makeover was probably one of the most popular projects I have done to date! I think so many of us struggle with how to decorate this space in your home. I decided to just go for it with a big project and I'm so happy that the risk paid off. You can see the full accent wall tutorial here.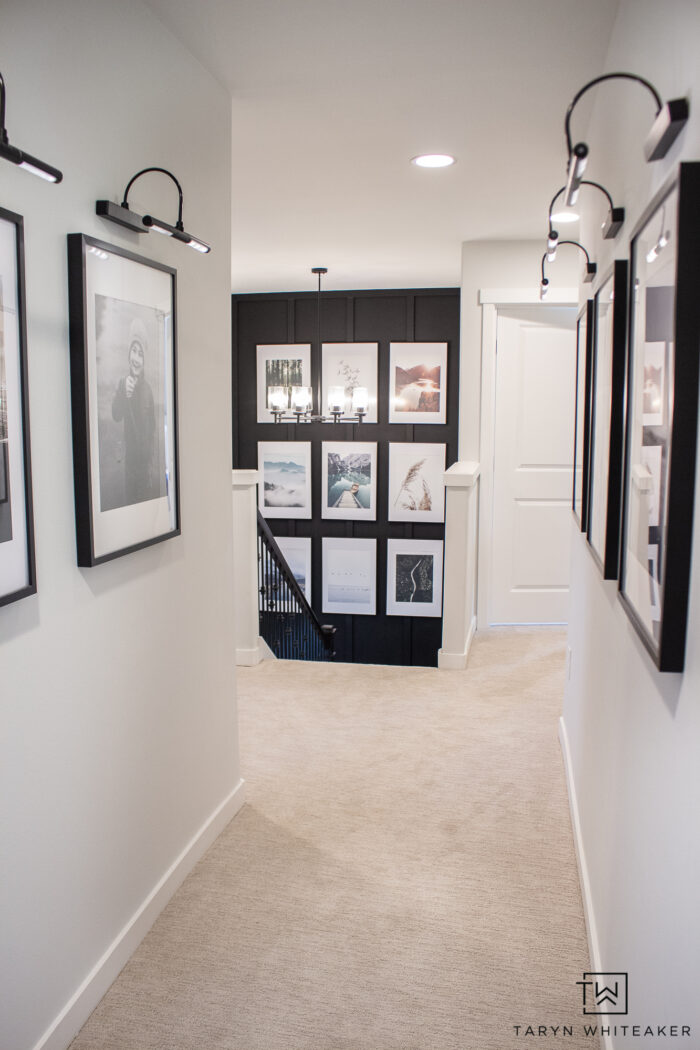 I always loved this view of our home!
This DIY Hallway Gallery wall was also an easy but impactful project. You can see the full tutorial and get the link for the wireless art lights here.
Black and White Primary Bedroom
Heading into our primary bedroom. I could not have loved this space more. It was absolutely perfect. Amazing size, vaulted ceilings, and a space we spent a lot of time making our own over the years.
I prefer hardwoods in the bedrooms. At least the primary. I think carpet can be great for little kids. I'm so thankful we took this carpet out and replaced it with engineered hardwoods. I also added faux beams, white washed brick wallpaper , and decorated it in a minimalistic monochrome look.
We had custom built-ins added in here and it was the best decision ever. Projects like this are completely worth the investment. Furniture will wear and eventually go out of style, but built-ins add a timeless look and make the space feel custom and expensive. These built-ins and fireplace were actually fairly reasonable and worth every penny!
We didn't have a door between the bathroom and bedroom for many years. It was always a pain point for us because my husband gets up early for work and we'd often have a kid who crawled in bed with us, especially in younger years. Adding the barn door created a visual element but was also very functional.
Let's head into the primary bath.
This is a space I didn't share that often. It was one of the few spaces I didn't do a full remodel on, it was on my list for the next few years! I did a quick refresh in here by painting it and switching out the mirrors and light fixtures for something more modern.
Walk In Closet Organization
I often ask myself if I miss anything from our previous home. And there actually a few things that I really do miss. Our closet is one of them! I had planned this space for years and spent so much time making sure it was personalized for exactly our needs. We were only able to enjoy the functionality of this space for about 4 months. You can read about the closet organization system I used here.
I'm grateful for the space we have in the new house (we each have our own walk-in closets now), but they just don't function like this did!
Shop This Space:

Baby Blue Girl's Room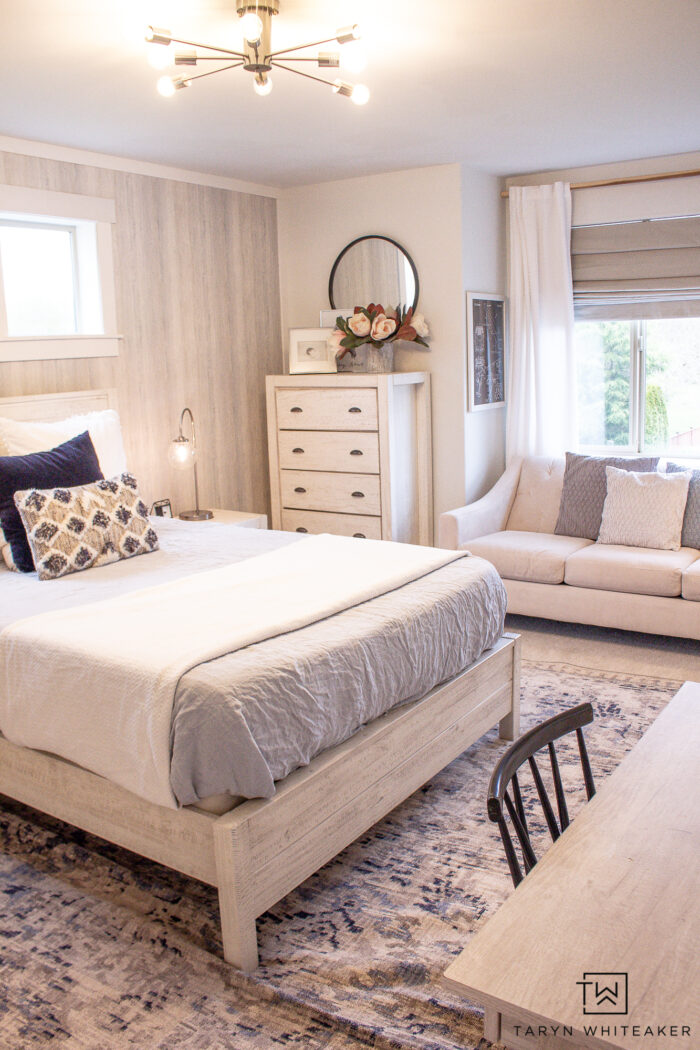 My daughter always wanted a blue bedroom! Not too girlie, but also put together and chic. I love that she has a simple yet refined style, and she always knows what she wants! She has already designed her new space in the new home. It's completely different and I'm excited to tackle it with her!
Shop This Space:

Shared Jack-N-Jill bathroom
Between my daughter's and son's room is a shared jack-n-jill bathroom. This is one the first big remodel projects in did in this house and I think it was what gave me the confidence to really get started on our home and start making it our own!
Shop This Space

Heading into my middle son's room…
Boys Modern Skiing Bedroom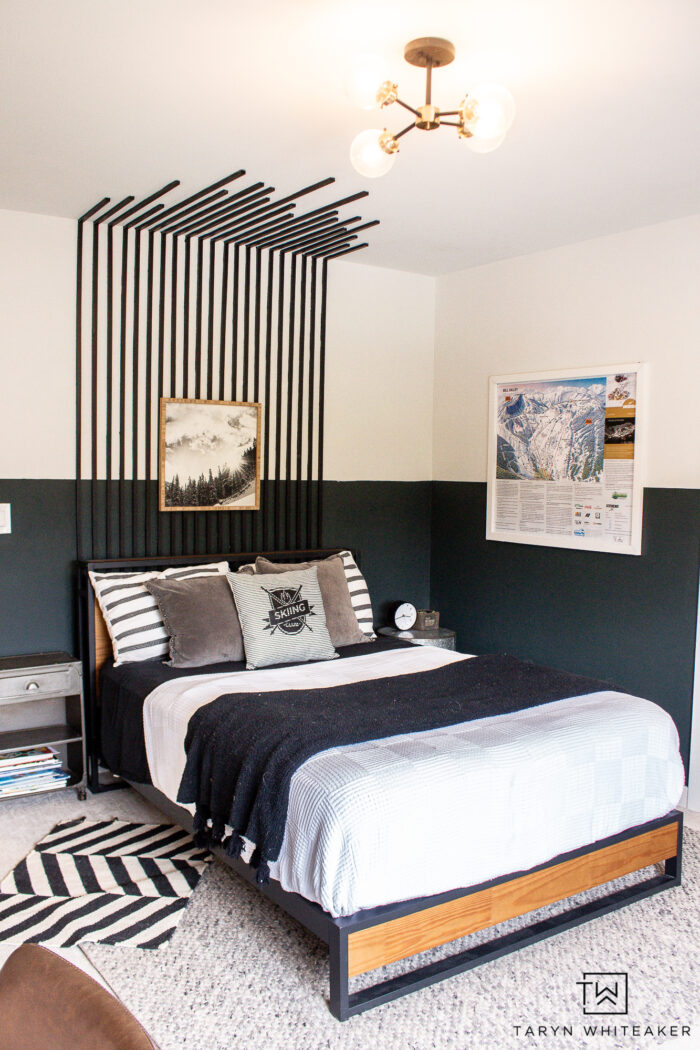 It was a space that has evolved SO much over the past 8 years. It started off as a rustic toddler room, then into a navy blue big boy room and now a high contrast emerald skiing themed bedroom.
This oversized wall mural art was one of my favorite projects in here. It's an easy way to make a big impact on a large blank wall.
Shop This Space:

Boys Adventure Bedroom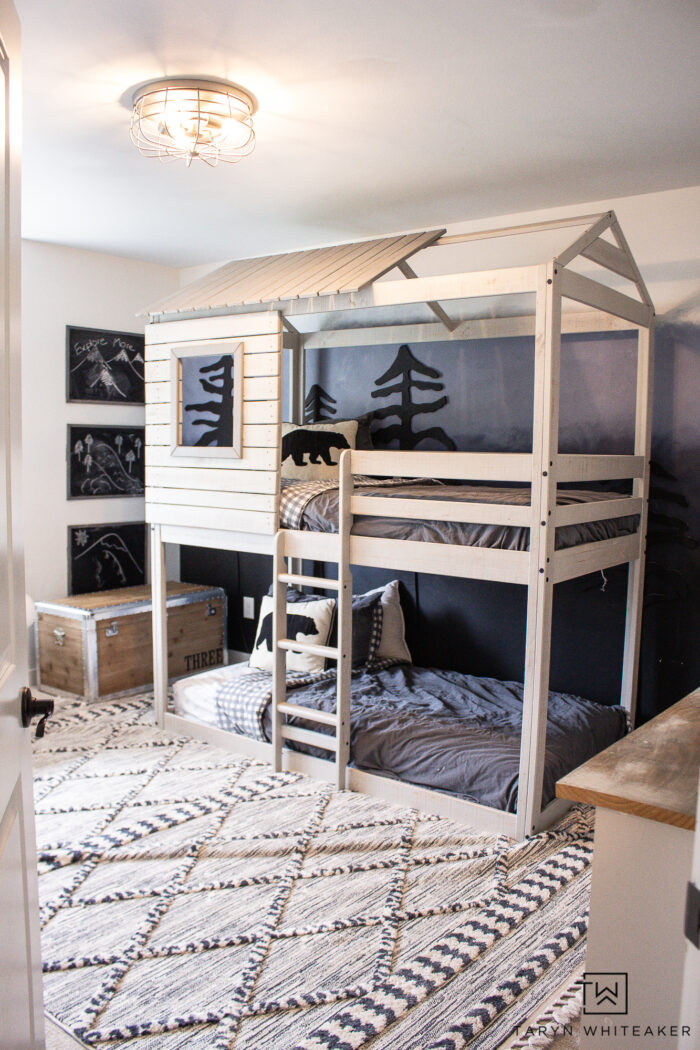 Our youngest's room has also evolved over the years. It started as a neutral nursery, then went into a modern forest bedroom.
Shop This Space:

Black and White Bathroom Renovation
The VERY last projects I completed in our Washington home was this full bathroom renovation. It was by far the largest renovation I had tackled to date, it was a huge learning experience. The original plan for this bathroom would that it would be our daughter's. She is the oldest and the only girl, and it made more sense for her to have her own bathroom and the boys to share their own.
Im fact, she helped me design it with the idea that it would be hers. But we never quite got there! After this finished, we were going to have her and my youngest switch bedrooms and redo their rooms.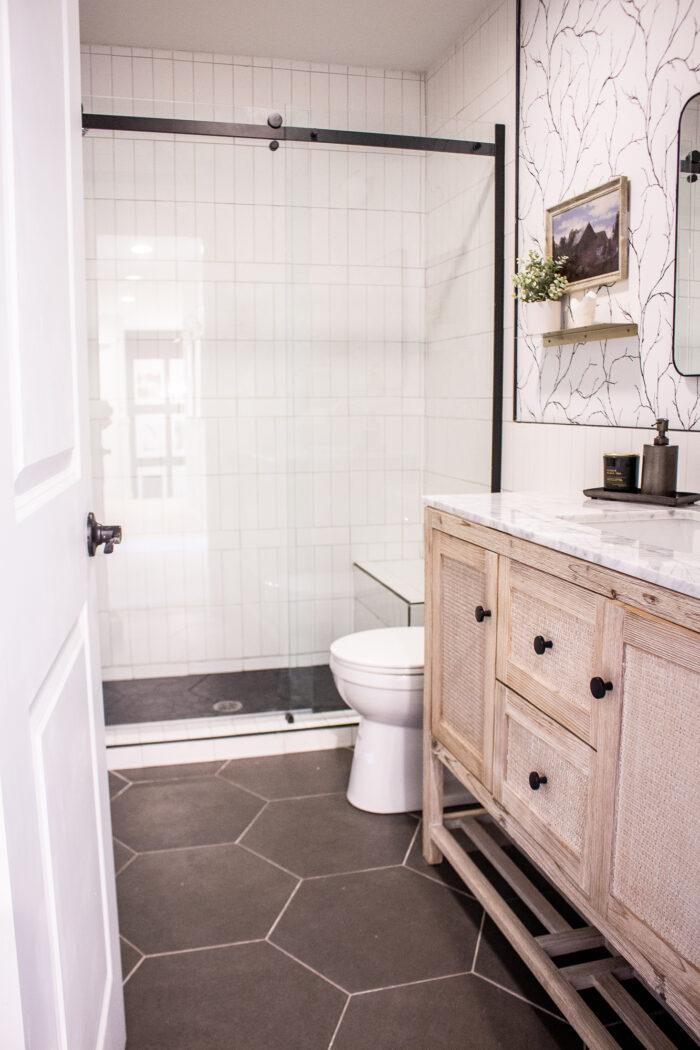 Shop This Space:

Small Laundry Room
I always thought it was interesting how small our laundry room was in this house. I liked how it was on the top floors with all the bedrooms but you really couldn't do more than just wash laundry in here. It wasn't big enough to fold. But I did what I could to update this small laundry room space to feel like the rest of the home.
Shop This Space:

Moody Movie Room
I'll never get over my love for dark moody spaces. I love high contrast with lots of texture and this was one of my favorite spaces in our home! We spent a lot of time in here as a family, we loved this space.
We originally designed the desk area to work as a home school space during the year we homeschooled. Eventually I made a few tweaks, took down cabinets and added open shelving to give it more of a decorative look.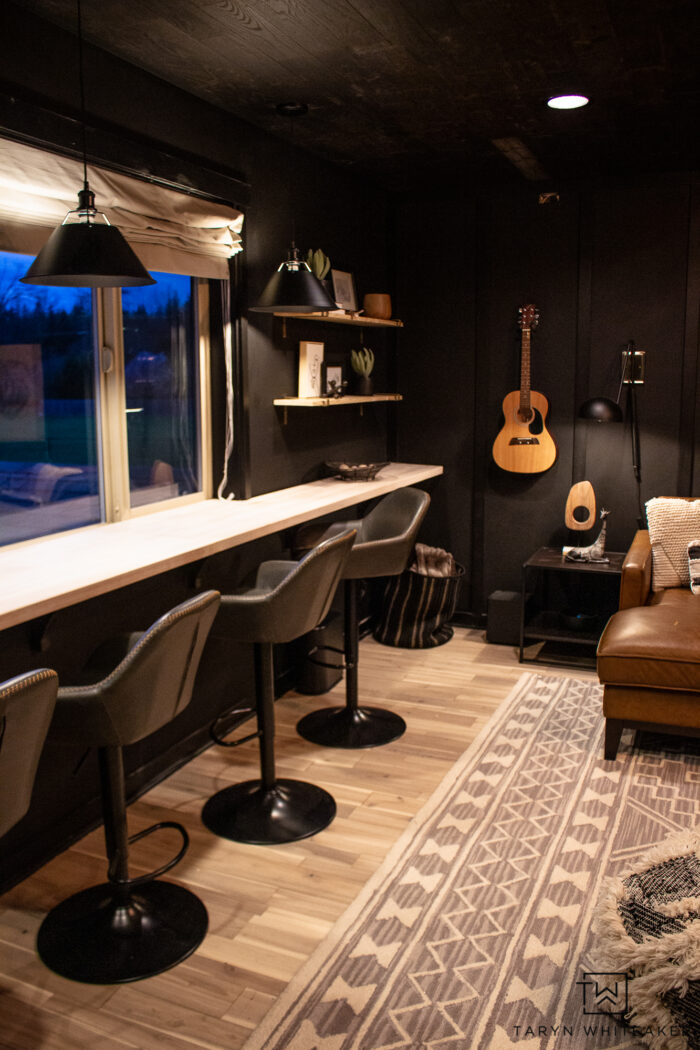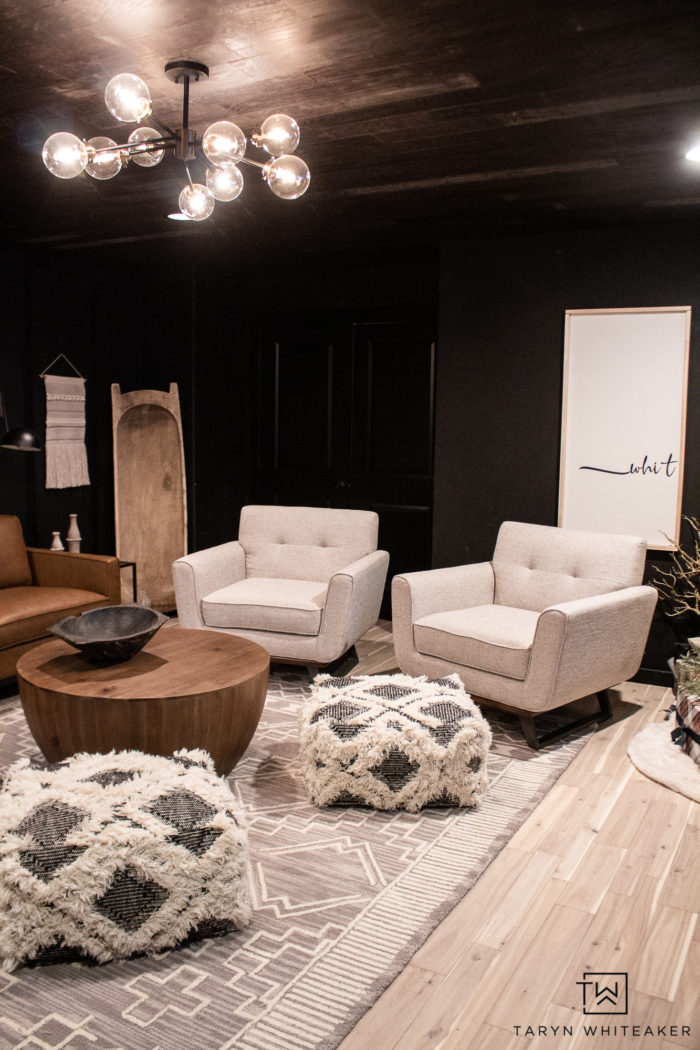 Shop This Space:

Covered Outdoor Space
When we purchased the home, it came with this covered outdoor patio. This is space is such a treat with how much rain we would get in Washington. You could sit out here with the fire going and the rain falling outside. I loved this space.
Shop This Space:

Backyard Entertaining Space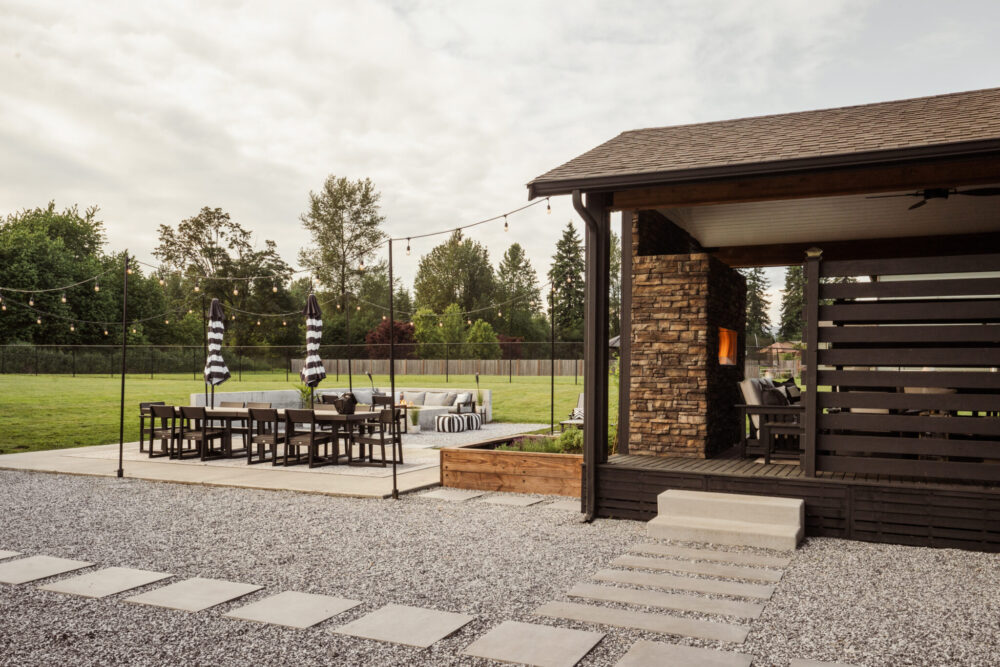 Our backyard renovation was also one of the last projects we finished in this house! And honestly, probably the thing I miss the most. This space was SO much work, but also worth every hour/month of hard labor and money. Every penny was a penny well spent. It truly was our dream project.
I just shared the wonderful photos that Yardzen took of our space. You can read the full post and get all the details on our backyard!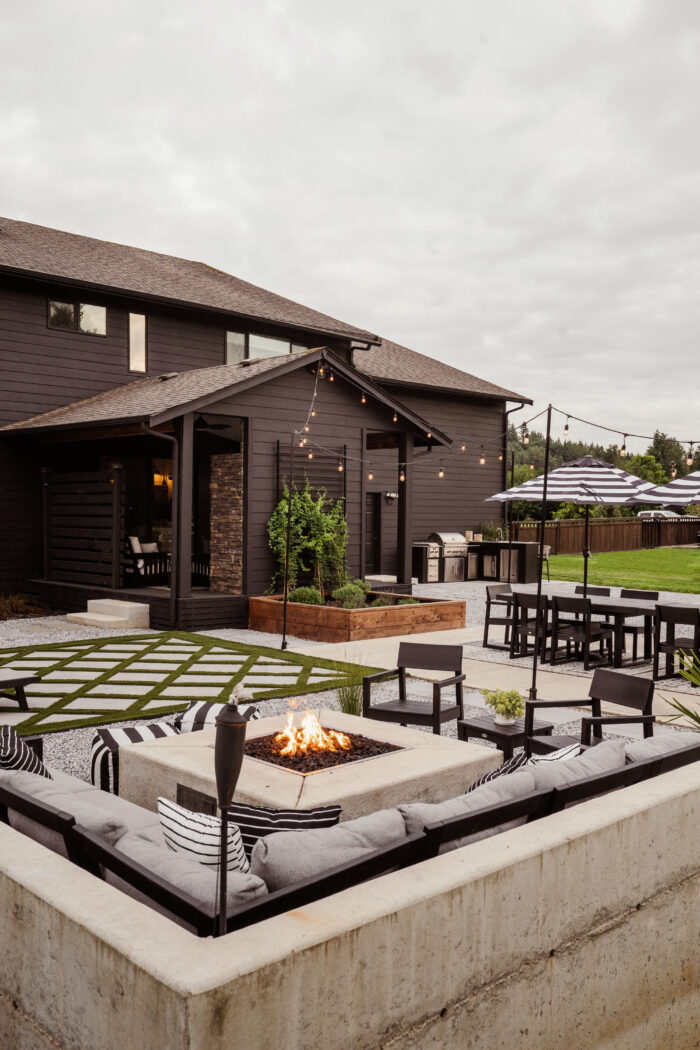 I'll never get over this backyard. I loved it so much and still do.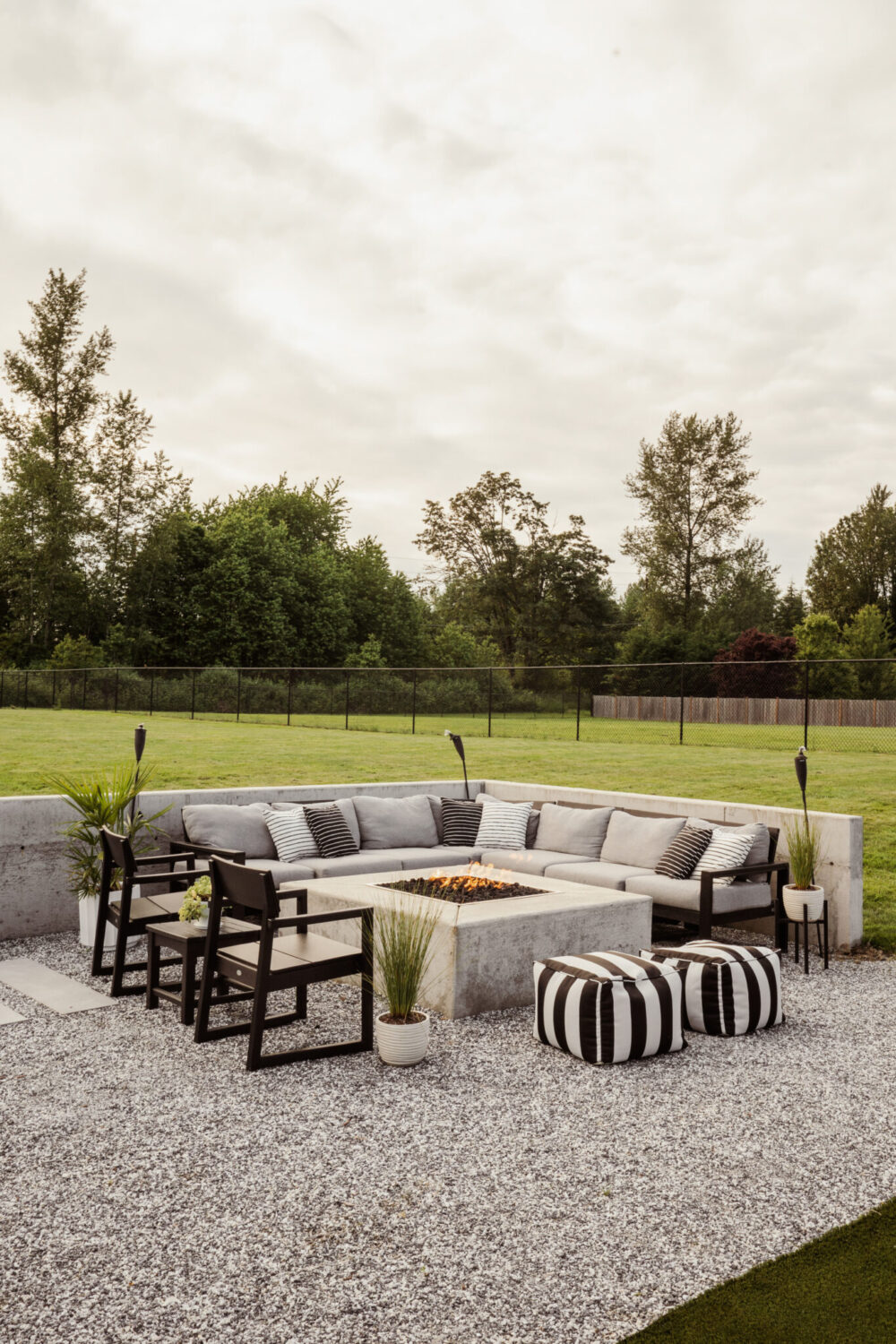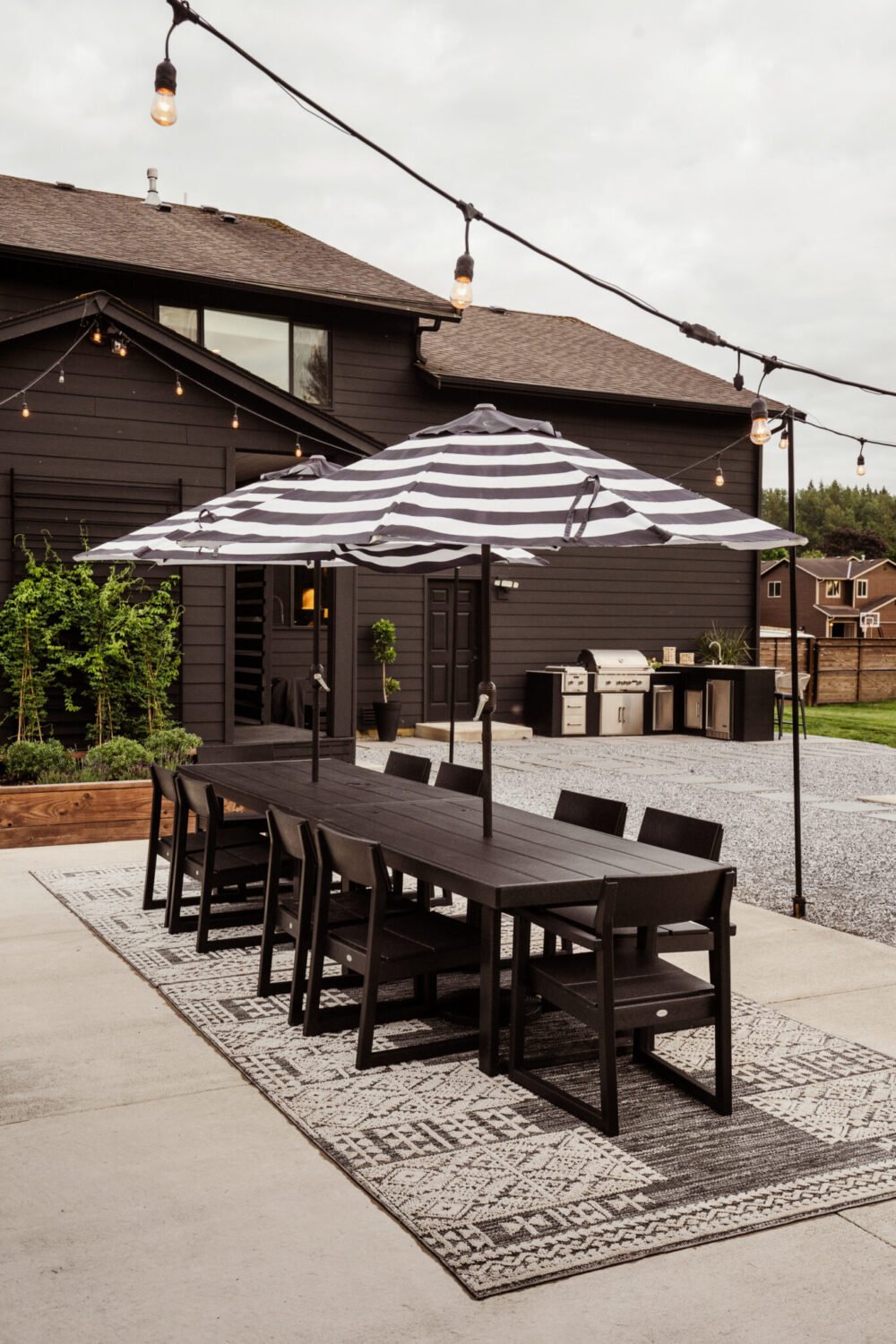 Shop This Space:

Modern Washington Home Video Tour
To really get a sense of just how much has gone into this home over the past 8 years, you can look through my very first home tour from 2015! It's crazy to see how much the home has changed (not to mention my photography!). We all start somewhere :)
I can't wait to share our new home in Dallas with you soon! You can always catch a glimpse on Instagram.