This might be one of my most rewarding projects to date! I have fully underestimated how amazing it feels to have a fully organized closet. I have focused all my efforts on all of our main living spaces over the last 7 years and completely neglected everything behind closed doors, including our closet. We have a pretty decent size walk-in closet, not huge, but very comfortable. The problem is, it only had a few bars of wire racks and zero storage which resulted in one huge hot mess. I have wanted to put in a closet system for years and today I finally get to share our walk-in closet makeover with you.
Walk-In Closet Makeover
Welcome to our fully organized, closet of my dreams!!!! Our closet makeover was one of the first items on my 2022 project list, not only does it feel amazing to check it off but I am IN LOVE with how it turned out! Is this really OUR CLOSET? Our closet feels so so much bigger than it was before. I cannot believe this is the same space.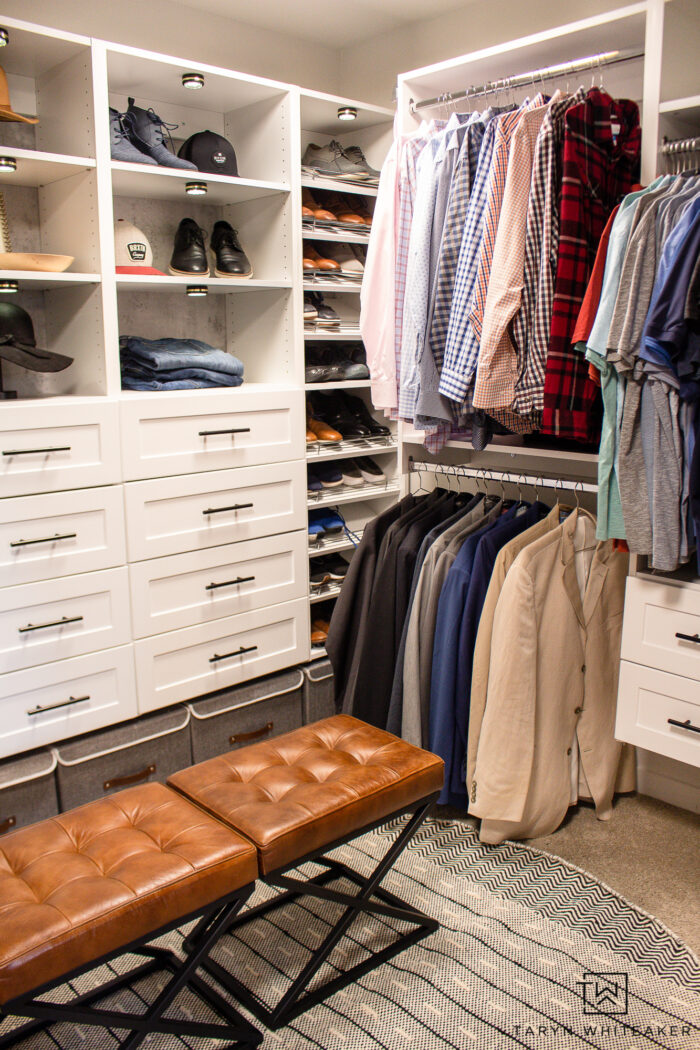 To fully appreciate the 'after' and the amazing this space this has become, you have to see the before photos. Just remember I didn't change anything structurally about this space, just installed an organization system and styled it.
Before Closet
Our closet is roughly 9ft X 9ft. All we had in here were wire racks. Cheap wire racks that drove me absolutely nutty. No place for shoes other than piles on the floor and no other forms of organization.

Our closet became total chaos over the years. EEEEK.
Walk-in Closet Design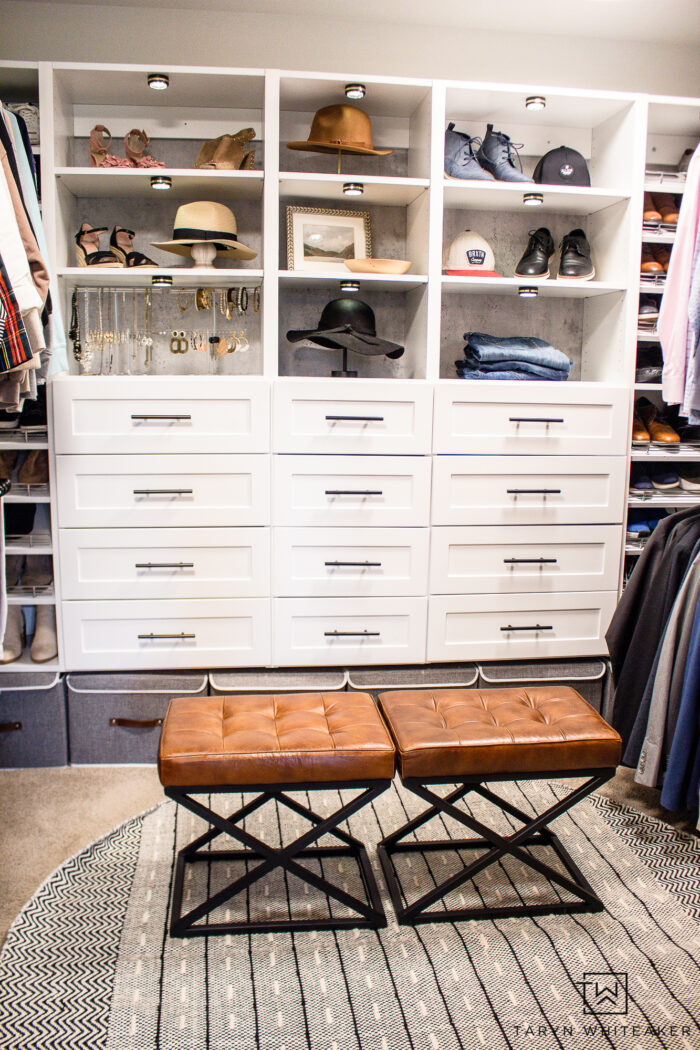 I have thought about what my dream closet would look like for YEARS. But I've never designed a closet before or had a custom closet done before so I didn't even know where to start. Do I want my jeans folded or hung? How much hanging space versus drawers, versus open shelving? How many pairs of shoes do we need displayed each season? These are all questions I thought about. But how do I design a space that has everything we need and also looks great?
I stumbled upon Modular Closets and started playing around with their online design tool. This made it so easy to play around with different closet designs! After spending HOURS, I mean HOURS designing our closet, I finally felt good about a design that was both practical and aesthetically pleasing. I reached out to Modular Closets and they were so wonderful and agreed to work with me on this project!
CLICK HERE FOR 15% OFF YOUR CLOSET ORDER
I wanted a statement when you walk into the closet. I designed it so there is a wall of gorgeous built-ins that showcase special items, hats and decorative elements. The drawers provide storage for under garments, socks and workout clothing. This also serves as the divider between my husband's and my sides of the closet. We basically divided the builtins down the middle, we both have our own set of drawers and then our shoe towers on either side.
Styling Closet Shelves
I was worried that I added too many shelves and not enough hanging space, but I really love how it looks. At the end of the day, I think I maximized the space to the best of my ability, but we could really just use even more space. BUT I am so fortunate we have what we do!
The towers from Modular Closets are beautiful, but I also wanted to add my own personal touch to the closet design. I added this concrete wallpaper behind the shelves for a little pop, along with these wireless accent lights to spotlight all our featured items. I like these lights because you can put them on a timer, so the batteries don't run out as quickly.
I had the hardest time finding jewelry organizers that were under 11″ tall, but I finally found these Clear Acrylic Jewelry Stands on Amazon and they were a perfect fit!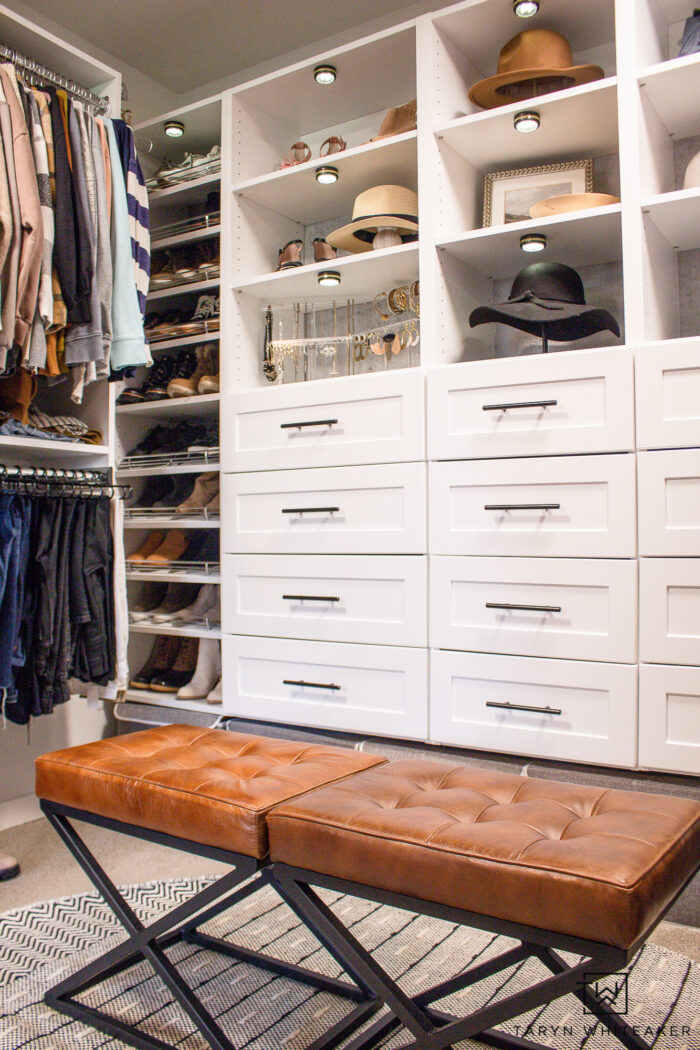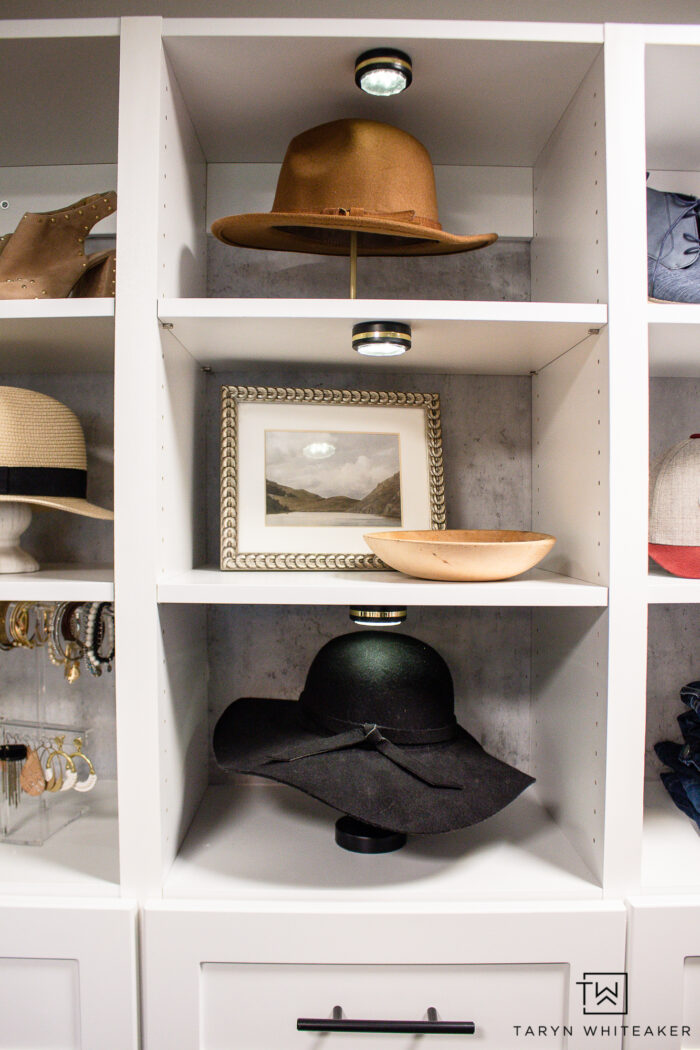 When styling shelves, it's all about finding balance and symmetry with your pieces. I use a variety of hats and special shoes that I wanted to feature. I also added a little decor with this vintage print I found on Etsy.
Often times when I come to a road block with my designs, I ask YOU all help. This is why I love InstaStories so much. I was having a hard time finding a hat stand that would fit under the shelves and one of you recommended using a variety of candle sticks! OH my gosh this was brilliant! I love the little eclectic look they add!
Closet Organization
Finding the right closet organization system that works for you can be tough. I took inventory of my clothes and knew I needed space for hanging dresses, folding sweaters, business casual, every day shirts and sweatshirts and a place to organize all my jeans.
This pant rack pull out is one of my favorite features in this closet! I love seeing all my jeans in one place and being able to pull out the whole rack makes it so easy to pick a pair for the day! I put two pair of jeans on each hanger and that worked great for me!
My other favorite feature is our pull out Laundry Hamper. The one we had before we had since before we were married! In fact I think I gave it to my husband as a gift when we were dating because he needed one lol. I love that this hooks right into our Modular Closet system and keeps our laundry organized and off the floor.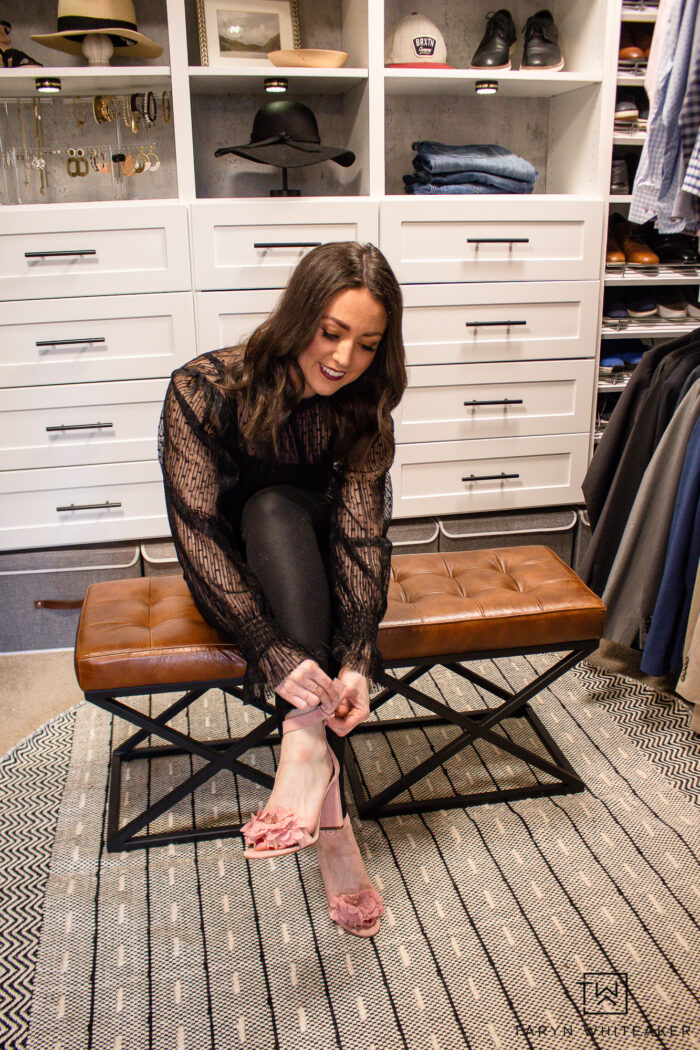 My last favorite feature of this closet are these Leather Tufted Ottomans! We don't have enough space for an island (that would be goals), but we have enough space for some seating. I love these benches so much, they are amazing quality and really add a chic look to this closet. We actually use them every day too! I originally put them in primarily for the look, but they are SO practical.
You guys, I really did find a way to use every square inch of space in here. We didn't have enough space for a full standing mirror, so I added this black hanging mirror to the back of our door. I love this one with the rounded corners, it gives it a little more of a modern look.
CLOSET MAKEOVER COSTS
I have had quite a few people ask that I share more about project costs! I realize this can be really helpful when planning out your own projects so I'm going to try and be better about breaking it down for you!
Modular Closets System ( partner ) $4,000
Organization Products (hangers, jewelry, drawer inserts, bins etc) $278
Decor (Rugs, lights, benches, mirror) $980
TOTAL PROJECT COST: $5,258
CLICK HERE FOR 15% OFF YOUR MODULAR CLOSETS ORDER
Shop This Closet