This post has been sponsored by KILZ®. All thoughts and opinions are my own.
Ever since we painted our bonus room dark charcoal gray, I've been itching to do another big bold room! I love the dark wall trend happening right now, so I jumped at the opportunity to paint my son's room a beautiful navy blue. Picking the right paint color can be tricky, so I tested a lot of navy blue paint colors and decided on KILZ COMPLETE COAT® Paint & Primer In One Prussian Blue (RD100-02) with a flat finish.
 This is such a beautiful shade of navy! Dark and classy. Let's see what a little paint can do!
Navy Blue Boys Bedroom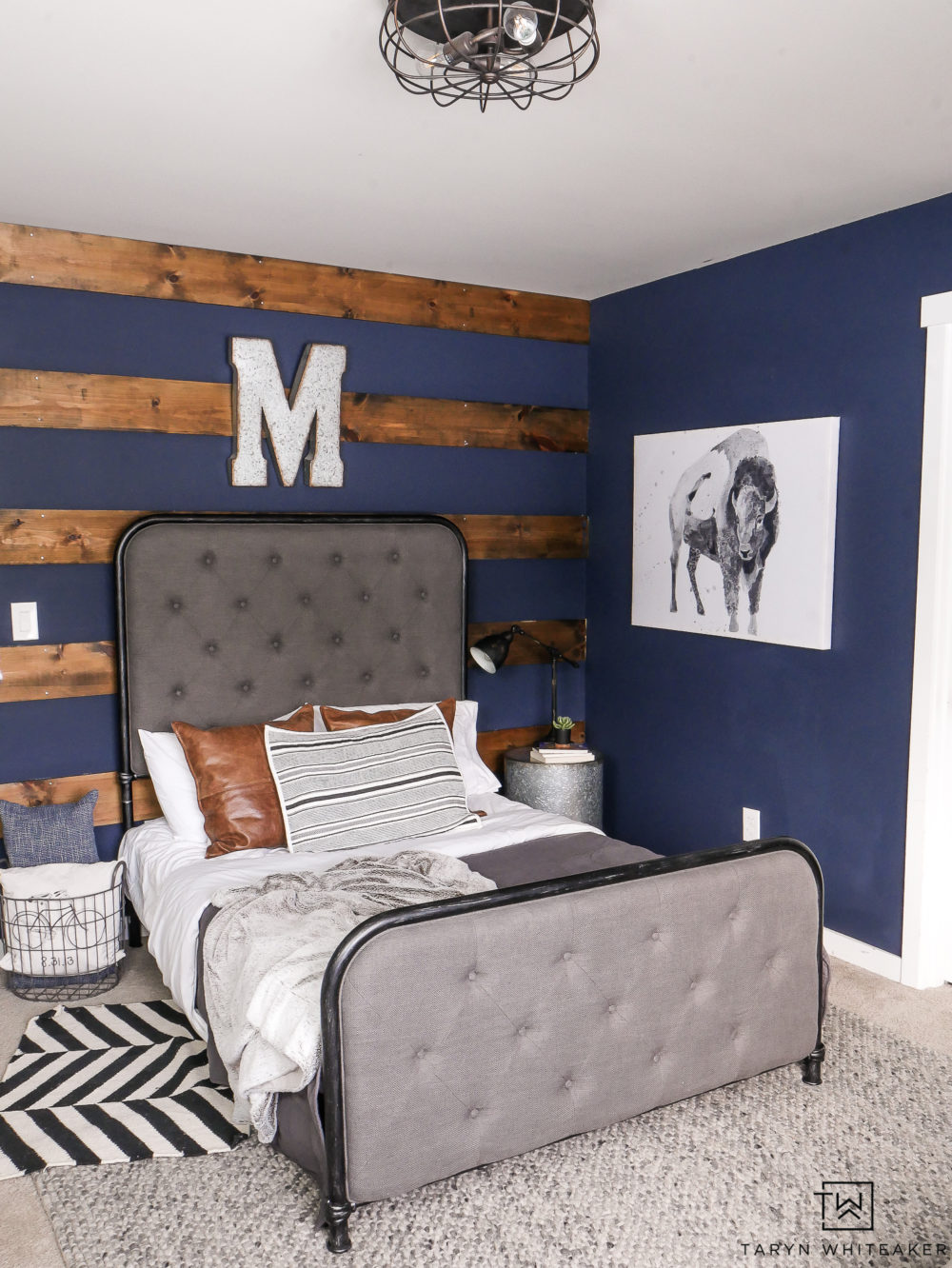 I have shared a lot of variations of this room over the past three years. It's amazing how it's changed over time with just a few simple changes here and there. With this mini makeover, I wanted to keep the majority of the decor in the room the same and let the paint do the talking!
Before Room
Here is glimpse of the previous room from a few years ago. I had originally placed the bed against the corner wall but decided to change things up this time around! I wanted the wood striped wall to become more of a focal point and create an accent wall against the headboard. I hesitated doing this before because I was worried the bed would stick out too far and take up too much space in the room. I was wrong. I actually love this so much more, and I wish I would have tried it a long time ago!
And a quick note, In some cases, it may be helpful to use a separate primer to prep your space for new paint. If you are painting an older home that has stains on the wall or maybe you moved into a rental and want to get rid of a bad smell, you can always use KILZ 2®Latex Primer first.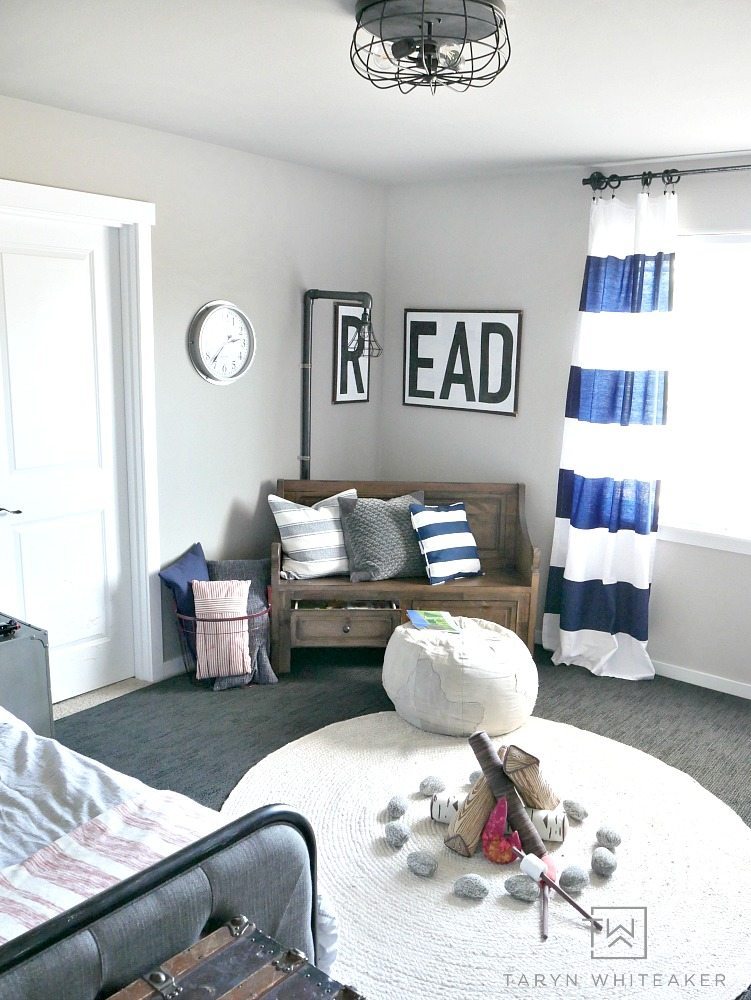 It's funny how I look at the before pictures now and it feels so plain.
Rustic Boys Room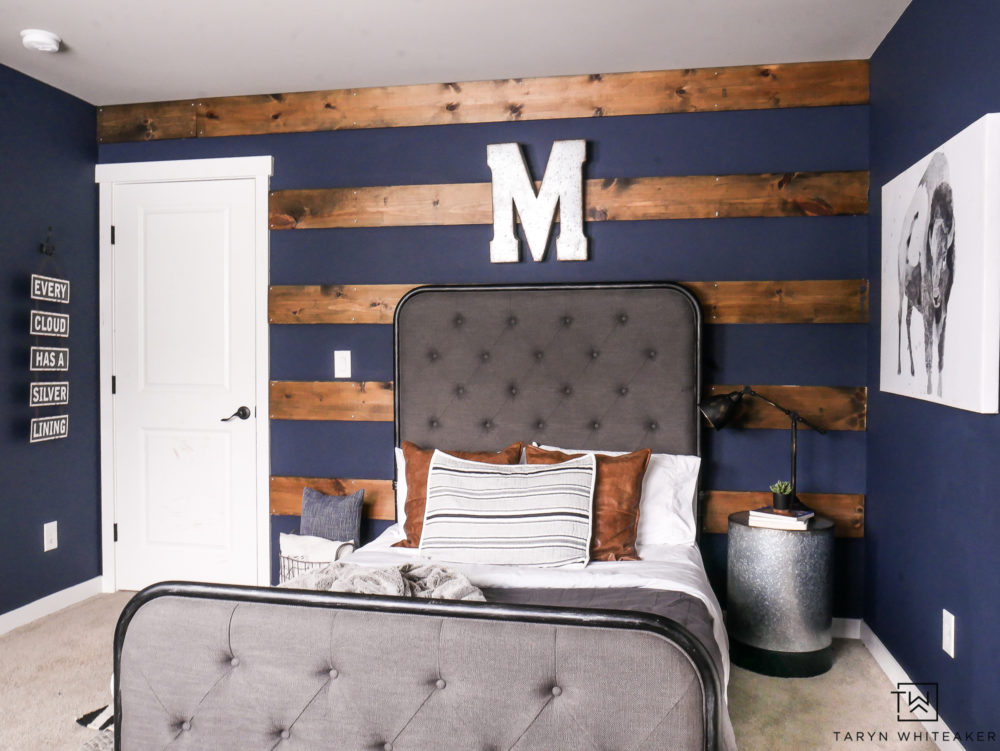 The new look is so much bolder, richer, and actually warms up the room. The dark navy wall color allows for the medium wood tones and the white accents to really pop.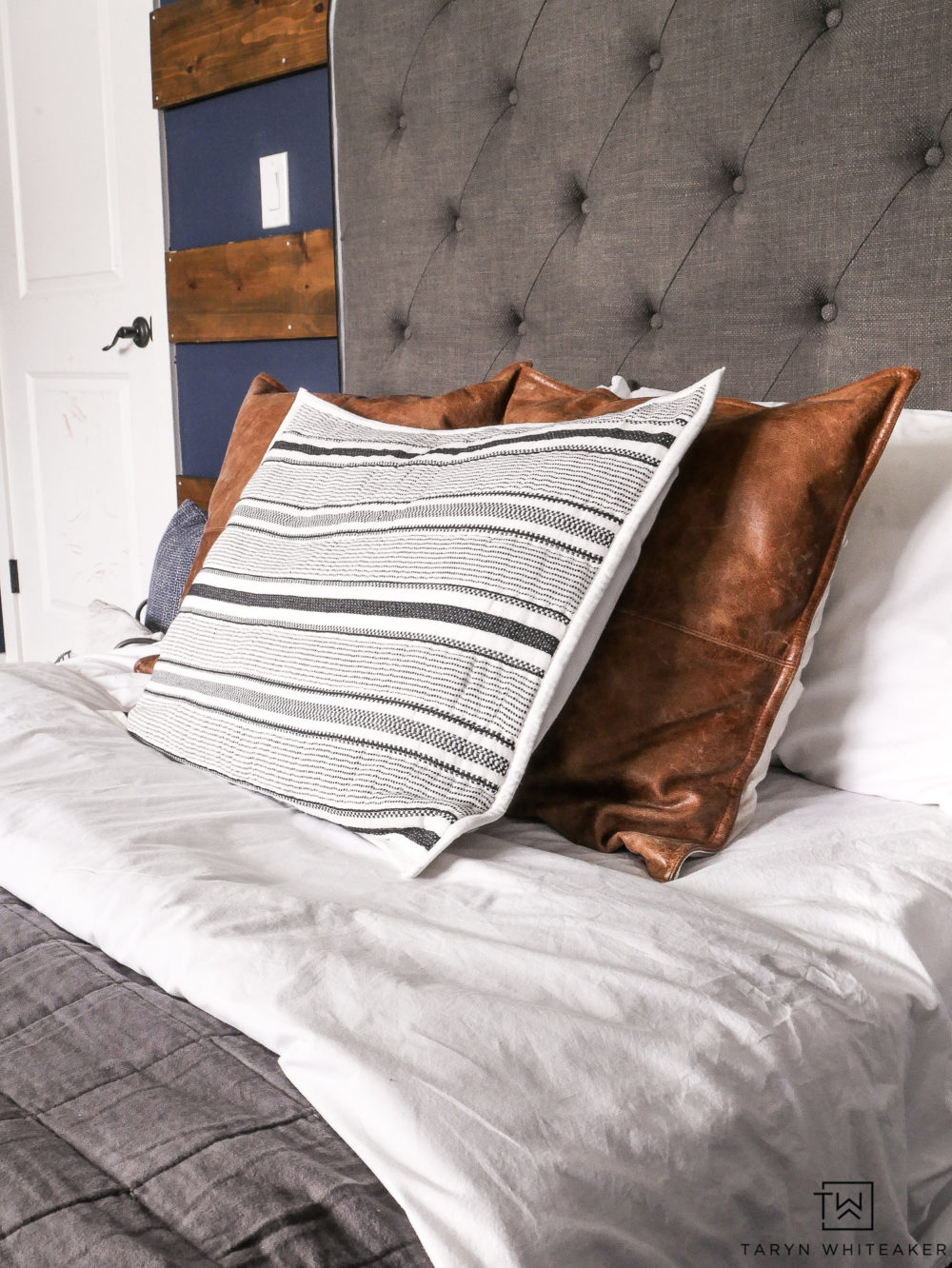 I still like the overall rustic feel to this boy's room, so my goal was to keep as much as the current furniture and decor as possible. But when you make a big change like this, it always creates a little bit of a domino effect! I did end up picking out a few new accessories, like this gray bedding, black and ivory patterned pillow, and a new night stand! While I absolutely love the color navy, I didn't want to overpower the room with it. So I kept most of the decor to black, white, and gray, and kept the navy to only the walls.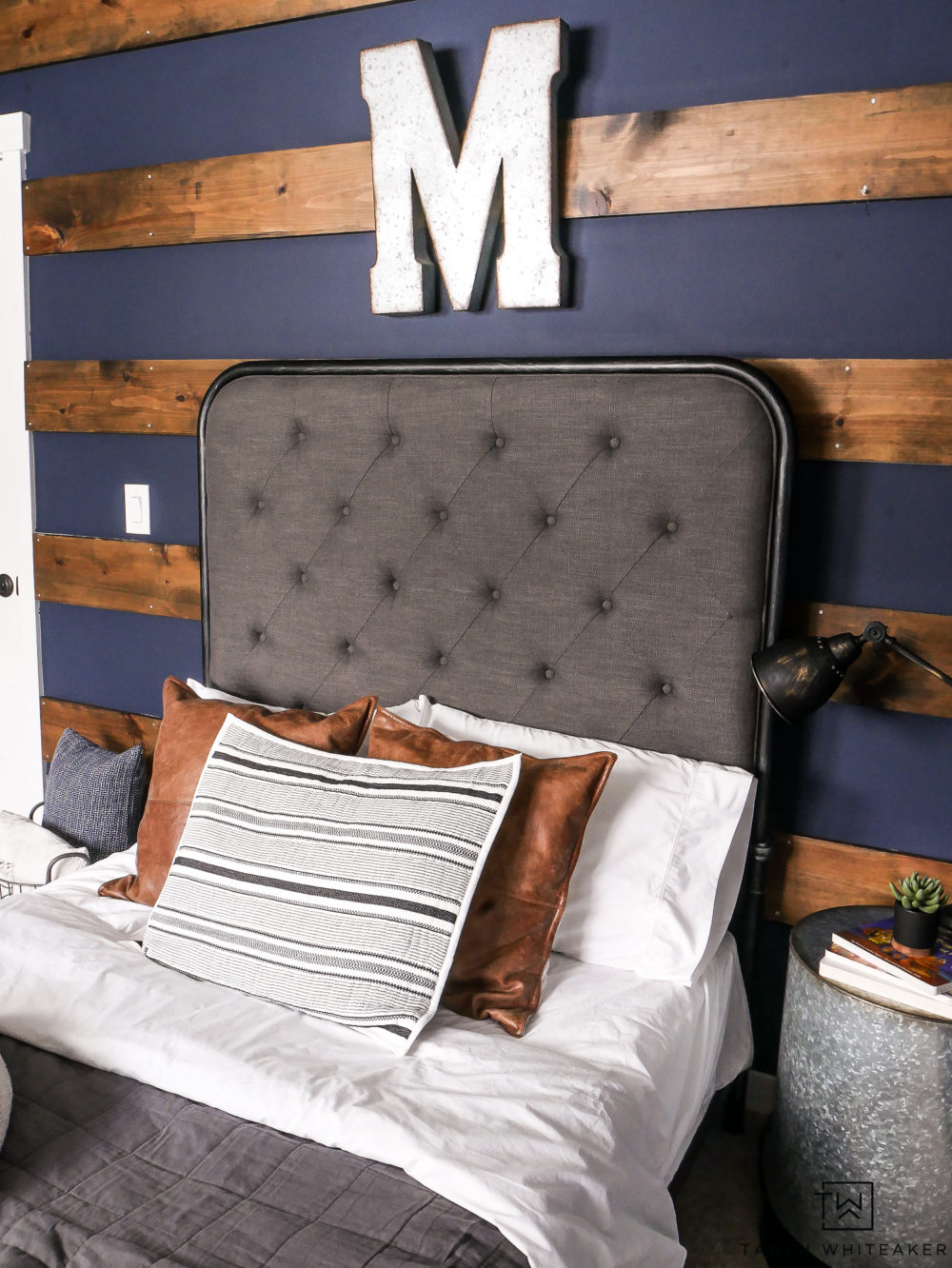 I love having the bed this direction; it actually allows for a proper night stand setup! I couldn't pass up this galvanized barrel night stand; it blended in so well with the current decor!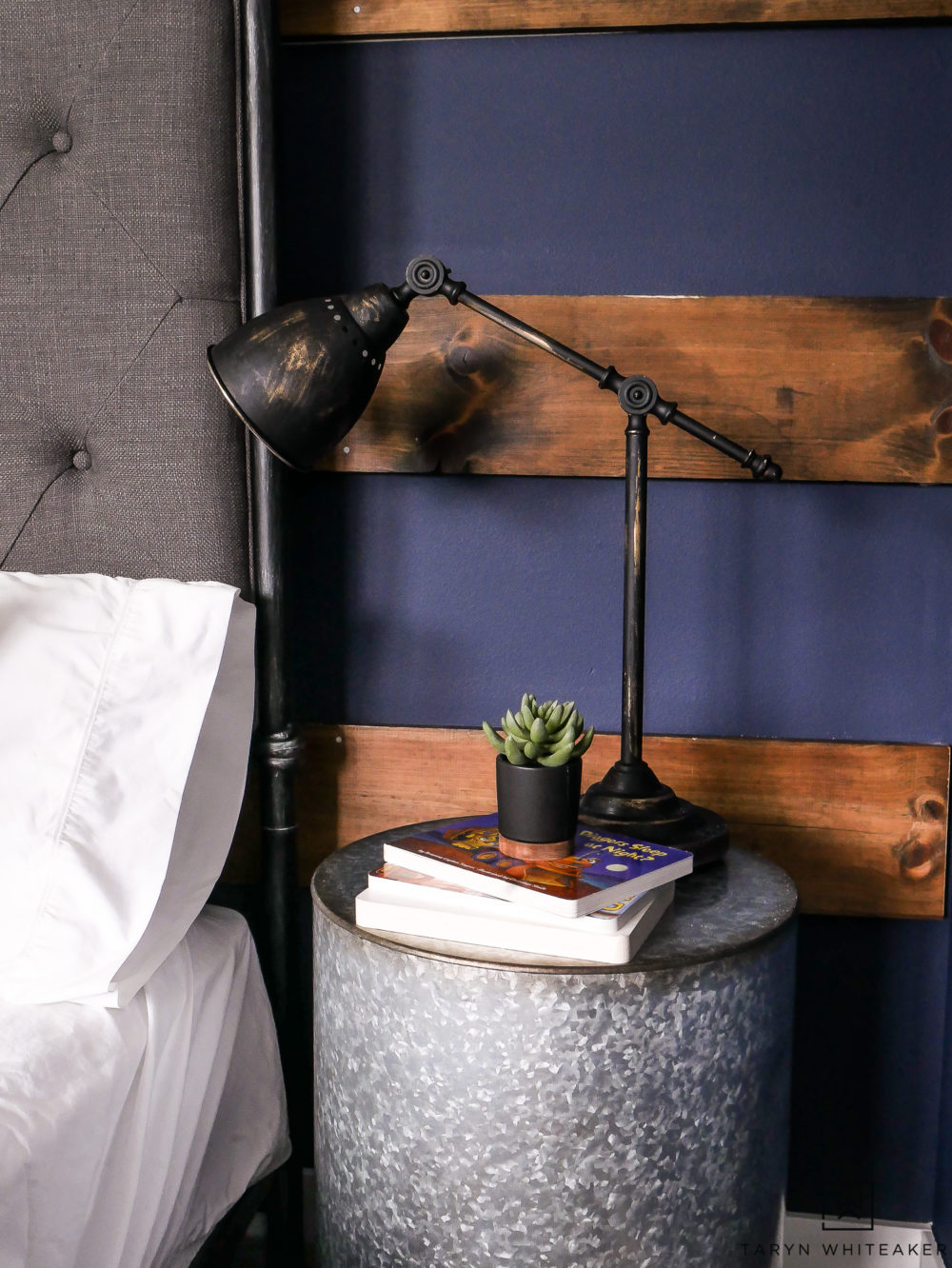 Navy Blue Wall Color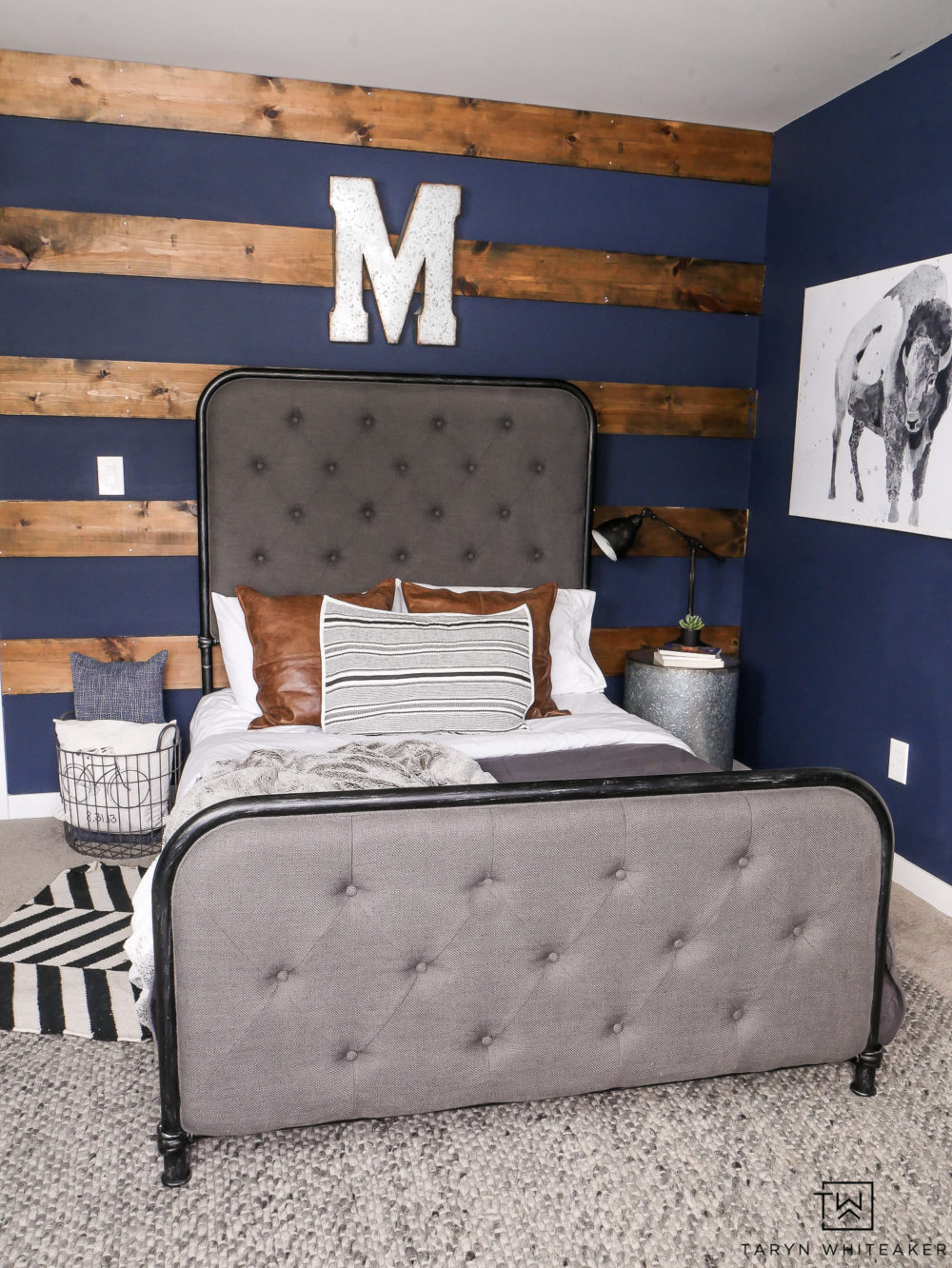 The thing I've noticed with darker wall colors is that they take up the dead space on the wall without you having to over-decorate! Does that make sense? Keep reading…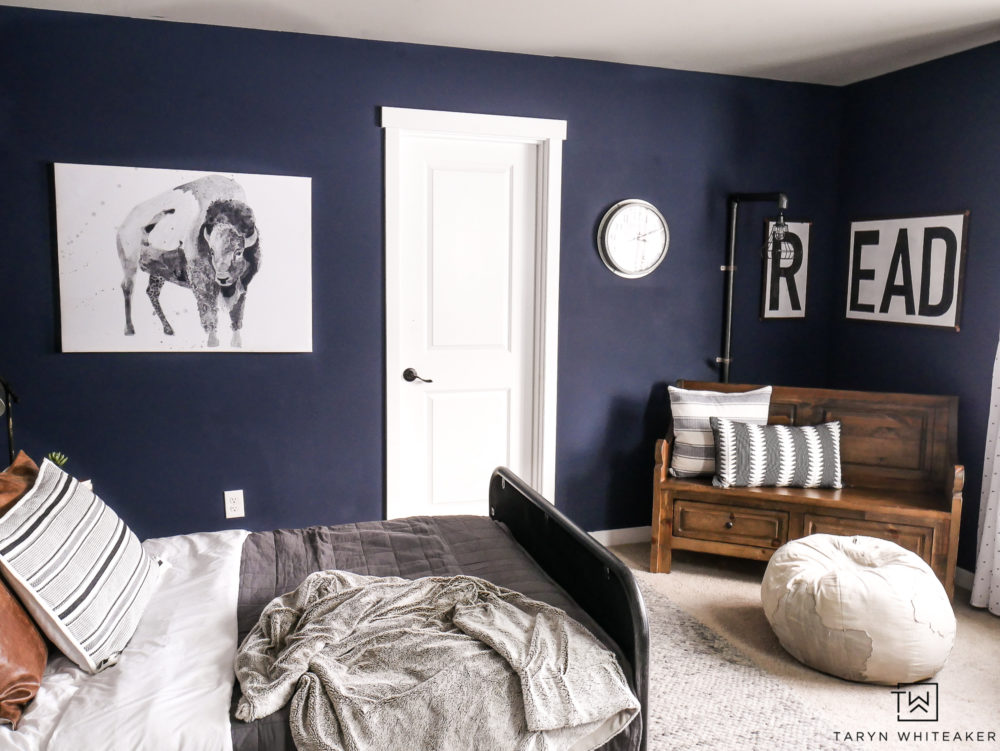 I like to keep my designs fairly simple; I don't always believe in adding stuff just to add it. But looking back at previous versions of this room, I realize that they might have come across as too plain. Now, the darker wall color adds so much depth to the walls. It allows for the current decor to stand out and really brings the entire space together.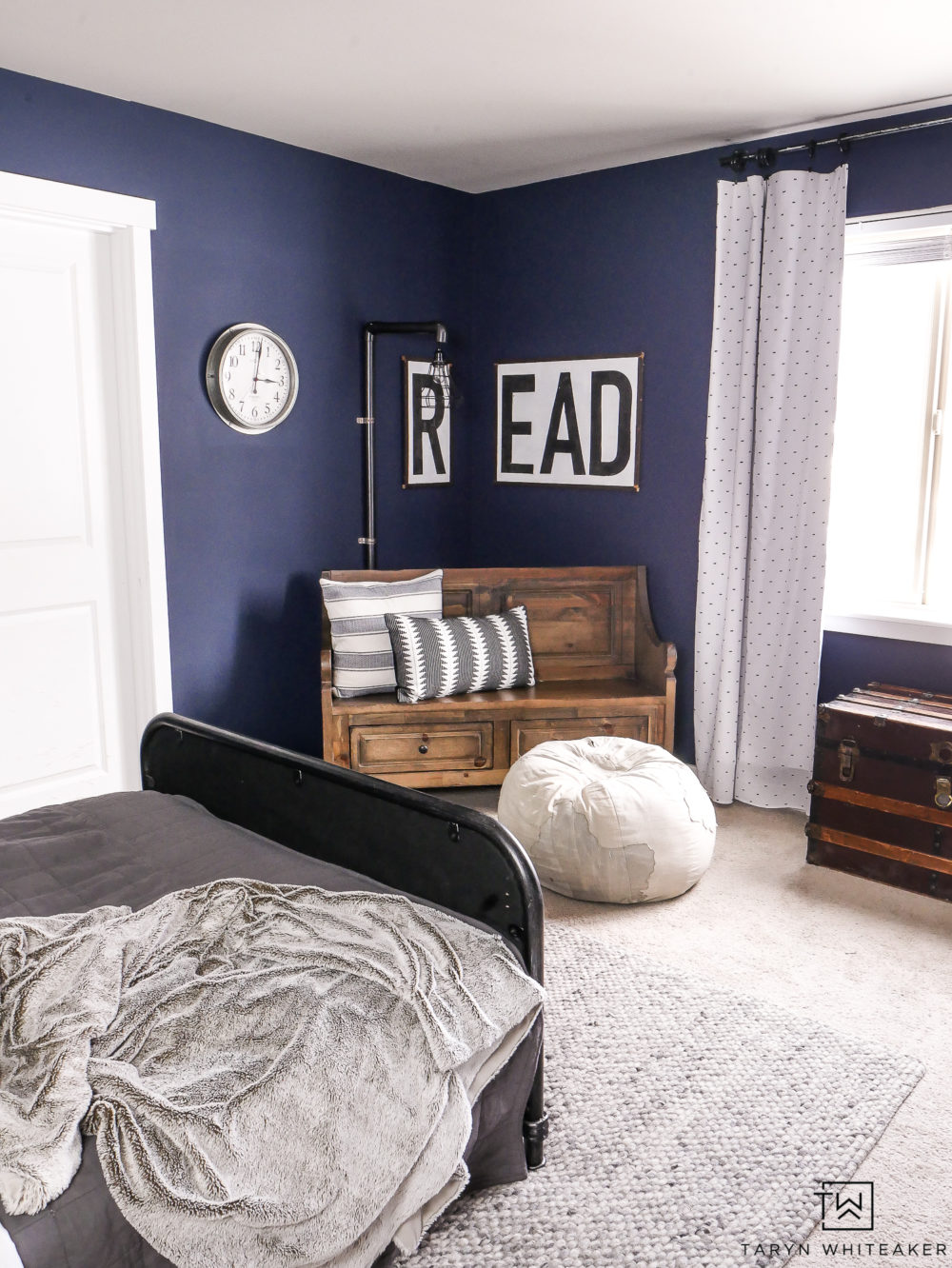 It truly is amazing what a little paint can do! And for fairly inexpensive, too. The KILZ Complete Coat Paint & Primer in One
can be found at your local Walmart store (or ordered online from Walmart.kilz.com!) and is right around $20 a gallon! Just a tip: I did find that not all Walmart Stores have the KILZ paint cards handy, but they can all mix the paint! You just have to give them the paint SKU from online.
It only took one gallon to complete this space (pretty much exactly a gallon, barely made it, but it worked!). So, think about it, $20 to paint your room and completely transform it. Not a bad deal!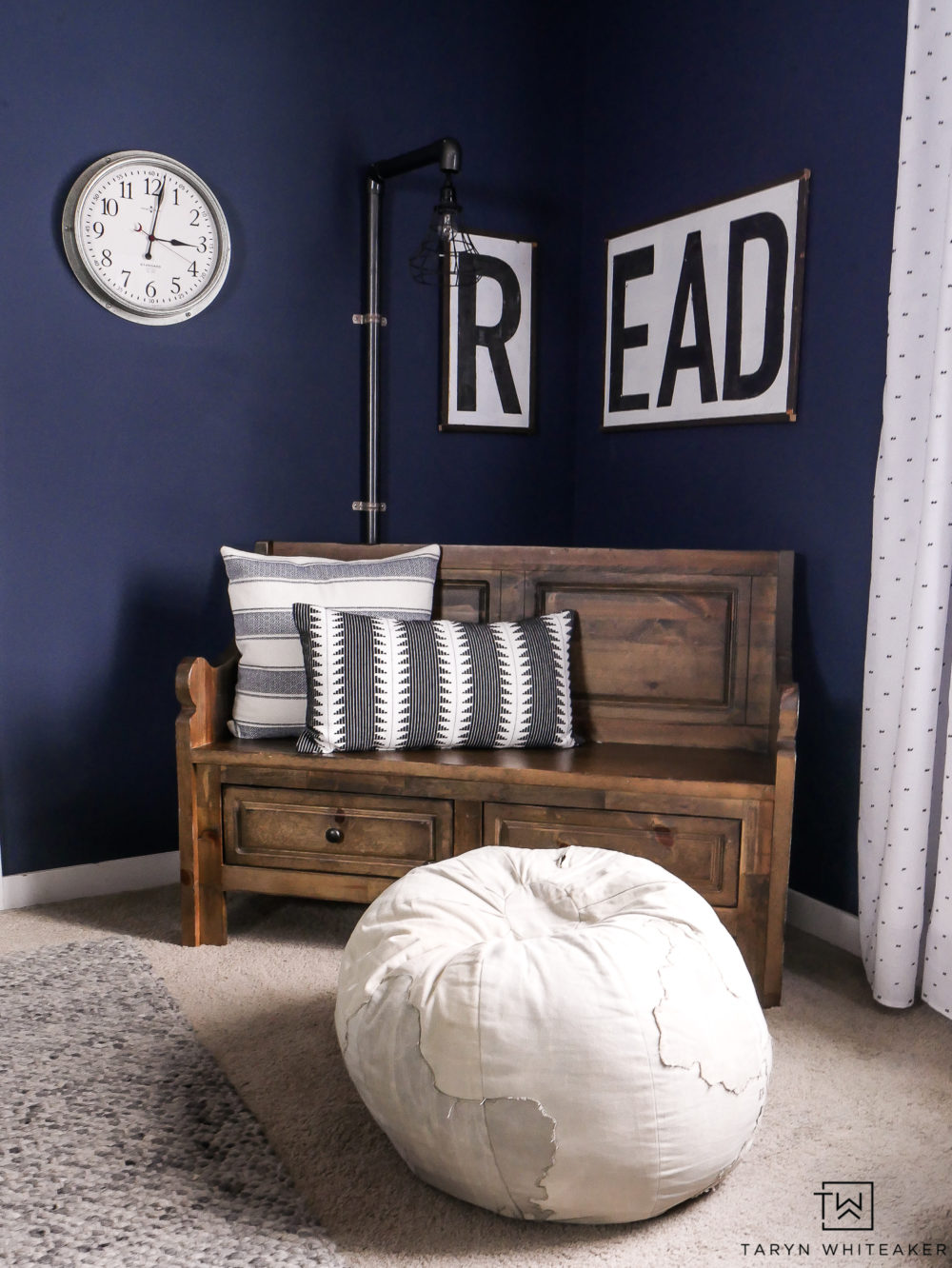 This little reading corner is super fun and well loved. We store all the books in the drawers of the bench, and it makes for a fun treasure hunt every night before bed!
And oh my goodness, where did time go? My little guy isn't so little anymore, but I couldn't resist hanging a few of his baby pictures up.
Industrial Boy's Room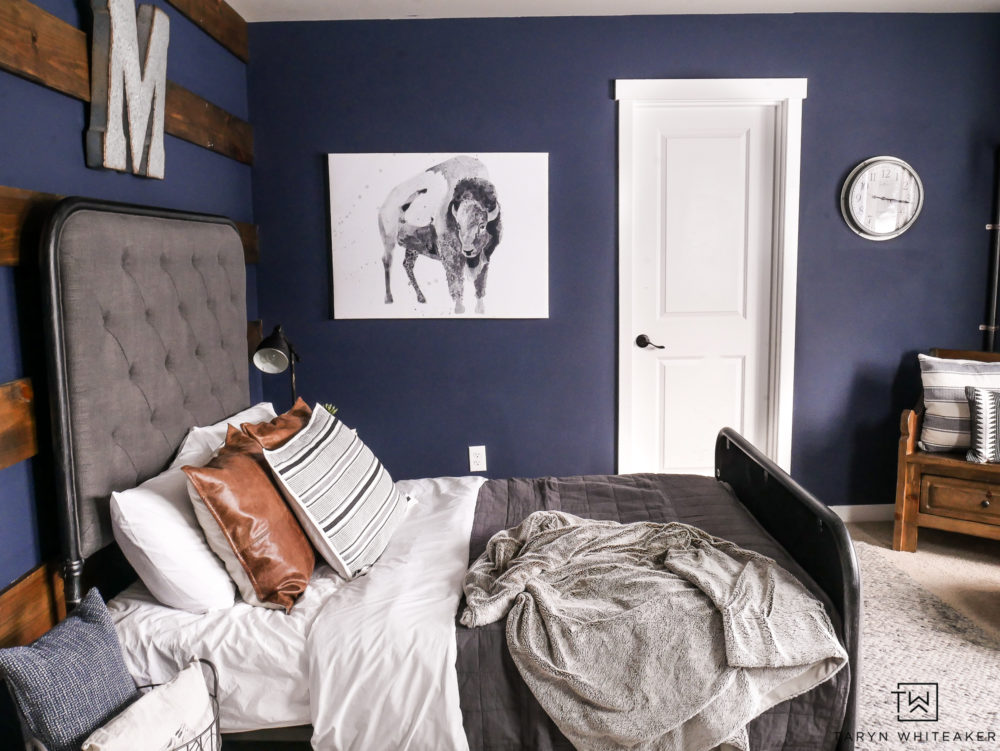 I must say, I think this is the best his room has looked yet! I don't think I'll be making any more changes anytime soon since this is a pretty timeless space at this point!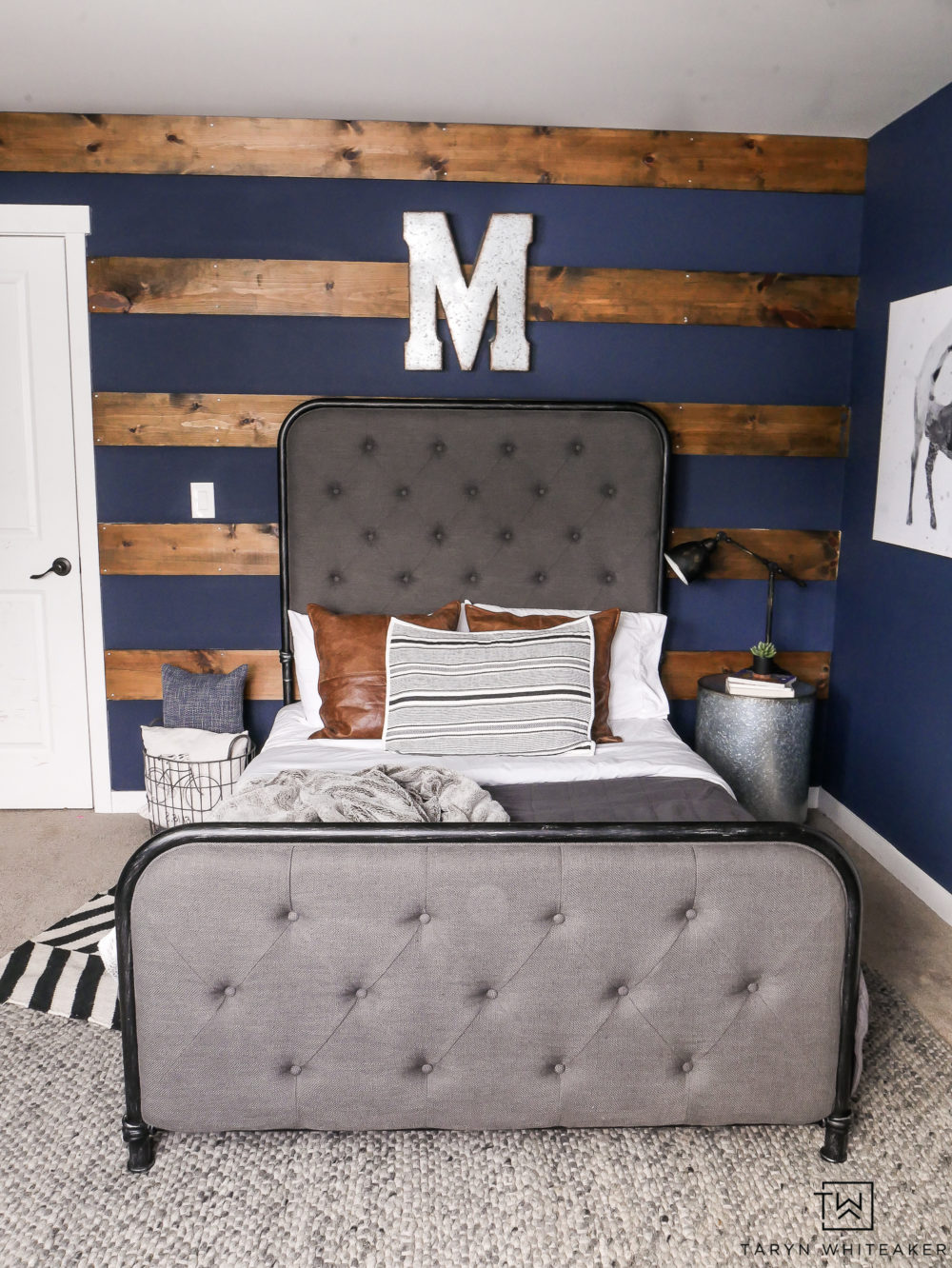 Is there a color you've been wanting to experiment with? Head to Walmart.kilz.com to browse through all their paint selections!