This post is sponsored by British Ceramic Tile. All opinions are my own.
You guys, when I say I am SO excited about today's post, I'm not exaggerating. Not one bit. Because 1) room reveals are my absolute favorite, 2) this project took way longer than expected and it feels so good to have it done and 3) I could not love it more! So let's not waste any more time, let's dive into this Double Sink Bathroom Vanity Makeover!
Double Sink Bathroom Vanity Makeover
This bathroom started out as a quick "I'll just install a pretty backsplash for a quick refresh" to, "let's just gut the bathroom". It's funny how one thing leads to another and before you know it the project is a huge under taking. You know how it goes, " Well, once I take down the mirror and remove the existing backsplash, I might as well replace the laminate countertops while I have the chance and that means I need under mount sinks and new faucets and well, I never like the dark espresso cabinets to let's just complete the look and paint the cabinets to something more current". And that is exactly how this project went!
Now let's take a look at the before! My kids share this jack-n-jill bathroom. There wasn't necessarily anything wrong with the original bathroom, but it wasn't very special either. It was your basic nice builder grade bathroom with dark espresso cabinets, laminate counter tops, and one great big mirror with a mosaic backsplash. It worked, but I knew down the road I wanted to give it a refresh to make it my own style. And that's exactly what I did!

Choosing Tile For A Backsplash
My entire bathroom makeover was designed around this gorgeous large hexagon tile* from British Ceramic Tile. I have never seen anything like this tile before and I absolutely love it. I have always loved a good hexagon tile, but I typically see it in small sheets or a 3″ size. This large scale hexagon with marble pattern makes it a little more modern and also makes a huge impact.
*They don't sell this specific tile anymore, but here are other white hexagon tiles to consider.

British Ceramic Tile offers so many unique tile options is was actually hard to make a choice! Besides the marble, here were a few other tiles that were in the running. This concrete patterned wall & floor tile is so gorgeous, I ALMOST went with this! The light and dark concrete gray tiles are gorgeous too.
Designing A Double Vanity Bathroom
When designing this bathroom, I wanted it to blend with the rest of our home. With every room makeover I do in our home, I want to keep a consistent look throughout our house. We already have a lot of faux wood tile and flooring, marble and black and white modern touches, so that's exactly what I did with this room. I pulled in elements that are used around our house already and gave the bathroom it's own look.
Since this IS the kids' bathroom, I did want to give it a little bit of color. It's something they ask me for a lot. So I decided to branch out of my comfort zone and have the cabinets repainted in a dark blue! I actually loved how the marble hexagon tile looked against the blue on their website and did the same! I went with Sherwin Williams Charcoal Blue and it is seriously the perfect blue! It's definitely a blue, but also more subtle and brings in a lot of gray tones as well.
I ended up bringing a few contractors in to do the new countertops and painting the vanity, but I did the rest myself! The tiling was actually really easy and the tile was great to work with. It's a porcelain tile so it was easy to cut on the tile cutter and the pattern went together nicely. With the hexagon pattern there are a two different ways you can put up the pattern, how I did here and then by flipping the tile so the flat part of the hexagon is on the bottom.
Grout Color
I chose a medium gray grout that matched the marble lines in the tile. I really like how it turned out and helps the tile pop a little more.
Bathroom Accessories
I wanted to keep the bathroom decor pretty clean and simple and keep the focus on the design. But I still wanted to add a few cute touches!
I added a simple little tray for the bathroom accessories and a candle.
The back of the bathroom stayed pretty much the same as the previous bathroom. I painted out the gray walls for Reserved White like we did in the family room, and moved the toilet sign down to the door where you can see it better.
I can't do a room makeover without adding a few rustic touches, I added these little birch slices fro the soap dispensers! Just a touch, I had to!
I could not be happier with how the bathroom turned out! I love it to much and so do the kids! I'll be sharing more of the resources later this week!
PIN THIS BATHROOM!
Shop This Space
SaveSave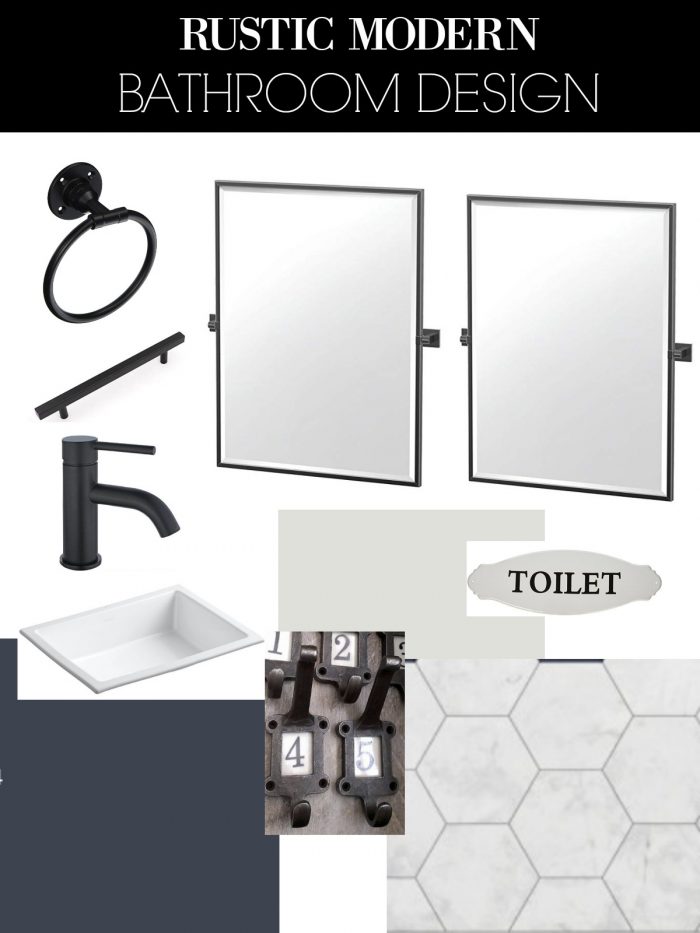 SaveSave