This is the time of year to get our outdoor spaces all decorated for spring and summer. I want to get this done before the hot weather arrives. I shared all the design plans for our exterior spaces last week and I have my first finished space done today! I started working on our upstairs balcony to get a better idea of what I want to do for our exterior. It was my time to play around with trim and door colors. What started out as a quick paint project with zero intention of actually making over this space, turned into a full room makeover. I couldn't believe how much the space transformed with paint and I had to keep going. I had to see it all come together. This little modern french country balcony makeover was an unexpected part of the exterior projects this year but now I love it and can't wait to spend more time out here!
Modern French Country Balcony Makeover
I've spent more time out here in the last week than I have in the past 10 months that we have lived here. Now that it looks like this, I actually think you might find me out here A LOT more. I love being up high, looking out over the backyard and where I can see the sunrise. I also sat up here and watched a thunderstorm the other night and loved it. Perfect view!
Before Space
The funny thing is, I never took before photos of this space. Besides passing through here to get to the attic, we NEVER come out here, we typically spend all our time in the main backyard space downstairs. Plus, all of the shutters on the doors out here really block the space and sometimes I feel like it makes you forget it is even here.
So here is the best "before photo" I have. Lots of beige, old fan, dirty brick and dark doors.
During this project I ended up taking the shutters off, which really opened up the space and allowed you to see the full balcony up here. It makes it so much more inviting!
Modern French Country Outdoor Decor
Because this space wasn't really a planned makeover, I tried really hard to use what I already had on hand and find more budget friendly options for decor and accessories.
I already had this POLYWOOD set from our previous home! You an see it styled in our covered outdoor patio. It was actually the only outdoor furniture we brought down here with us! The whole set is a little too much for the space, so I just kept these pieces out. They don't carry this collection anymore, but here is a very similar one black POLYWOOD conversation set.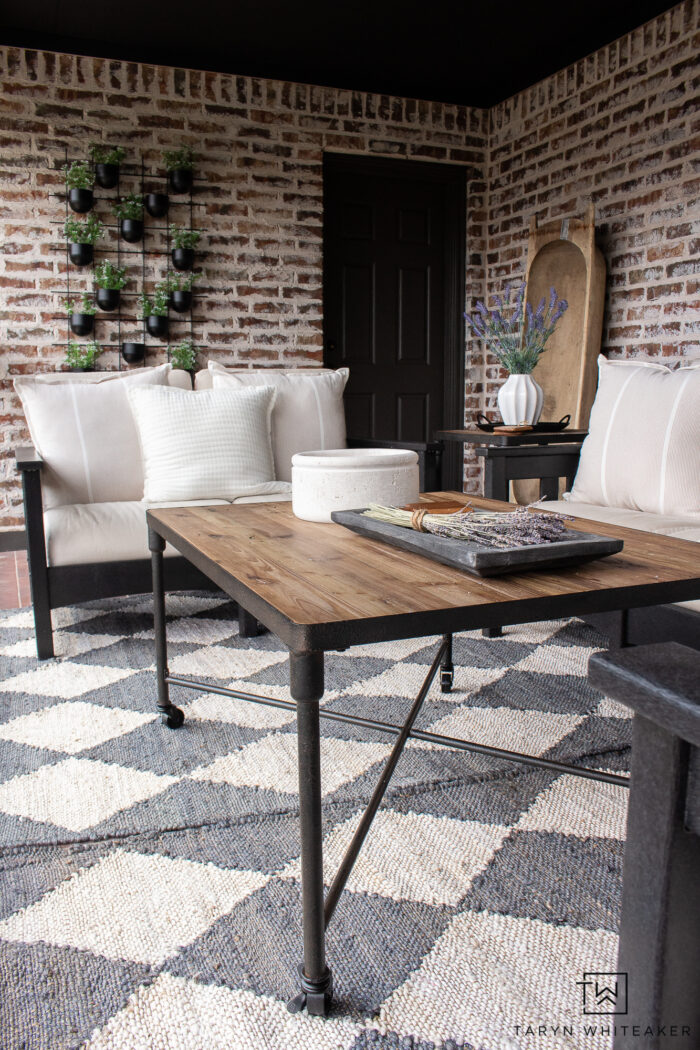 The coffee table that came with it seemed a little too small for the space. I didn't want to spent a lot on new pieces for out here so I turned to Facebook Marketplace and found this industrial coffee table and matching side table for $180! I feel like it might be a little too tall, but Brian says he actually likes that it a little higher, it makes it more comfortable to eat at and play games on. So I'll go with the comfort route :) I found a really similar coffee table here if you are in the market!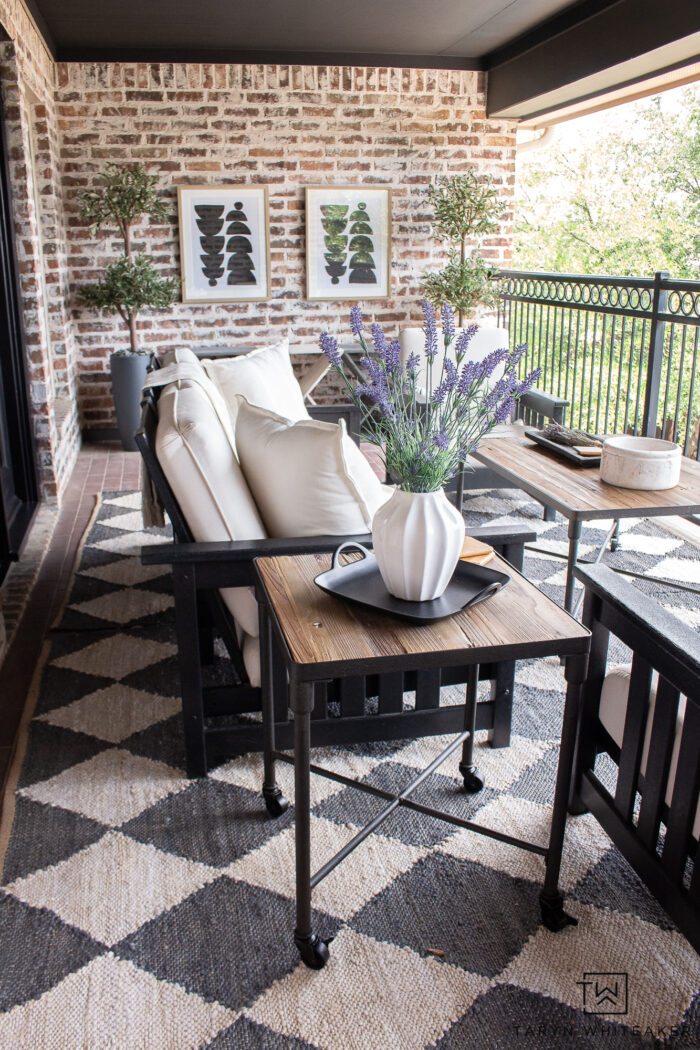 I had played around with the idea of staining the wood a dark charcoal or almost black, but I actually liked the warmth the wood tone brought to the space. I think it needed it!
Checkered Rug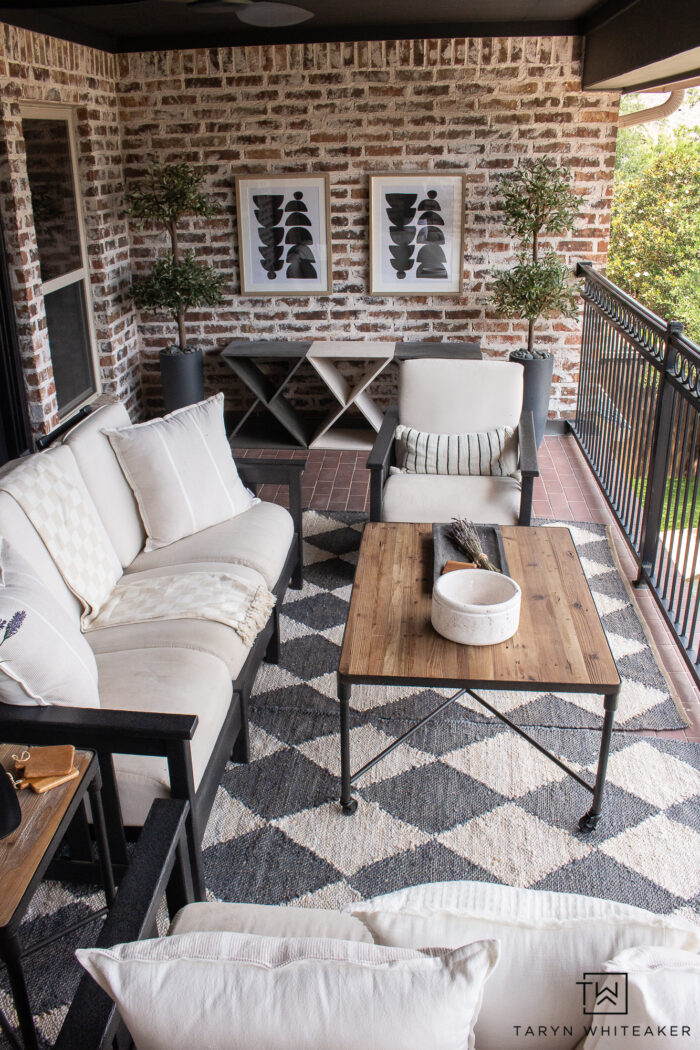 I realllly love the look of a black and white checkered floor. It's not in the books for right now, so I found this charcoal and cream checkered rug on major sale! I ended up putting two rugs together, but you can also buy this in a 9X12 which is the combine size up here.
Side Table Vignette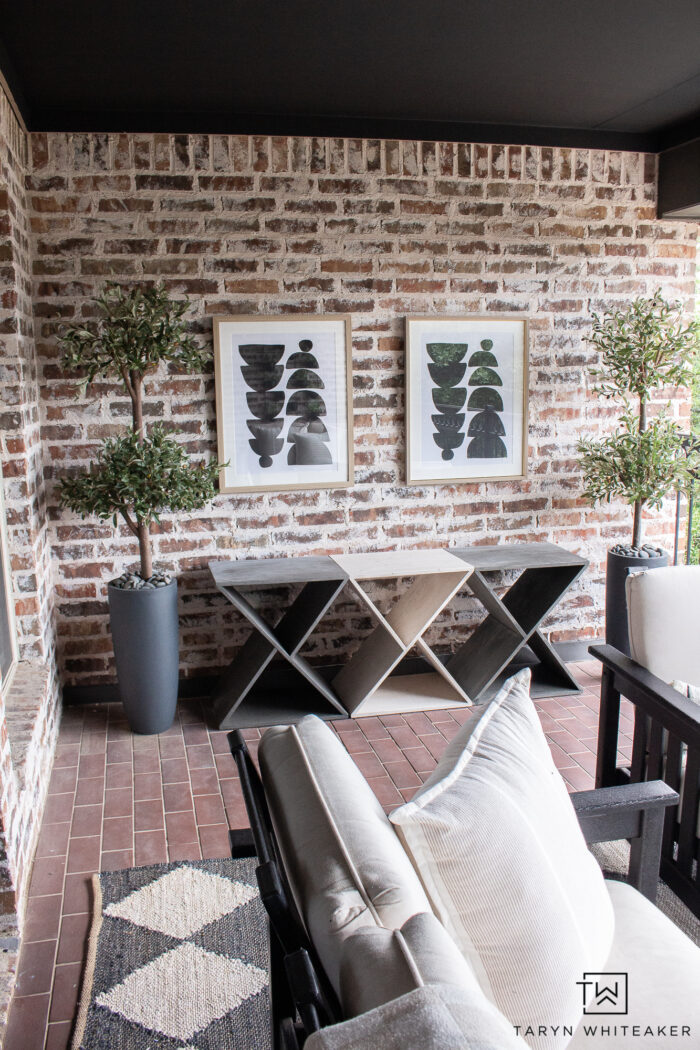 On this side of the balcony, I created a little vignette space! I thought it needed a little something. I found these side tables at HomeGoods, and put 3 of them together to create a console table. You could store win in here, add some greenery coming out of the corners and use it for storage. I'll keep it nice and simple for now.
I also snagged this modern artwork prints from HomeGoods and put my fav Olive Topiaries on either side.
Hanging Plants
I don't think you need to have something on EVERY wall, but I do think some greenery always warms up a space and makes it feel more cozy. I found these hanging planter pieces at At Home Stores. You can watch a quick video of the project here.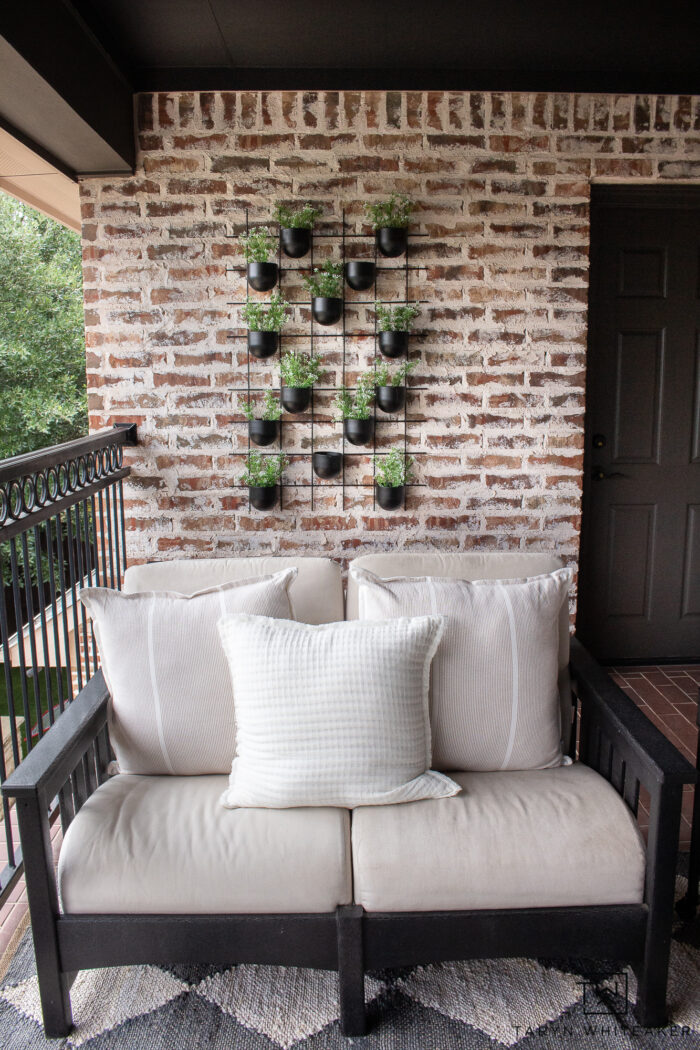 I used floral foam inside and added these faux floral stems. I'm not about to put real plants out here because they would last maybe a day in this heat! Plus, I would never remember to water them :)
Updated Paint and Fixtures
The major update to the space was the paint and the ceiling fan! I painted the ceiling Sherwin Williams Black Magic and the trim and utility doors in Urbane Bronze. This colors will be carried throughout the rest of the exterior.
I switched out the old ceiling fan with this sleek black modern one from Amazon! Very budget friendly and make a huge difference in the space.
Updated French Doors
All this time I thought our french doors were solid wood and I couldn't bring myself to paint them. However, I took a closer look and realized they were actually a faux wood finish, meaning they actually aren't solid wood and were painted a medium brown to look like it. This made me feel a lot better about painting them! I used the Emerald Urethane Trim Enamel for all the doors and it was the smoothest finish I have ever had when painting doors or trim with a brush. I am completely hooked!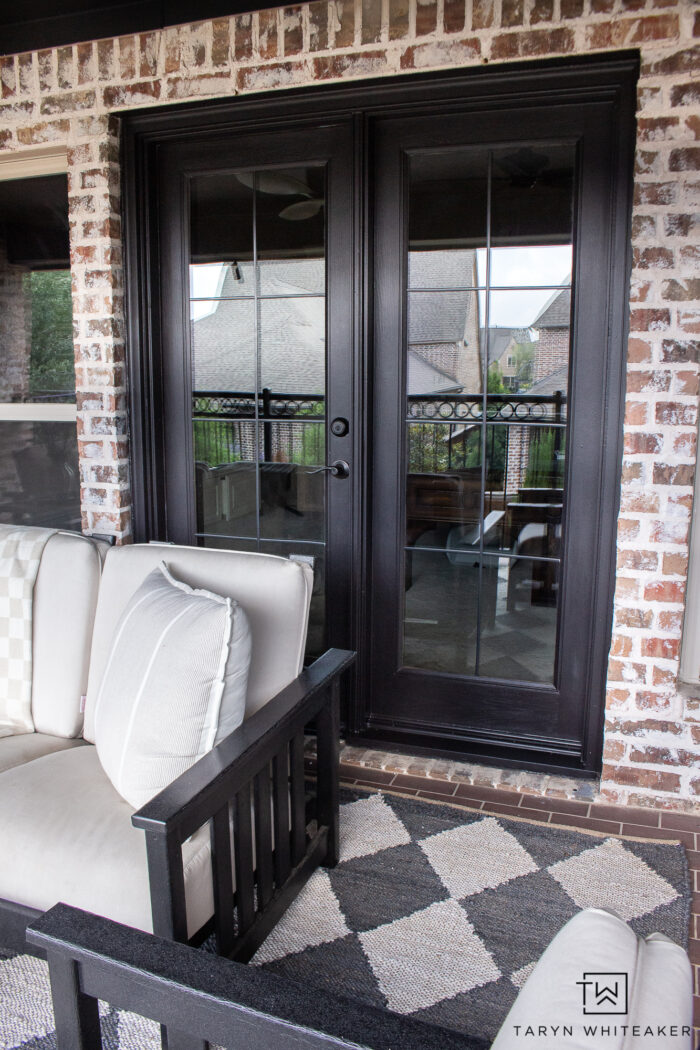 My ultimate dream would be to update all the French doors with black metal paned doors but that is a very expensive house project, so paint and a little DIY trim will work for now! I ended up trying this adhesive trim from Amazon. I liked it, I think it has potential. I still might explore some other options!
Modern French Country Porch Decor
I really love the charm and character this space has now! I think the new paint colors make the brick pop and brings out new colors in it. I love sitting out here now and I hope we use this space even more! I added some more details focusing on natural tone pieces and raw wood. I found this Travertine Stone Bowl at HomeGoods and also this Black Wood Dough Bowl Tray.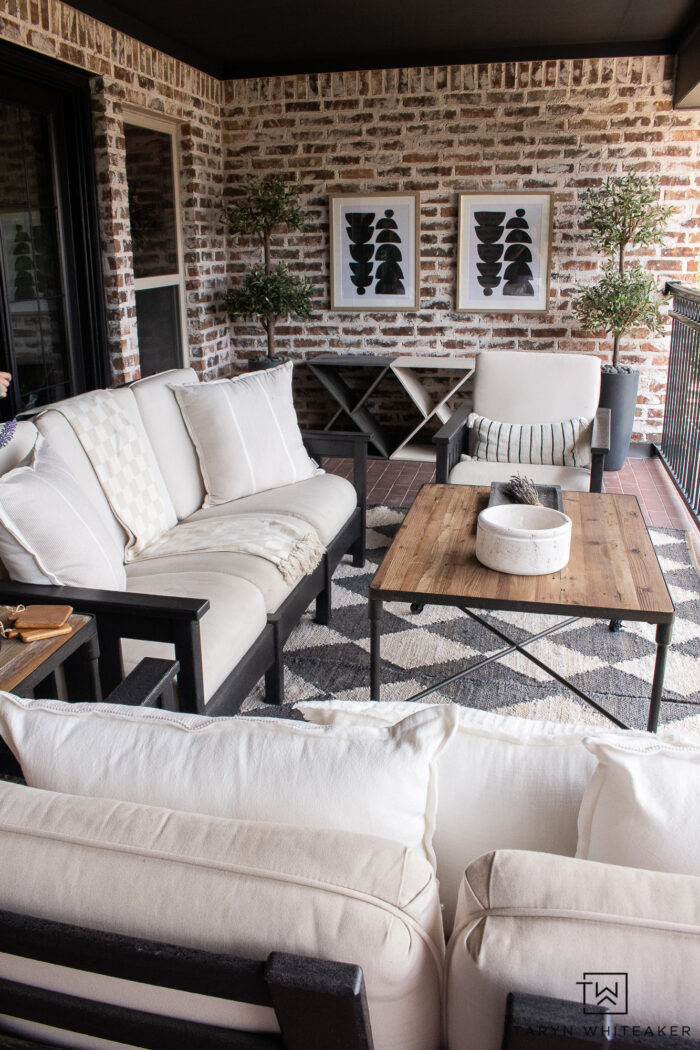 Modern French Country ROOM SOURCES
Watch The Room Makeover