Spring is officially here, at least on the calendar. We are still seeing more cloudy and rainy days than sunny over here and I'm crossing my fingers that starts to change soon! I'm ready for some outdoor projects! Yesterday, the sun was actually out for most of the day, so I stopped all other projects and headed outside. I wasn't going to give up any time with sun on my face, I need ALL the vitamin D. I had just picked up some new outdoor pillows from Target last weekend, so this was the perfect time to clean up our covered outdoor living space decor for spring.
Covered Outdoor Living Space Decor
I was actually at Target with my family letting my daughter shop for her birthday and I just HAPPENED to go into the outdoor section. I was pleasantly surprised how many beautiful neutral outdoor pillows they had in stock. I stocked up on a bunch of brand new pillows that work so so well in this space, and also went well with what I already had.
Pillows:

I've had the same POLYWOOD furniture and layered rugs out here for a few years now. I still like them, I might be ready for a change soon but this will work another season!
Spring Accent Decor
I found some more fun pillows on that trip that I'm using for around our fire pit. I'll be sharing those soon too!
Having this covered portion of our yard had truly been so practical where we live. It rains so much and but sometimes it's nice to just sit outside and get some fresh air. I can't tell you how often I sit in that corner chair and work out here with the fire on while it rains outside. It's just really peaceful.
It's also great when we have company over. Sometimes the house can just feel stuffy with lots of people, so having the ability for people to step outside right from the kitchen.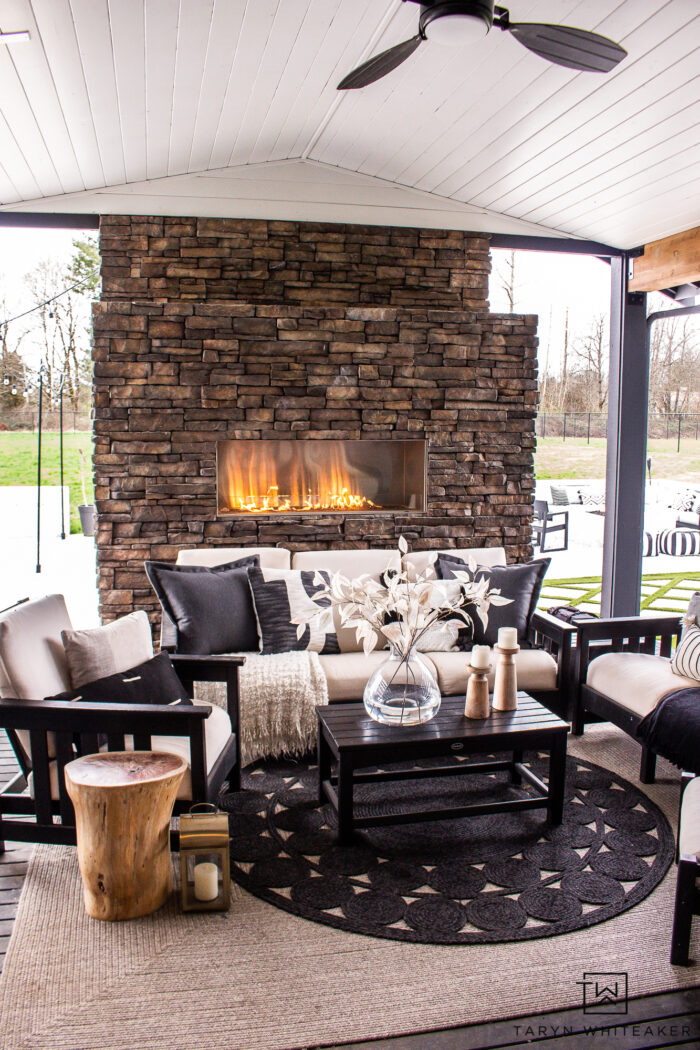 I can only hope for more sunny days ahead though! I'd love to use the rest of our yard more often too!
SHOP THIS SPACE

You May Also Like: