Oh heyyyy remember this bathroom I started over 6 months ago? I started it last April for the spring One Room Challenge and well, it's still not done yet! I had to take a break from working on it for a few different reasons but now I'm full force until it's done! I decided to take on one small section of the bathroom at a time. The last couple of weeks I have focused on the vanity area so the bathroom can be at least half way functional again! Today, I'm going to share the (almosted) completed black and white bathroom vanity space and how much it has changed!
Next week I move onto finishing the shower and then we are DONE!
Black and White Bathroom Vanity Space
It's always such a surreal feeling to see a space come together. After months of planning what it will look like, picking out finishes and creating mood boards, the final product is here! You can see the last mood board I did to see how it's evolved but also stayed the same.
I added a half tile wall throughout the entire bathroom to make a bold statement. I love seeing the tile extend through the space, it gives it a luxe look. And the thing is, it doesn't always need to cost thousands of dollars to do it. I found a relatively inexpensive subway tile with a slight texture and I'm impressed with the look and feel. The flooring is this dark charcoal large hexagon tile.
Before Bathroom
For a little refresher, here is what the bathroom looked like when we moved in. It feels so much more 'custom' now and blends with the style of our home.
Rattan Bathroom Vanity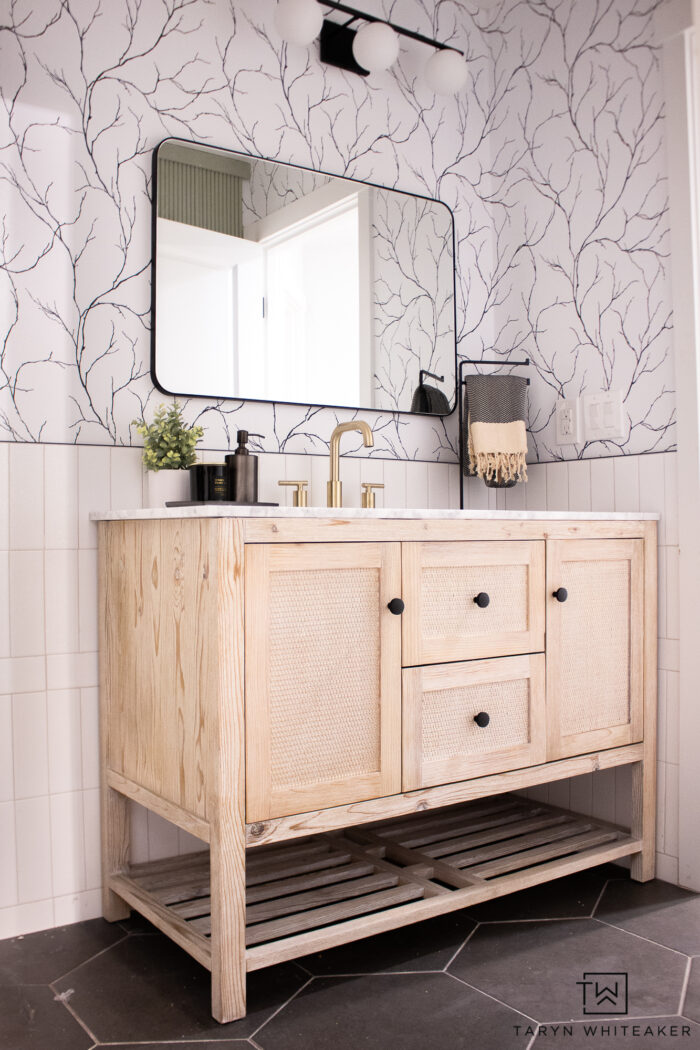 I knew I wanted a neutral black and white bathroom design, but like every space I do…there needs to be a wood element to bring in softer tones and natural elements.
I found this rattan bathroom vanity that came with the countertop and under mount sink already installed. It is actually a very reasonable price for what you get. The color is gorgeous in person.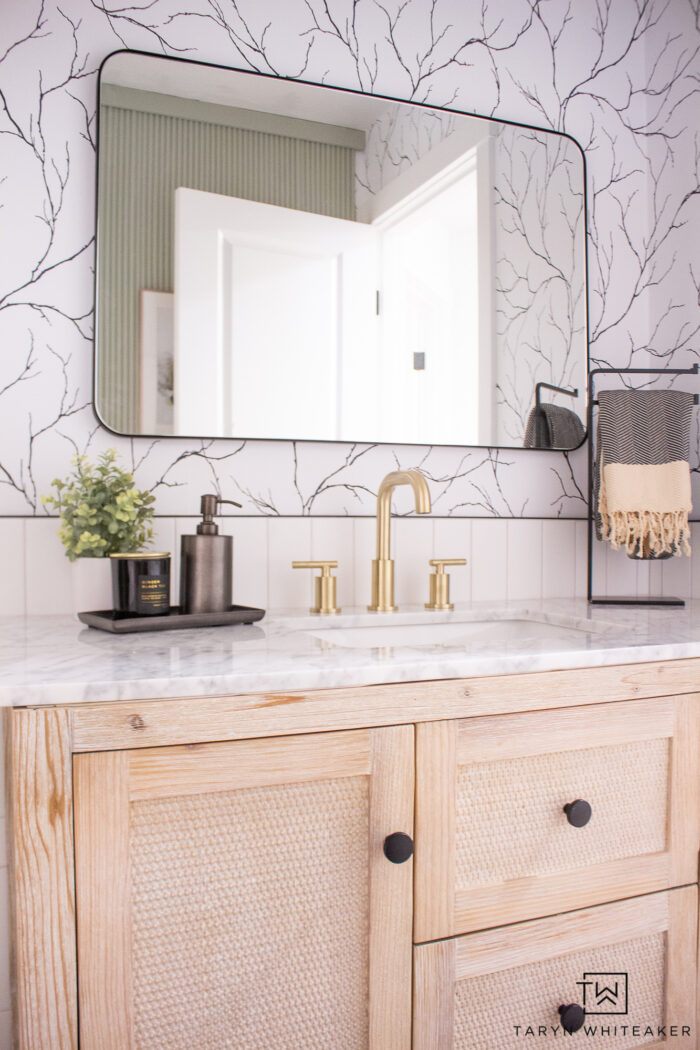 There were a few changes I made to the vanity once it arrived. I replaced the knobs with these modern matte black ones, super easy fix that instantly changes the style of a piece of furniture. I also added a brass faucet to match the other brass elements in the space.
Traditional Modern black and white bathroom design
I went with this clean black mirror and black globe light. The wallpaper is Branch Peel and Stick wallpaper.
Once you get the base finishes finalized, it's all about the accessorizing! Some of this may change as I finish the rest of the bathroom but it's always fun to play around with it.
Fluted Accent Wall
If you follow me on Instagram, I revealed this fluted accent wall on there last week. This was a fun project to work on to add texture and warmth to the bathroom. You can watch a video tutorial on this project here.
Shop This Space