Well, this might be the longest lasting project to date! I officially broke ground on this bathroom renovation ONE YEAR AGO, and it's finally time to wrap this up! It's been a slow journey to say the least. For a lot of reasons. Delays, road blocks, frustration, fear, and just a lot of excuses. However, despite the long and hard road to get here. I LOVE how it turned out. It really was worth it. Alright, so let's check out this stylish black and white bathroom renovation and all it's glory.
Even though this was a big learning experience, I look back at this bathroom and I can officially say, I did this. I demoed, tiled, installed everything and I honestly can't believe it.
Stylish Black and White Bathroom Renovation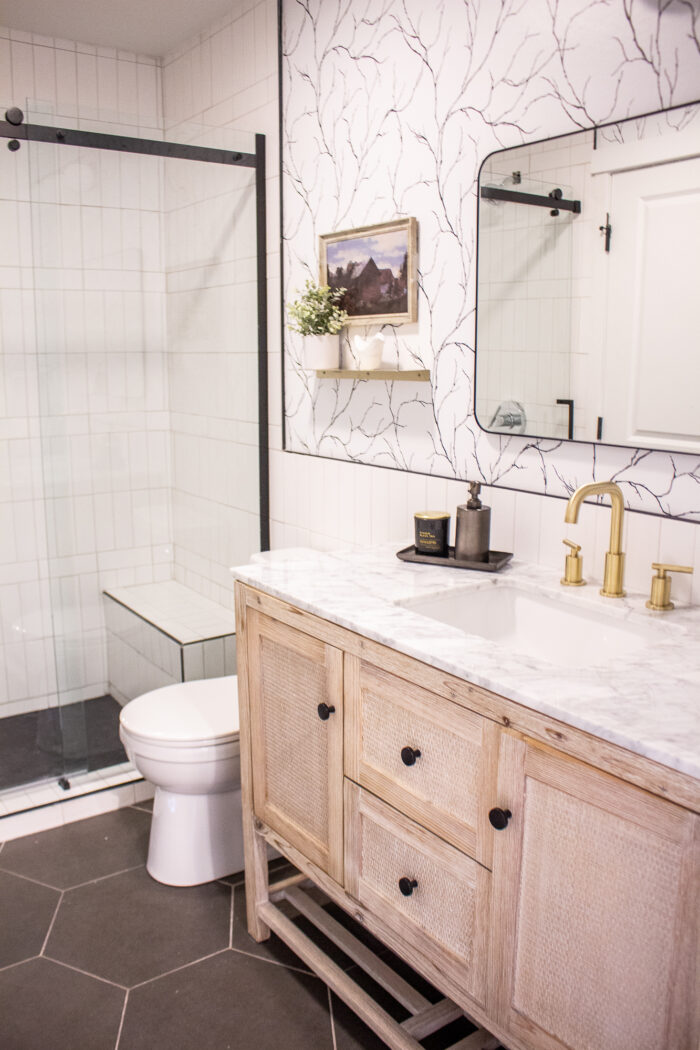 Designing and executing this bathroom was truly a learning experience. I had never done a full gut job on a bathroom before, and let's just say it was A LOT more time consuming and complicated than I expected. I mean, it's great to have 'no fear' when it comes to DIY sometimes, but sometimes you need to have realistic expectations as well!
Are there things I would have done differently? Absolutely. Would I tackle a full bathroom again? Maybe. I could definitely do it, but I think I might hire out showers from now on :)
Bathroom before
Here is what this bathroom looked like when we first moved in. It is a very basic builder grade bathroom that I was dying to personalize and take up a notch. A few years after we moved in, I gave it a facelift with this black and white modern farmhouse look. That was a great temporary solution but it's finally time to do a full overhaul on it.
Demo Time!
Things get worse before they get better, right? My father-in-law helped me with the demo! He has done his share of bathroom renovations so it was nice to have him along for the ride! He helped me a ton with all the prep work and getting things back together.
Floor to Ceiling Tile Shower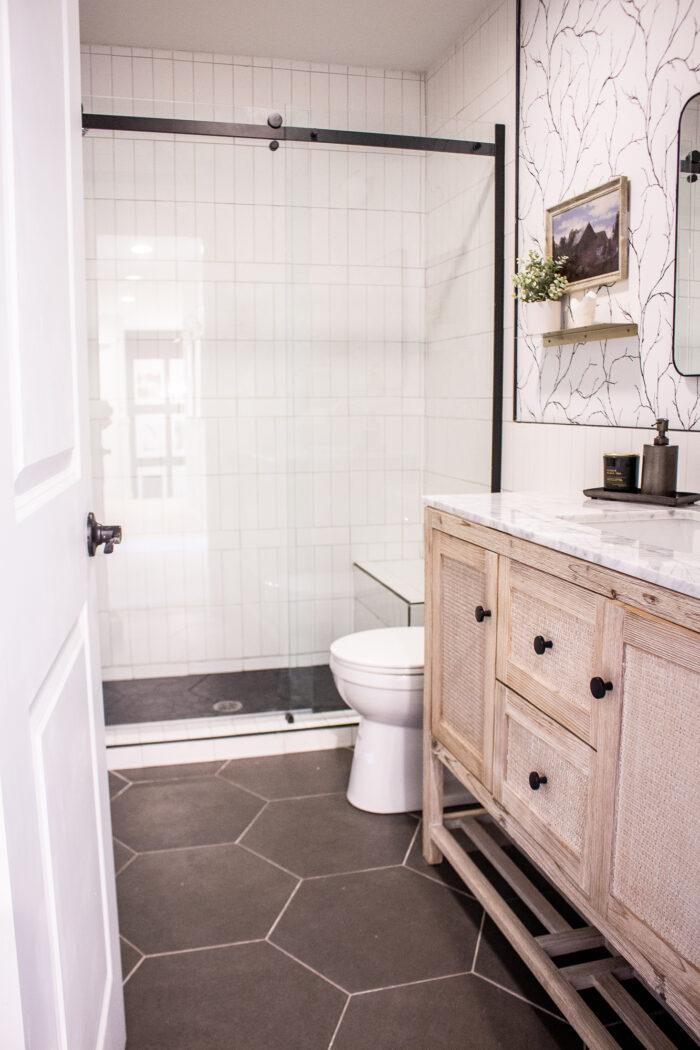 Going into this design, I knew I wanted a floor to ceiling tile shower with a bench. Bringing the tile up to the ceiling makes the room feel taller and also adds an element of luxury or drama to the space. I love a traditional subway tile, but I also wanted to give this bathroom a more modern look. I grabbed some inspiration from this kitchen and decided to use an alternating pattern of vertical and horizontal tiles. I really love how the whole pattern turned out! I only makes me want to play around with tile design even more!
Which tile did I use? I picked out this textured white subway tile that was a decent price point. Would I use it again? No. I learned the hard way that textured tile is extremely hard to get clean after you grout. In fact I think we spent a total of 8 hours scrubbing it. Some of you mentioned you need to seal textured tile BEFORE you grout it, so I will keep that in mind if I ever decide to use it again.
I carried the tile over to the vanity area and did a 45″ tile wall. So happy I did this! I would definitely do this again. With so much tile in this space and a lot of edges, I used a black schluter edging to keep the edges clean and more modern. This was my first time using it and it is a game changer. It makes your lines look so awesome and it adds a design element.
For the shower floor I used a black pebble mosaic tile. Also a learning experience. I really love the spa like look, but mixing a light and dark colored grout in the shower proved to be difficult. Also, when tiling over a shower pan, you have to use a resin based mortar. Which is MUCH stronger than a normal mortar. I apparently did a little too much mortar and didn't clean it off the tiles in time, so it was very very hard to get it off. Normally you can scrape excess mortar off pretty easily, but resin based you can't. I had to use a heat gun to warm up the resin and then scrap it off. So lesson learned, don't use too much mortar :)
Wood Vanity Design
I shared the vanity area back in the fall and not much as changed! I found this vanity combo that I absolutely love. It includes the vanity, sink and countertop for a really reasonable price. I am a fan. I love the color tone in person. It actually exceeded my expectations!
I added this brass faucet and rounded corner mirror to complete the look.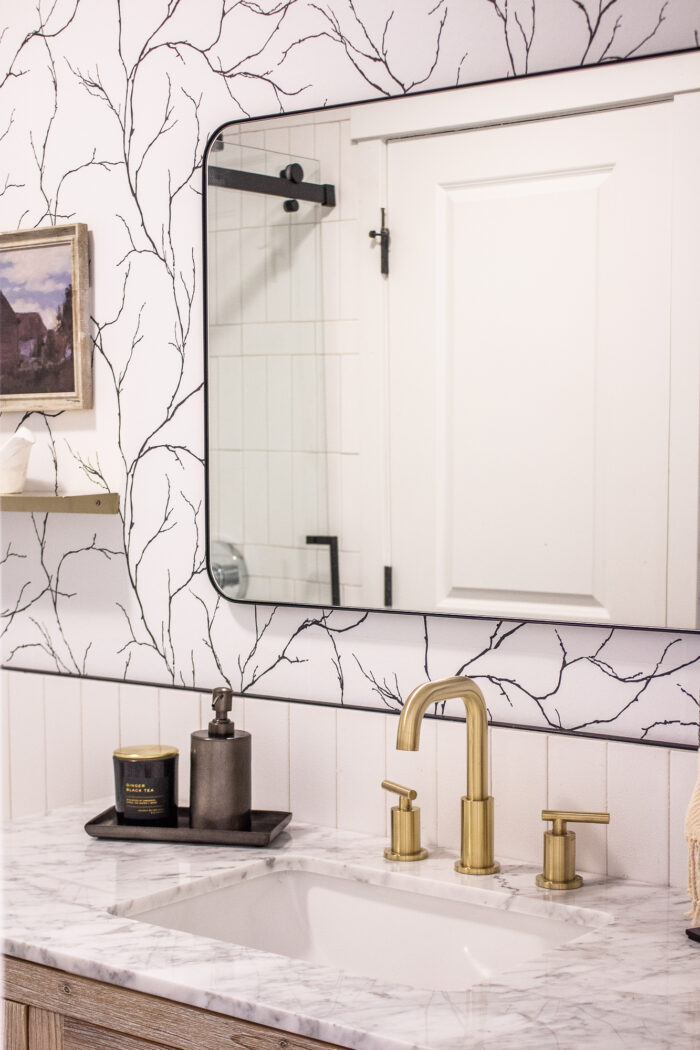 Black Frameless Shower Door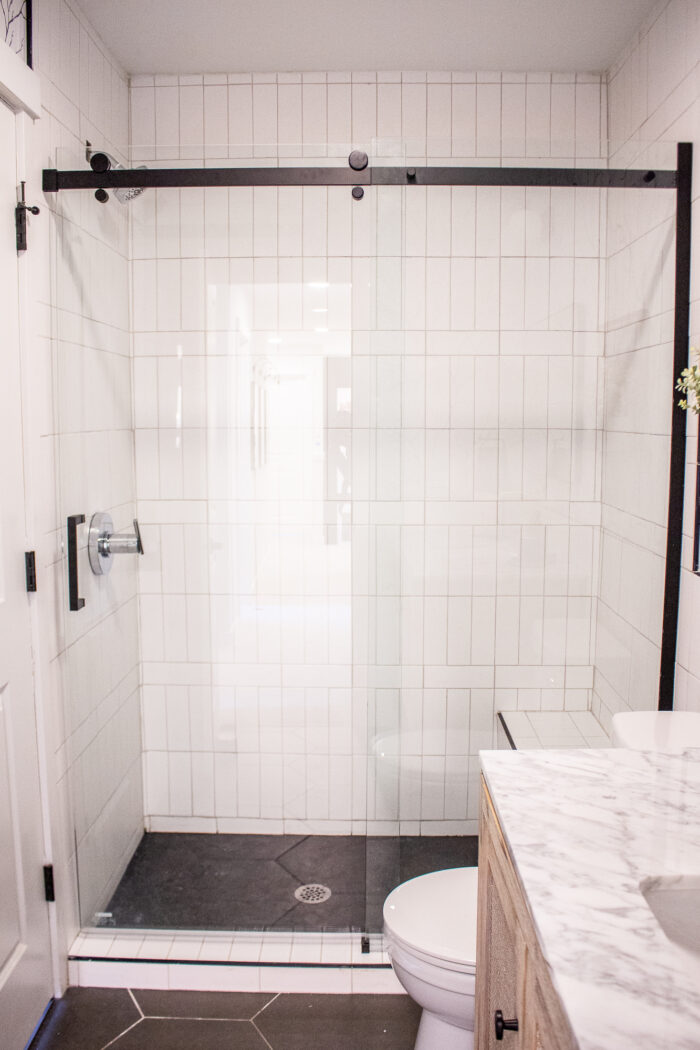 I have found a love for black frameless shower doors. We put one in our downstairs bathroom in the fall and it instantly changed the look of that whole space. I found this black sliding shower door one at Home Depot for HALF the price and it was actually MUCH easier to install. So if I had to choose between the two, I would for sure go with the one we used in here.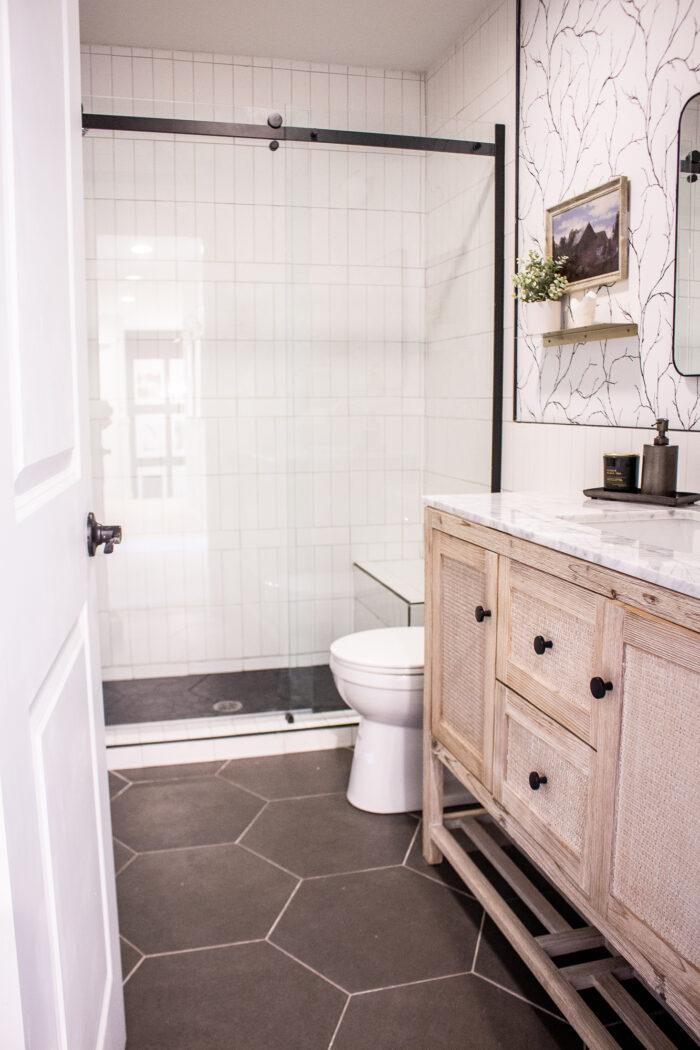 The shower door is sleek, modern, slides great and allows you to see all of the details of the shower.
DIY Fluted Accent Wall
I love a fluted accent wall. I think they are so beautiful and add so much texture. I wanted to add a design element to this towel wall and this was the perfect spot to try out this technique. If I didn't use a wood vanity, I would have kept this natural wood. But instead I added a pop of subtle color. I don't use color often, this was a bit of a stretch for me, but since it's a kid's bathroom I thought it would be perfect. You can see the full tutorial on the accent wall here.
Watch The Full Renovation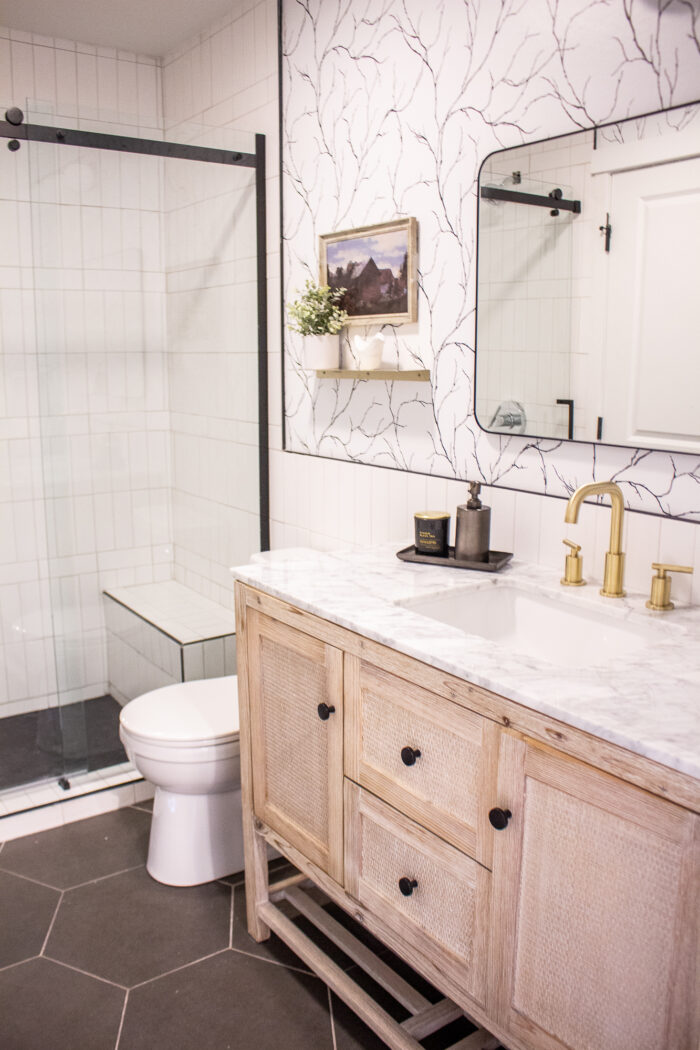 So what would I do differently in this space?
NEVER use textured tile, stick with smooth design.
Be careful not to use too much resin mortar, or clean it up as you go!
I think the wallpaper adds a fun pattern, but I go back and forth on it. I almost think I should have gone with a darker pattern or something with a little color to break up the black and white.
I used what I thought was grey grout in on the subway tile, but it dried more of an off white or almond color. I feel like it looks almost dirty or dingy in person. I would have rather gone full white.
If you look closely, the vanity light it not centered with the mirror. Yes, it drives me bonkers. I didn't realize it would be off center with the vanity until we had it delivered. The original vanity in here was shorter, so it wasn't as noticeable until we put the longer one in. I would have had the box moved, but since the wall paper was already in, I decided to let it go.
Trendy Black and White Bathroom Design