I had a lofty goal list for this year when it comes to projects! I am not nearly as far along with the list as I had hoped BUT I have done lot. Most of the spring and summer I spent in our big backyard makeover and I still have one project left back there this year. This fall, I've made my way back into the house and started on some of the bathroom renovations on my list. Our downstairs bathroom has never felt like our style, but it wasn't necessarily gut-worthy either. So I decided to work with what we have down there and make some much needed changes to give it a more modern look. I want to share our rustic modern powder room refresh with you today. I guess it's not technically a true powder room because it has a shower, but they are separated. Let's take a look.
Rustic Modern Powder Room Refresh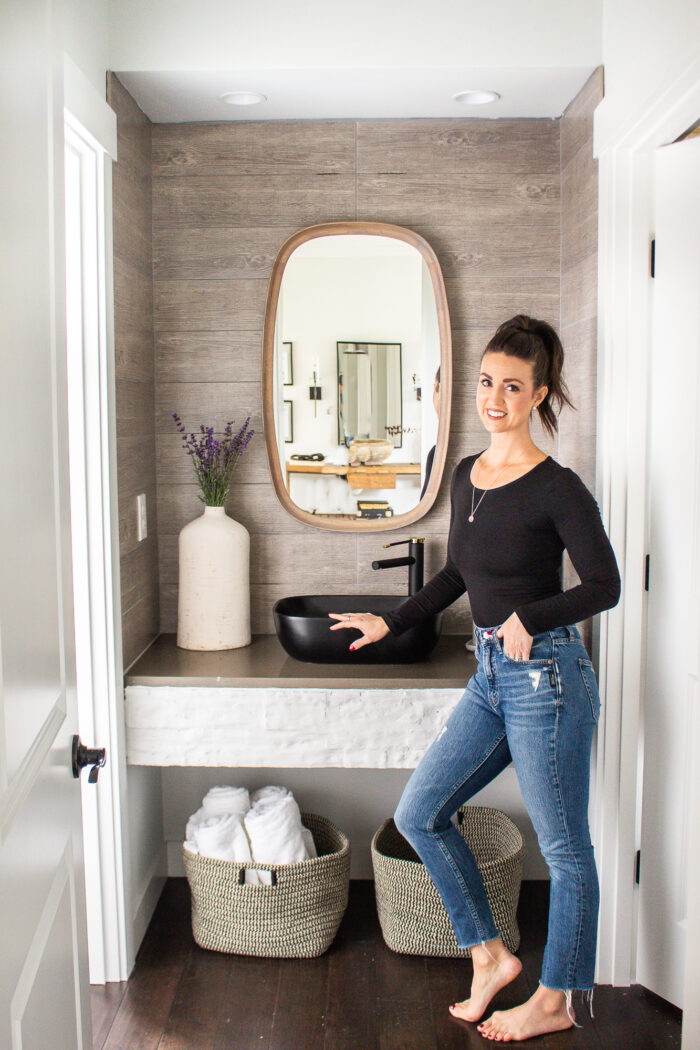 This is our only downstairs bathroom. It has this sink area and then the door on the left goes into the shower and potty area. The door to the right heads into my husband's home office. Which could also be used as an extra bedroom if needed.
Wan to to see what this space looked like before? Keep in mind we have lived here for over 7 years and I have literally done nothing with it in that time! I can't believe it took me so long to spruce things up in here.
Before Bathroom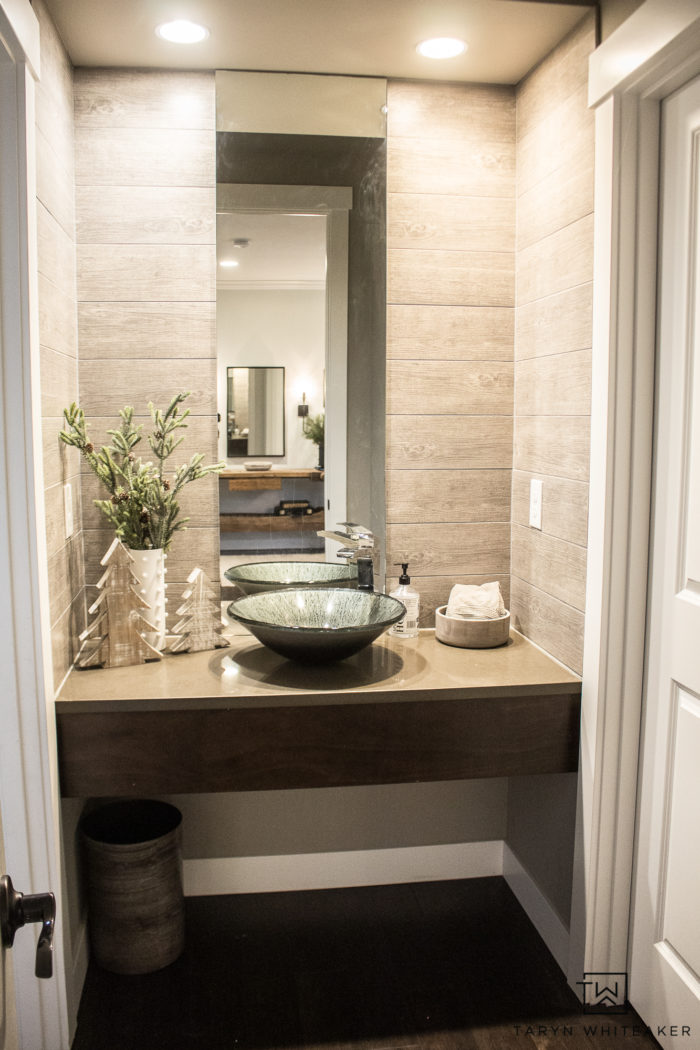 This bathroom vanity area was ultra contemporary with a glass sink that has a turquoise design on it ( I have hated it since the day we moved in), and a long narrow mirror.
The thing is, the rest of the finishes aren't all that bad. I could work with it. In effort to keep this budget friendly and do this quickly (after all, I still have a bathroom gutted upstairs), I decided to keep the faux wood tile backsplash, countertop and vanity, but give the front panel a little something extra.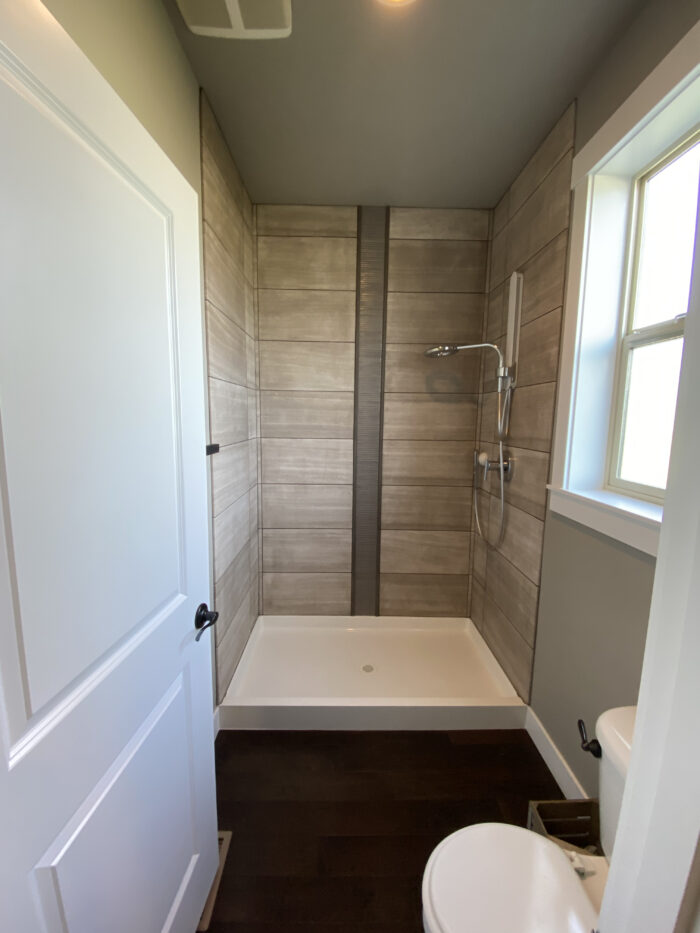 Here is what the shower area looked like before. Would I pick this tile out if I was going to do this entire bathroom today? No. But it also isn't worth ripping out. It's workable. Most importantly, it needed a shower door and some accessorizing.
Rustic Modern Bathroom Design
I am so happy with how this vanity turned out! I used the same technique that I used on our german schmear stone fireplace makeover. On the vanity front, I added a faux stone to the front and then put the german schmear over it. You can see a video I did of the makeover on my Instagram.
The only other changes I made in here were a quick paint job to SW Reserved White, that I have throughout our entire house. I added this gorgeous new wood framed mirror, new black ceramic vessel sink and black faucet.

This gives you a better view of how the spaces connect.
Let's take a closer look at this shower that has never been used! Since we don't have a bedroom downstairs, there has never been a need for a shower down here. However, it sure has been handy for rinsing the kids' feet off after being outside!
Large Tile Shower with Black Frameless Shower Door
Remember what the shower looked like before? By simply changing the shower head and handle to a matte black and installing a gorgeous new black shower door, this space instantly feels more modern and pulled together.
You can see a video of us installing the shower door on my TikTok!

Bathroom Organization Ideas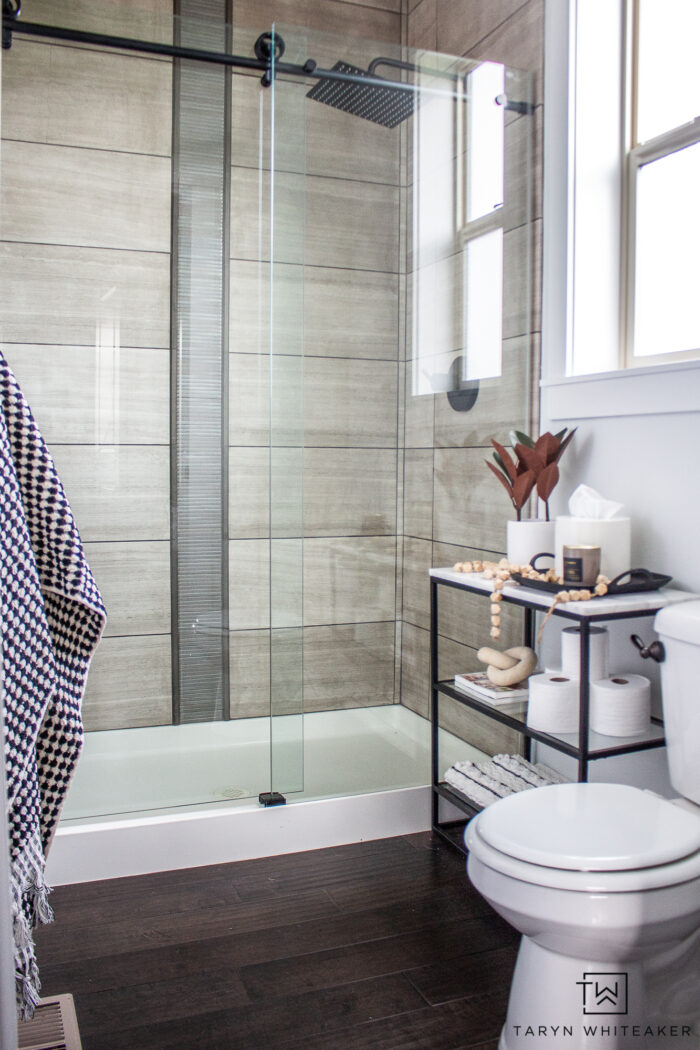 This space under the window has always felt a little empty. It ended up being the perfect size to add a bathroom storage piece. I found this beautiful three tier bathroom shelf at Pottery Barn and fell in love with it. It was the perfect size and style for in here and I couldn't pass it up.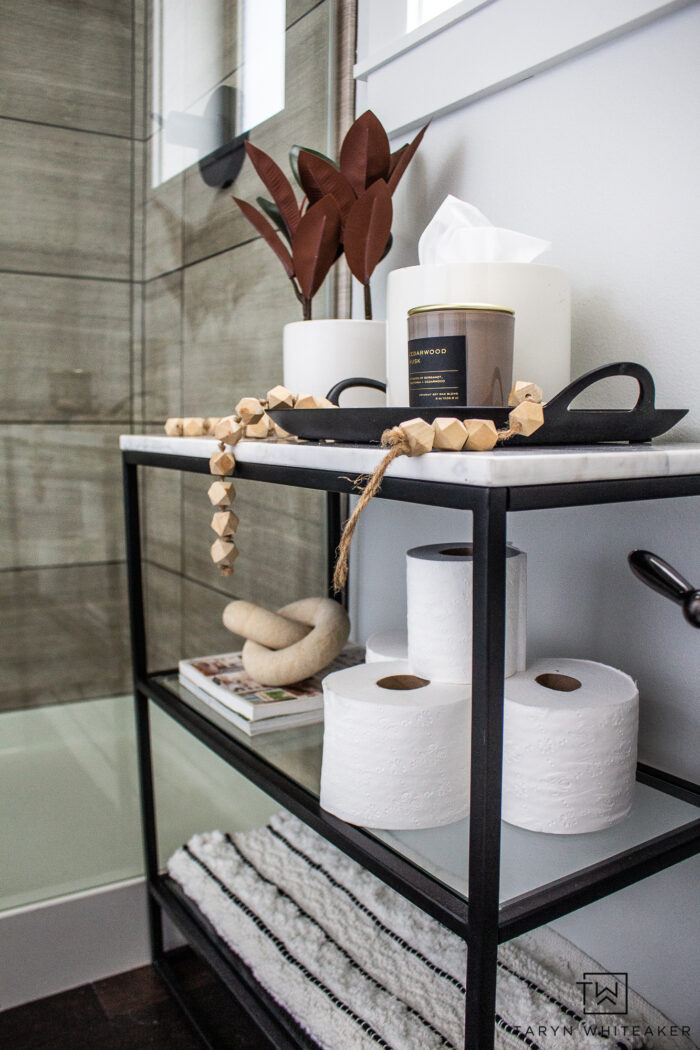 I feel like this piece makes the bathroom feel more furnished and welcoming to guests. With the extra storage for TP, tissues and a few accessories.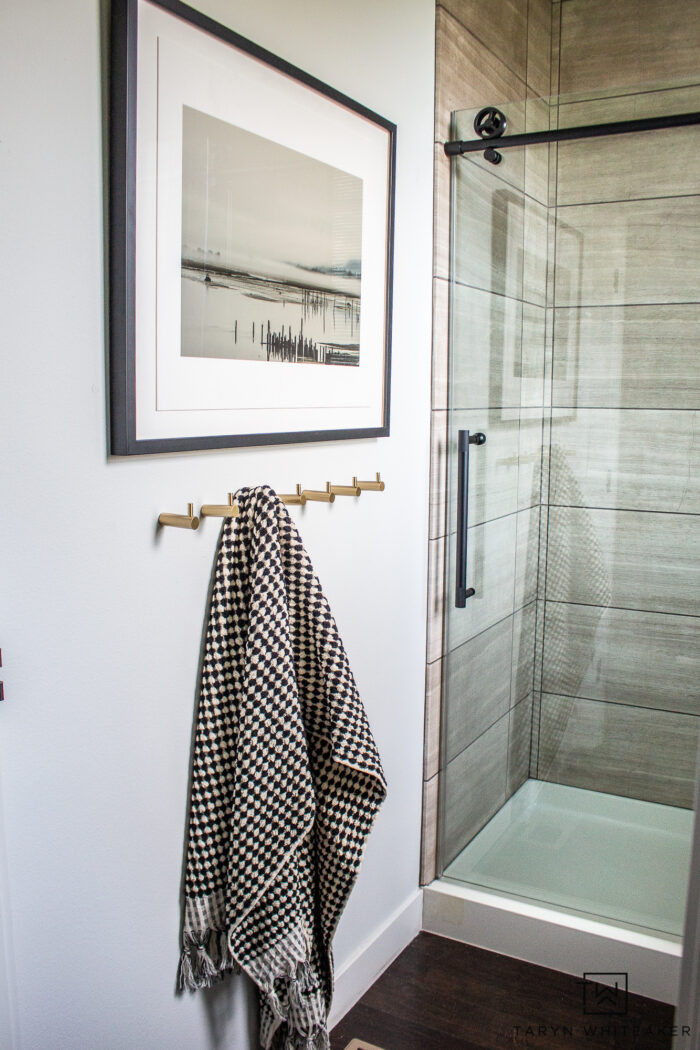 On the other side of the wall I added a towel station. I fell in love with this moody print of the PNW. I added these brushed gold hooks (SO easy to install) and hung a black and white Turkish towel.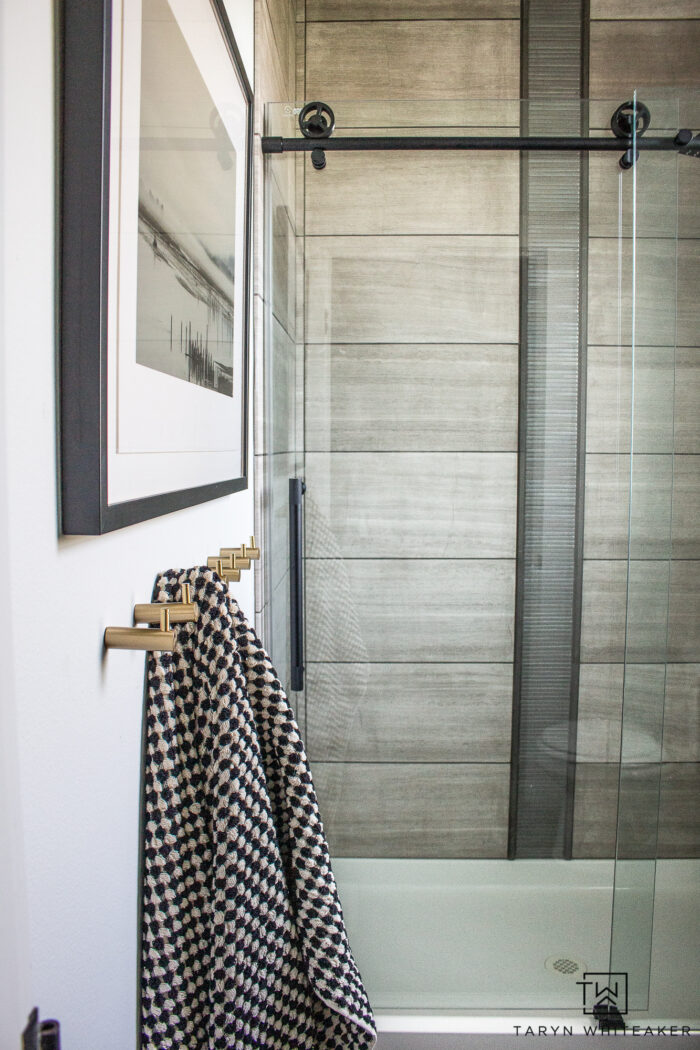 For working with what I have, I am really pleased with how this all turned out! It feels a lot more welcoming and works so much better with the rest of the downstairs. I just have a few more things to finish up this year downstairs and then it will be 100% complete.
shop this space