Do I even go into 2021 with a plan? Because when I wrote my 2020 project list I never would have guessed what was to come! I often laugh when I read that post, but in the end I still got everything done, so it all worked out! I'm really excited about my 2021 project plans, they are a combination of some small projects that will be great finishing touches and some really big renovation projects. And like always I'm sure some new ones will pop up, but here is my to-do list going into this year!
2021 Project Plans
When planning out my projects for the year I try and set obtainable goals. I always have a list a mile long of projects and spaces to work on in our home, but I also want to make sure that I am not overwhelming myself or trying to take too much on in one year (granted this is my job, so I'll do more than average, but I still like to have a plan!). I like to prioritize my projects, starting with ones that need to be finished from the previous year and then new ones that NEED to be done!
And at the end of the day, if I get more done than this, awesome! But I like to prioritize my projects so I'm not jumping back and forth and I have set goals for the year. I encourage you to do the same!
Interior Projects
Family Room Renovation!
Time to finish the space we spend the most time in! I started the family room renovation last year by extending the hardwoods into this space and then doing the fireplace makeover. But now it's time to finally finish this space with all new furniture and a lot of styling. There is a good chance those three windows are coming out!
Here is how it looked a few years ago before I started taking it all apart. So much has changed already and I love the new look, but it still has so much more potential! I'm also thinking about taking those three little windows out because they are such a distraction and make it so hard to decorate around!
New Modern Stair Railing!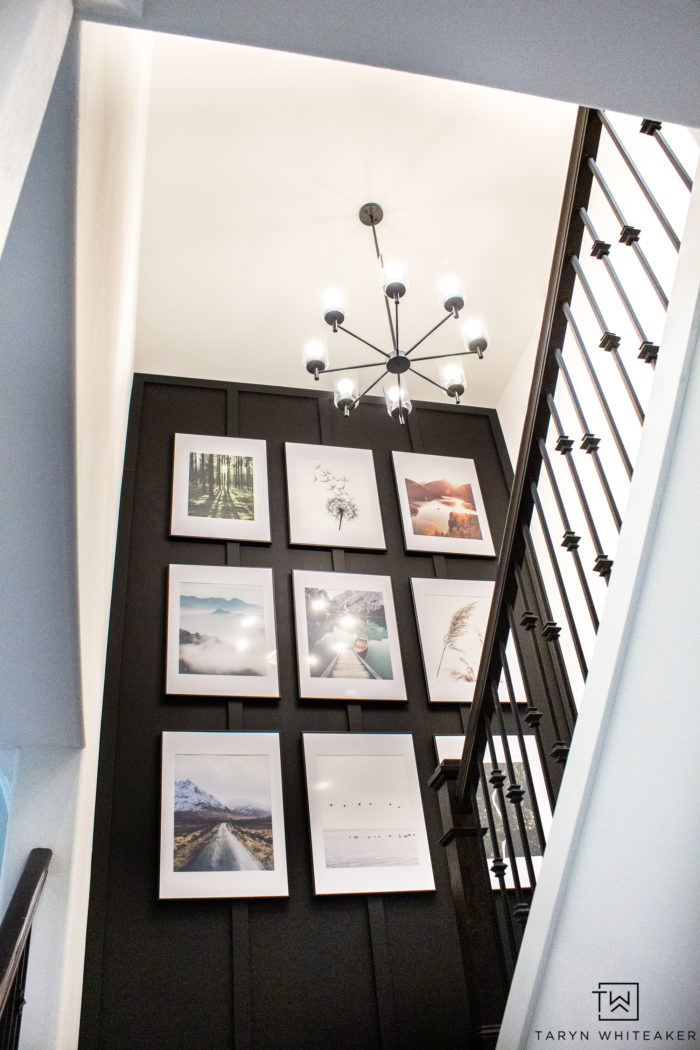 Last year I did a big makeover on our staircase and put in this huge accent wall. I LOVE how it turned out, but it's time to take it to the next level. This year I hope to take out the railing and the spindles and put something more modern in. I want a cleaner and more industrial look in here.
To give yo a refresh, here is what it looked like before! What a difference, now let's finish it off!
New Carpet!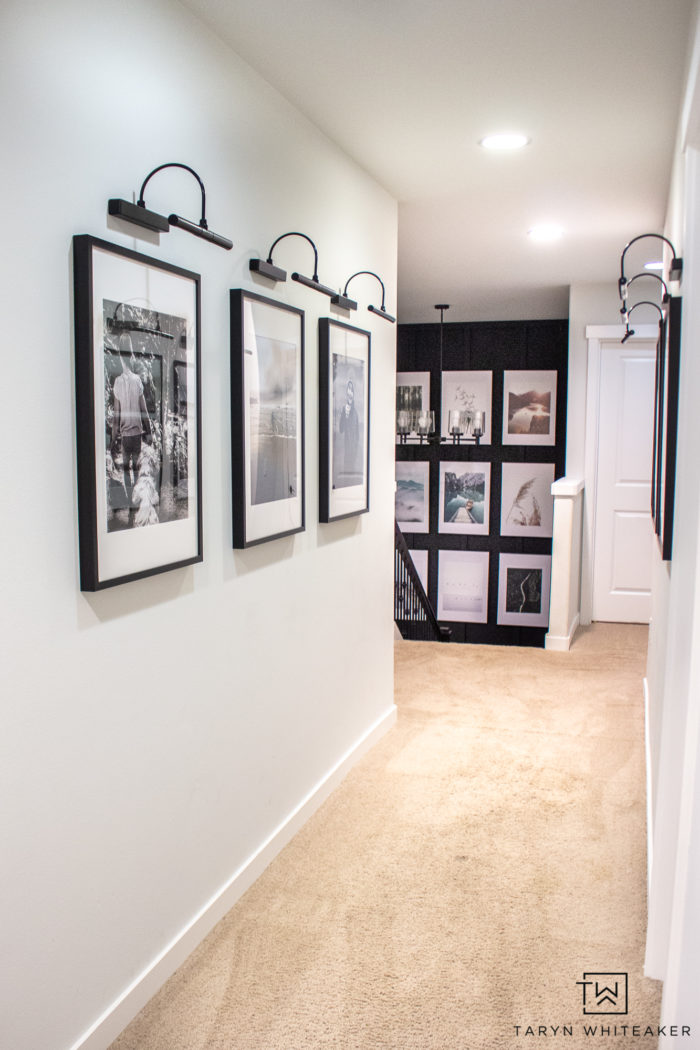 Our carpet has desperately needed to go for a while, but now it is REALLY time for an upgrade! When we moved into this house 6 years ago it had a very basic, inexpensive, builder grade beige carpet. But with 3 little kids and a dog and now another puppy, I wanted to wait to replace it. But now it is TIME. After installing hardwoods in the family room, and also in the bonus room, the only places I have carpet left are this hallway/stairs and the kid's rooms. I want to go with a warm, light gray color with a slight texture to it.
Media Center In the Bonus Room
Our Movie Room makeover was our huge room makeover this year and I am SO glad I took the plunge on this space. While I showed a huge reveal for it back in November, there is still a whole wall that needs to be completed. We need a media center or built-ins to complete this blank wall. My goal is to add storage for games and movies and some of the kids toys and also have it feel completed.
Updates To My Son's Room
One thing I will never be afraid to admit on here is that I don't always get it right the first time. Especially when it comes to my kid's rooms. I did a big makeover on my middle guy's room this year and while it was fun to take a risk and try something totally different, it definitely didn't quite get to where I want it to. There are a lot of things that just don't feel "right" in this space and I wanted to make a few tweaks this year.
I will still keep the overall look of the room, but I will be painting the wood striped wall treatment black (per the request of my son, and I agree with him!) and making it a little bit more minimalistic. I'm a big believer that you have to live in a space for a bit to see what works and what doesn't, and this is one of those situations!
Bathroom Renovation
It's time to for a complete renovation in the upstairs bathroom! This bathroom is connected to one of the kid's bedrooms but is also accessible from the hallway, so it's the guest bathroom when people are over. A few years ago I gave it a quick cosmetic makeover to give it a little more character. But not it's time for a full renovation to really make it my style and fit the overall look of our home. This will be one of the larger projects I tackle this year!
Downstairs Bathroom Refresh!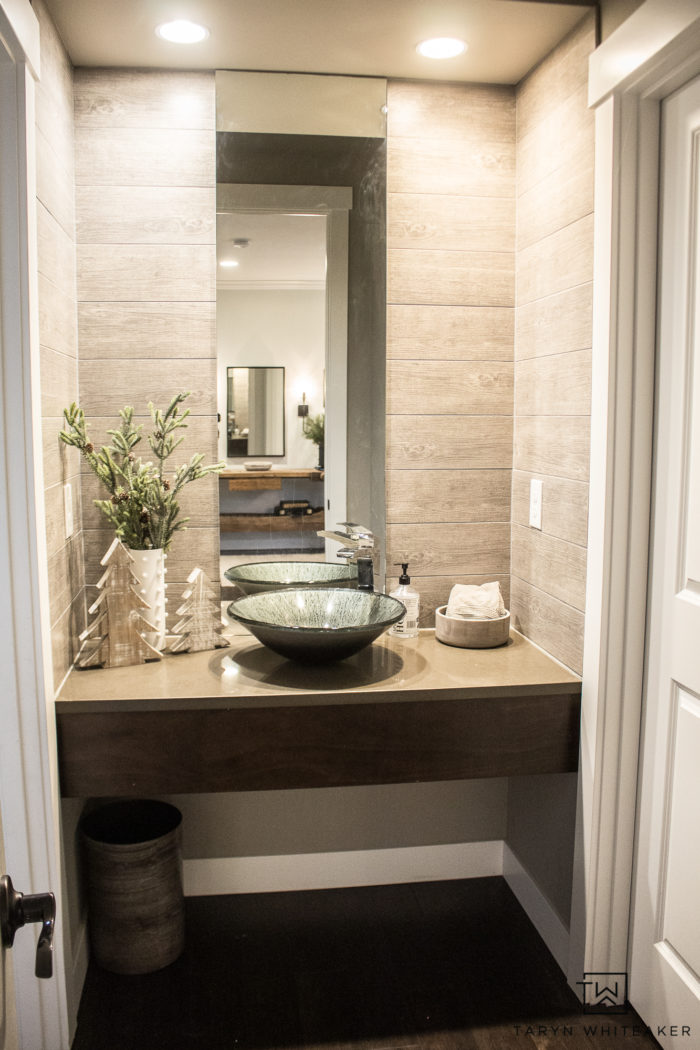 We are all about bathrooms this year! This is the small bathroom area we have downstairs. It is our only bathroom down there. It is sectioned off to two spaces, the sink area and the shower/bathroom area. I don't mind the faux wood tile in here, but I want to do something completey different with the sink and vanity area. It is really dark in here and I want to freshen it up!
Besides our kids' bathroom remodel, I haven't really touched any of them in our house. They are all 'fine' but not my style and I want our house to have a cohesive look.
Our master bathroom is also on the list, but most likely not for this year! I'm trying to set obtainable goals, but who knows what will happen. :)
Exterior Projects
Continuing The Back Patio Project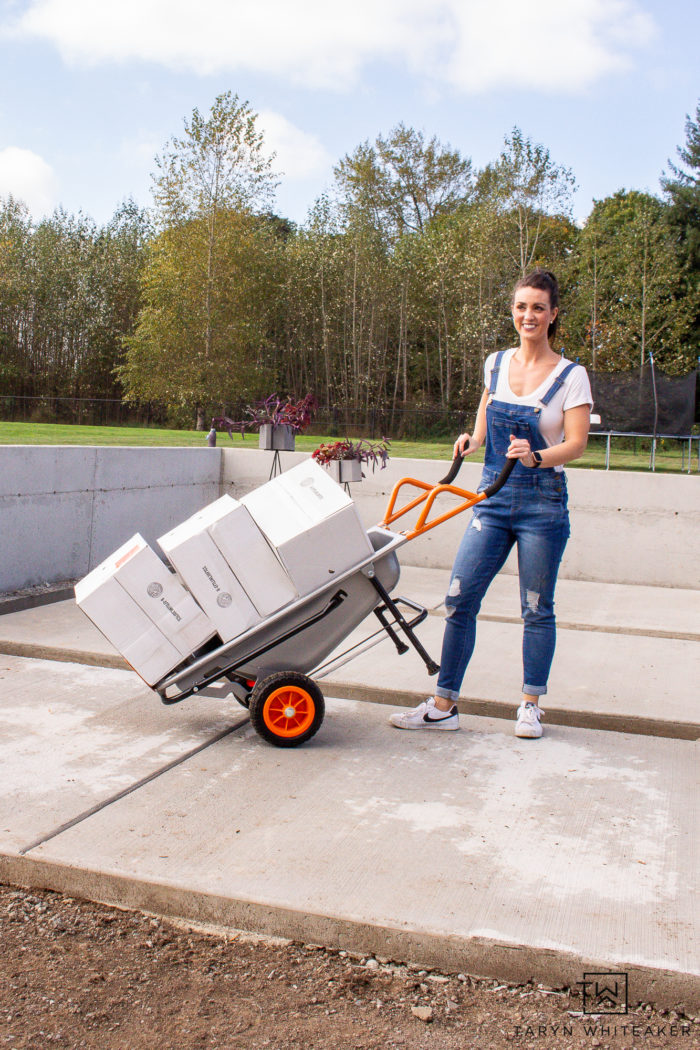 Last year we kicked off our massive backyard project that we have been waiting to do for the past 6 years! In September we cleared the area and had the concrete poured, including a decorative wall and fire pit. We laid the base layer of gravel down but we still have SO much left to finish out here to make it really our dream space.
From about March-August, you can expect to see A TON of projects happening back here including laying down the decorative gravel and pavers, styling it with brand new outdoor furniture, installing the hanging lights, building planters and a privacy wall and putting in all the landscape.
If you are new around here, you can see the full plans for our outdoor project here! I can't wait to get to the final round! Our furniture it set to arrive in January and we have the gravel ready to lay down. We are ready to get started as soon as it warms up a little!
Exterior Paint Refresh
One of the only things I truly disliked about this house when we moved in was the exterior paint color. It is really beige on beige on beige, it's a lot of light brown and really not our style. But in the interest of budgeting and prioritizing projects, we just haven't NEEDED to paint our exterior so I was left with the brown.
But after 6.5 years in this house, we have finally reached the point of NEEDING to paint our exterior for maintenance and I couldn't be happier to give it a whole new look that feels more like us and the style of our backyard. This picture was actually taken right after we moved in, I don't have a lot of recent pictures. And looking back at this actually makes me want to trim down our landscape to be a little more minimalistic again!
I'll be sharing more about my ideas for the paint color soon, but I'm definitely going darker and more modern!
And Then What?
If I end up getting through all of this, then the next project is to do all of the closets. Something small but very needed!