Disclosure: this post is sponsored by Overstock, all opinions and product selections are my own.

You guys! I can't believe the time is finally here! I started this room renovation about 8 weeks ago for the One Room Challenge (thank goodness they extended the deadline another two weeks because I took full advantage of it!). I actually started planning Thai entire space back in August and it is everything I imagined it to be and more. I honestly am just so dang proud of myself for this room renovation. Not only did it stretch me design wise, but I did every inch of work on it all by myself. Just me, from ripping out the carpet, laying the hardwoods, wallpaper, window framing, trim work, plank ceiling… girls, you can do hard things! Ok off on my tangent! Let's dive into this long awaited, moody movie room reveal.
Moody Modern Movie Room
My goal going into this space, was to turn our huge bonus room/play room into a more functional space for our family. Now that we are home so much, and home schooling, I wanted a designated place for school work (besides the kitchen table) and also a place where we can relax and hang out for movie nights.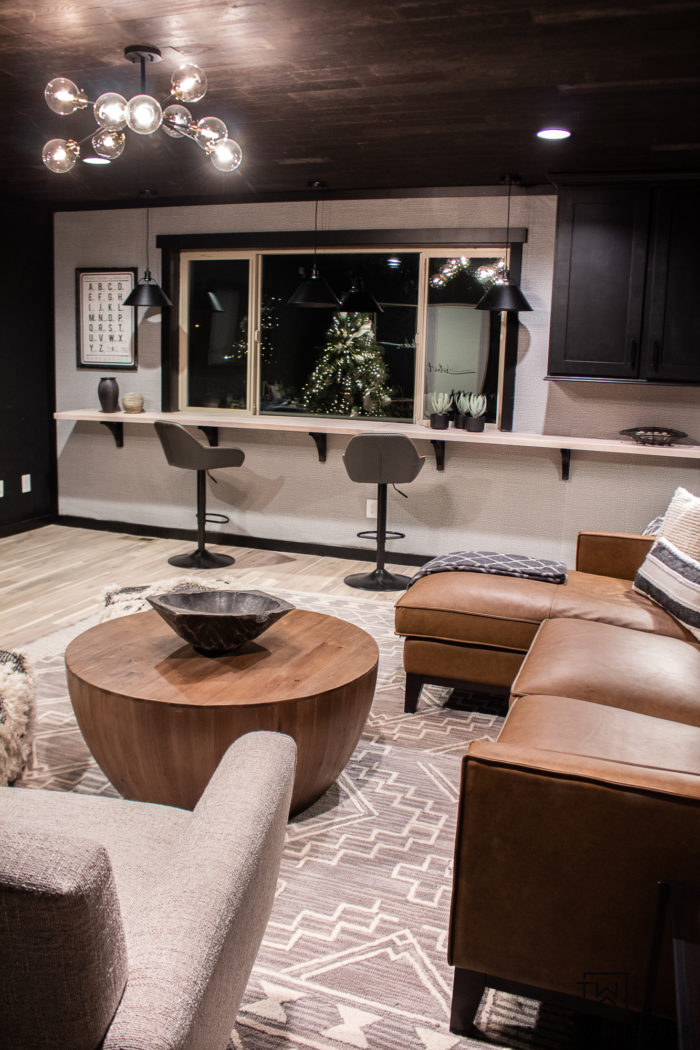 Like any project or room renovation, there are still things I didn't get to, (like the wall of builtins), but every space I set out to do for the challenge is complete and this space feels so amazing!
Before pictures
Before I go too far into the design, let's look at this space before!
Here is what it looked like when we first moved in. Big huge space with beige carpet, beige walls and lots toys.
A few years ago I took this room up a notch by painting the walls black and adding some trim, along with some cozy furniture. This sparked my over all look I wanted to achieve in here but I didn't quite finish it. Plus our family has grown and we needed more seating!
DIY Movie Room Makeover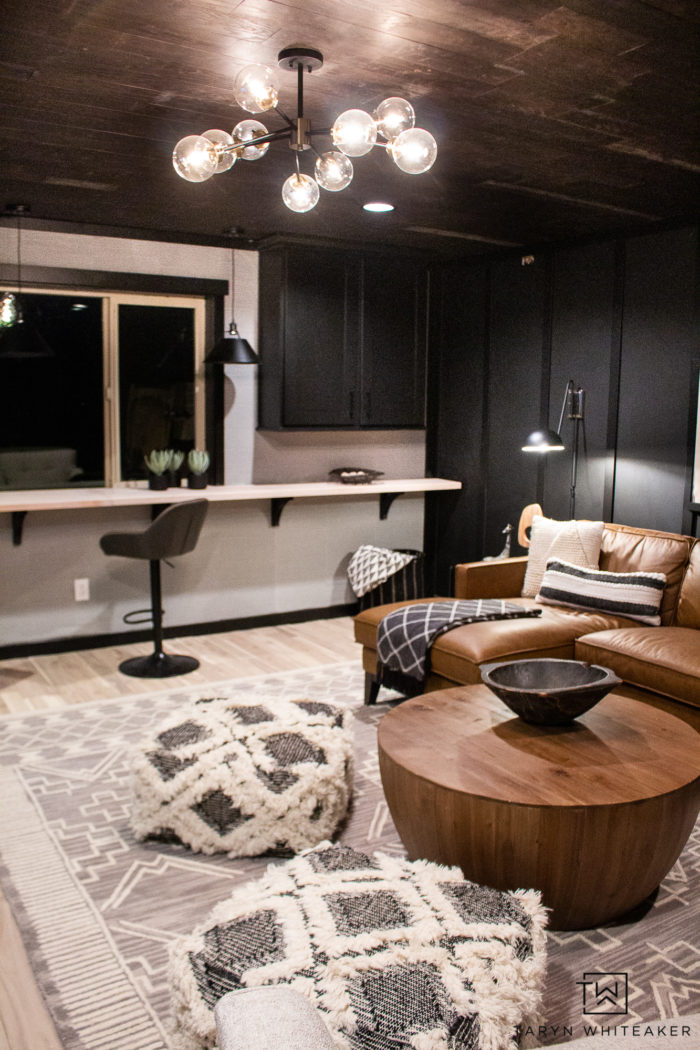 DIY PROJECTS IN THIS ROOM
This room renovation was way more than just paint and some furniture! It included a lot of DIY projects along the way. Here is a list of things I changed/completed in here:
Removed carpet and installed hardwoods
Switched out all the light fixtures
Painted the doors and trim Rebel by Kilz to match the walls
Installed wallpaper
Built window casing and painted it
Added all new furniture and decor from Overstock!
Mid-Century Modern Movie Room
I am obsessed with every piece, I mean this Cognac leather sofa!!!! I have always loved this color and I am so glad I found a place for it in our home. It just works so well against the dark walls.
I could not be more in love with every item of furniture we received from Overstock for this space! To be honest, we were a little sad to move it all upstairs because we have been loving it in our living room for the last month! Every piece arrived even better than it appeared in pictures.
The best part about this sectional, is that it's so soft. Its an extremely comfortable couch and we all seem to fight over the chaise!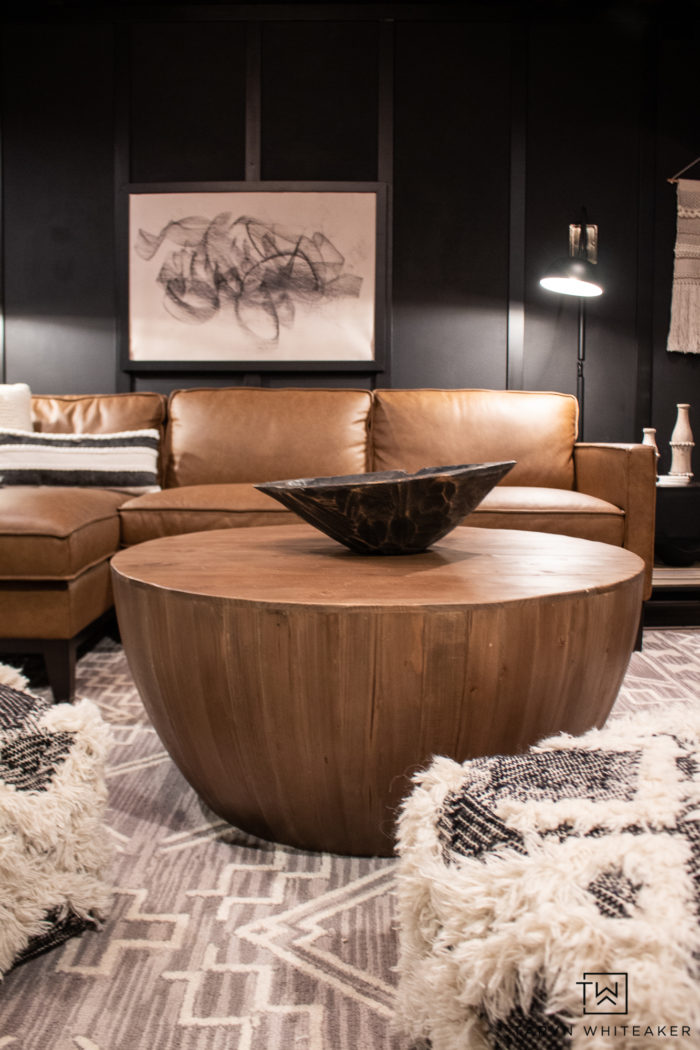 The drum coffee table was a must for me. I love this piece ( although I think the metal option I almost picked would have been great too). I like that's it's modern yet a little reclaimed without it being overly farmhouse. It's a really great look.

I seriously just keep looking at these pictures and can't believe it's the same space we started on 8 weeks ago! It feels so complete, cozy, and so much like us!
I am a total pouf girl, I have one in almost every room in our house. I always think they being a soft and cozy element to a room. These black an cream fringed poufs are more like floor cushions, they are sturdy and easy to sit on. Adding more seating for kids when we need it!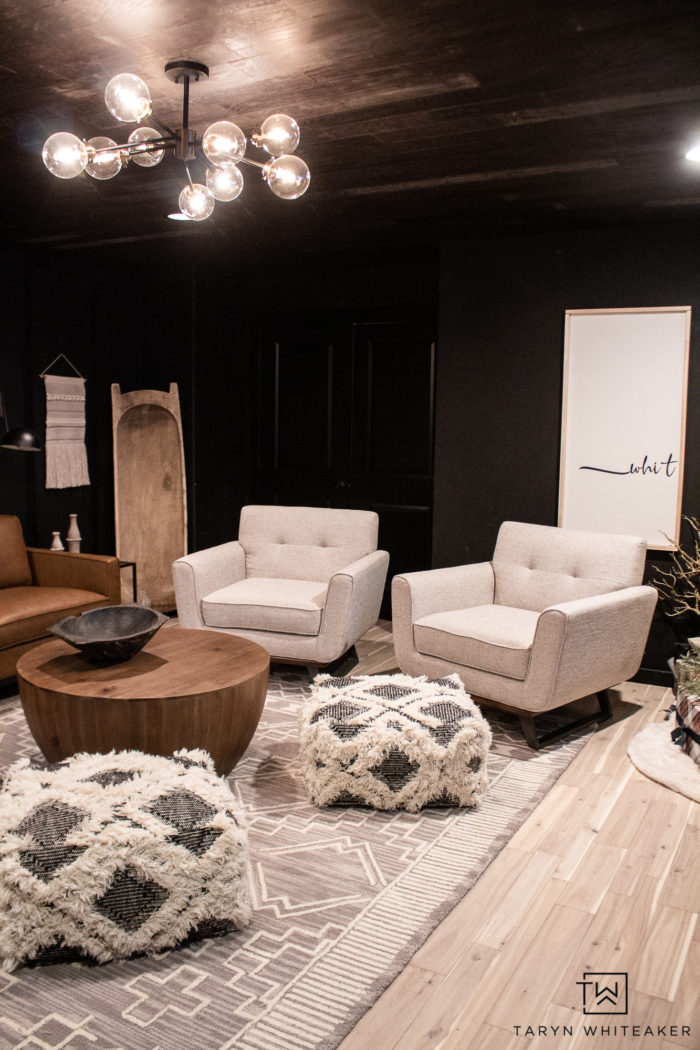 The other new furniture addition are these awesome neutral accent chairs! When picking out furniture for our own home, I always have my husband weigh in on the final decisions. He's a big guy and always asks for more oversized chairs so he feels comfortable in them. I can tell you, he approves of these and everyone else who tries them!
Mid-Century Modern Lighting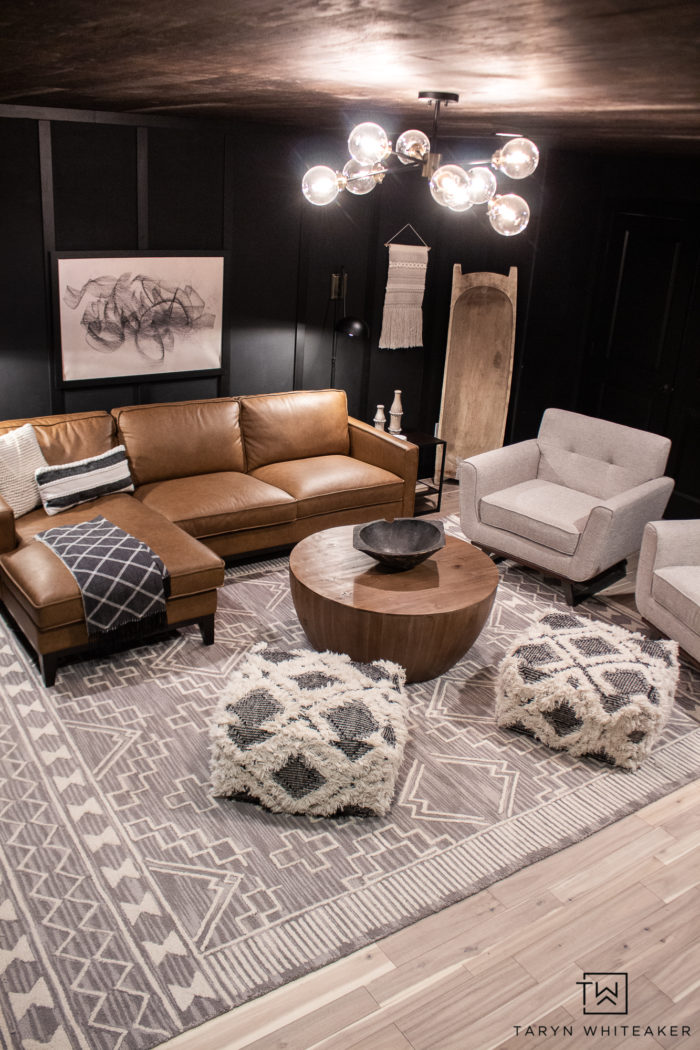 All of the lighting is brand new in here and completely changed the space, even before I did all the furniture! The mid century modern ceiling light is the perfect close to ceiling light, with still giving off a good amount of drama. I really enjoy the warmer tones it gives off.
I also went with a large area rug that made this whole space feel cozy and complete. The textures really bring something new to the room while still keeping the neutral palette.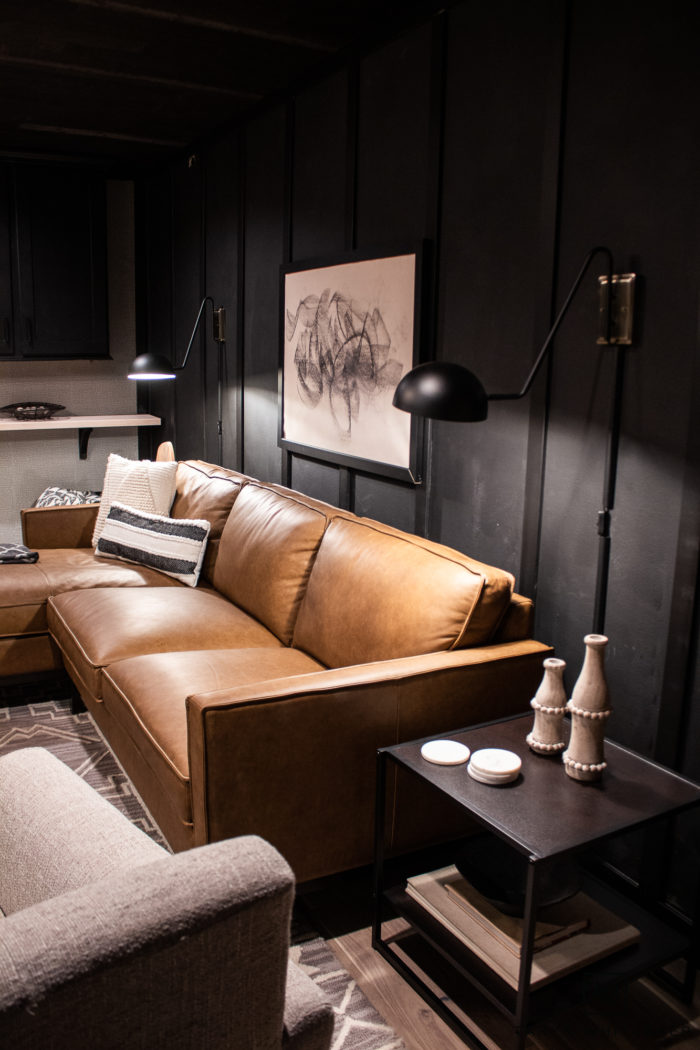 I also switched out the wall sconces with these modern plug-in sconces. I love how they rotate so you can move them over the sofa if you need it, or if you did want the extra light, push it away!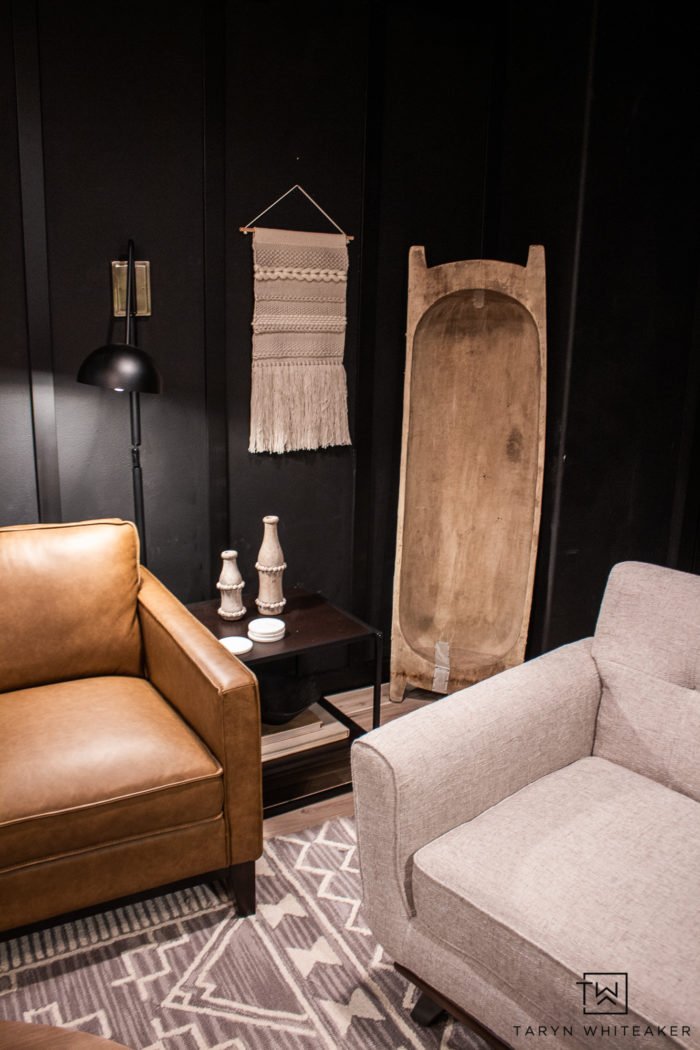 Ok, did you spot the dough bowl? You all know I've been trying to find a space for it forever, and I think I found it!!! I think it looks nice against the dark wall and just propped up in the corner. What do you think?
To the ceiling, I added the Charcoal Stikwood ceiling planks and it really makes the space. It brought the ceiling down, made it extra cozy in here and also added some texture. I'll be doing a full post on that later.
Window Counter Bar
Let's transition to the other side of the room! Our homeschool and counter space! This is such a needed space for us right now. We are currently spread out all over the kitchen table, with books and paper stacked all over the sideboard in our kitchen. It's chaos and a mess and I don't do well with either lol.

I wanted this space to also double as a window counter too/bar for when we can have people over again. I love the idea of watching a sports game and just hanging out in here with people sitting at the bar stools and looking outside ( at our finished outdoor space!).

Ok let's chat these mid century modern bar stools, these are awesome. They are a dark charcoal gray with copper stitching. The height it also adjustable making them easy to move up and down. And best part, they are really comfy. The low back that comes up gives great back support for a barstool style.

I will go into more detail on the window countertop in a separate post, but I built it out of these awesome maple butcher block countertops. I cut them down to fit perfectly into the window ledge, and wrap down the wall for a full counter.
Once I put the countertops in, I realized the color clashed with the new white washed hardwoods. It was a little too honey. So I decided to tone them down a bit with one coat of a white wash. I felt like this was the best decision for the overall look of the room!
We also added in three pendant lights for over the counter to add some extra lighting for school. These black industrial pendant lights were such a find!
Let's talk about the cabinet! I saved the kitchen cabinet we removed during last year's ORC and repainted black to match the walls. I am normally an open shelving girl, but we really needed a place to store all our homeschool materials, so I decided to reuse the cabinet up here. So glad I kept it!
And I couldn't help but decorate for Christmas in here since we will be spending so much time here! You can see more of my cream and gold Christmas tree here!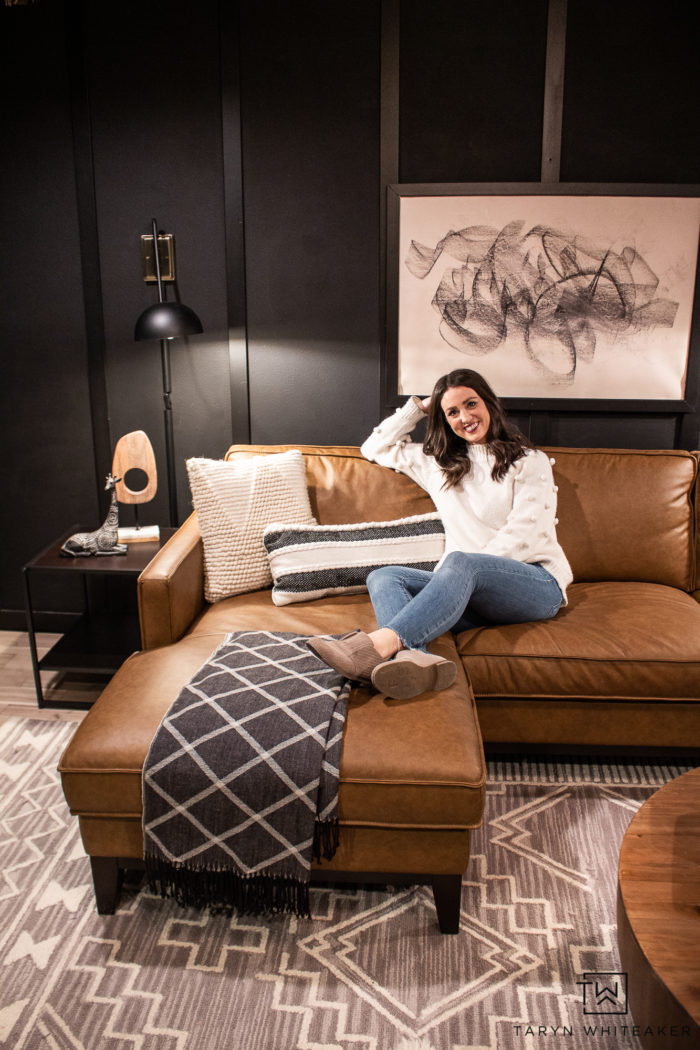 SHOP This POST
What's Next?
Like every space, there are definitely things I would still like to do in here! 1) We have new blackout roman shades coming in. 2) I didn't show the TV area because it still needs a lot of work. It wasn't in my original scope for this part of the room, but I had lofty goals, however I definitely didn't get to! I would love to put in custom cabinets for game and toy storage and also maybe a dry bar for snacks and beverages. But for now, we LOVE it!