This post was sponsored by KILZ® Complete Coat™ Paint as part of an Ambassador program for Influence Central and all opinions expressed in my post are my own.
You guysss!!!  I am seriously so excited to show you this big BOLD new update to our bonus room! Remember a little while ago I was chatting about how I was ready to take the plunge and really start to decorate our multi-purpose room? Annnnd how I was itching to take a huge risk and paint it a dark color? Well, it's done! I took a leap of faith and chose Rebel (in flat sheen)  by KILZ® Complete Coat™ Paint. It's dark, bold, moody and it completely changed the look of this space.
Painting your room a dark color like this can be really overwhelming and scary, so I want to talk a little bit about working with a dark paint color and my experience. Ready?
Dark Moody Room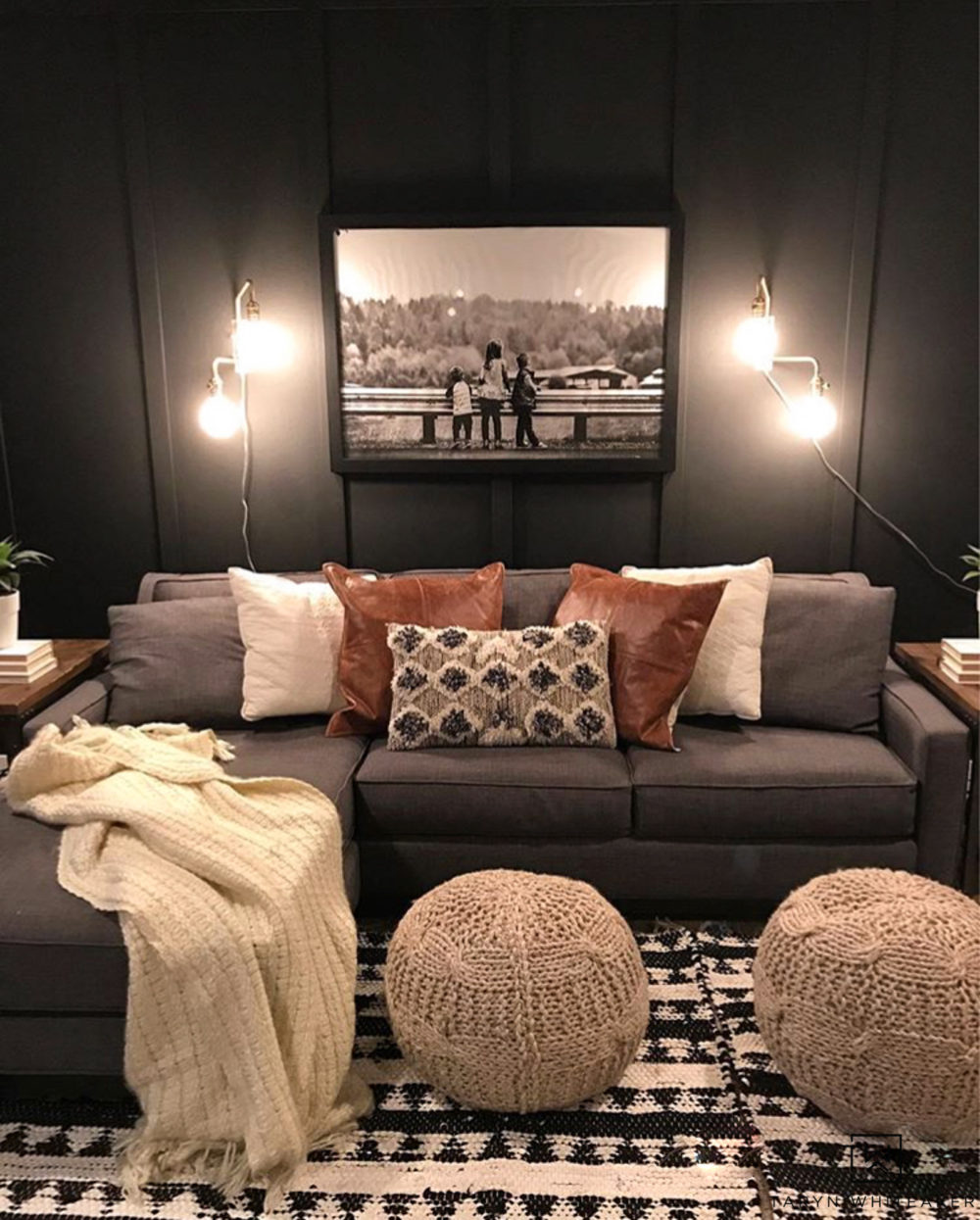 Do you need to be reminded with what we started with?
Before Room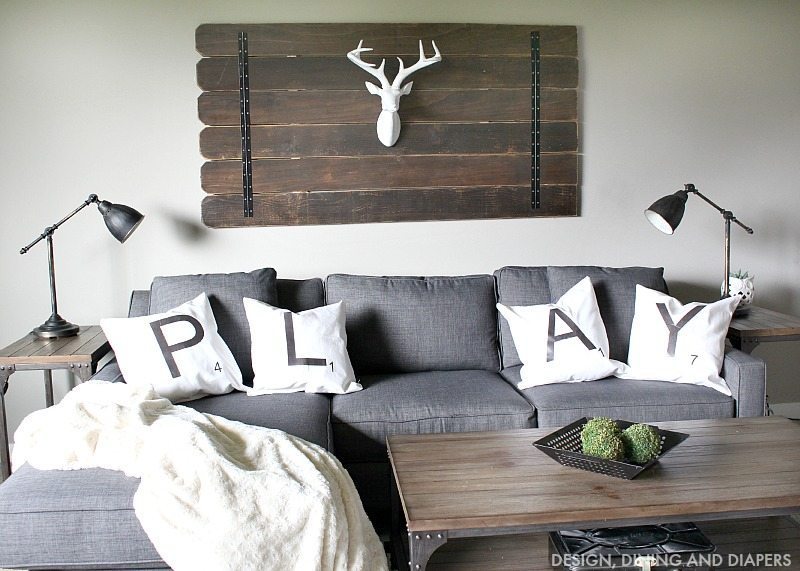 Here is the before picture. There really isn't anything wrong with the space, but it was never fully finished and I wanted to change the look and take it to a whole new level. And I think I accomplished that!
Paint Refresh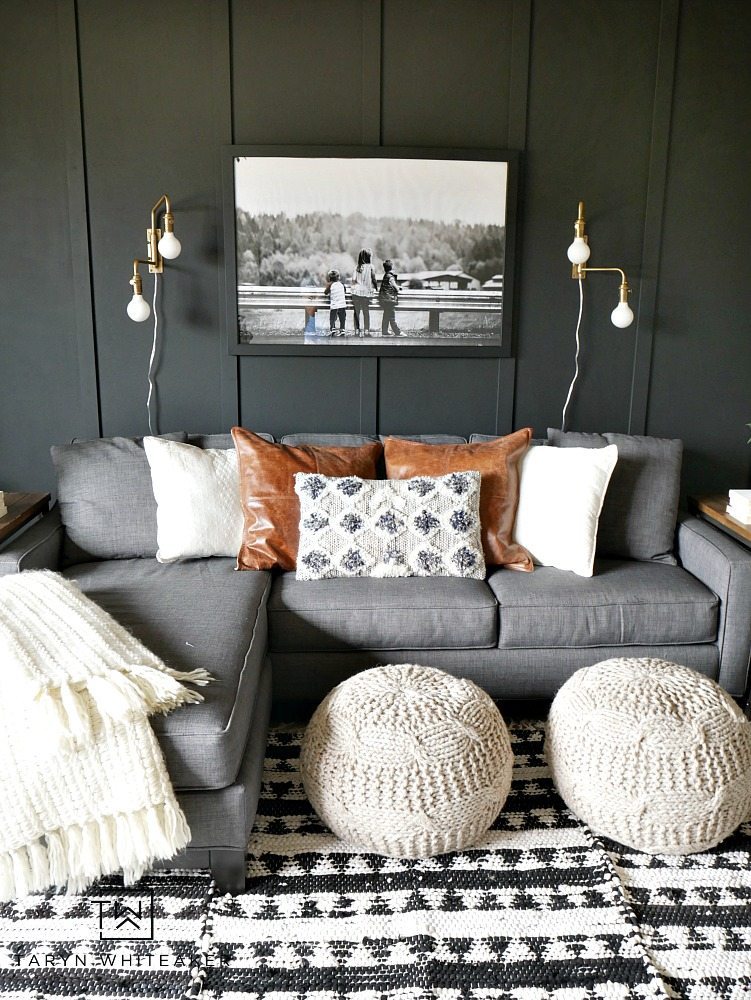 Why I went with dark walls
It is actually hard for me to believe that this is the same space that I started with.  In my inspiration post, I shared a few before pictures of this space along with a few ideas of what I had in mind. I knew I wanted to use a dark paint color in here. Many people have asked why I decided to take just a huge risk, other people told me I was super brave for doing it. So let me start this post by answering a few questions about why I went with this color.
Our ENTIRE house is the same shade of 'greige', and after THREE YEARS I decided I was finally ready to start painting a few walls in our house and wanted something completely different than what we have.
This room is a mix between a playroom and movie room, so it seemed like the perfect place to bring in a bold color. Nothing cozier than watching a good movie in a dark room!
Dark walls are also making a comeback in the design world and I am all about the dark and moody look right now. So why not try it myself!?
It's just paint! I think the biggest thing to remember when painting your room a different color is that it's just paint. It can be painted over in a matter of seconds so why not take a risk and try out a new color to freshen things up.
Rustic Modern Bonus Room Makeover
I choose the color 'Rebel' by KILZ Complete Coat Paint, based off the color I saw on Walmart. I will caution and say that the color online is a little different than the color in the can. I was expecting more of a Charcoal Gray and it turned out to be as close to black as you can get. I actually hesitated at first but decided to keep moving forward. I knew I wanted a 'moody' look for this room, so I just changed my vision a little bit and went with it. Sometimes you have to take a risk to get big results and I think it worked AMAZING!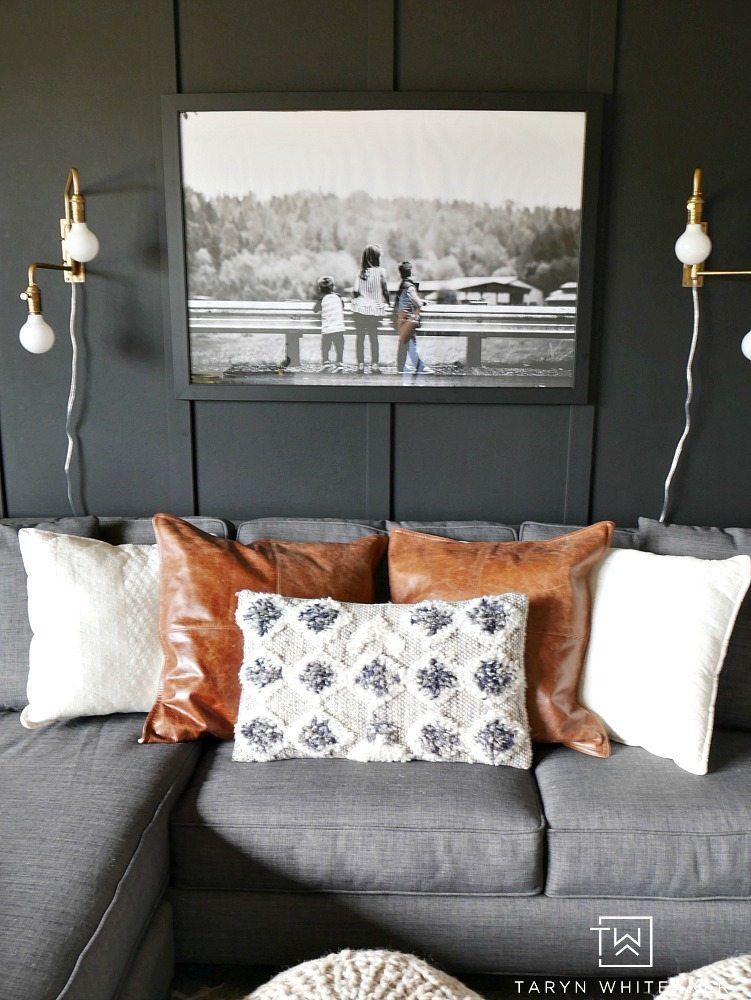 The sample photos on Walmart are what actually sparked my inspiration for this project. I loved seeing the addition of wood detail on top the dark walls. The is what inspired my idea of using the vertical molding across the wall. Using a dark color is definitely a very bold move and it can overtake the room if not done right. I think the usage of the tone on tone gives it an added texture and dimension and makes it a lot cozier and more interesting.
I've used KILZ primer for years, but this was the first time I used the KILZ Complete Coat Paint and I really liked it. I used a small roller for the overall coverage on my walls and it went on really smooth. This being such a dark color, I was really impressed with the coverage after one coat. I did need two coats, but that's all it took and look how dark this is!!! The other thing I noticed about the paint was how quickly it dries. I was super impressed with how fast the paint was to touch and how smooth it looks.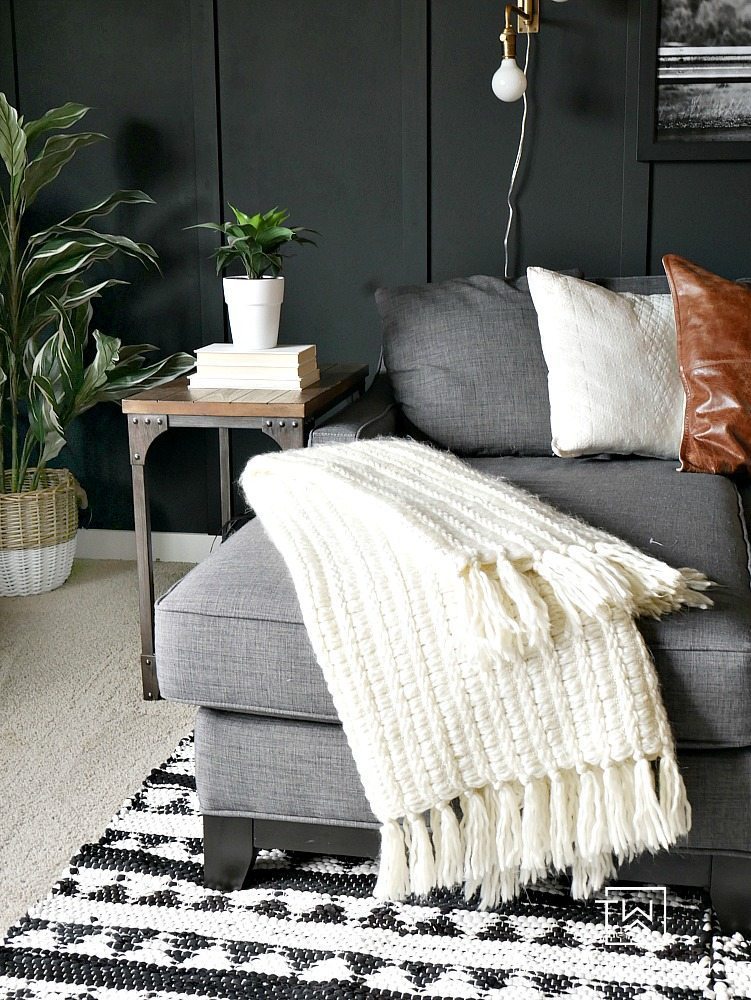 To go along with the moody look of the room, I wanted to stick with my usual rustic modern style but also add in a hint of boho. I love love mixing different textures and all the fringe and woven pieces have my heart. I picked accessories that were lighter in color so they would pop against the dark walls.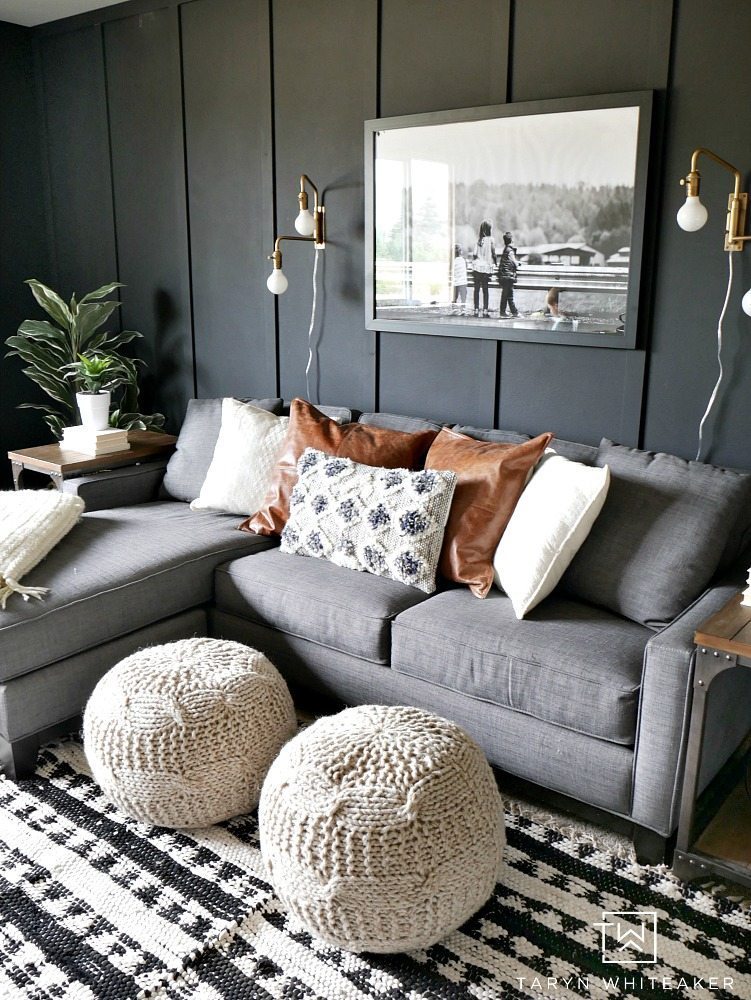 For the focal point of the room, I choose this print of my three kiddos that we just had taken by Shaylynne Marie Photography. She is amazing, and really captured the spirit of our family. I love this picture of my kids, it shows them looking out at the horses down the street from us. They love standing at the fence watching them graze and trying to get their attention. It's a beautiful picture that also captures a moment in our every day lives.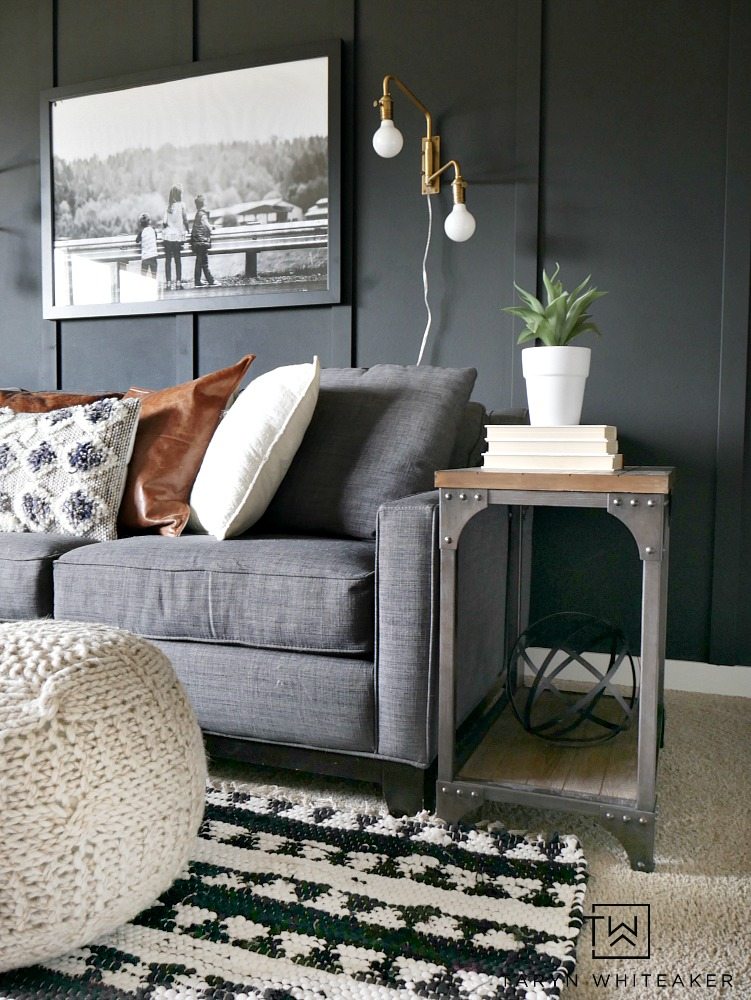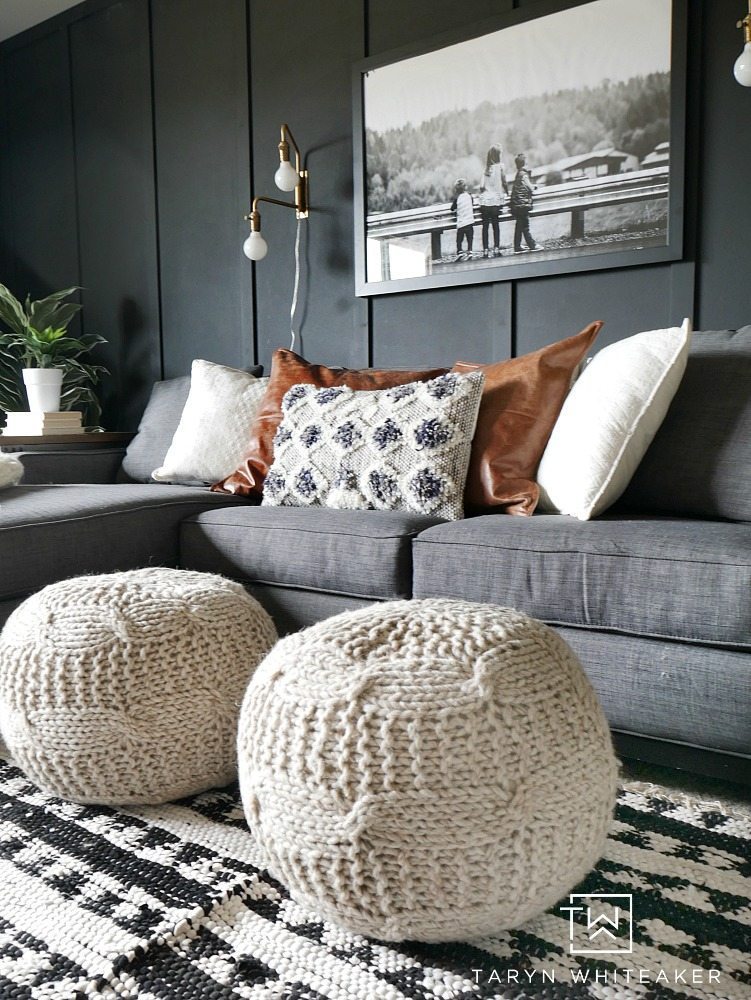 And I'm so glad I switched out the coffee table for these poufs because they are so comfy!!
ROOM OVER TIME
If you are like me, you love a good before/after makeover. So let's take a look back in time at how this room as progressed. It is seriously AMAZING to me how paint can completely change the room. Ok ready.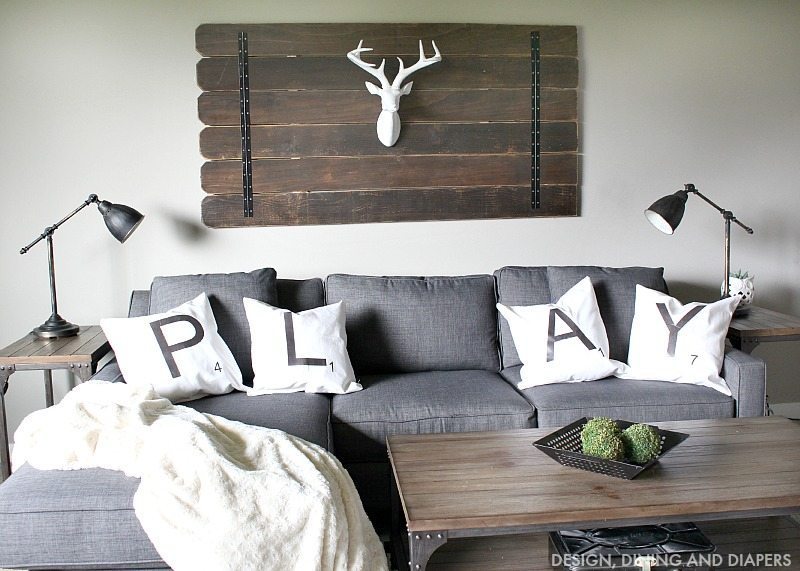 Here is what the room looked like originally. It wasn't necessarily awful, it was just lacking a wow factor.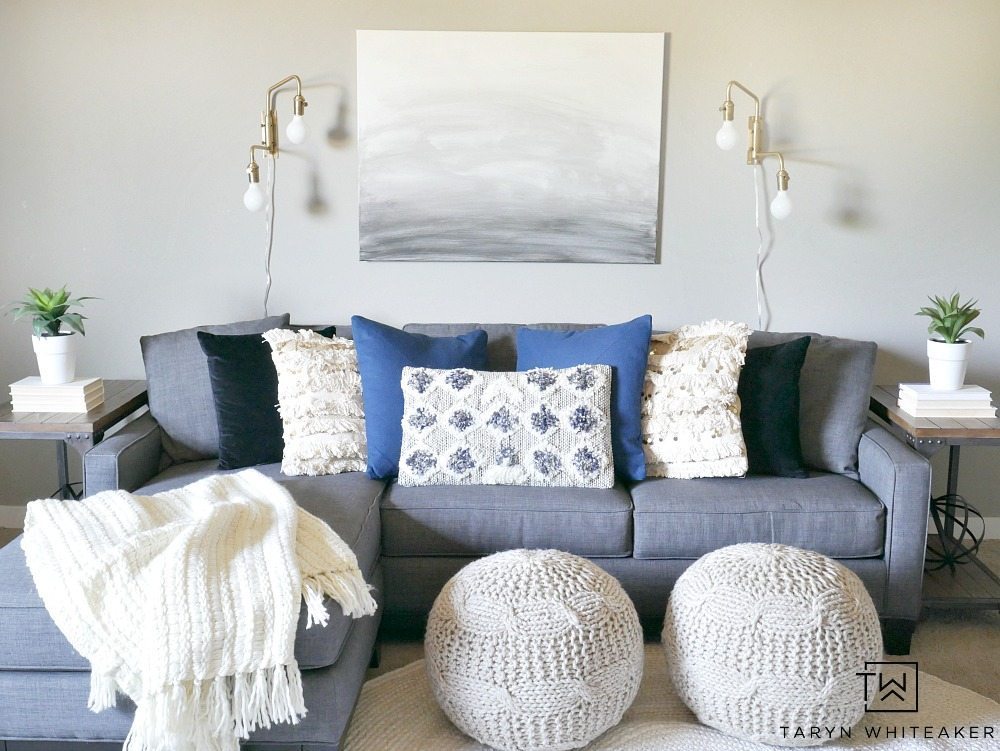 Here is the in-between stage when I started to change out some of the decor to change the look.
And now, with a whole new paint color. WOW. I still can't believe this is my house!
If you haven't gathered this already, I'm so happy that I took a risk and went with a dark paint color. I think it totally paid off and I got the dark moody modern boho look that I wanted. Is there a room in your house you are hoping to paint soon? Will you be going bold?
You can see more paint projects on the KILZ Facebook : Twitter : Pinterest : Instagram 
SaveSave