It's about time I brought the Christmas trees out! I spent the weekend installing the hardwoods in the bonus room and couldn't help but put up a tree as soon as I was able to! I'm still working away in here and hope to have a big update soon, but let's take a little detour and look at some Christmas decor. I'm excited to join a few other bloggers throughout the week as we all share our Christmas Trees with you. I'm starting off with my Modern Cream and Gold Christmas Tree.
If you are coming from Up To Date Interiors , welcome!
Modern Cream and Gold Christmas Tree
Neutral Christmas Tree
I started off thinking I would do a really modern moody tree in here and keep it a little darker. Buuuuut I really wanted to use things I already had. This tree was a process of just playing with all the gold and cream ornaments I had on hand and building with texture. This room is filled with warm tones and I wanted to pull those colors in.
Neutral Christmas Wrap
For my Christmas wrap this year, I am going with lots of neutrals (and plaid will be making an appearance in our main tree downstairs). I love this new birch wrapping paper I found! It adds so much texture and a great winter look.
My ivory faux fur tree skirt is from Balsam Hill and I absolutely love it! It feels so luxe and is amazing quality!
Layering Gold Ornaments
For this look I used all gold and cream ornaments. When using a solid color or tone to decorate a tree, it's all about using a variety to sizes, shapes and textures to give the tree dimension and keep your eye looking around it.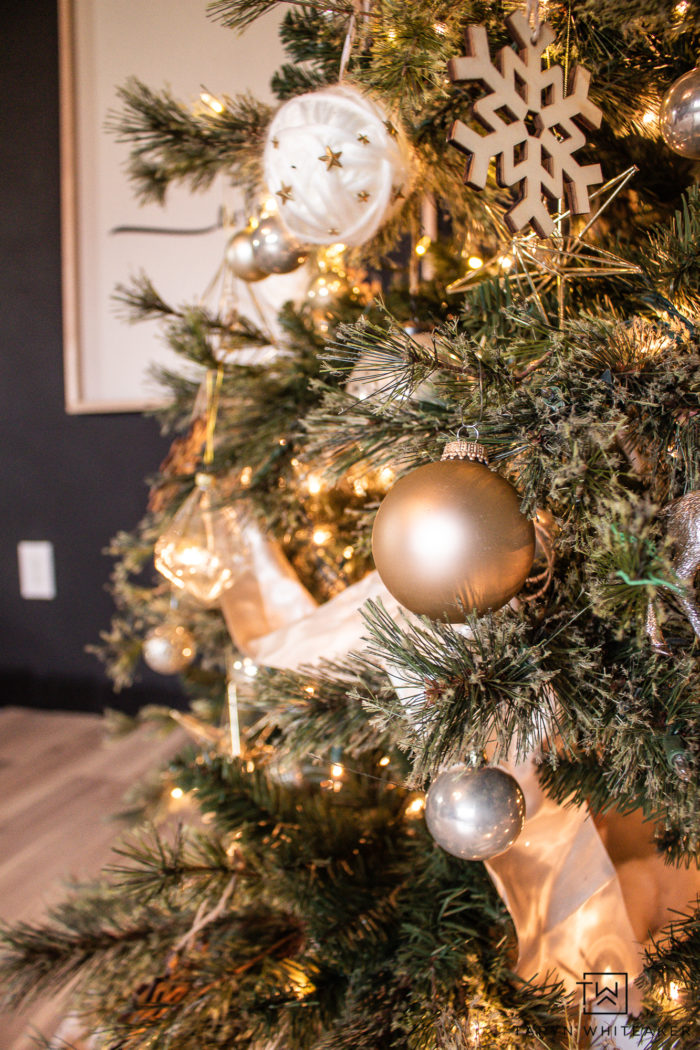 I used a combination of gold ball ornaments, wooden snowflakes, champagne ribbon, and added a few gold statement ornaments.
While it didn't turn out to be the dark moody Christmas tree I was originally envisioning in here, I really love how the whole look came together. I've never done a solid gold Christmas Tree before, it's a bit more traditional than I normally go, but the sparkle is pretty magical!
I'll be sharing more about the hardwoods soon, but oh my goodness they are looking so good!
Now head over to Cherished Bliss, her trees are always gorgeous!
More Christmas Tree Tours

Monday:
Casa Watkins Living // Up To Date Interiors // Taryn Whiteaker Designs // Cherished Bliss // Thou Swell // Cassie Bustamante
Tuesday:
The DIY Mommy // PMQ for Two // Jeweled Interiors // Kate Decorates // Banyan Bridges // Making Home Base
Wednesday:
Monica Wants It // House of Hipsters // Cuckoo 4 Design // Delineate Your Dwelling // Lolly Lane // Mango Manor
Thursday:
Two Twenty One // Lemon Thistle // Iris Nacole // Au Petite Salon // Setting for Four // Whispering Pines Homestead
Friday:
The Handmade Home // Our Fifth House // Tag & Tibby // Daly Digs // House Homemade // Love Your Abode
You May Also Like: