Disclosure: This post is sponsored by JOANN, all opinions and creative ideas are my own. 
Are you ready for our big Christmas tree reveal for this year? I already shared our tree in our master bedroom, now it's time to take a closer look at our Woodland Chic Christmas Tree in our main living space! Every year we cut down a real tree for this room and it's one of my favorite family traditions and something I keep very special to us. There are often times when I don't even share this tree on the blog because it ends up being more of our family tree that I keep for us. But this year I headed to JOANN and ended up loving their woodland themed Christmas Ornaments and decided to add some fun new pieces to our tree this year.
Woodland Chic Christmas Tree
I'm going with a subtle Scandinavian theme to my Christmas decor this year and these woodland ornaments fit right in with the nature inspired accents and sleek metal designs. Most of the time you probably see woodland ornaments and think rustic log cabin or buffalo check and I wanted to show you how you can still have an elegant and classy tree but incorporate some fun woodsy ornaments to it as well.
The whole idea of mixing classic black and white design with rustic wood elements seems to be key in all my designs. I just love the whole combination and it was fun to incorporate into this design as well.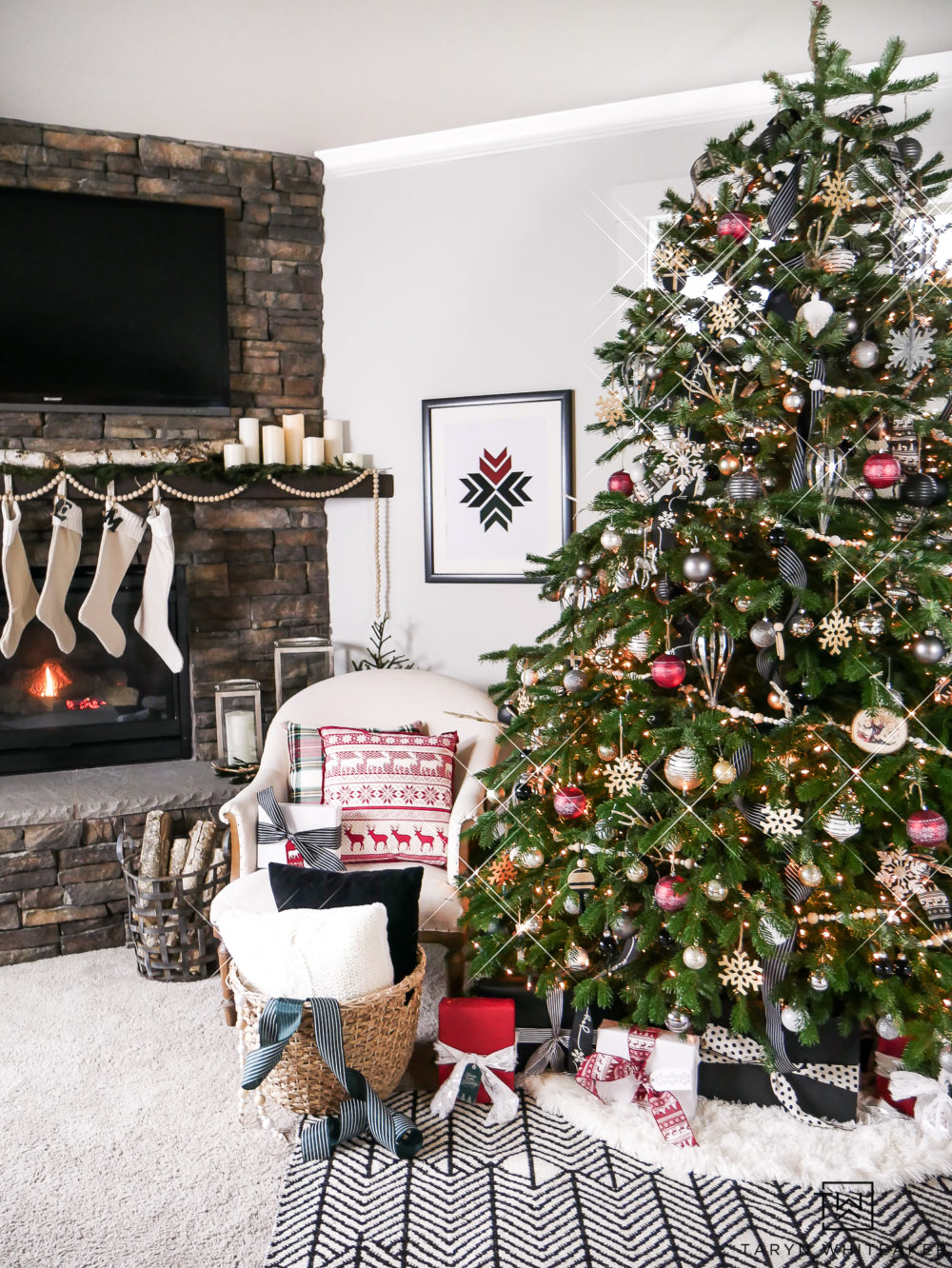 Woodland Themed Ornaments
I want to show you some of the fun new ornaments I picked up that really impacted this tree design and helped incorporate the woodland theme. First of all, they have a whole line that you check out here, but these are the amazing Metal Tear Drop Ornament. Aren't they SO cool? I love the industrial vibe to them. They are so unique and I can't wait to use them year after year.  I originally only bought a few of them, but I loved them so much I went back and bought more!
Then we have these amazing Gold Mooses. If these aren't woodland chic at it's finest I don't know what is!
And along with my metal elements, I had to incorproate some fun wood pieces as well. I added a few pops of these Woodland Snowflake.
And if you are the type of person who likes to just grab a bag and go, they have big themed ornament packs already ready to go with several types of ornaments. I got a few of these red, black and silver packs that includes SO many of these awesome wood snowflakes that you see around the tree.
Wood Bead Garland
Ok can we talk about this Wood Bead Garland for a second? I mean, it's perfection. It can be used in so many different Christmas decor styles from uber modern, to Nordic, Traditional and super woodsy. I love how they incorporated the metal beads into it as well. I may have grabbed every single strand of it! You could also hang this on the mantel!
Layering Ribbon on the Tree
Cascading down the tree are three different black and white ribbon patterns. I did a variety to give it a pop of patter. I went with this black and white striped, black and white joy ribbon and black and white nordic pattern.
Scandinavian Inspired Gift Wrap Ideas
While I was at JOANN, I found picked up some super cute gift wrapping, tissue paper and gifts tags that all fit the theme I'm going for this year! I was so excited. Love it when you can do some one-stop shopping.
Thanks for checking out our tree, I'll have a full house tour coming up very very soon!
Shop Our Tree!
Wood Bead Garland | Black and White JOY Ribbon | Woodland Snowflake | Metal Snowflake | Gold Moose | Black and White Nordic Ribbon |  Metal Tear Drop Ornament |  Arctic Frost Bulb Ornament | Black and White Woodland Ornament Packs | BlOOMING PINE BRANCH | WICKER BASKET | RED & GREEN TARTAN PILLOW |  RED & WHITE NORDIC PILLOW | White Knit Pillows | Fur Ribbon