is post is sponsored by HART Tools at Walmart, all opinions are 100% my own!
Do you ever complete a project and then look back and wonder why it took you YEARS to do it?! Since we moved into our home 5.5 years ago I have wondered what to do with our staircase. It was one big greige box with 12 ft ceilings, no windows. It was blah. But it was a staircase after all and not a huge priority over the years, so I thought…. over the past few weeks I worked with my brother to give our stairway a complete makeover including a bold staircase gallery wall!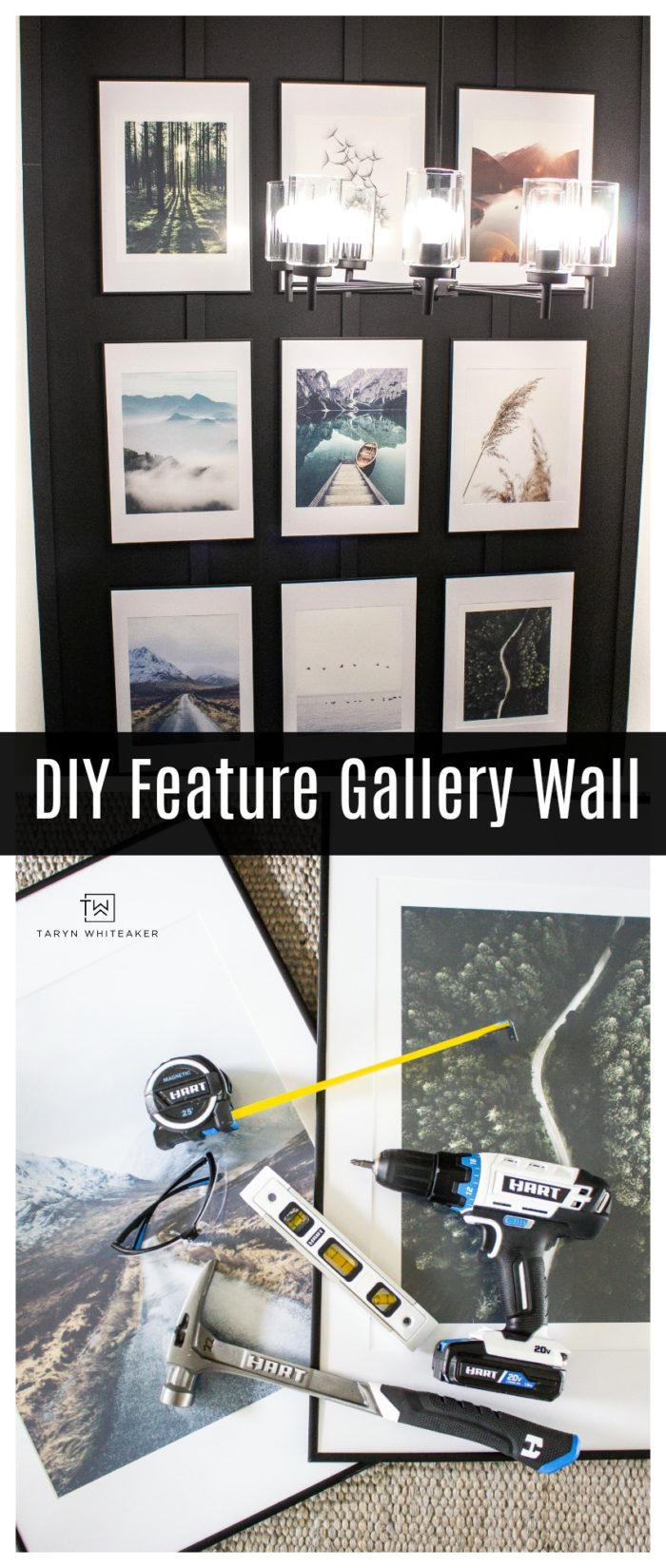 I cannot wait to show you the before and after pictures of this space, it is truly incredible. I worked with Hart Tools to complete this project. You can find all of their tools at your local Walmart and online! I truly believe that anyone can complete this project!
Ready…..
Staircase Gallery Wall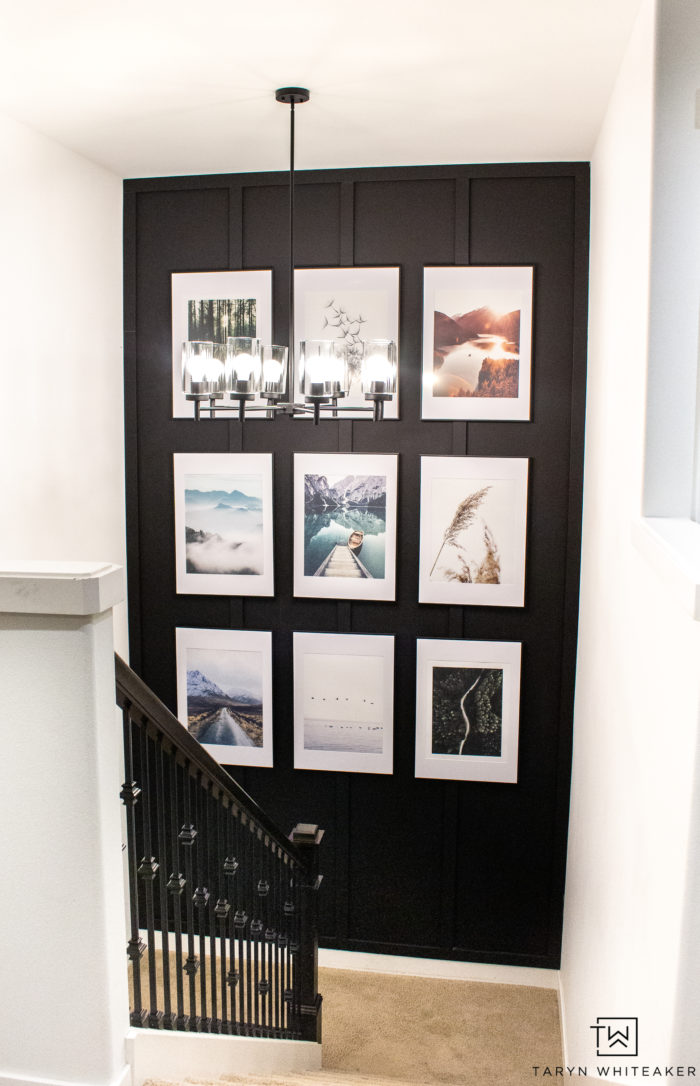 I seriously cannot believe this is our staircase now. And I don't know why it took me so long to do something decorative here. When I asked my husband what he thought of the final look he said it definitely took our house from basic builder grade to custom home and that was music to my ears!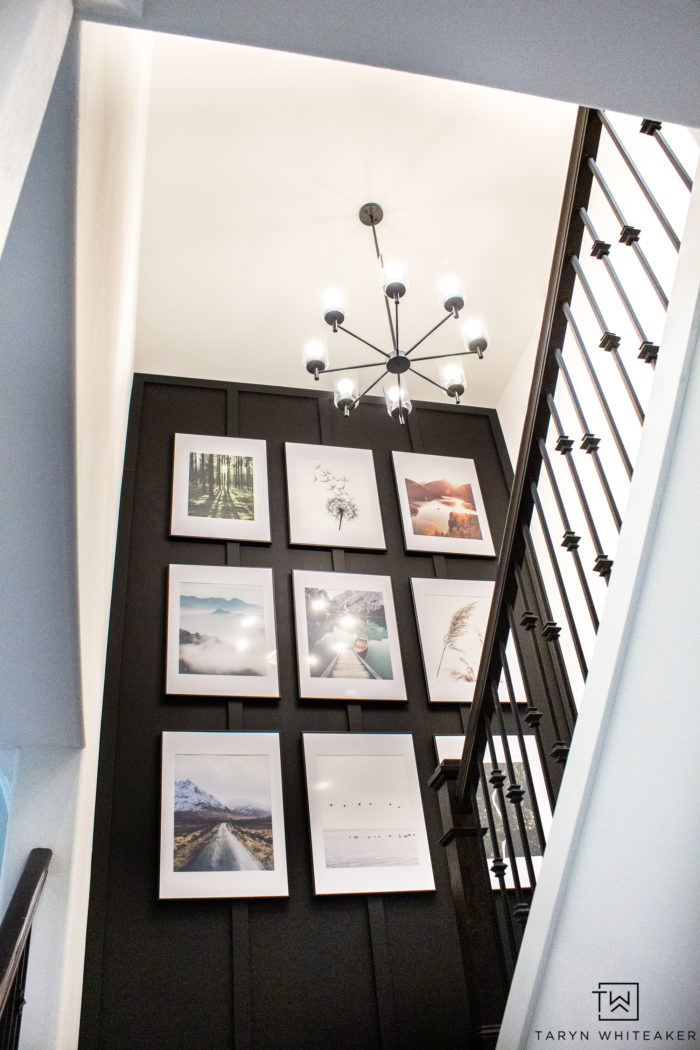 I don't think I realize just how much of an impact it would make on the rest of the house. Since you can see the 12′ wall from our main living area downstairs, it definitely makes our entire downstairs feel more connected now. It carries the design up and it definitely catches your eye. Slowly but surely our house is becoming one cohesive look that I absolutely love.
If you are new here, I have a pretty distinct style of black and white with pops of wood and natural elements. I like clean modern lines and I pick simple yet bold pieces that make a big statement. And that's exactly what I did with this wall. I wanted a large accent wall to bring dimension to the staircase and wanted to create a gallery that popped.
Let's take a look at how easy it was to create this look! I also updated the chandelier with this more modern one! It was really reasonable for the size.
Staircase Makeover
You guys, can you even believe this is the before? I forgot to take a pic of it before we started painting, but it was literally one greige box with marked up walls from the kids and a chandelier that didn't fit my style. That's it.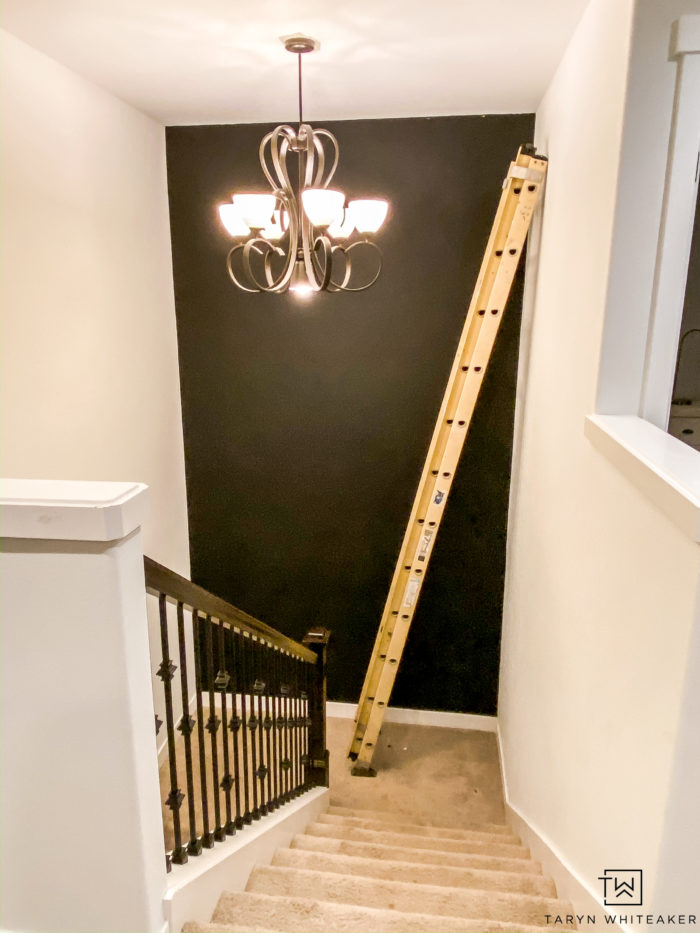 We started by painting the walls and ceiling the same shade of white that is in the rest of the house (we have slowly been painting over the greige over the past few years). Then added a black accent wall in the same shade at the bonus room, Rebel by Kilz, you can find it at Walmart too! I LOVE this color because it is a shade lighter than a true black. It's more of a super dark charcoal. I love it so much.
DIY Wall Moulding
Not it's time to bring out the tools! These are all tools that everyone should feel comfortable using. So I hope this inspires you to do a project like this in your own home!
Tools You Need:
Materials You Need
3″ pre painted trim (amount will vary per space)
Paint
Finishing Nails
Wood Filler
Picture Hanging Hardware
How To DIY Your Own Moulding Accent Wall
Start by painting your moulding. I like to buy the pre painted trim because it has a smoother finish and then I give it one coat of paint before I attach it to the wall.
Cut your moulding down to size. I LOVE the HART 10-inch 14 Amp Compound Miter Saw . It is so easy to use and makes the cuts so precise.
I like to lay the whole frame first, so the bottom and top pieces and then the side trim. Then I fill it in with the vertical pieces. You'll want to measure the full distance in between the outside moulding pieces and find the equal distance between each of your vertical pieces.
When installed the vertical moulding, keep a level handy to make sure your pieces are going up straight. I like this HART 9-inch Torpedo Level because I can keep it in my back pocket for easy use!
Attach the moulding using finishing nails.
Once you have all your moulding up, fill the seams and nail holes with wood filler and then sand them down to a smooth finish.
Give it another coat of paint for a fresh finish.
Hanging A Gallery Wall
Now it's time to hang your gallery wall! I had mine gallery wall all pre-planned out when I ordered my prints, so I didn't have to worry about figuring out placement. I'll be doing a separate post on some tips for creating a gallery wall soon!
I wanted a clean modern look to my gallery wall so I did a grid style. Tree across, three down. Hanging a gallery wall takes patience and a lot of measuring.
Because this is a staircase that we walk through a million times a day and I have three little kids who run up and down it, I didn't want the prints being too low, so I purposely had them hang a little higher.
We hung the middle row directly onto the center piece of moulding, so we could nail directly onto them. This HART 22OZ Steel Hammer, Nail Starter. If you've never used a nail starting hammer before they are so cool! There is a small magnet piece in there and a spot for the nail to sit and you can literally put the nail in and hammer right into the wall and it will start it for you. So great if you only have one hand free while in the middle of a project.
For the prints hanging off to the side, we used dry wall screws to add some extra support.
You can read this post on the prints I choose for the gallery wall and where to get them! Once the prints are up, whip out that level and make sure everything is straight!
I am SO happy with how this staircase gallery wall turned out. It looks night and day compared to what we started with. It really took a basic builder grade staircase into a unique bold look. You may notice that we also changed out the light fixture to something more modern to finish off the space!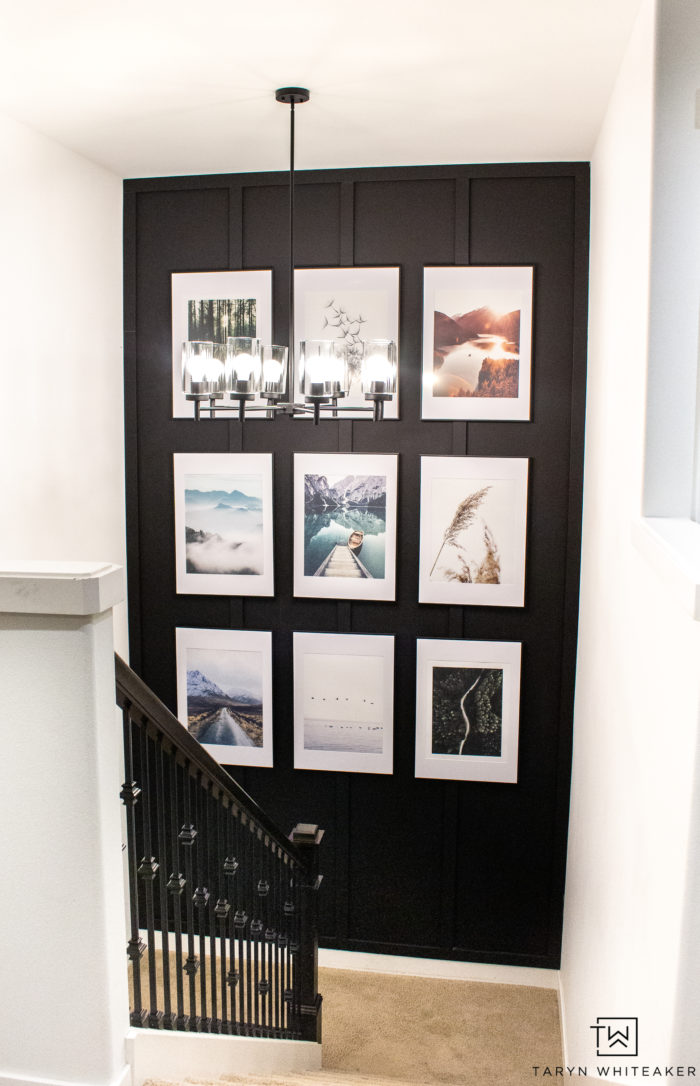 Here are easy links to all the Hart Tools I recommend for this project! Next time you are at your local Walmart, check them out!