Happy New Year! Happy new decade! I remember when I was growing up and people would talk about 2020 like it was so far in the future and we would basically have flying cars by now and it's really crazy to see this date come so fast. Well, there are no flying cars, but it's crazy to see how much the internet and social media has changed in the last 10 years. I mean, 10 years ago hardly anyone knew what a blogger was, what they did, how they made money, and now it's a full on profession. I started blogging over 8.5 years ago, which is honestly one of the weirdest things to think about. It feels like yesterday that I started my blog but at the same time it's so fun to see how much this world has changed. I can't even imagine with it will be like in 10 more.
Anyway, I didn't mean to go completely off on a tangent there let's stay focused on home decor. Back in the earlier years of blogging, we used to set out goal list for the year and do check-ins to see which projects got completed, etc. I haven't done this for YEARS but I thought I would bring it back and let you in on all the planning for the next 12 months. So here's my 2020 Project List!
2020 Project List!
Put finishing touches on the kitchen! We just revealed our kitchen makeover in November, but there are a few final touches that we didn't get to. Long story short, the trim work above the hood is temporary and we will be removing the hood, bringing the tile all the way up to the ceiling and then reinstalling the hood. Phew.
2. Around this time last year, I decided on a whim to rearrange most of the furniture in our downstairs and start a bigger makeover… except I didn't get any farther than this! We are hoping to have the hardwoods installed super super soon and then we will do a bigger makeover with more furniture and different placement.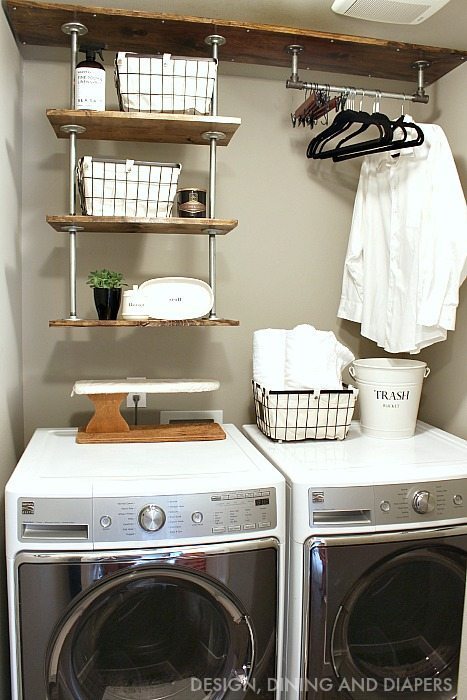 3. It's time to give our laundry room another BIG refresh! This project will actually start next week! Eeek! About 4 years ago I did this mini makeover and built these pipe shelves and drying rack. I knew this would be temporary, I did't realize it would take this long to realllly do the full makeover but I can't wait to get started. Talk about adding cabinets, a backsplash, maybe knocking down a closet… we shall see.
4. This is more of a maintenance project versus makeover, but we desperately need to give our back patio a new coat of stain… or paint… whatever we decide it needs to be done!
On the topic of outside, I have been waiting FIVE years to start building/pouring a patio in our backyard and I really hope this is the year to get started. We are blessed with a huge backyard and right now it's just grass. That's it. So I'd love to actually have a place for an outdoor table and lounging.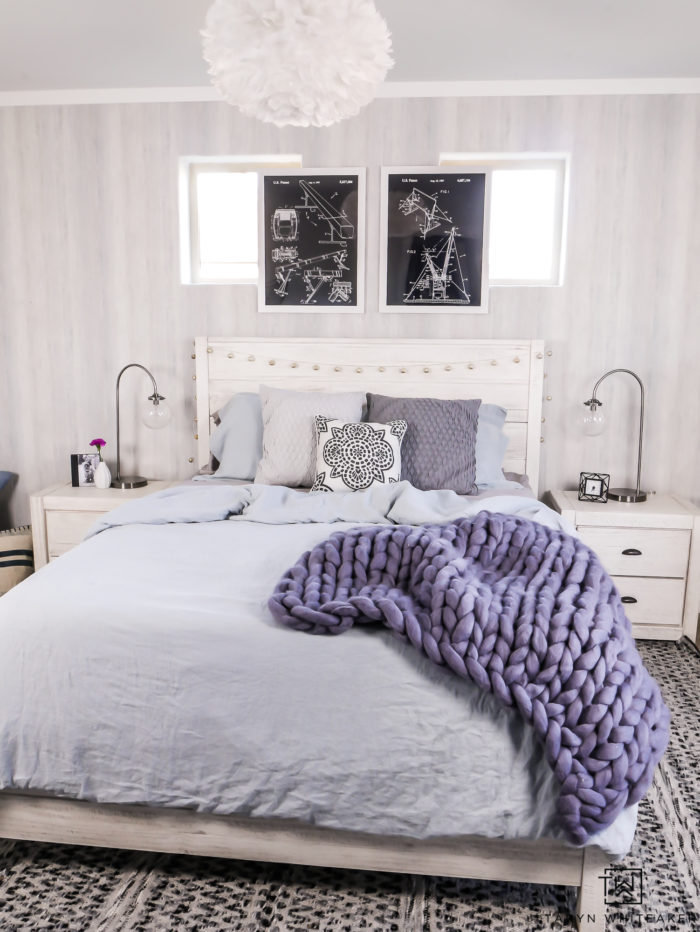 5. This spring, I transformed our daughter's sweet pink ruffle bedroom into more of a blue 'tween' room. My heart sorta broke a little seeing her grow up so fast but it was really fun to do this project with her and have her help pick everything out! You are probably asking why I'm talking about a precious makeover I just finished, BUT I am going to be giving it a small refresh, sometimes it's just a few changes that make a big difference. I already started and hope to share soon!
6. This room transformed a lot this year from installing a new light, to new faux beam and more. I have just a few small finishing touches coming in early this year and this room will be DONE. For a long time I hope!
7. All the unknown projects that I will take on over the next 12 months! Ha! I have a few more spaces that I'd like to update like a few small bathrooms. But those aren't a huge priority right now. But without fail there are always super fun projects that pop up every year and I can't wait to see what those are.
Have you been putting together a project list for this year? What's on your list? Thanks for always following along with everything over here! It's always so appreciated to hear your feedback!