Wow. I am always amazed when I get to the point of FINALLY doing a big room reveal. Decorating is a slow process for me, so it generally takes me about a year to get a room just right. When we moved into our home 1.5 years ago, I jumped right into decorating Miss E's room. Her room was the first room I hammered a nail into and things started to come together quickly. But somehow, it still took me this long to complete it. And I'm glad I took my time, because it's perfect for her. I'm so excited to share her Whimsical Little Girl's Room with all of you today! This space is a mixture of old and new and both rustic and glam.
Whimsical Little Girl's Room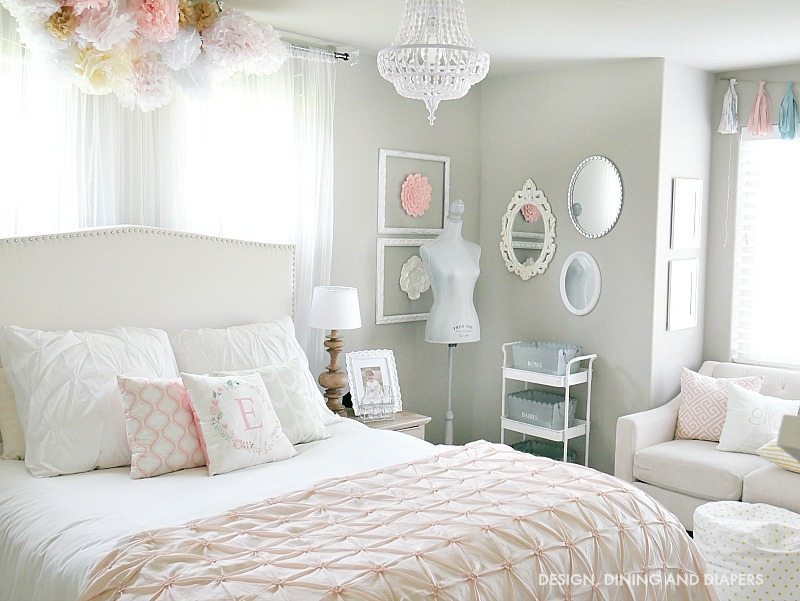 Since she is my only girl, I really wanted to create a very girly space where she felt like a princess. At the young age of 4 (now 5) she had very specific opinions about her big girl room in our new home. 1) must include pink and MINT (yes, she was that specific) 2) no gray 3) twinkling lights behind her bed 4) feel cozy. I think we knocked it out of the park.
Working with a 4 year old client was definitely a learning experience, but it was so much fun for us. The style of her room was way out of my decorating comfort zone and but I wanted it to be all about her and reflect her style. She is super super girly, loves ruffles and pink and baby dolls and wears a dress every day. She helped me with every decision. She was so excited with every new project and detail and I loved watching her eyes light up as she looked around her completed room.
Little Kids Reading Corner
The only thing I didn't let her do was paint the walls. We moved into a new build and I love the wall color (and in case you are wondering, I don't know what it is, sorry!). Maybe once we've broken it in a little I'll let her change the color down the road.
Her room is the biggest kid's room in the house, with the biggest closet. So naturally the girl of the house should have this room :) Since we had the space I added a little reading nook in the window area. We had the tufted sofa in our living room at our old house but didn't need it in our formal area in this one. We were planning on selling it but on a whim I decided to try it out in here and it stayed.
This beautiful sign from Between You And Me Designs is one of my favorite pieces in her whole room. I love the meaning behind it. Such a special piece.
Poufs Over Bed
The pink blanket on the edge of her bed has been around for a long time. It's actually a pretty special piece. I purchased the fabric for her Shabby Chic 1st Birthday Party and used it as a back drop. I loved it so much that I tucked it away. When we moved her into a twin bed, my mom turned the fabric into a duvet cover in her old bedroom. And now it still lays on her bed. I wonder how long we can keep it around :)
The framed prints were also from her old bedroom, I used vintage pictures from an old calendar I had (from the year we were married) and mounted them in open frames.
This vintage toy sewing machine is super special to me. It was my grandmas and comes with a very special story. I even wrote about it here.
Wooden Letter Signs
I was really inspired by the wood and letter signed Liz Marie made the other day so I decided to add one to Miss E's room. My daughter's middle name is actually Precious. It's a family name and one that I wanted to pass down.
I scored this large old window for $60 a few years ago. In our old home we placed it in our dining area. Here I added a few hooks and it now works as a great organizer for clothes, purses, etc.

You can read all about our chandelier here!


Love that sweet picture. It's one of my very favorites. Time really does go by fast.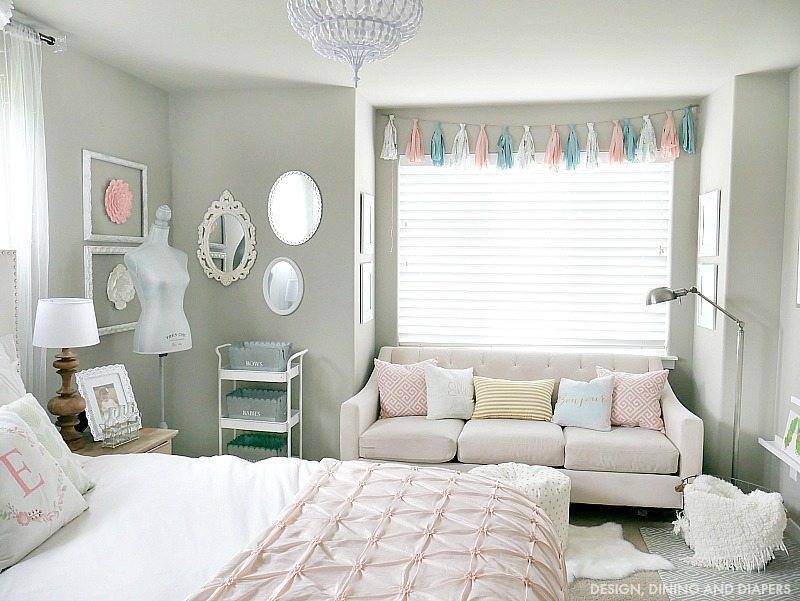 Twinkle Lights Behind Bed

And because every girl needs a little sparkle in their room… we added these hanging twinkle lights behind the sheer curtains!
Pin For Later!
And there you have it. Another room done!
SHOP THIS ROOM