It's been a hot second since I updated you on some changes that happened to our master bedroom. Sometimes I post things on Instagram and then realize that I didn't do an official update on the blog. So here ya go! The last time I checked in on our master was back in January with our new fresh white bedding and sheets. I actually think this made a really big difference changing out the bedding. It feels totally different to me now and I really love it. But I've made two new changes since then and I think it's coming along even more! So let's dive into the newest black and white master bedroom updates!
Black and White Master Bedroom Updates
Since the last time I shared this space on here, I finalllllyyyy updated the chandelier with something more my style and I got a new print above the bed. It took me awhile to find what I had in mind!
I feel like the new chandelier fits the space a lot better. It has the industrial modern look that I love so much and it really ties the whole space together. The previous chandelier was the one that came with the house. It was just a little too 'blingy' for my taste and wasn't the right style.
So modern yet so cozy. Just the way I like it.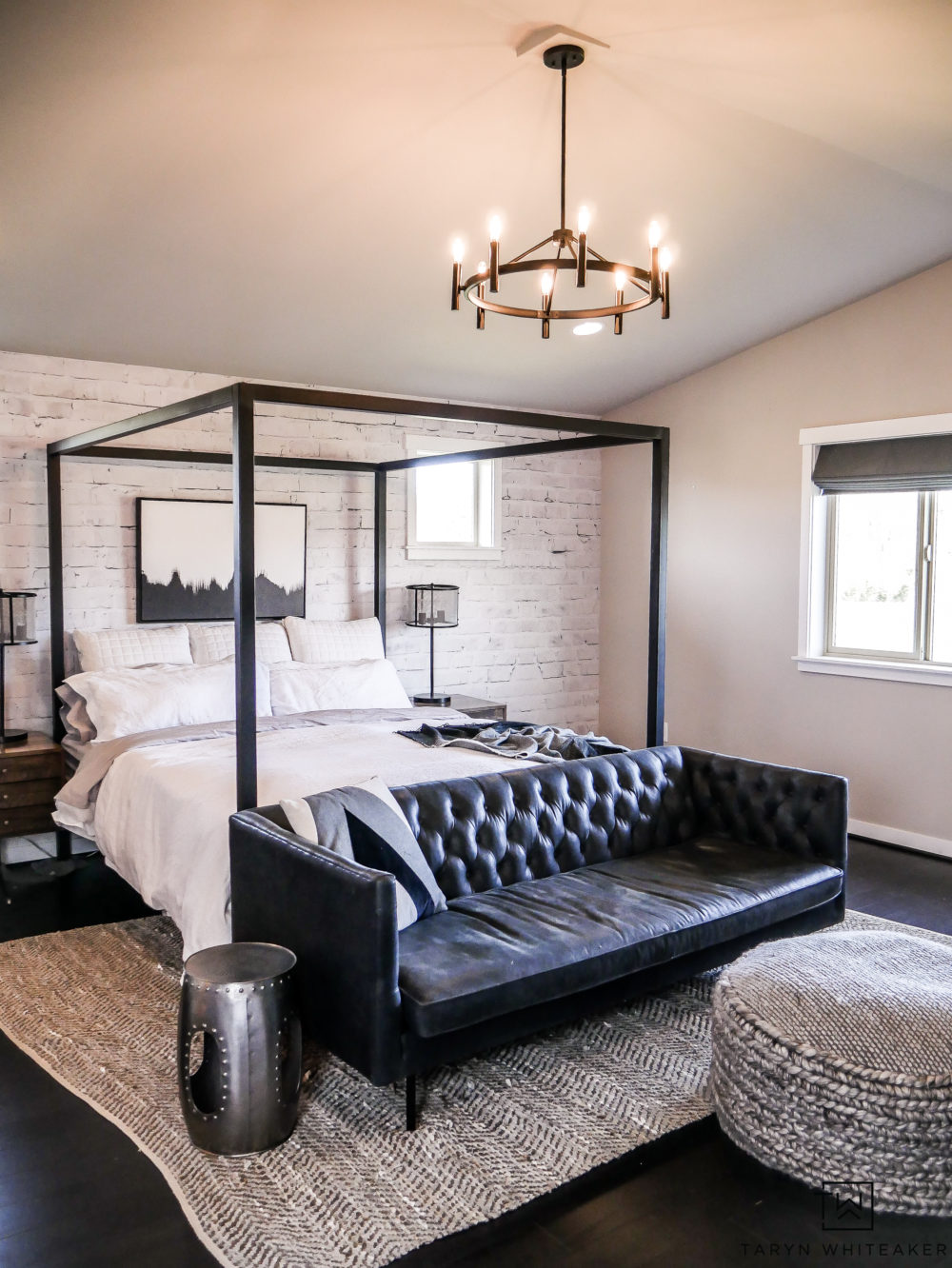 One of these days I will do a full blog post on the evolution of this space since we moved in. This room is the true definition that design doesn't happen over night. It takes time. It takes finding your style and figuring it out once step at a time. I love it when a design comes together "overnight", but that doesn't always happen. Sometimes you just need to take one step at a time and see how it all fits together.
I have just a few more updates on this space and I think it is officially DONE! I hope to have it all checked off super soon, so stay tuned for the final update!
ROOM SOURCES:
Brick Wallpaper: Walls Need Love
Black Canopy Bed: Room & Board
White Bedding: Tuesday Morning
Black Chesterfield: Article
Gray Ottoman: Article
Metal Side Table: Overstock
Nightstands: Wayfair
Black and White Abstract Print: Amazon
Industrial Chandelier: Lamps Plus
Bedside Lamps: HomeGoods