Disclosure: This post is sponsored by Overstock. All opinions and designs are my own. 
Well, here we are with another awesome room reveal! Four years ago we completed my daughter's little girl room. It was filled with pink and mint and all things ruffles. Over the past few years, we've loved watching her grow into her own personality with her own opinions and style. She is quite the spunky, independent and athletic girl and specifically requested that we gave her room a makeover to match her personal style! And she picked blue! I actually love that she picked this color for her room and I am so excited how we were able to work together to bring this room to life.
I feel so fortunate to have partnered with Overstock on such a fun project. I loved working with my daughter on her new room and letting her be part of the creative process. In the end, I didn't know blue could look so fun, classy and girlie at the same time :)
Let's take a tour!
Blue Girls Bedroom Decor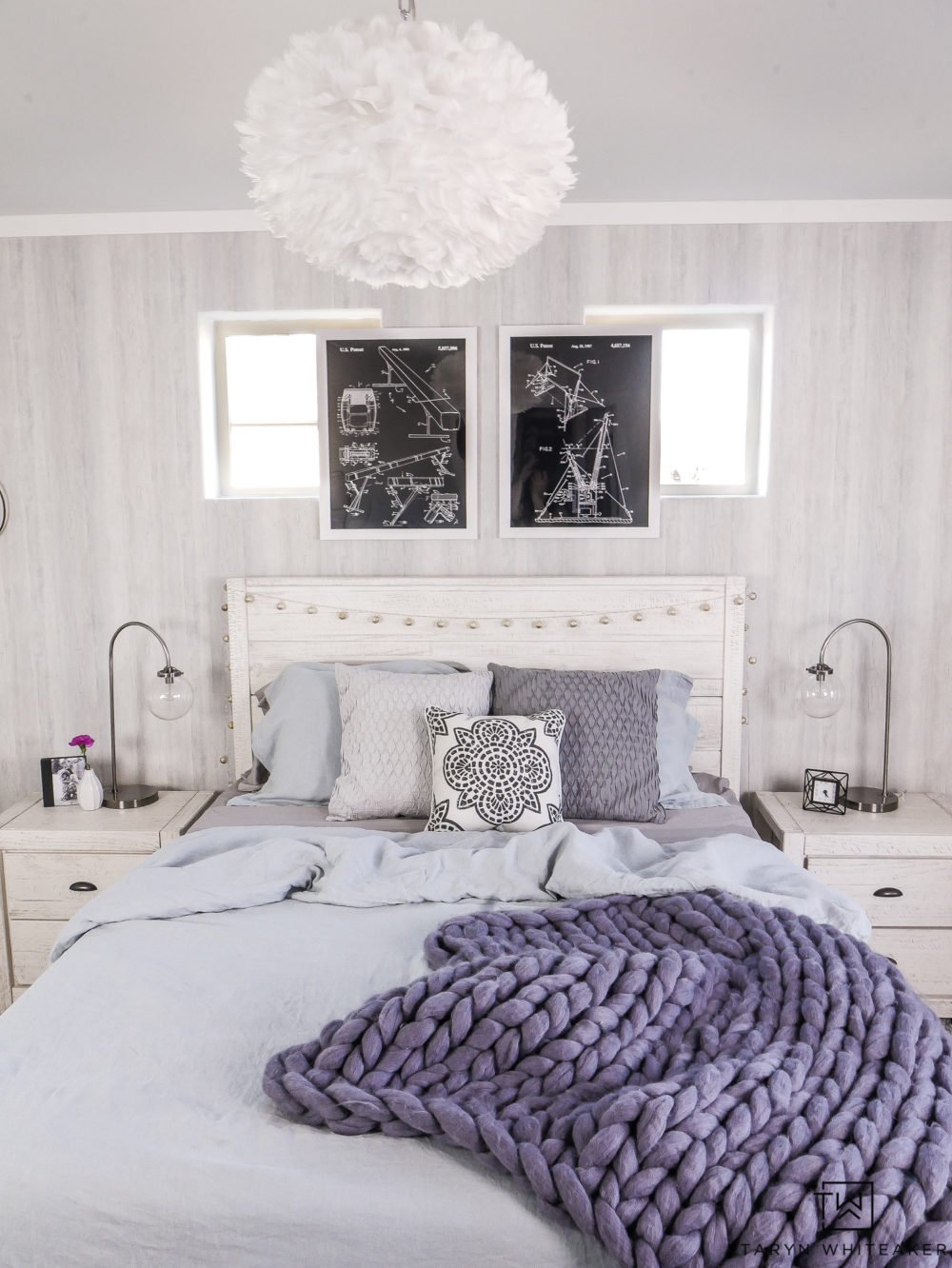 When I first heart " I want a blue room" I honestly panicked a little. I'm not a huge fan of bright colors and my mind instantly went to teal blue walls and primary blue plastered everywhere. But, that was far from what she was thinking. When we sat down to find inspiration photos, she instantly went to the soft blue tones, the white washed wood and pops of navy and tons of texture. Ummm hellllooo, I have a little designer on my hands!
I started by painting the entire room white and then added an accent wall! I found this blue birch wallpaper and knew it would provide a very subtle pattern and pop of color in the space. You can see some closer up photos of it as you keep reading!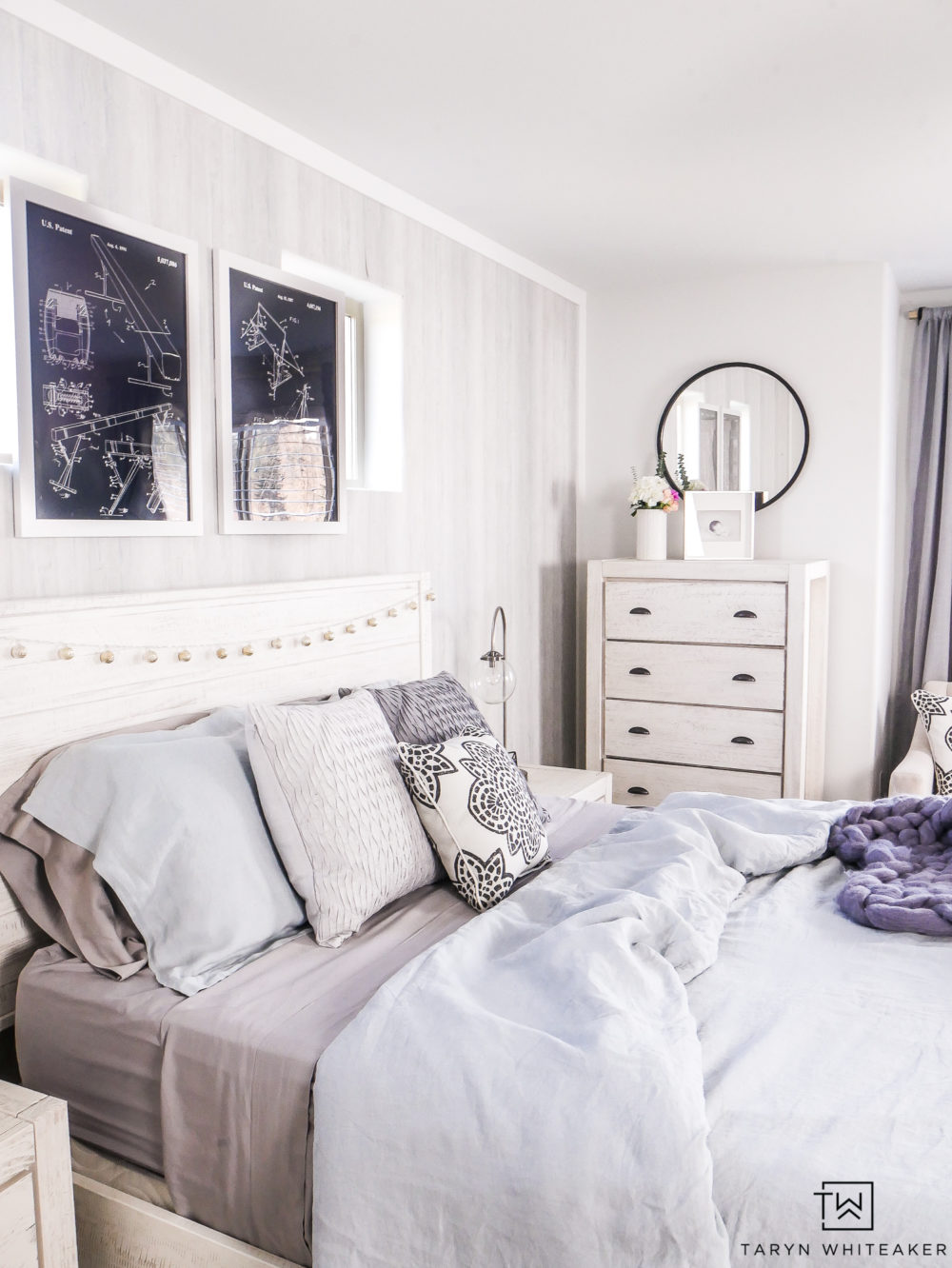 I was so thrilled with her vision that I couldn't wait to get started. I emptied out her room within a week and got started on this amazing blue boho room that fits her style. But before I show you the whole room and all the details I want to show you the before and the process of how we got here.
Very Pink Room Before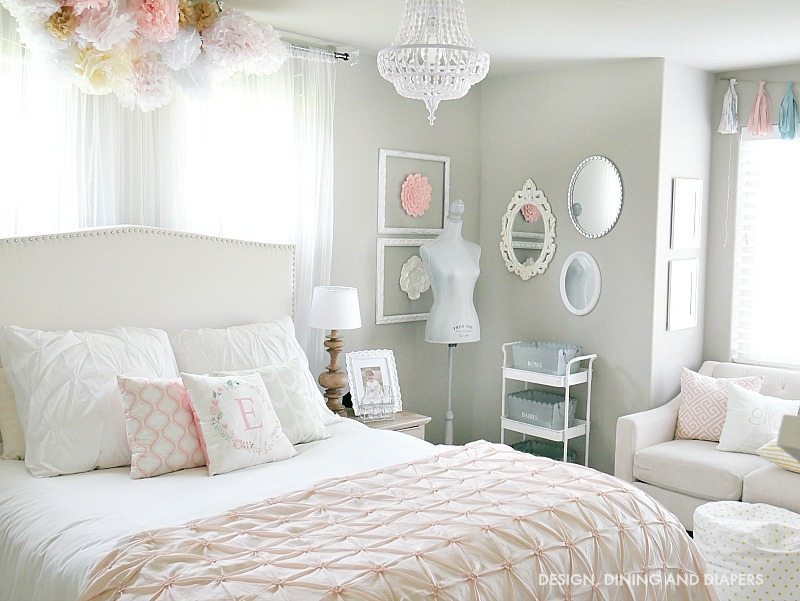 Here is what her room looked like before. It was full of soft pinks and feminine touches. It was very pretty and I loved it, but it's time for a change. And to be honest, after 4 years it definitely didn't look this fresh and put together anymore! It was time for a bigger girl room!
Blue Girls Room Design Board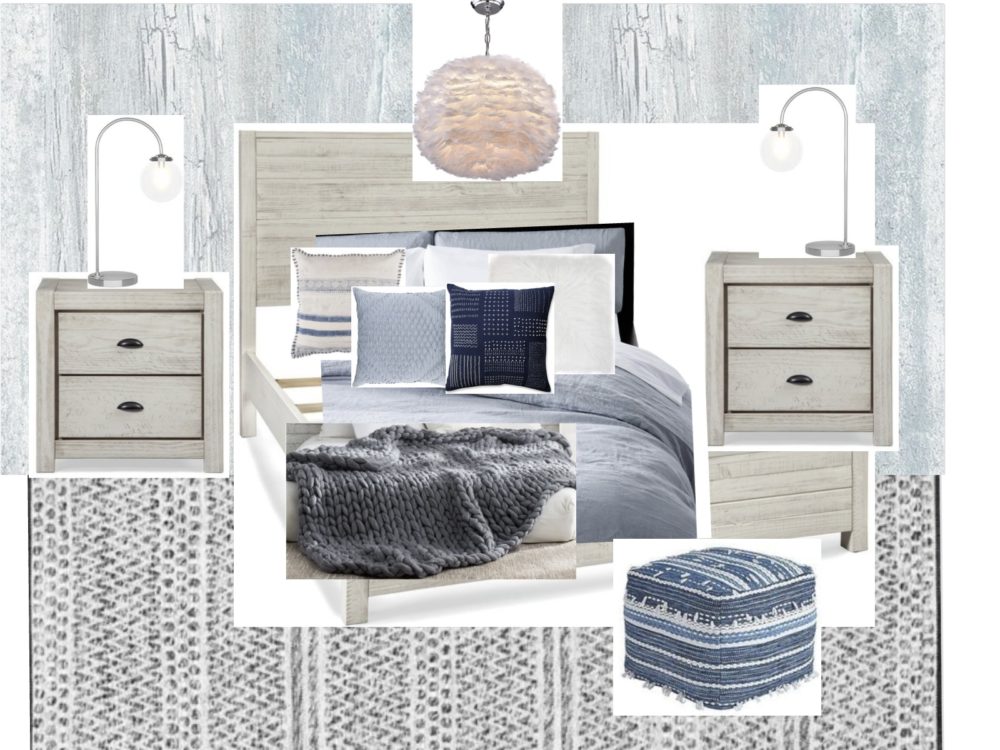 After gathering a lot of inspiration photos, here is the design board we put together using all products I found on Overstock! It is full of beautiful blue tones with a little mix of boho and mid century modern. When designing a space from scratch, I feel it is so helpful to put together a design board where I can pick out each item and place it all together first. It also helps bring the full vision together. I do this with all of my spaces and it makes it so much easier to pull the look together. Versus finding individual items and trying to build one item at a time. I feel like things never go well when I do that!
Of course, there are always times when things arrive and aren't entirely what you expect, but putting a board like this together really helps see all the products together and you can always make adjustments. You can see in my final design how the room changed a bit once I got all the pieces together and started working with the true colors. It definitely changed a bit but I still love how it turned out. Sometimes you just have to trust the creative process.
Blue Girls Room Decor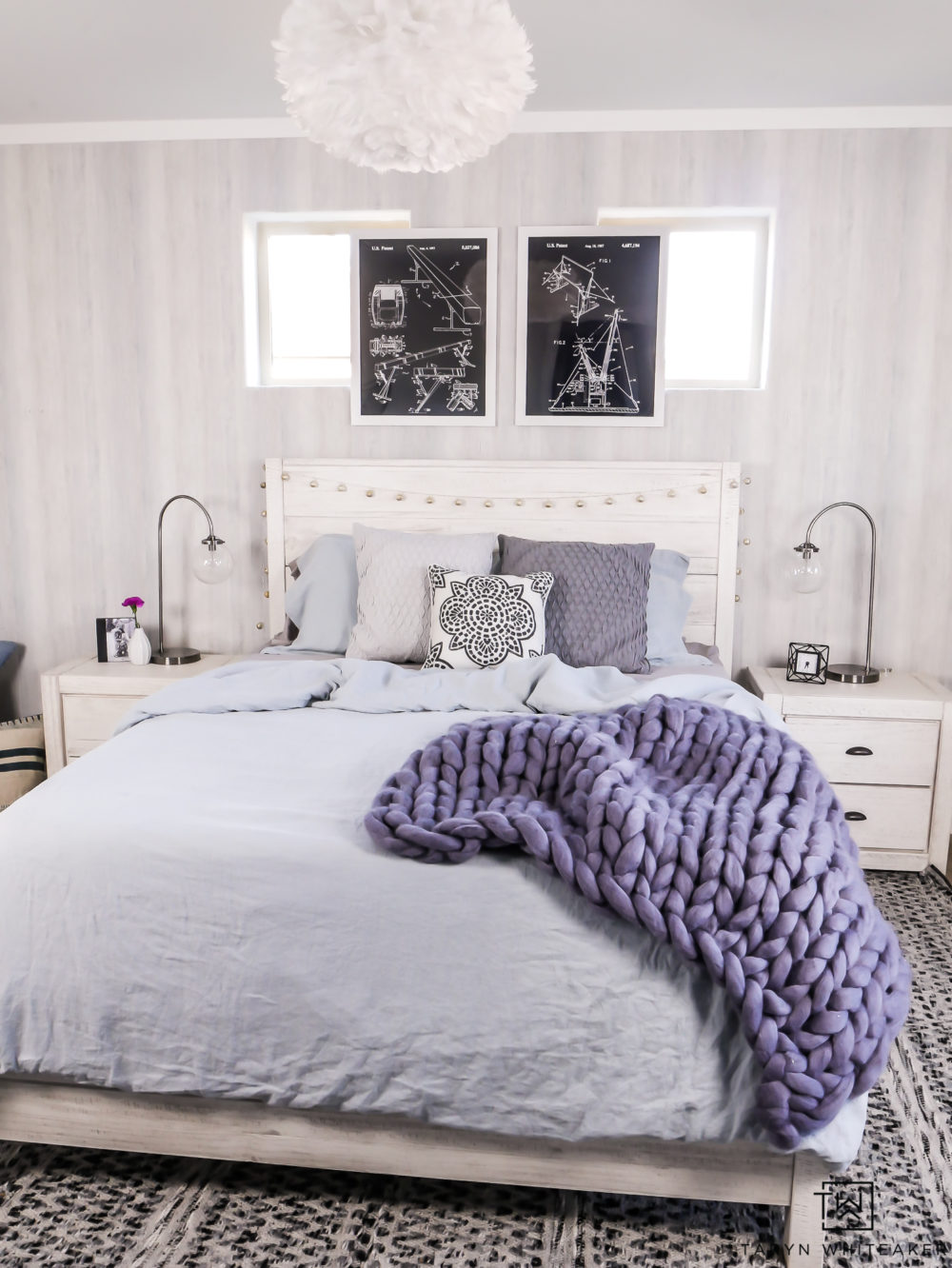 The design of this room stayed true to my own style of mixing both hard and soft materials. In other words, combining tons of texture and soft linens with industrial metal pieces to create a unique and interesting design. My daughter is sweet and girlie but also strong and I wanted her room to reflect that.
Adding Personal Elements To Design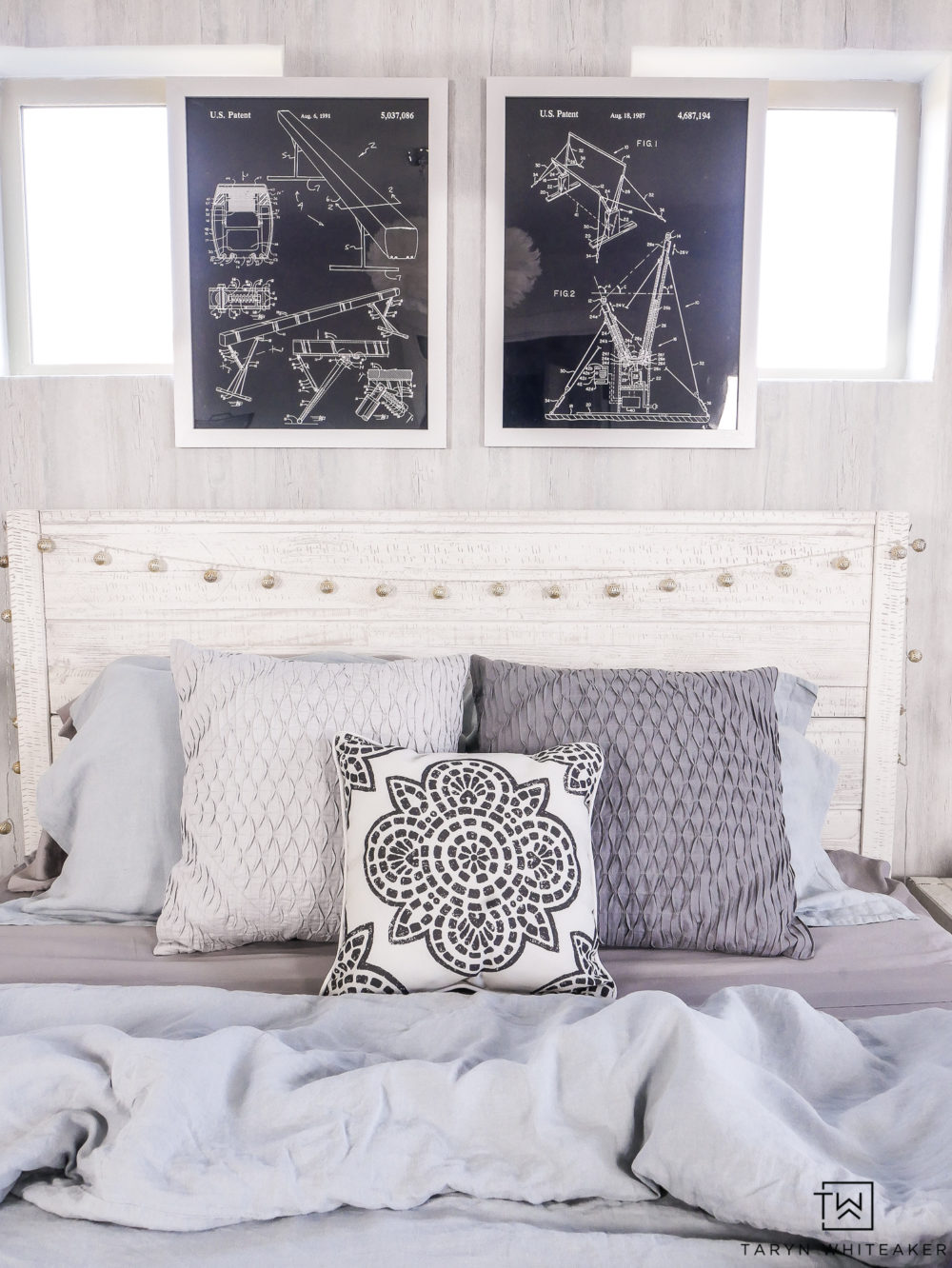 When designing kid's spaces it is always important to me to add something that is meaningful to them. Something they love, whether it's a hobby or a sport or maybe just a color. My daughter is a competitive gymnastic, it's her true passion and I wanted to bring in an element of that in her room. Something that was unique to her. So I found these patent prints of gymnastics bar and beam and frames them above her bed.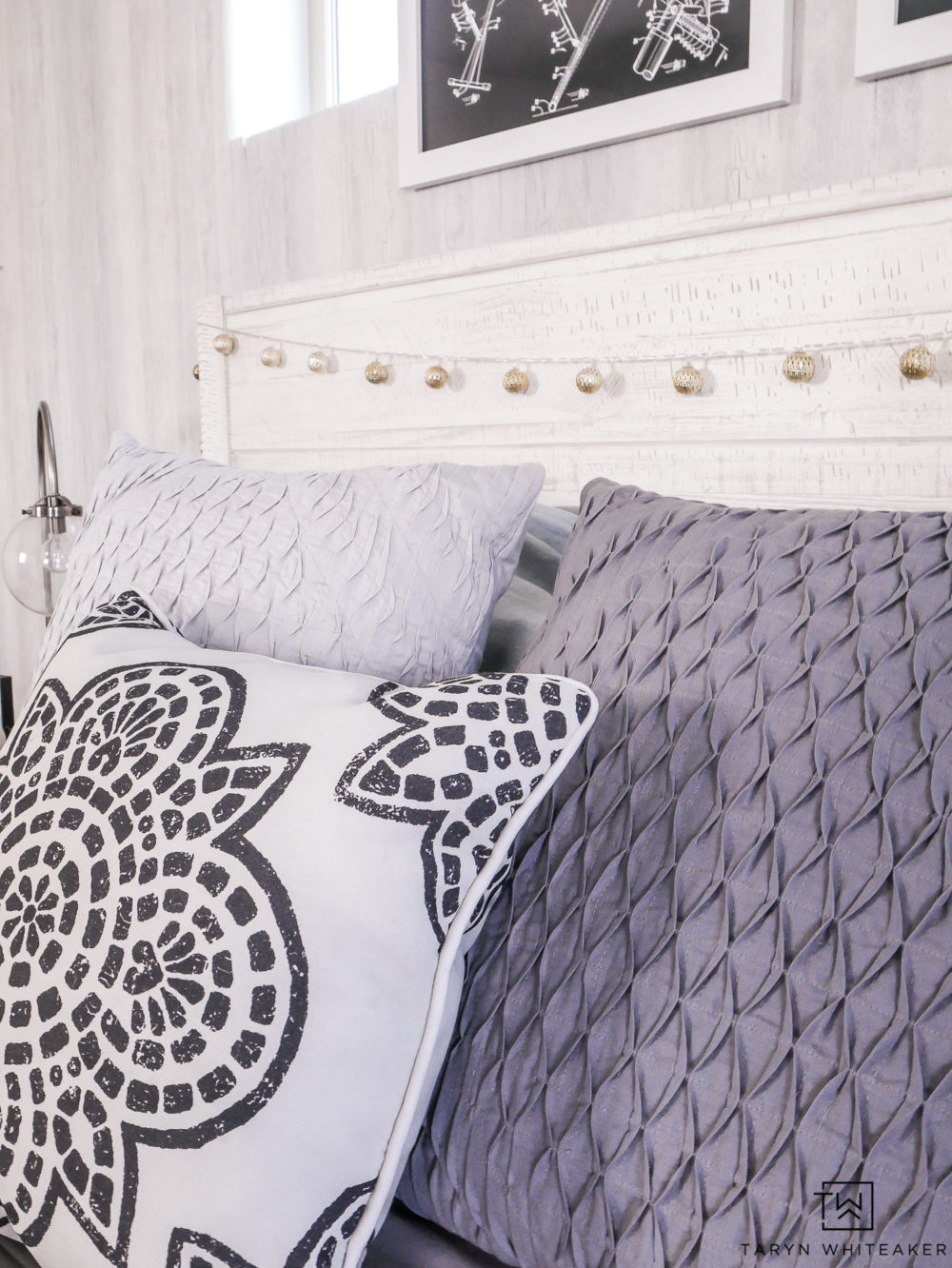 Her bed was all about adding texture and pattern with throw pillows and finishing it off with some sweet boho lights. I just love these pin tuck throw pillows. They come in several different colors and add great dimension. They are a really great deal too!
White Washed Bedroom Furniture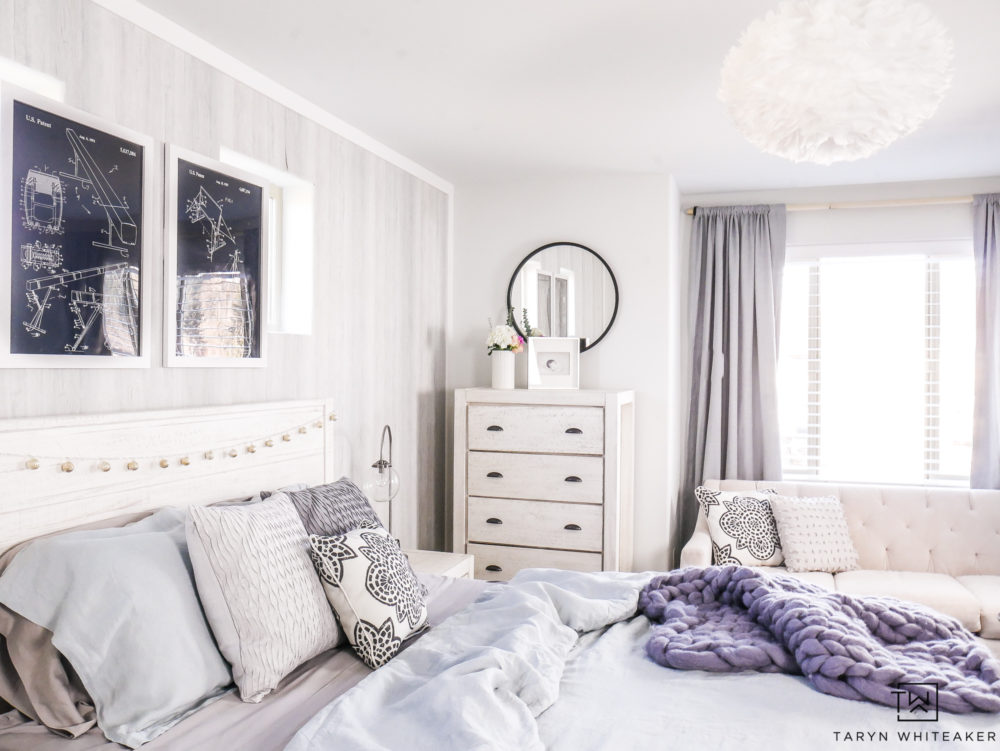 When gathering inspiration for her room, I noticed that almost every room we picked out had beautiful white washed wood furniture. So naturally, her bedroom furniture was the very first piece I picked for the space. I went with this Montauk Furniture Set by Grainwood Furniture found on Overstock. I got the Queen Bed frame, Nighstands and 5-Drawer Dresser all in the Rustic-Off White finish. All of these pieces are incredible quality and SO sturdy! I know she will have these pieces for many, many, many years.
I really love this 5-Drawer Dresser. It is the perfect size for her (she desperately needed a bigger one!). It stores her clothes and is also a great place to hide keepsakes and special toys from her little brothers! Good thing they can't reach that top drawer yet and shhh no one tell them that's her hiding spot!
All about the accessories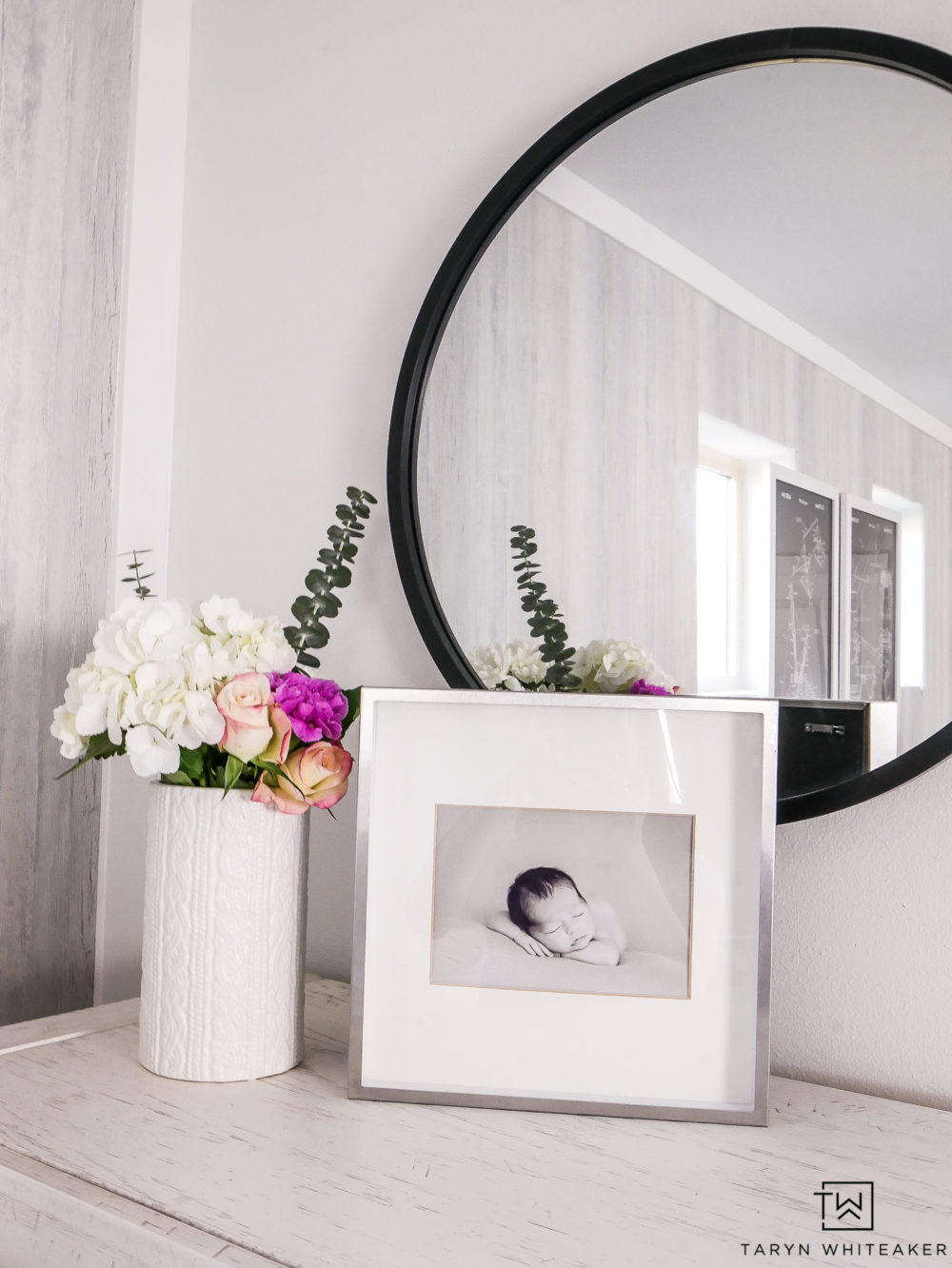 Oh my goodness, look at that face! I can't believe how fast she has grown up.
Soft Blue Bedding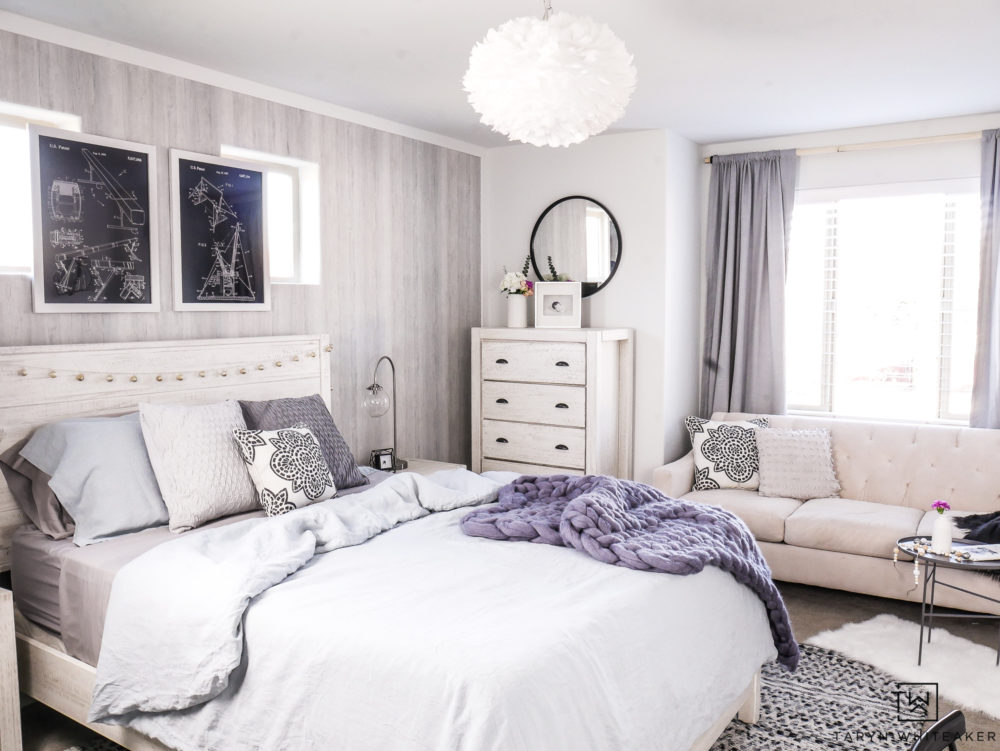 Her bedding is what really makes this space! I am a sucker for elegant, cozy bedding and I just might steal hers! After all, it's where we spend almost half of our day. At least 11 hours for this girl. I love linen and I fell in love with this organic Vintage Washed French Linen Duvet. This is the color "smoke". It is a very blue/gray color. Now keep in mind, when working with linen material it does wrinkle very easily. After every wash it has a very organic look to it. It doesn't bother me because I love how soft it is and how much texture it brings to this space. But others may feel like they need to iron it all the time.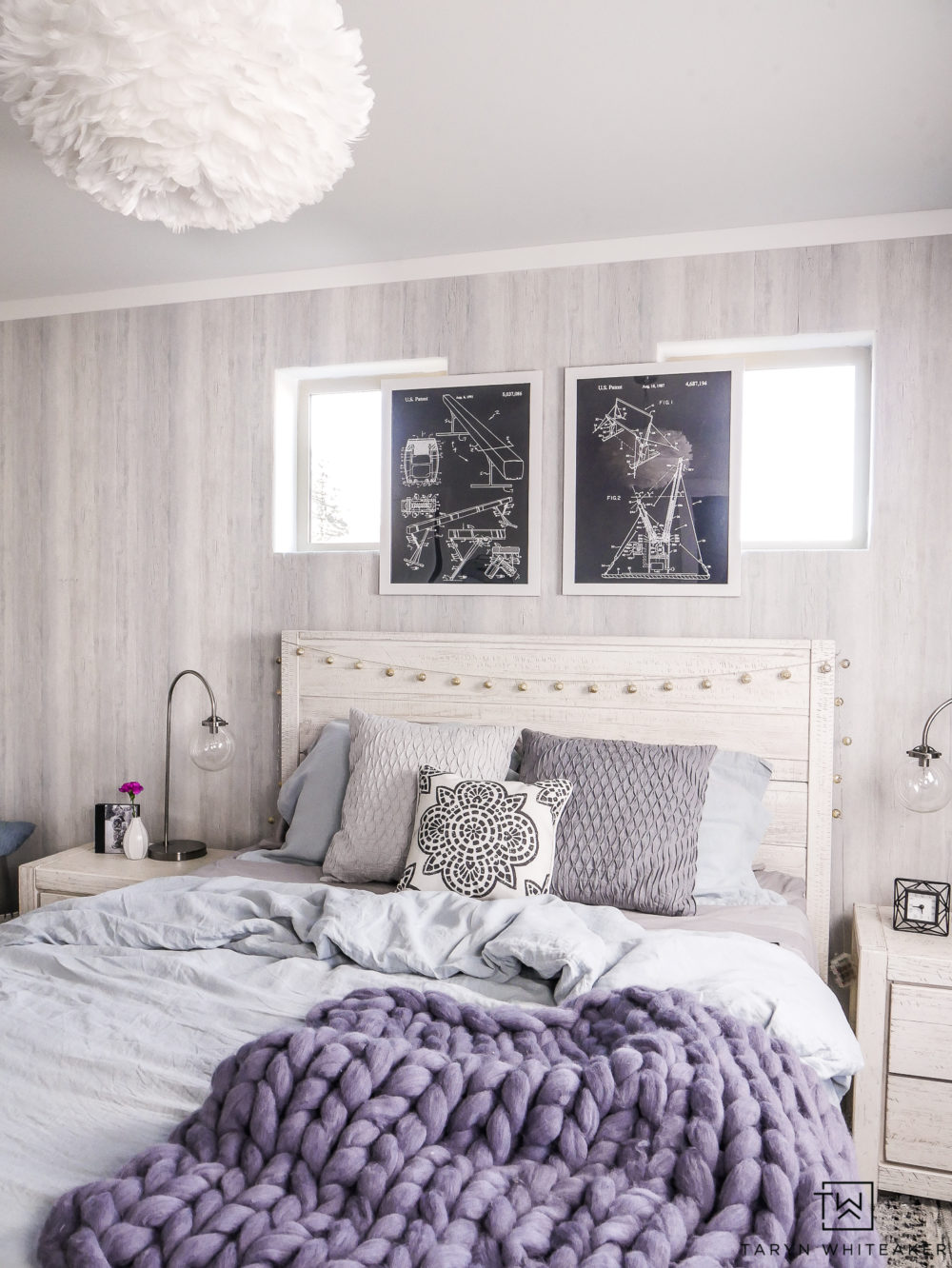 Now let's talk about this throw! I have always wanted a chunky loop blanket and my dreams finally came true! Gah! It's so gorgeous and cozy. The only thing I will say about this particular blanket is that it appears very charcoal gray on the listing and it arrived in a dark lavender/blue gray color. I still love it and it worked well with this space. I love the pop of color it gives the room, but just an FYI.
Feather Pendant Light

So I have to talk about this feather light. My daughter calls it her big pouf ball and she claims it is her very favorite part of her entire room! It brings such a fun, whimsical but also modern element to her room and I love it. It only has 1 bulb in it though, so it doesn't give off a ton of light. To subelement, I made sure to add table lamps to her nightstands and a few more lights around the space. It is definitely SO cozy all lit up! (Scroll to see a pic!)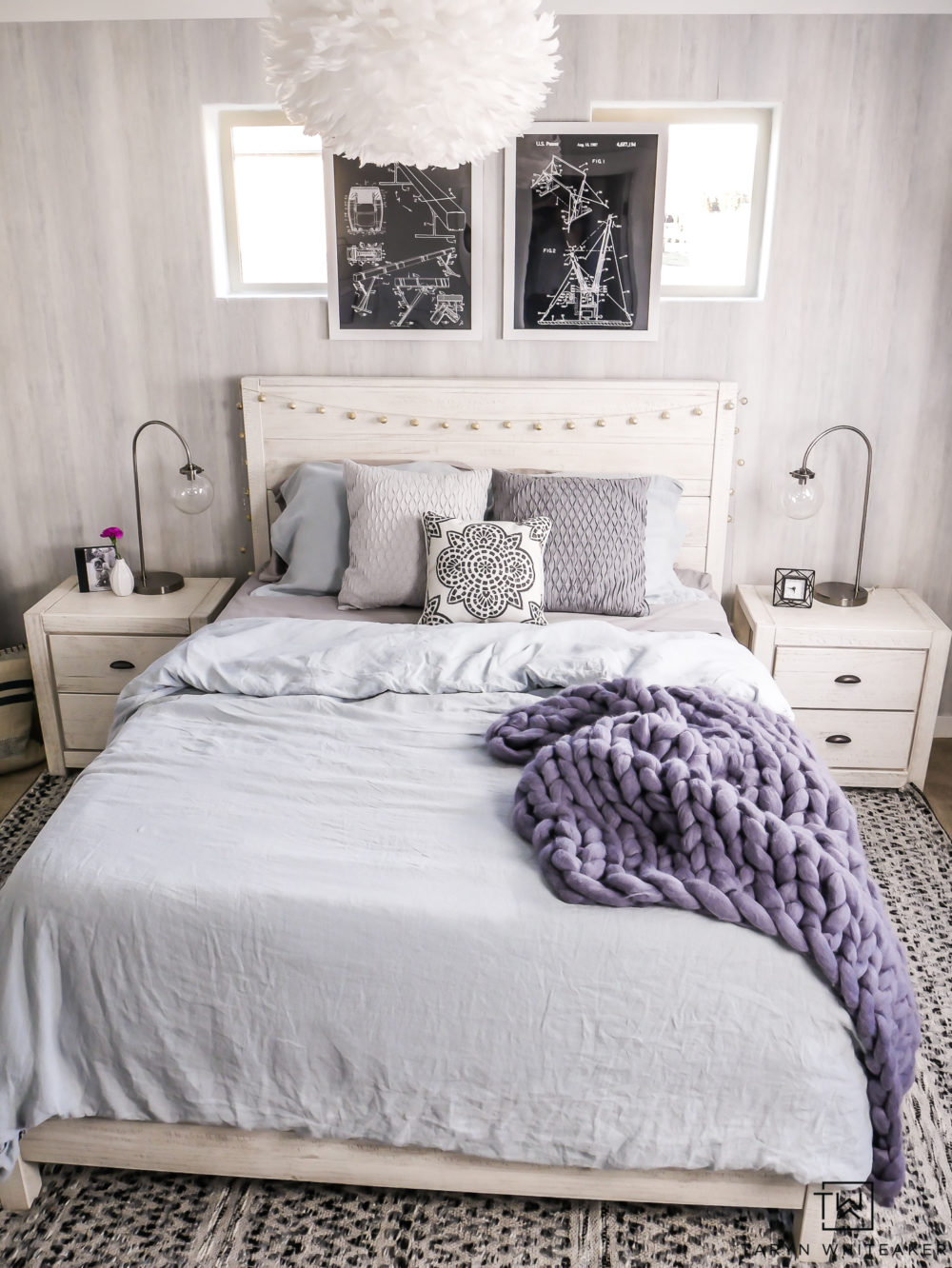 Black and White Woven Rug

Here is a closer look at the rug! I'm really impressed with the quality and I think the black and white print really anchors down the room. It gives it the perfect punch and ties in all the black accents around her room.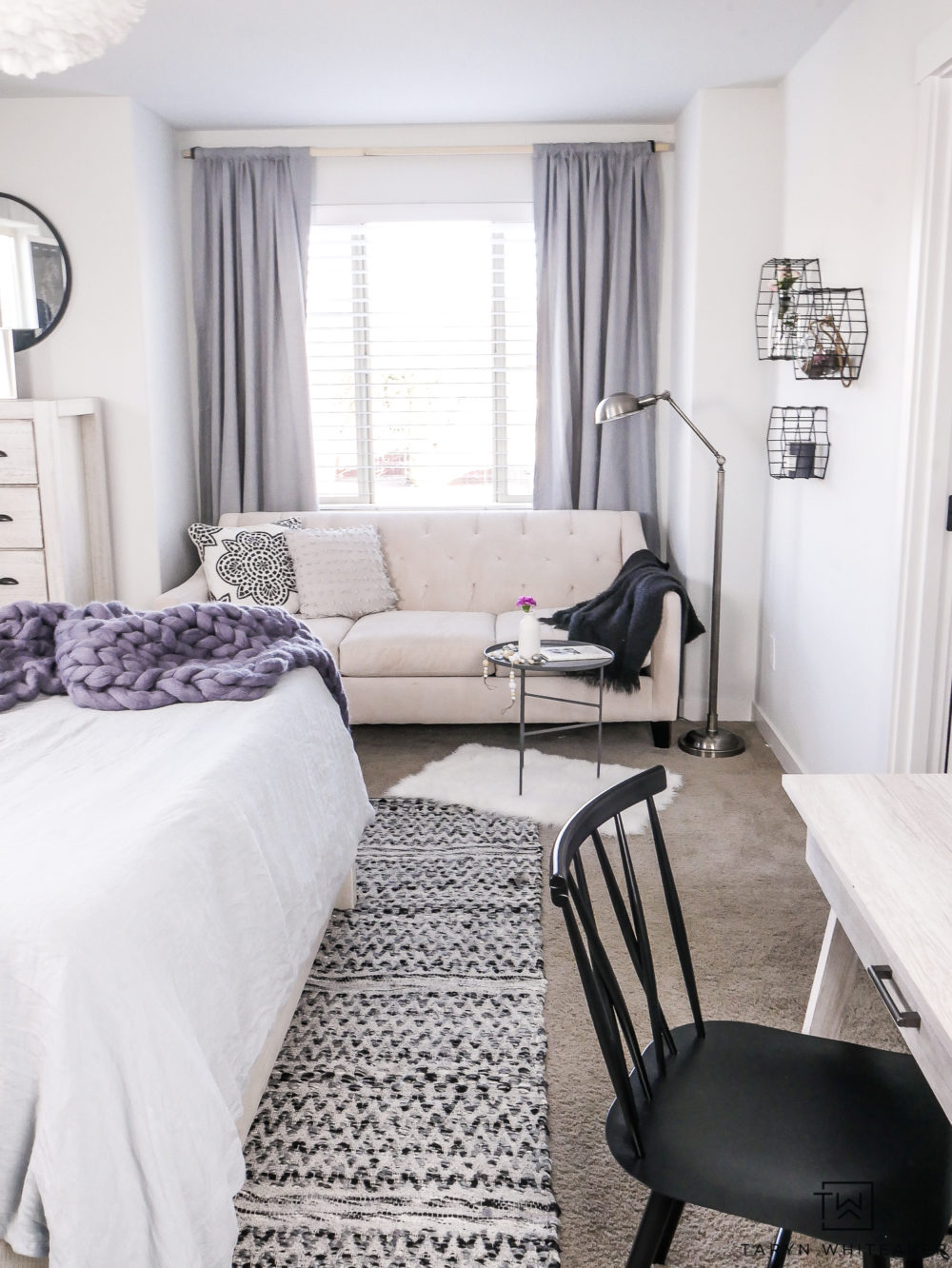 Moving over to her little seating area. The couch is one of the only pieces we kept from her old room because I still love it and it fits so perfectly in that window nook.
I'll also give you a peek at her little desk area in her room. This was one of her big requests with the makeover. She wanted a space to do her homework and keep her papers organized (love how studious she is). I'm not quite done with it yet but I'll show it soon!
I'll leave you with a shot of her room all glowing! I absolutely love how cozy her room feels. It's welcoming, she loves to hang out in here now and I feel like she finally feels like she has her own mark on her room!
SHOP THIS ROOM
And lastly, a huge huge thank you to Overstock for making this design come to life!