Disclosure: I am a member of the BHG Live Better Network. I received compensation from BHG at Walmart for this post.
If there was one thing I could change about our house, it would be the addition of one large mudroom/laundry room. One big place to toss all the dirty shoes and clothes and have a sink and enough counter space. We don't have any type of mudroom or drop station in our home (our garage door leads right into our entry way/family room) so to solve this problem I created a Garage Mudroom Room earlier this year and I love it.
Now onto the laundry room. It really baffles me that the builder put such a small laundry room in our home. While it does have a small linen closet attached that provides storage, it's really only big enough for a washer/dryer. Yes, I did opt for larger machines in this house that take up more space (and require fewer loads), but there really isn't much room for anything else. Aside from wanting to decorate it a little bit, I really DID need a rack to dry clothes on.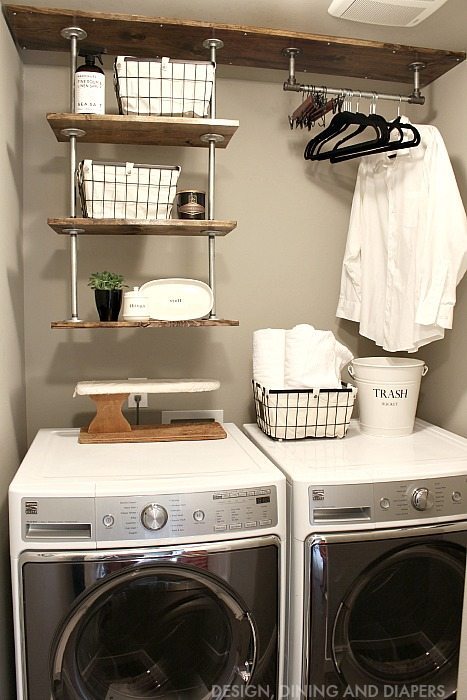 Industrial Laundry Room Shelving
Today, I'm showing you the first big step in decorating this room with our new Laundry Room Shelving and fun accessories. I LOVE using pipes for projects and decided to create something unique for this space. I had this vision of the pipe shelves floating and while the project was not without a few snags and mishaps, I'm really happy with how it turned out.
Here is a quick before and after picture, this will tell you just how boring and messy it was before. It needed some organization and beautification :)
This gives me the space to store practical laundry items and also add a few decor pieces. It also solves my problem of needing a place to hang clothes while they dry.
Farmhouse Decor For Laundry Room
This little 'Things Jar' and 'Stuff Dish' have to be two of my favorite things I have ever found at Walmart. Ever. Aren't they adorable?! They work great for a laundry room but they also have a complete bathroom set if you are looking for one!
I just love this Pocket Watch Wall Clock ! It has such a great vintage feel and the price is just right.
I love all my fun new accessories from the BHG Live Better Line at Walmart. They seriously have the cutest laundry room and bathroom accessories, I'm always surprised what I can find there! And you can't beat the price.
I created this little sign using this Frame With Clips from the BHG line. I just added the little saying and clipped the socks onto the hooks. This will really come in handy with all the lone socks I have around the house!
I love adding a few personal items into each space I do. My grandma gave me this little wooden ironing board a long time ago and it's so special to me. I love that it now has a place!
I think the whole look ties perfectly into the flooring that came with our home. It's hard to believe it's a faux wood laminate.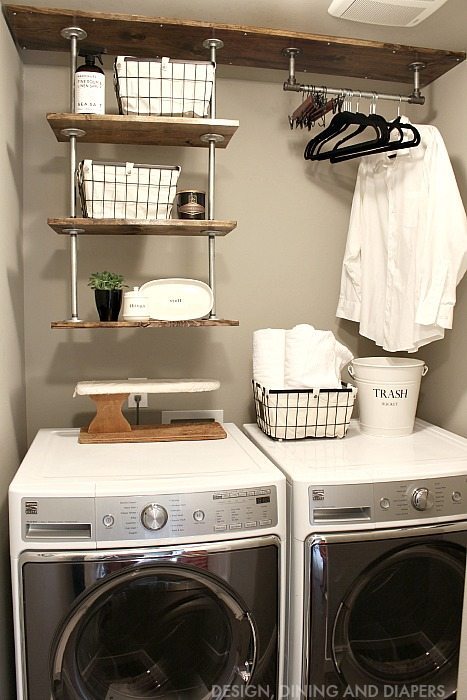 Get the look:
Pocket Watch Wall Clock : Trash Bucket : Wire Baskets : Things Jar :  Stuff Dish : Frame With Clips :  White Towels : Pant Hangers : No Slip Hangers :

Follow BHG Live Better Network on Facebook : Instagram : Twitter: Pinterest
SaveSave
SaveSave