Our dining room is DONE! It's been a 4 month process, at times it has felt like it has lasted forever and in other ways I can't believe how much has changed in just a few months. I have dreamt of an actual dining room for many years and it was such a rewarding experience to be able to make this space our own. In our previous home we had an open concept kitchen, dining and family room so our dining table was sitting out in the open. I love having this designated space to design, dine and entertain. I'm walking you through our modern transitional dining room decor today, giving you insight into the pieces I chose and the projects it involved.
Modern Transitional Dining Room Decor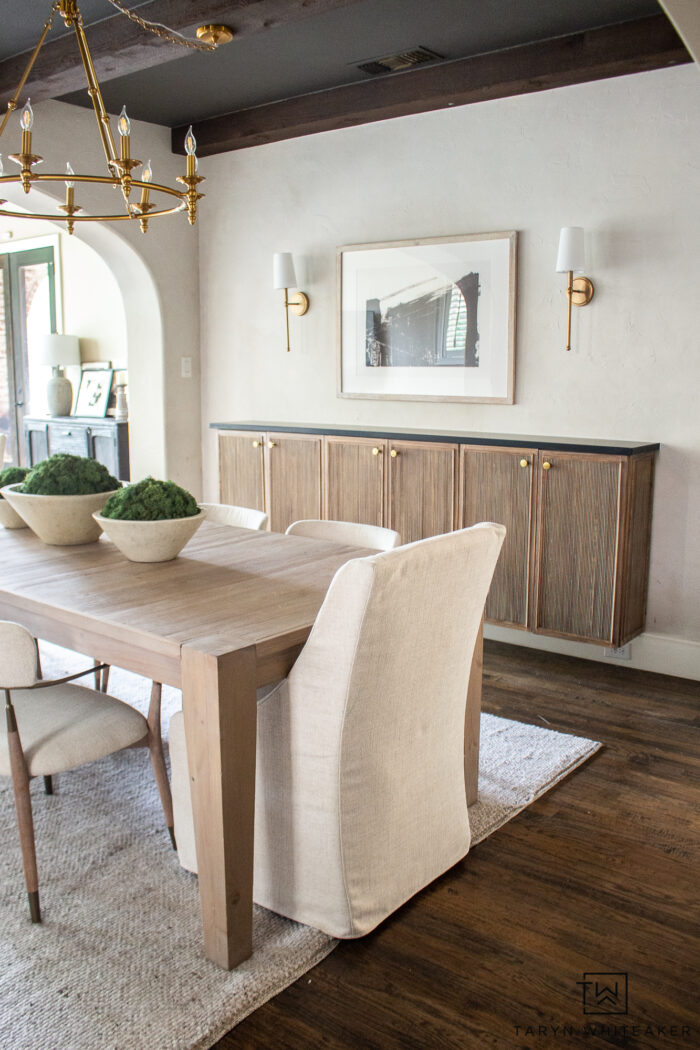 My goal for this space was to keep the character of the room with the dark beams and german schmear brick, but also add a modern transitional aesthetic that feels a little more like 'us'. I spent months planning this space, looking for the perfect long dining table that felt both rustic yet elegant, as well as dining chairs that felt grown up but were also comfortable. This is our every day dining space but also a place for formal gatherings as well.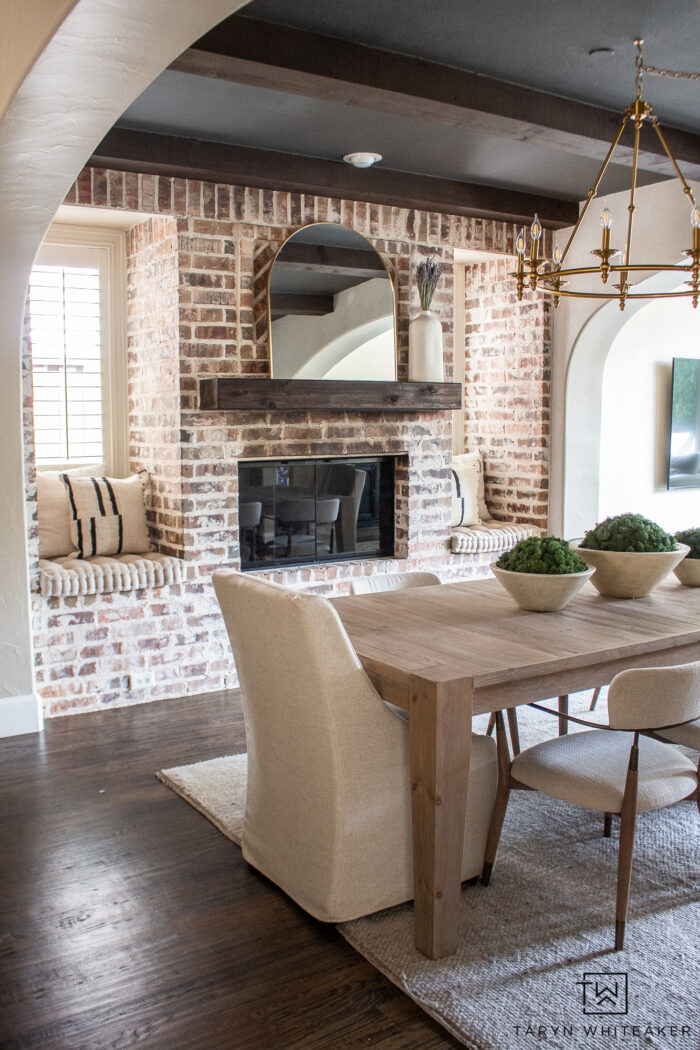 A few years ago I probably would have painted over the brick, but not in this house. It fits it. I love the english countryside look and feel to it and I only wanted to make it stand out even more. Decorating around a busier texture was a bit of a challenge and I'm sure I will tweak things along the way, however right now it feels right.
Dining Room Before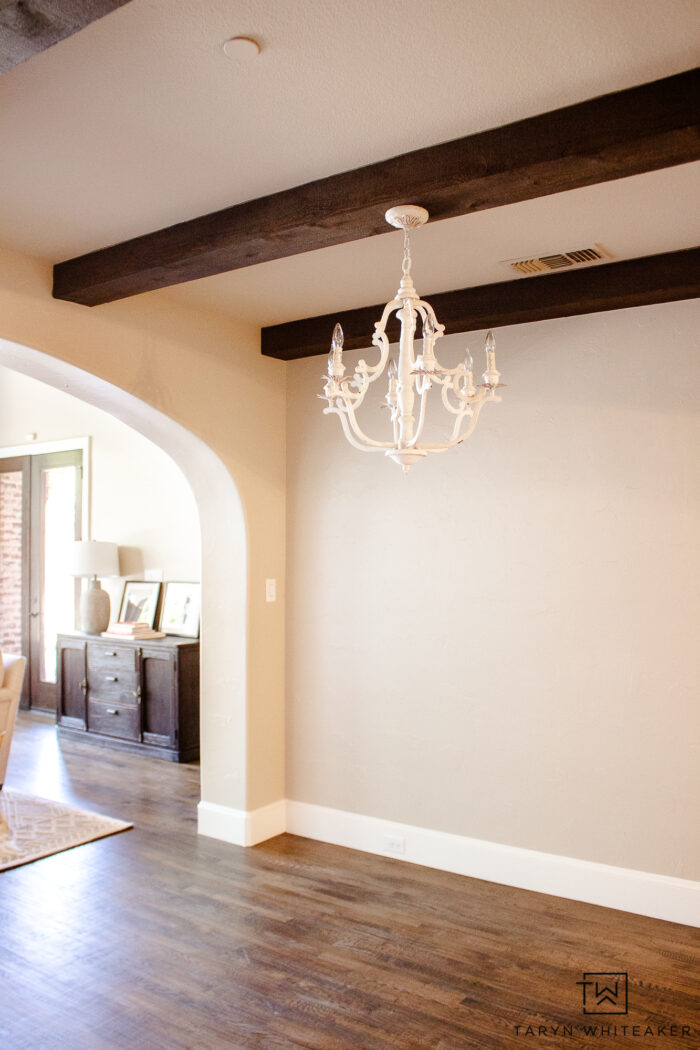 For you to really grasp the changes made to this space, here are two before and after photos.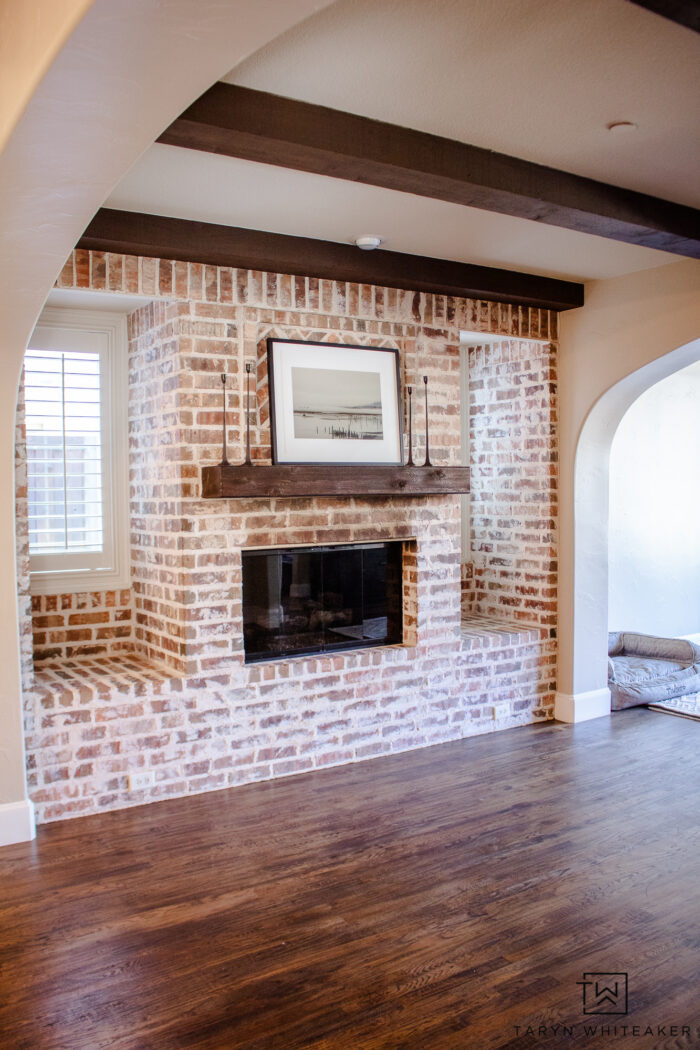 Casual Elegant Dining Room with Neutral Tones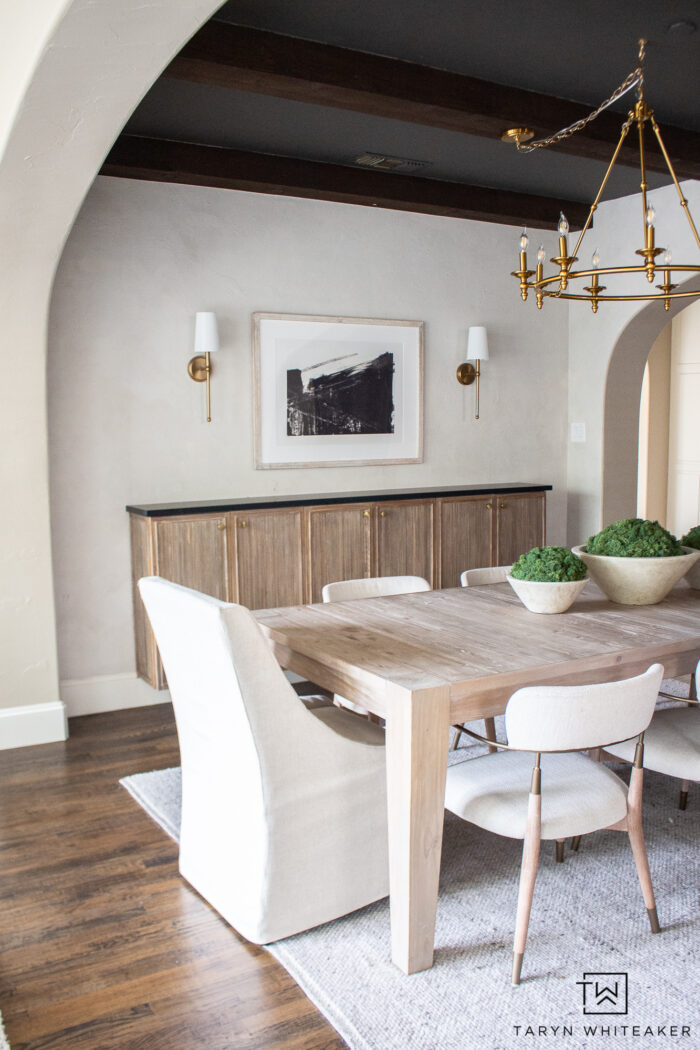 I started with painting the walls in a Lime Wash Paint. I toned down the peachy beige walls with a softer, more organic feel to them. I couldn't be happier with how this process turned out and I only want to do more of them in our home!
Our dining room sits between our kitchen and our family room but is a little more of a designated space with the arched openings on either side. To make it feel even more of it's own space and give it a cozier look, I painted the ceiling Urbane Bronze. The dark moody look really makes this space feel more modern and makes it feel so cozy and elegant.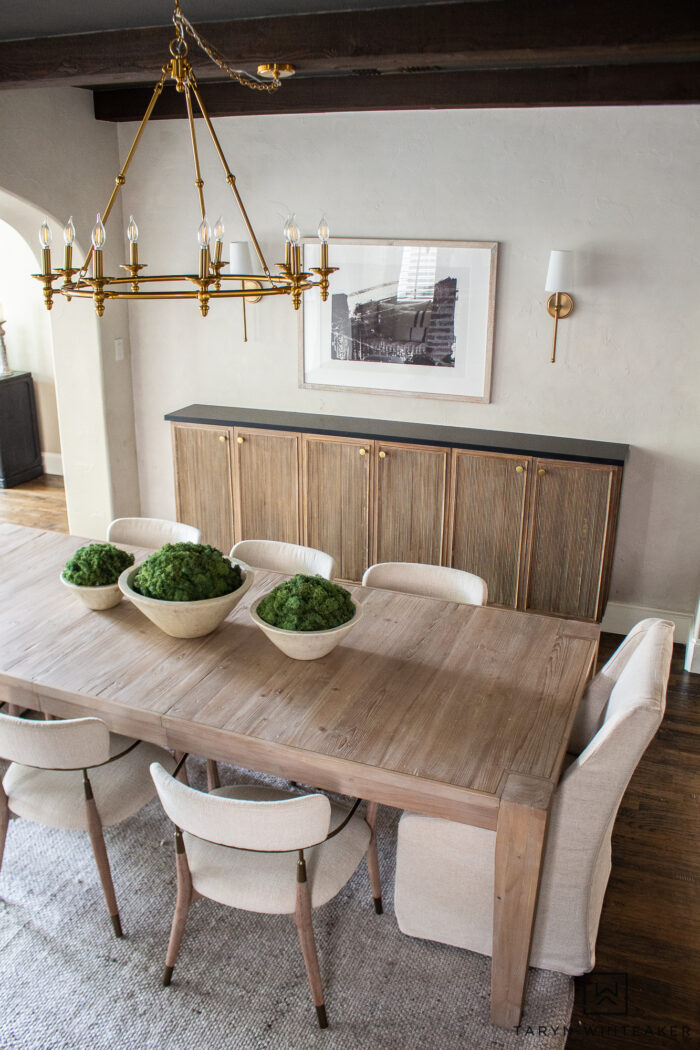 All of the furniture in this room is from Lamps Plus! With the exception of the DIY buffet which I'll get into more detail about later in the post. You can see more detailed pictures of the furniture in my phase 1 dining room reveal a few months ago.
The Canal Dining Table is one of my absolute favorite pieces! It has a leaf in it (which we keep in permanently), the finish feels rustic and organic and the gold trim gives it an elevated look. We love this table, my only caution is that oils do stain it but it also has an imperfect look to it already.
I paired it with the Savannah White Washed Dining Chairs and they are a perfect match! They look like they were made to go together.
Moss Bowl Centerpiece
The moss bowl centerpiece was an easy DIY project. I shared a reel video of the process, but I simply took large styrofoam half spheres and hot glued my favorite decorative moss on top! Easy way to get a perfect round moss bowl! This set of three ceramic bowls are gorgeous. I love the flecks on gold in them and I think it's a pretty decent price for a set of three bowls this size!
DIY Floating Buffet
The floating buffet was my last and final piece for the dining room! This was a major undertaking and huge learning experience but I am so glad I kept going with it! It turned out exactly what I was envisioning and really added the custom element to the space I was looking for. You can see a full tutorial of the DIY Floating Buffet here, I finished it off with the Vadara Quartz countertop in Noir Blanc.
Decorating A Brick Fireplace
Decorating around a brick fireplace can be tricky. Because of the busy pattern, you need to keep it simple. I played around with so many different pillows, artwork, mirrors, decor, etc. I can definitely see this space being something I change a lot, but I'm good with it for now! I had custom french cushions made for the window seats and love them. I finally found textured accent pillows I loved at Banana Republic of all places! I had no idea they had home decor.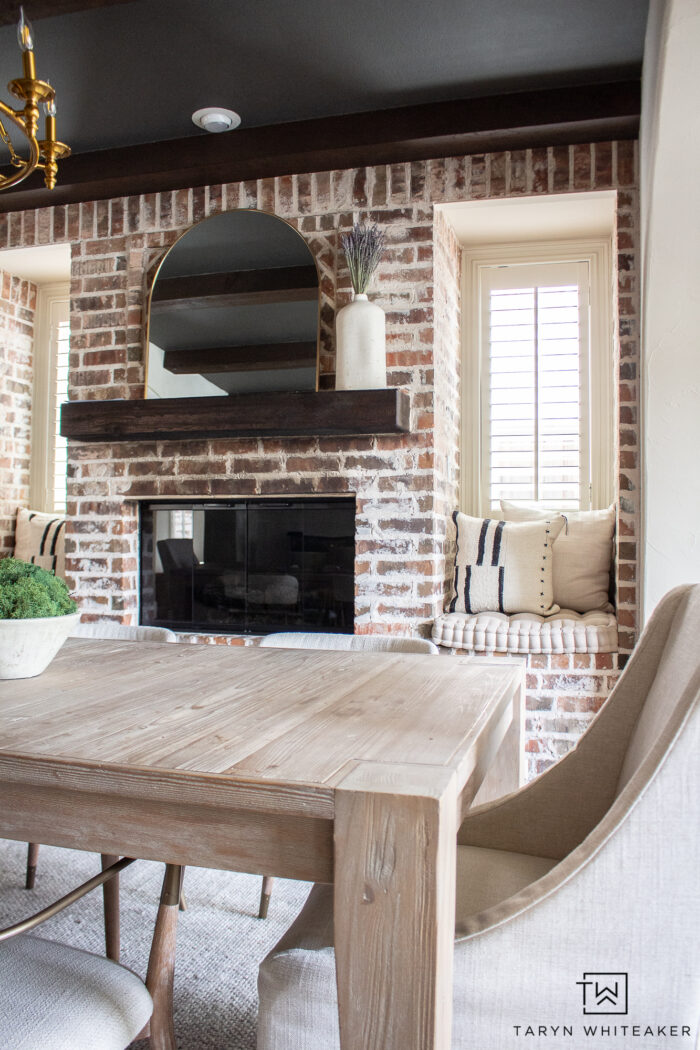 For the mantel I kept it really simple with a gold arched mirror (great price!) and my favorite vase that I should buy another of because I just end up moving it around all the time.
Neutral Transitional Dining Room Decor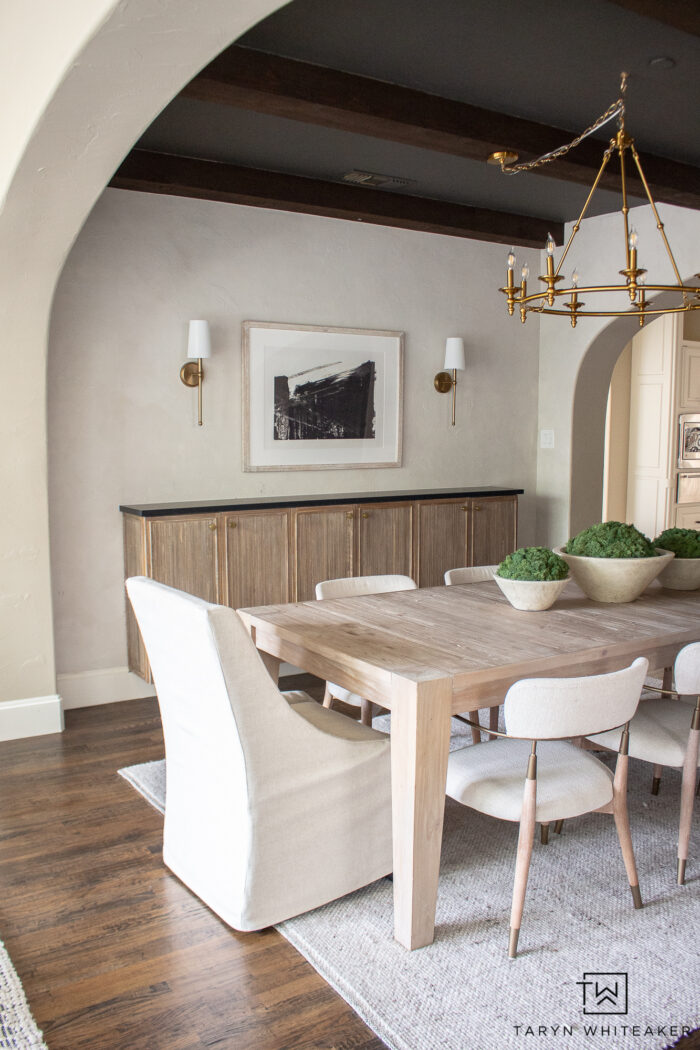 I truly love how this space turned out. It feels elegant but also soft and inviting and I cannot tell you how great it feels to have a dining room to eat at! 6 months was a long time without a table! It is now a place where we gather, work, entertain and have conversations. I'm so glad I prioritized this room, because we use it all day every day!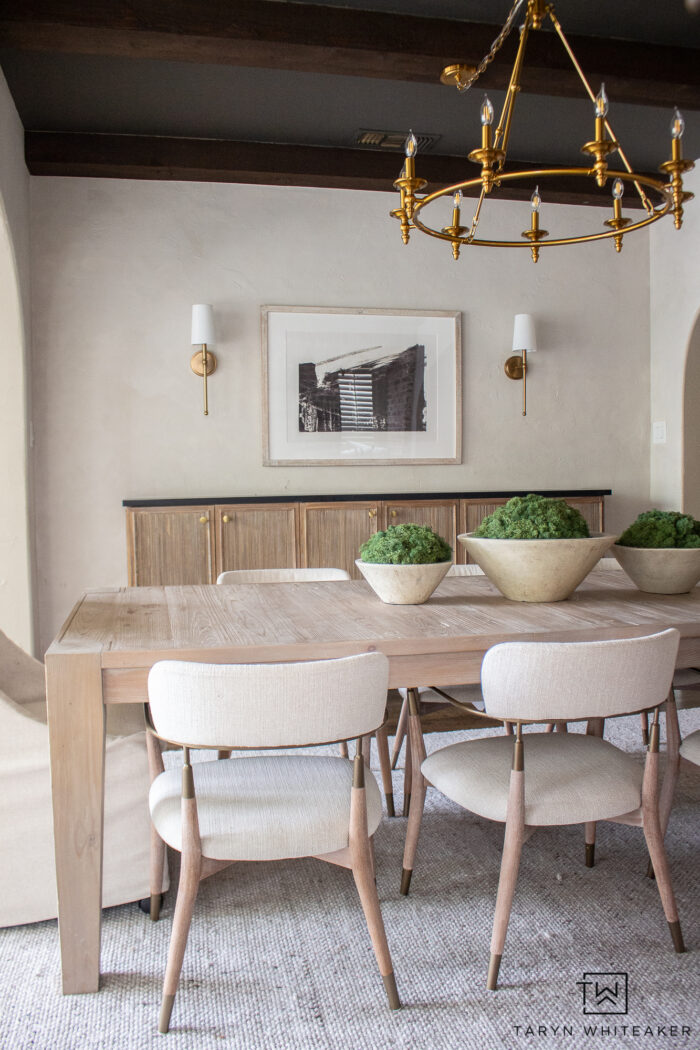 The dark ceiling, so happy with it and I see myself continuing this in other parts of the home as well.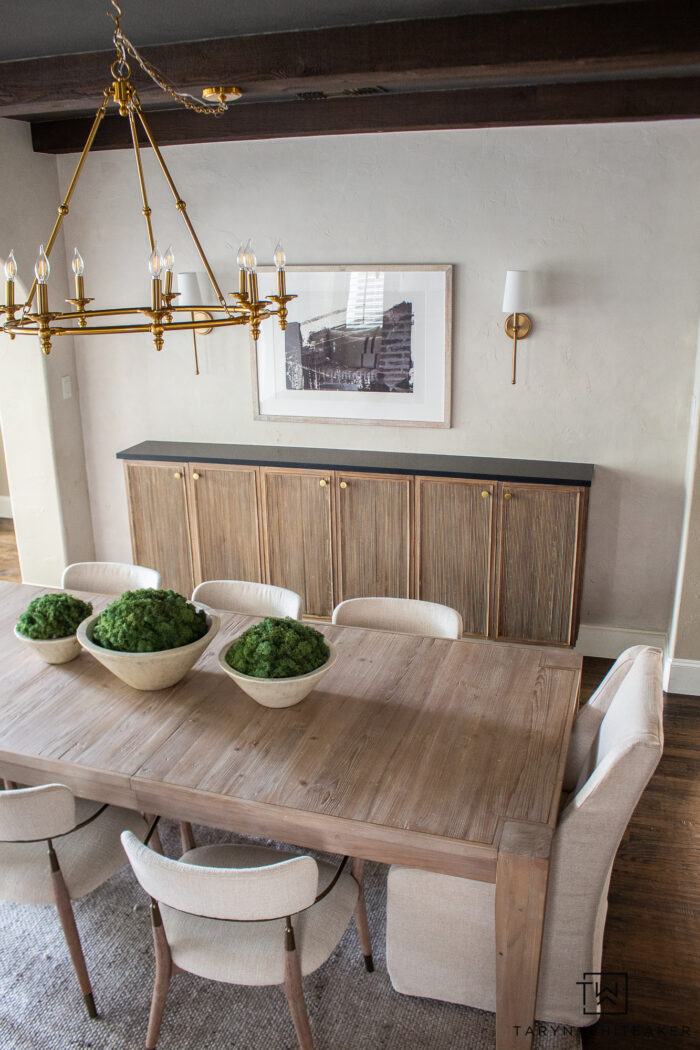 Sources
Canal Dining Table | Savannah Dining Chair | Upholstered Captains Chairs | Textured Rug | Brass Chandelier | Brass Sconces | Ceramic Bowls | Modern Artwork | Black and Cream Pillows | Window Seat Cushions | Gold Arched Mirror | Black Quartz Countertop
DIY Projects
Floating Buffet | Lime wash Walls
Room Renovation Cost Break Down
I think it's important to break down the cost of the project to give an idea of what it can cost to renovate a room. I'm calculating the cost of everything you see in this space today. Keep in mind, you can cut some of this cost by choosing similar items at a lower cost. I also have to thank my brand partners for helping with this room renovation! This price could also increase if you choose to hire out more of the DIY work that I did, like painting, building the buffet, etc.
New Furniture: $5,729
New Lighting: $950
Rug, Decor + Accessories: $2,300
DIY Floating Buffet: $1,700
Lime Wash Paint: $270 (still have plenty left over for another room!)
Ceiling Paint: $75
Contractors for Adding Electrical and drywall repair: $300

TOTAL DINING ROOM RENOVATION: $11, 324