Alright guys! It's the final, part 3 of the fireplace makeover! And this time it's done and I LOVE it! It finally feels like I wanted it to for our space. So let's dive right into our stone fireplace makeover and how we got here.
Stone Fireplace Makeover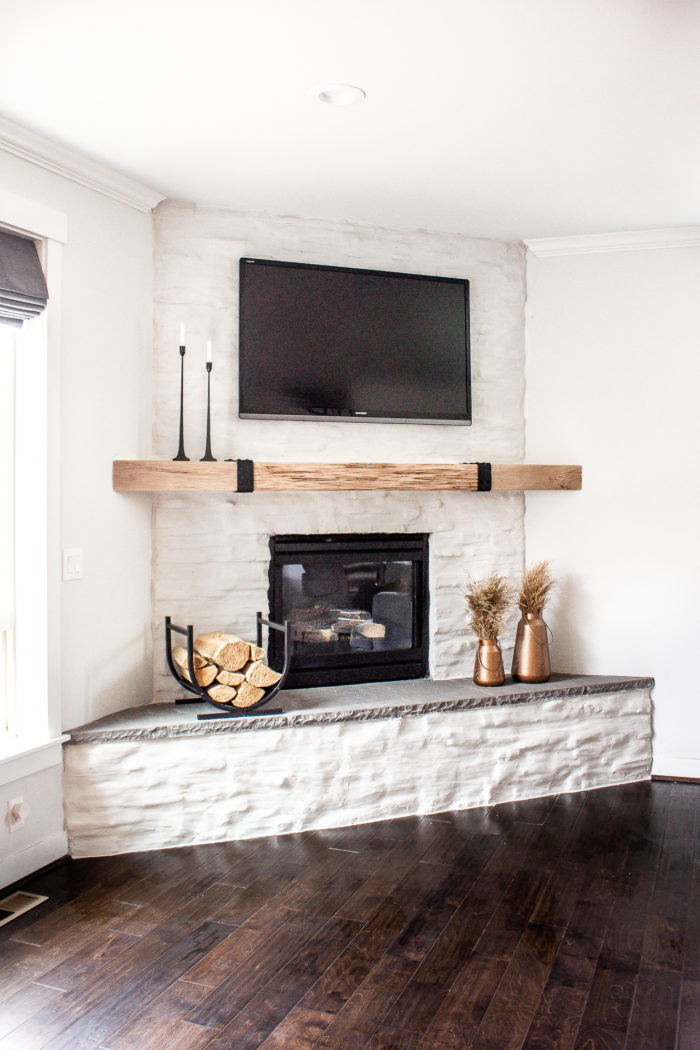 In case you missed the previous versions, here is part 1 where I did a white wash stone and part 2 when I did the German Schmear. I didn't love it at either stage, but I wanted to show you all my process. I put the final touches on everything with the new mantel and I feel like it finally fits our home!
Before Mantel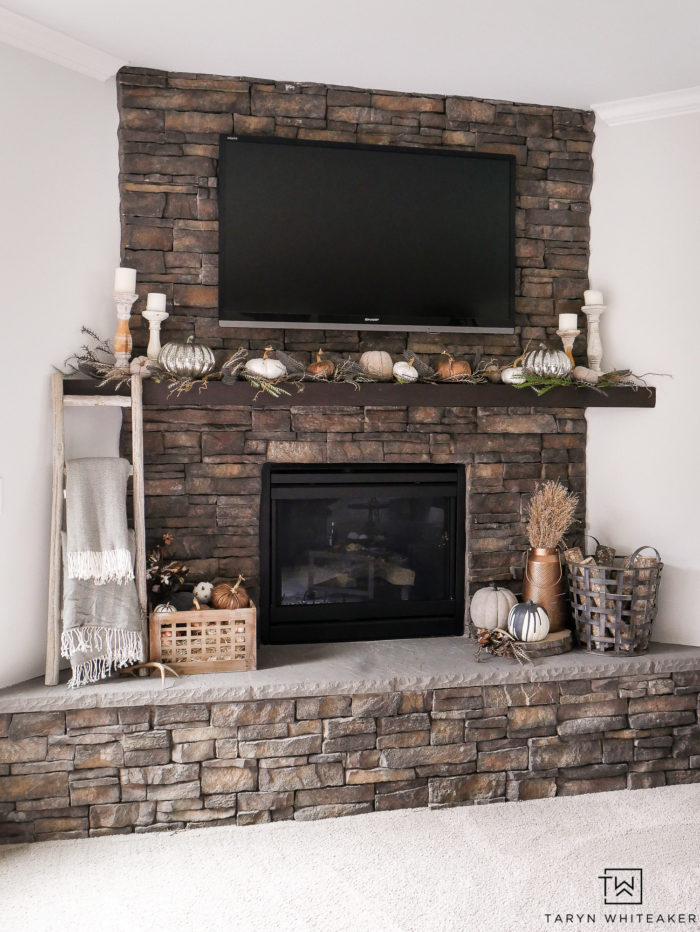 In case you need a refresh, here is what it looked like exactly one year ago! The stone is great, but it was very dark for our home. We have also added hardwoods in since then!
German Schmear Stone Fireplace
I am really loving the off white German schmear with the light wood mantel and the bold black accents. I feel like it goes SO much better with our kitchen remodel and the new hardwoods.
Raw Wood Mantel
Since our downstairs is one big open space, I wanted the wood tone of the mantel to blend with our kitchen accents. So I ended up using the exact same open shelving from the kitchen, but this time picked the plain version versus the ones with the black straps. I ended up cutting off the capped ends and converting them into the perfect solution to fit right over our existing mantel. It was an extremely easy project (much easier than I expected!). And I didn't have to rip out our old one.
I have gotten a lot of requests for a full tutorial on how to make this mantel, so I will be doing a tutorial for you soon!
The brand I purchased for the mantel actually makes metal beam straps, but they ended up not being deep enough for our mantel (they are made for their beams, and I am using the shelves). Anyway, in my search for the perfect solution, I found this rubber faux beam strap on Amazon. It's made to look like metal, but it gives you the flexibility to bend it over any size beam. You simply adhere it with industrial adhesive and a few finishing nails.
Fall Mantel Accessories
To finish it off, I styled it with this cute modern firewood holder. Ok, I know we have a gas fireplace, but I love the look of firewood!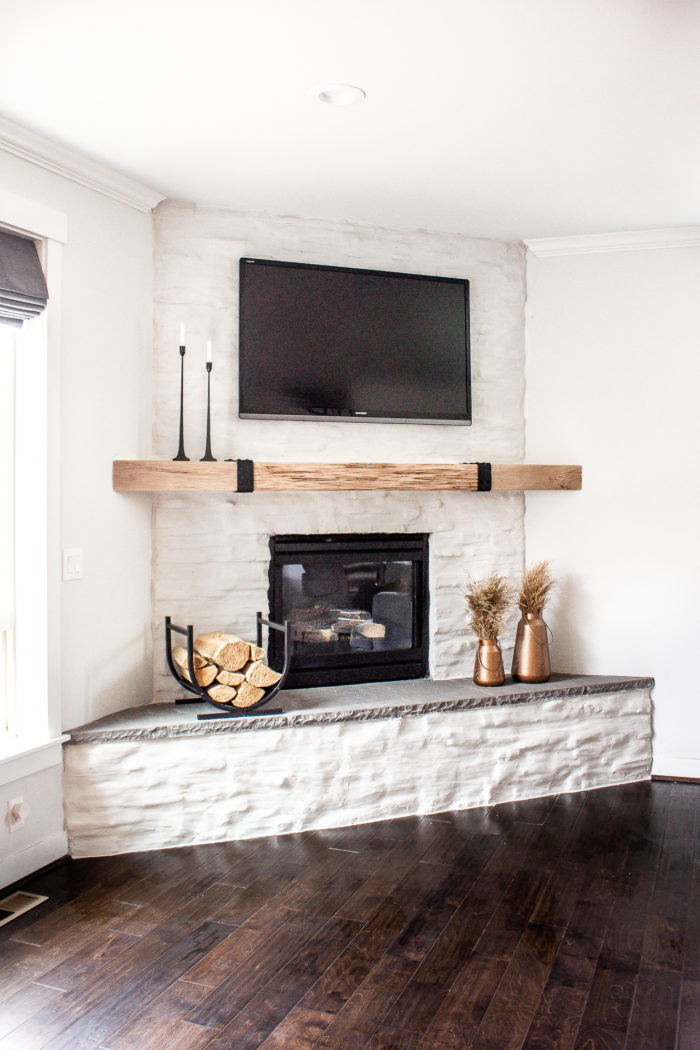 I also added these cute copper lanterns with some wheat grass.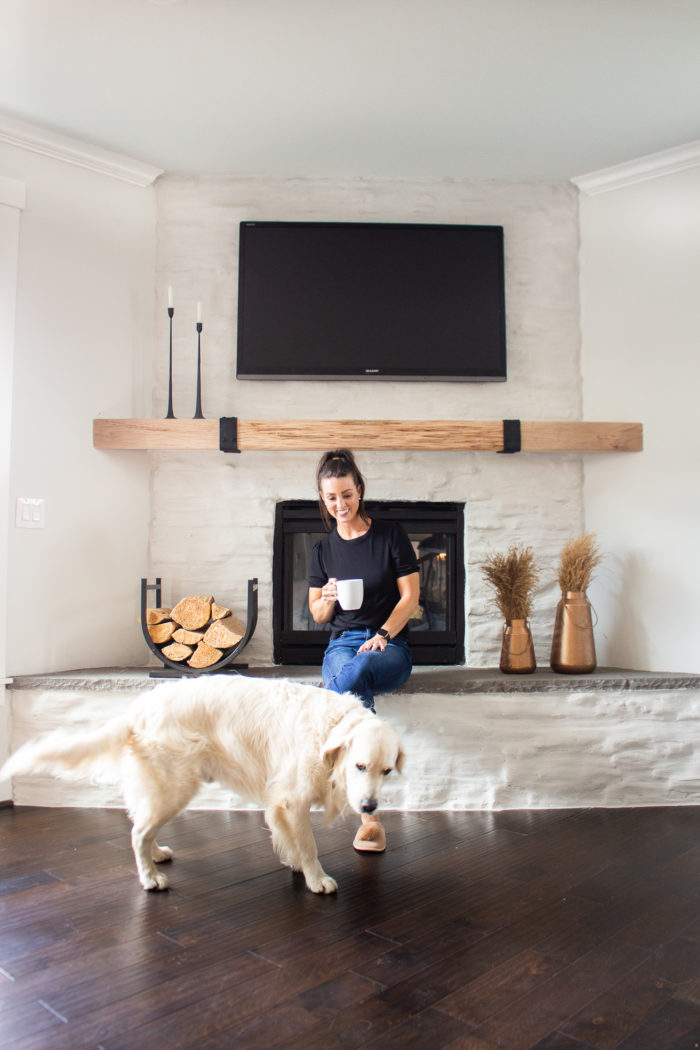 If you are a visual person, here is a video showing this part of the process!
I've gotten quite a few negative comments on Instagram about this makeover. Here is the deal, I liked our fireplace before and I like it now, they are just two totally different looks and what it came down to for me is that the dark brown stone just didn't fit into the style of our downstairs. It was too 'heavy', it really weighed down the corner of the living and my goal was to make it feel less of a focal point and more of a 'cozy accent corner'.
At the end of the day, you have to think about the space as a whole, versus the individual fireplace. And I finally feel like it's the right fit for our house for right now. It was a relatively inexpensive fix, but maybe one day we will take it down and do something completely new.
SHOP THS SPACE
Other Posts You May Like: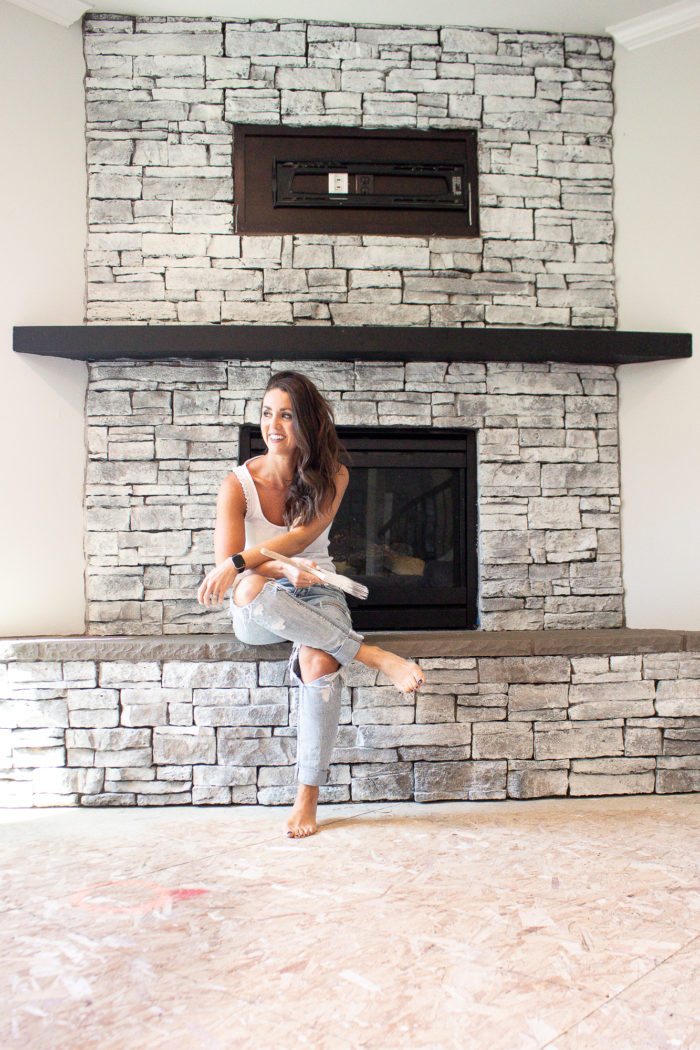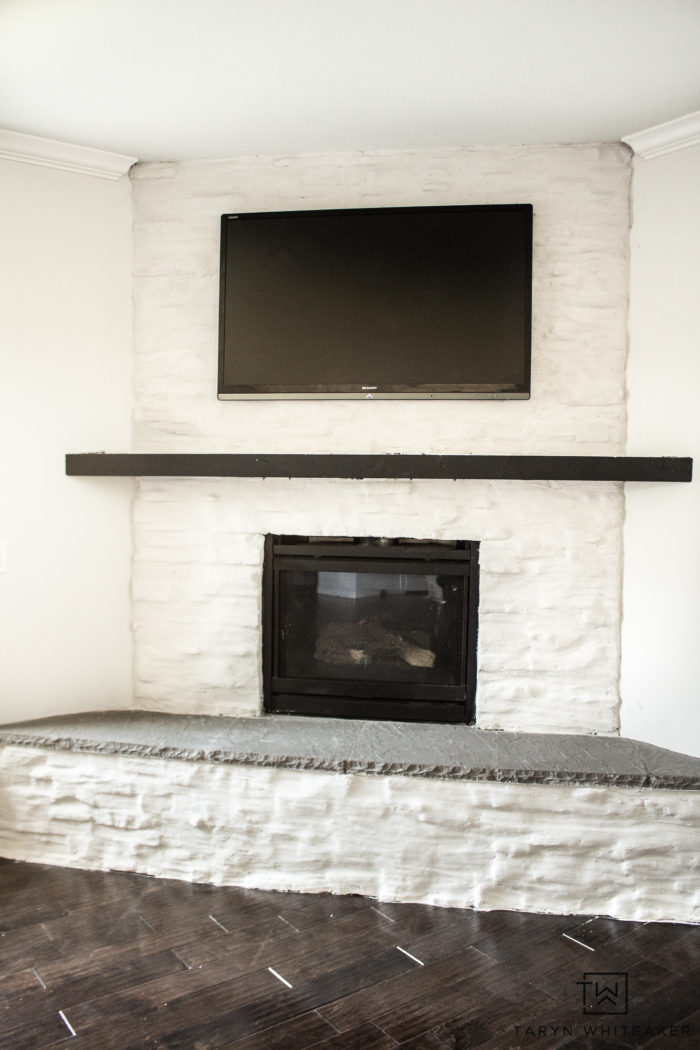 German Schmear Stone Fireplace Tutorial