I often get asked what style our new home is. To be honest it's hard to totally define it. I see a lot of Spanish architectural elements with the arches, dark beams and stucco style walls. But then I also see more english or French cottage elements with the brick, stone and attentional to details. So I think modern European seems to encompass everything into one overall design style.
When I look at the German schmear brick fireplace in our dining room, I envision a cozy cottage in a remote European town. A fireplace that has seen decades of dinners, games around the table and conversations. I would never paint over this fireplace. It's too charming. But I do want to give it a fresh look that keeps the character but also added a more modern updated look to it. I'm still working on the rest of the dining room, but here is a peek at the Modern English Brick Fireplace Decor.
Modern English Brick Fireplace Decor
Just 2 years ago, I probably would have wanted to paint over this brick. It would have been a knee jerk reaction to do what is trendy. I don't know if it's just the growth that's happened in the last few years for me, or changing of styles. But I'm learning to lean into the different and embrace it.
Today, I wouldn't think twice about keeping the original brick. I love the character and the cozy vibe it gives. Even when we moved in just 7 months ago, I was very unsure of all the dark wood throughout our house and for a while I wanted to lighten it. And now, I've grown to love it.
Before Fireplace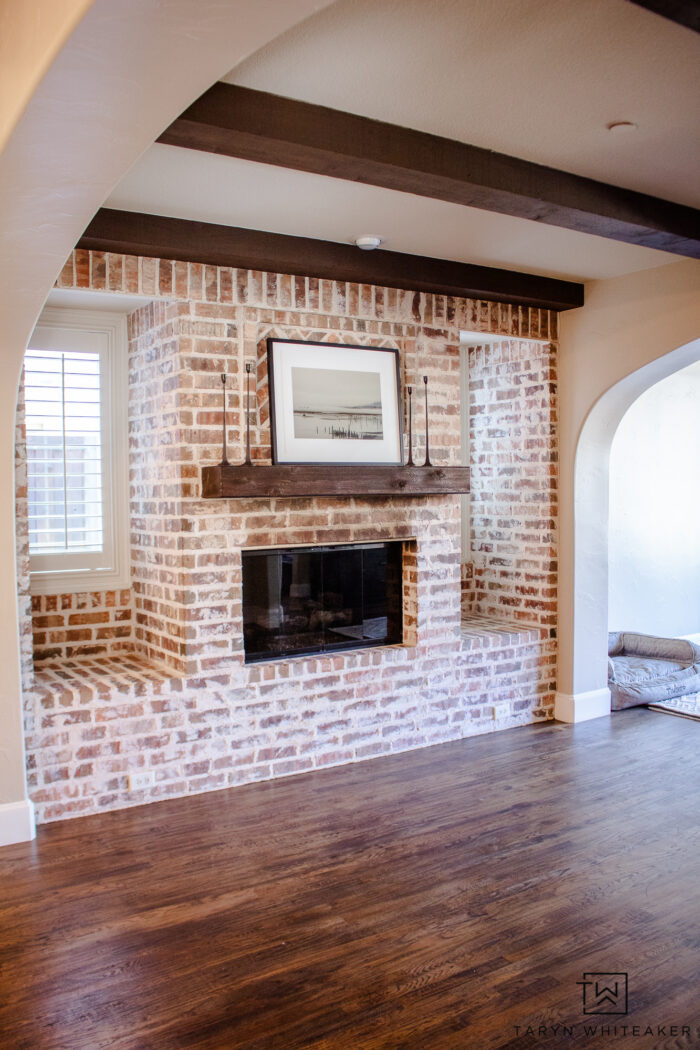 Here is what the fireplace looked like when we moved in. I tossed up a piece of artwork from our previous home to have something there and that is how it sat for 7 months.
Fast forward to today, and it now has the moody, cozy, modern yet traditional look I've been envisioning. It's all about embracing the old and putting our own mark on it.
Brick Fireplace Mantel Decor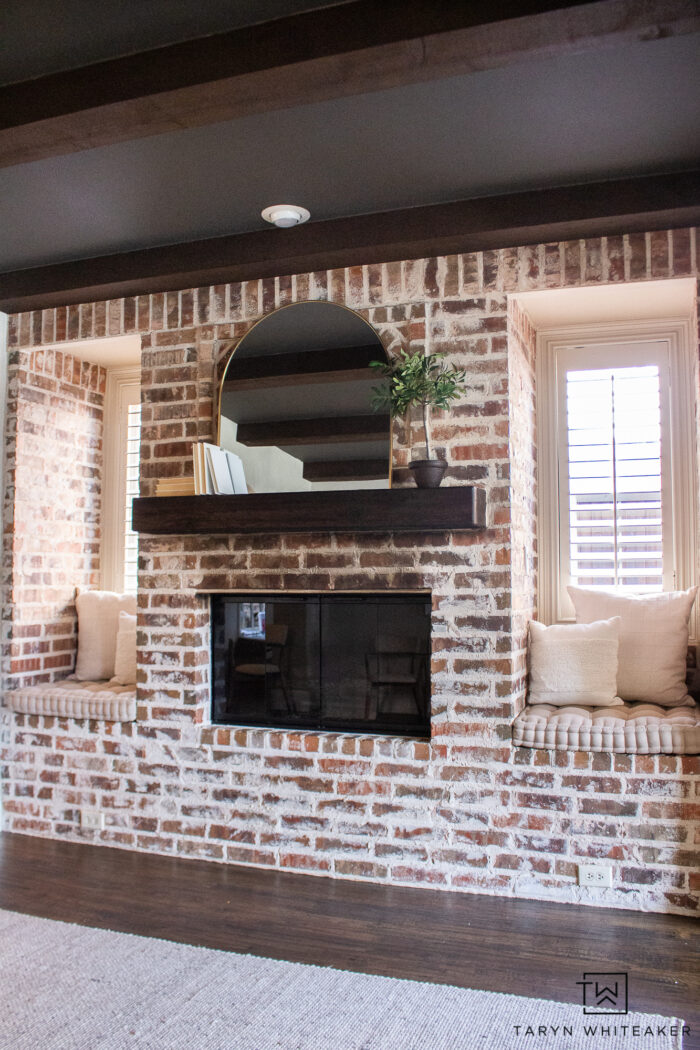 For the mantel, I wanted to keep the decor simple, soft, organic and elegant. The German Schmear brick already adds a lot of pattern and busyness to the space. To balance the look, I chose really simple pieces that add warmth and character but don't compete with the brick.
I found this gold arched mirror for an amazing deal on Amazon! Just $139, which is an awesome price for this piece.
I found this adorable olive topiary that I had to have. It's the perfect size for here. The one I bought has the pretty pot, but that's not available anymore :(
I painted the ceiling Sherwin Williams Urbane Bronze to give it a moody and updated look. I love how it makes this space feel like its own and sets it apart from the rest of the downstairs. I feel like this was the perfect touch of modern in here to balance the neutrals and texture of the brick.
Custom Window Seats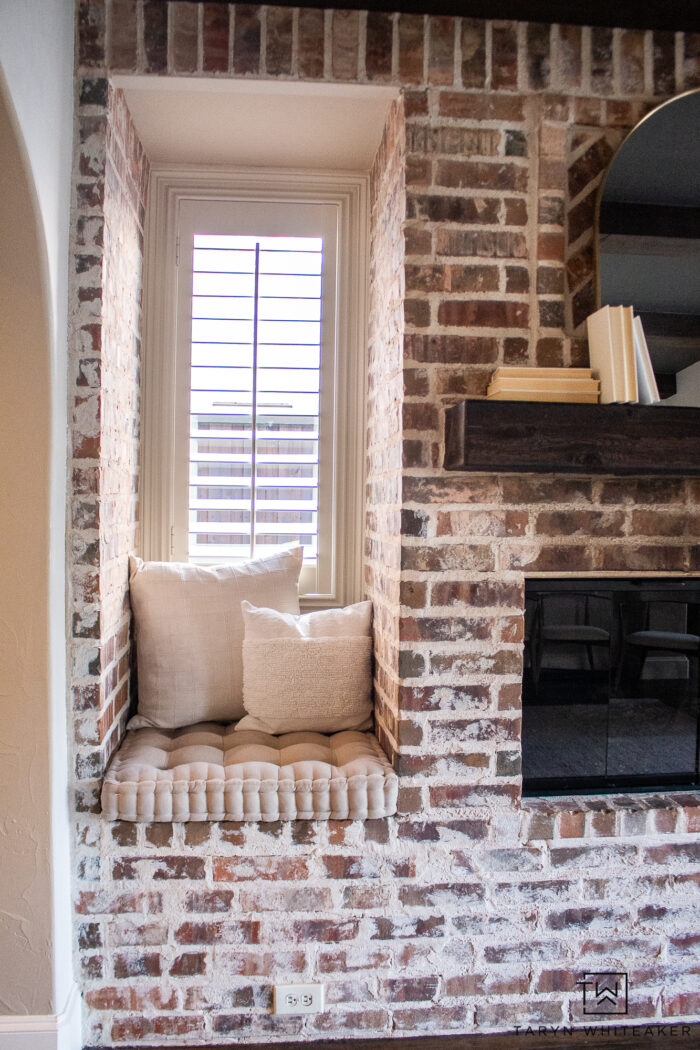 The little window seats are one of the sweetest features. I love the idea of curling up in here with a book. Or seeing the kids get cozy with a snack. They already seem to love the new seats and pillows.
I had my eye on custom cushions for these niches. I have seen these french country cushions around a lot more recently, but I couldn't find any in the size I needed. So I turned to Etsy, and of course found someone extremely talented that makes them! Click here for custom french window seat cushions. They are a bit pricier, but they are worth every penny because the craftsmanship and the quality of the fabric is top notch. Plus I always feel good about supporting small businesses.
I tried SO MANY PILLOWS back here. I tried darker ones for a contrast, patterned ones for a pop, different earth tones. Ultimately, it was the neutral textured ones that felt right in here. No surprise. I love my soft neutrals. I actually "stole" these ones from our outdoor fireplace area, I'm not sure where they will land permanently, but I do know I need to buy some more neutral pillows! Here is the large beige euro pillow, and the smaller textured white pillow.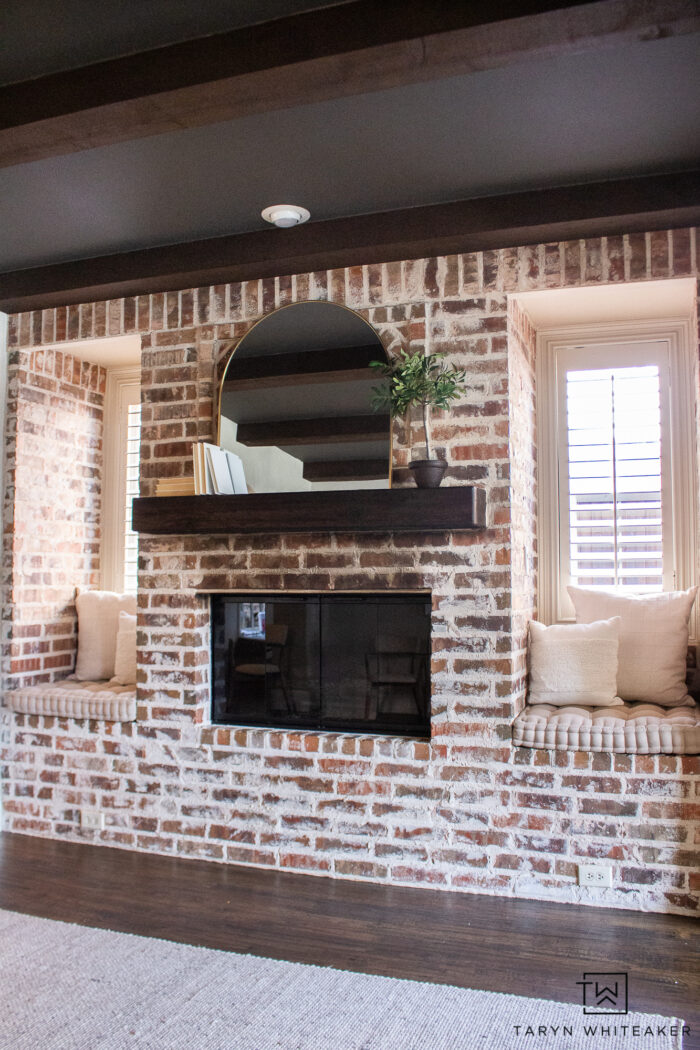 This feels so much better! It is cozy, moody, and unique.
Now the question is, should I also paint the shutters and trim Urbane Bronze?!
Shop This Space