How do I take a very traditional brick exterior and make it a little more fresh and modern while keeping the character?! I've been thinking about this for the past 11 months and I'm finally ready to go for it. It's all about finding the balance of mixing modern with rustic and vintage pieces. First, starting with adding more contrast and lots of greenery! I did a trial run on our outdoor balcony space and loved how it turned out. Now, it's time to take the same concept downstairs. Ready to see how much paint can transform a space?
Brick Outdoor Dining Space Refresh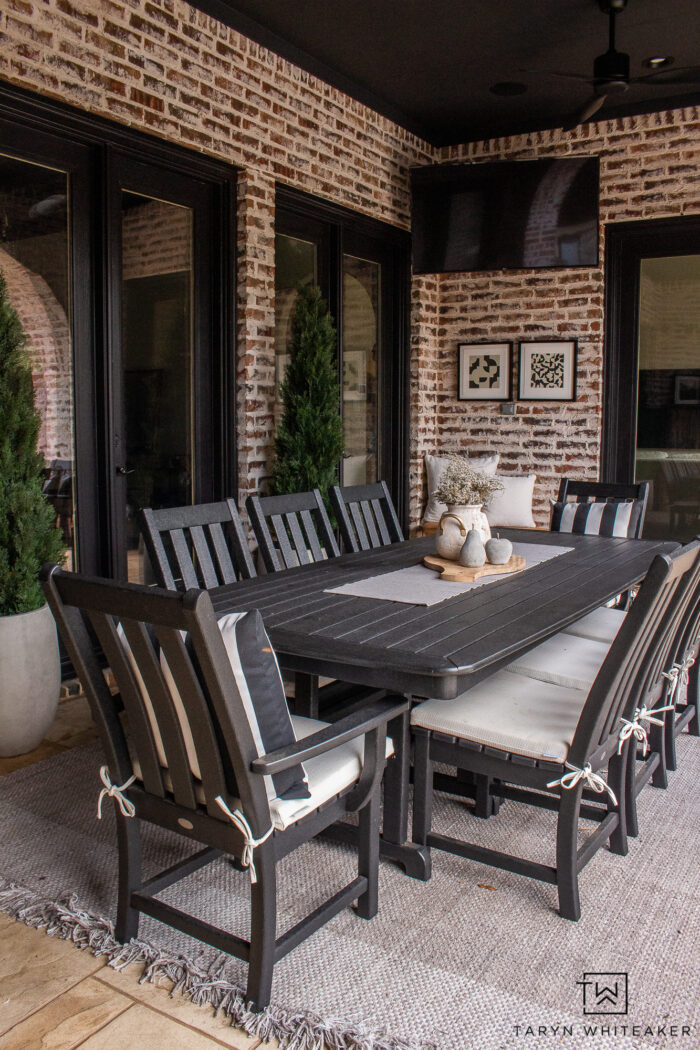 I want this space to feel cozy, charming and inviting for guests. The dark mood ceiling makes it feel more intimate, and the addition of of mixing textures and natural elements.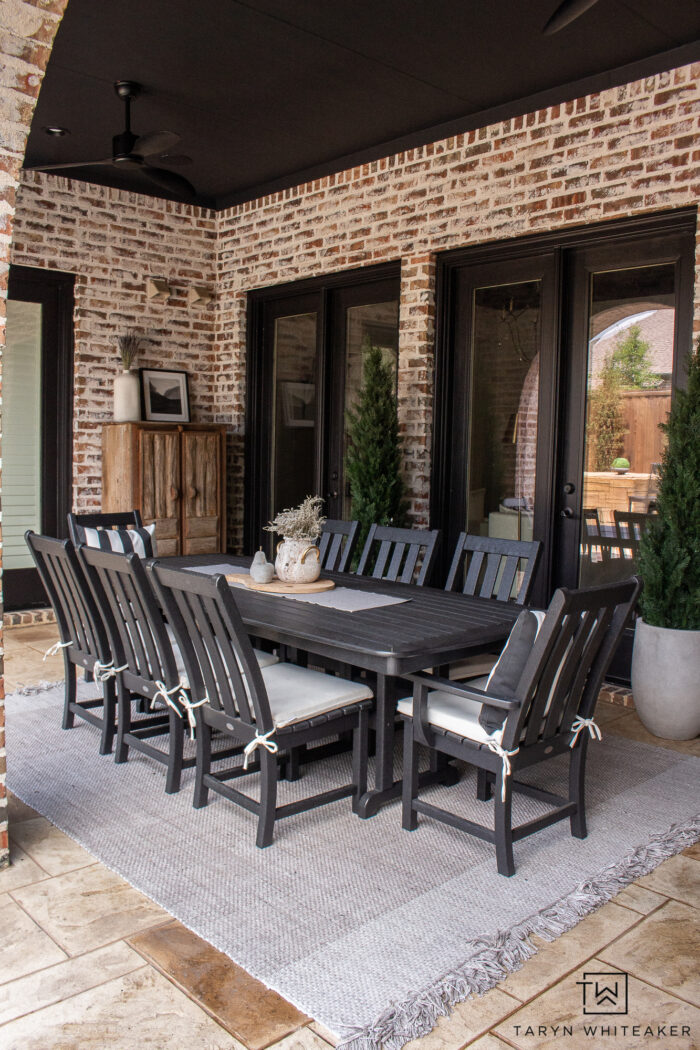 I did paint the French doors in SW Black Magic emerald Urethane paint. This paint is amazing! I chose not to put the DIY faux panes on these doors just yet. Because you can see the white adhesive on the other side of the window, I will need to double side the windows. I am not sure what color I want to paint the doors on the inside, so I wanted to wait to install the panes until I made that decision.
Before Patio
Decorating Outdoor Dining Space
Naturally, I feel like I am already dissecting this space and thinking about what I want to change and there are definitely a few things that feel off to me. But for now, it feels great to have it refreshed and feeling a lot less beige!
With all of the black in the space, it was important to add in more greenery, warmer wood tones and texture. It's all about finding the right balance and sometimes that takes time and a little tweaking to get it right.
While I never feel like you have to decorate EVERY empty wall, I did want to add a few styled areas on the empty brick that helps break it up. I have one area under the TV where I bring in a natural wood and rattan bench with artwork and pillow and on the other side I add a storage cabinet and vignette.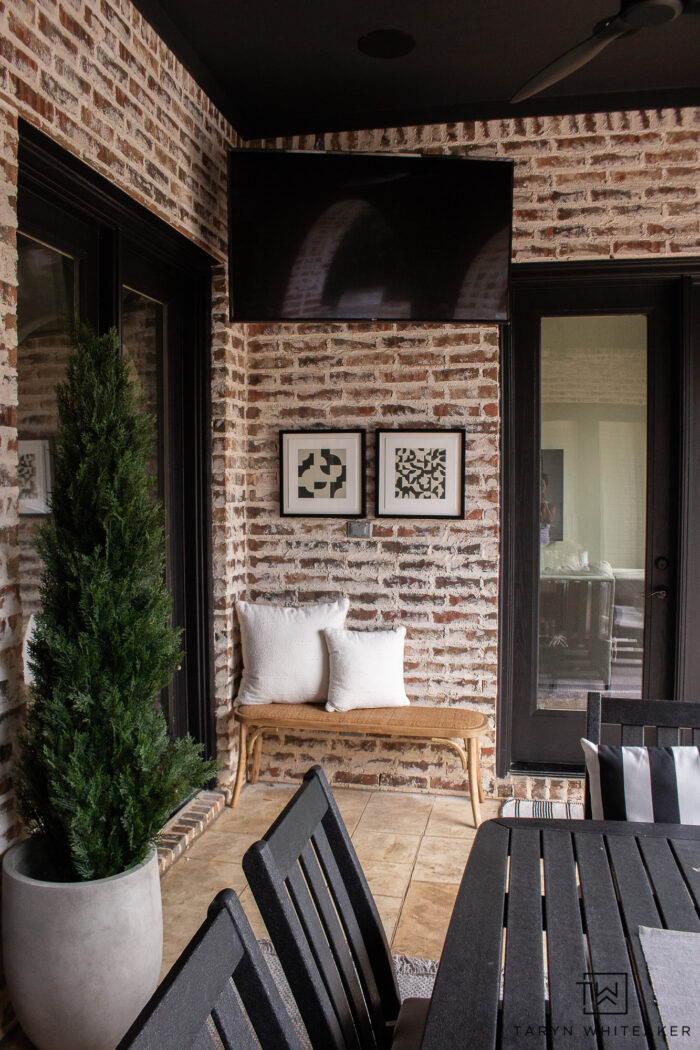 I felt like this was the perfect wood tone to bring in back here. It adds both warmth and texture. The funny thing is, I actually bought this bench for my daughter's bedroom but the color or size weren't right. I went to return it and they said it would cost me $80 to ship it back! When it was only $150 to begin with, I couldn't do it. So I saved it and finally found the perfect spot for it!
Wood Bench | White Textured Pillows | Framed Artwork 1 | Framed Artwork 2
Decorating With Brick Exterior
I mentioned it before, but decorating around a busier german schmear brick pattern can be a little challenging. Because of the busy pattern, you want to keep decor neutral and solid. Versus adding even more patterns to the space. That's why I chose to stick with black furniture and accents back here. It's what I lean towards naturally, but this space really needed either solid black or solid wood.
Earlier this year I swapped out the older light fixture with this outdoor black lantern. It's a great price point and helps bring a more cohesive look back here.
I added this out door rug a few months ago, it was actually one of the options I bought for our outdoor fireplace area, but it arrived a little late so I put it back here! I love the rug, it is amazing quality and so soft for an outdoor rug, but sometimes I feel like it pulls a little too grey for this space. It's very taupe/beige in person but maybe cream would look better. Something to think about in the future.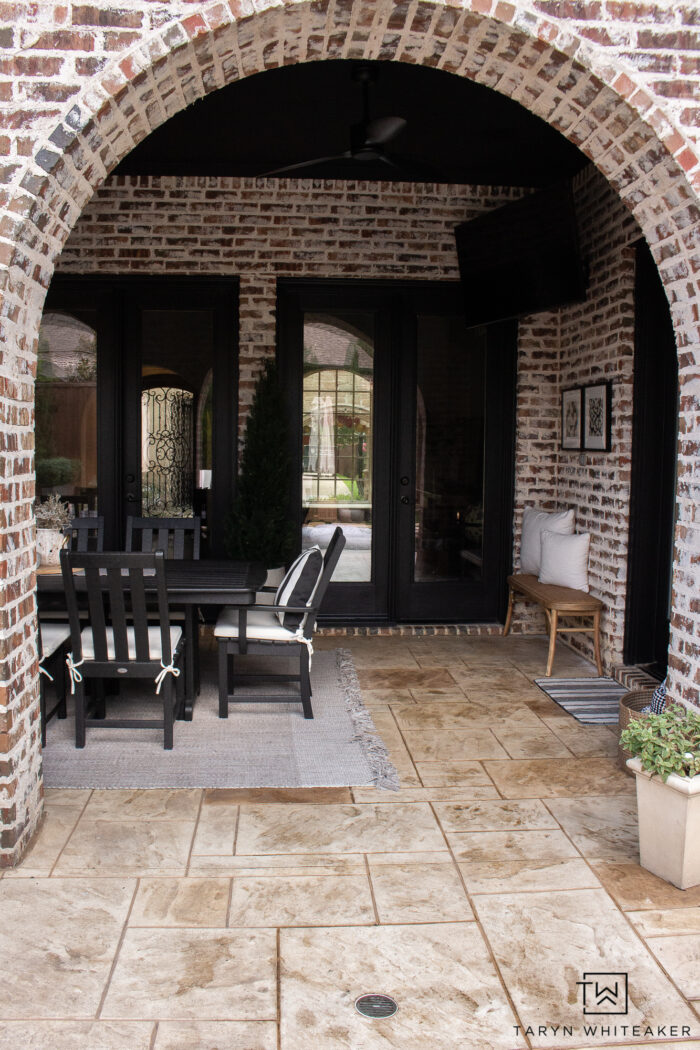 Polywood Outdoor Dining Set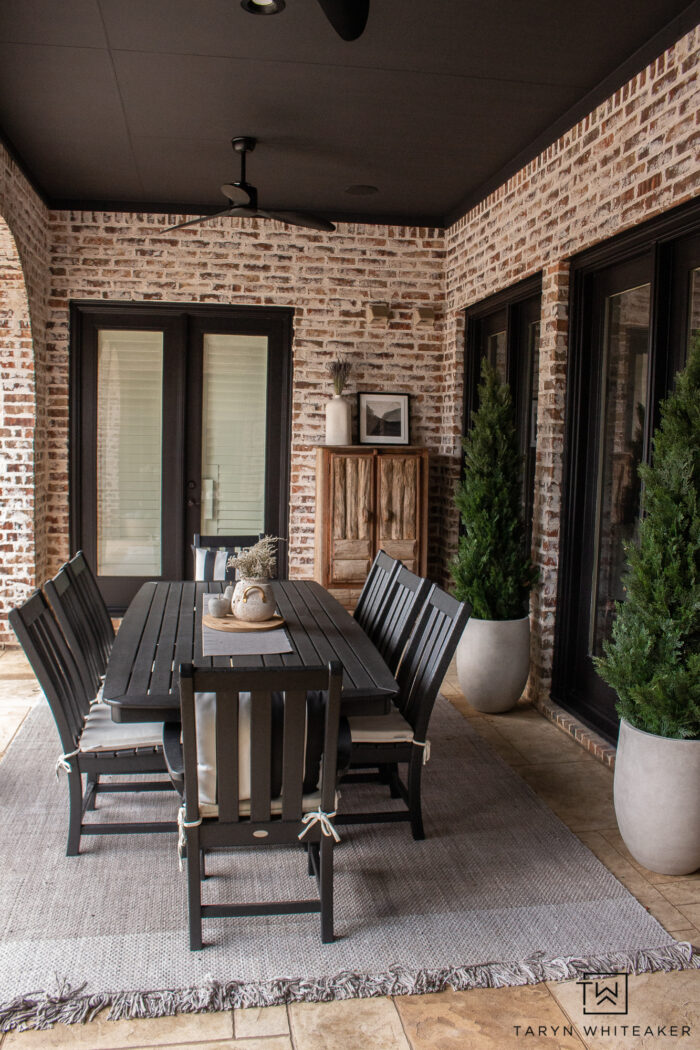 All of our outdoor furniture is from POLYWOOD! Their furniture is amazing quality, has a 20 year warranty and they have SO many different styles to choose from. We wanted a large table out here to fit as many people as possible. We actually put two POLYWOOD Edge Tables together in our previous backyard to create a big outdoor entertaining space. Here we went with the Vineyard 9 Piece Dining set. It is one of the larger options they have.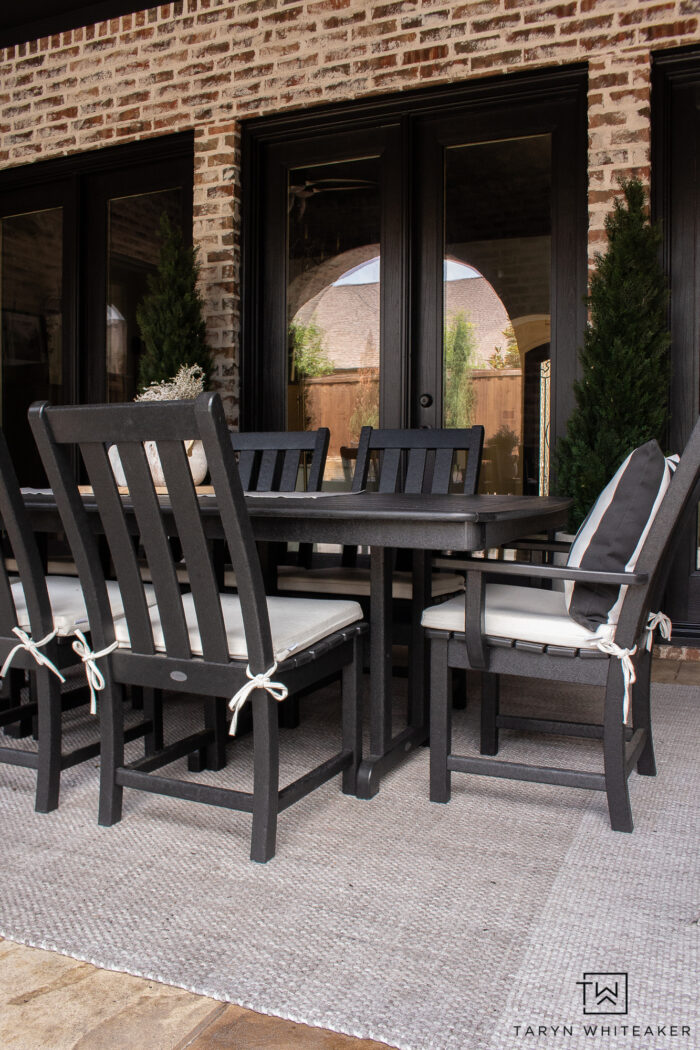 I also added the tie cushions to the seats for some extra comfort.
Adding Warmth with greenery and wood tones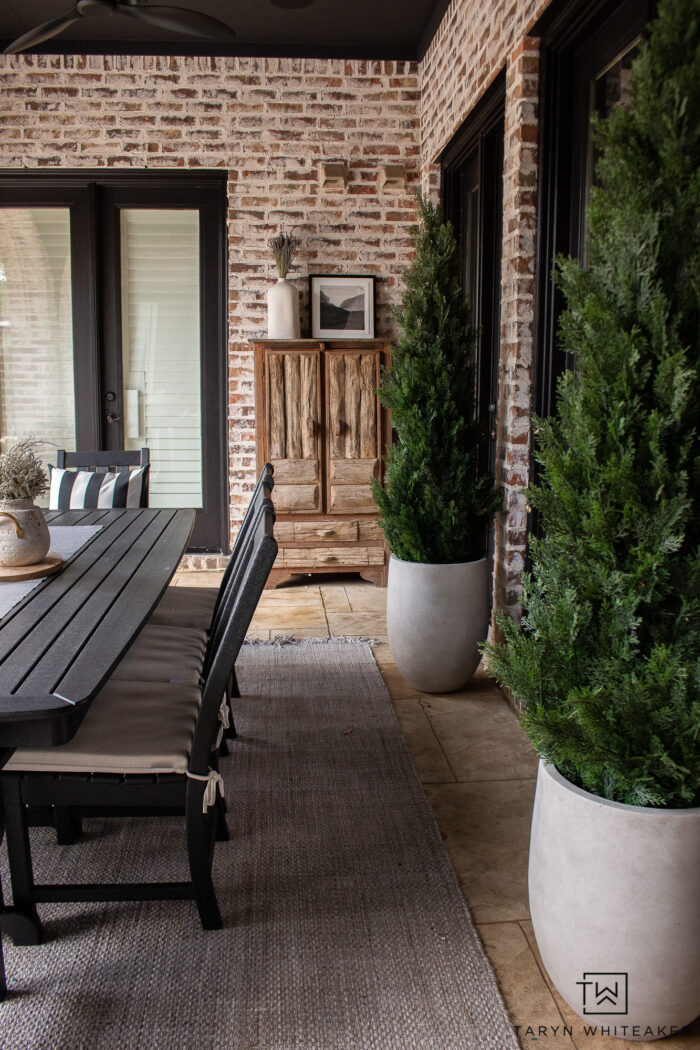 Adding greenery was really important to this space to get the overall modern english country vibe to it. I put these artificial cedar trees in our outdoor fireplace area and loved them so much that I added the same pots and trees in here too. They look amazing for being artificial and they are tall enough to make a statement back here.
This rustic storage cabinet was such an amazing FB marketplace find! It was only $50 and is such a unique piece. I was originally going to put it upstairs in our homework nook which I'll be working on next! But when I wanted to add some more wood pieces to this space, I felt like it was perfect for here too.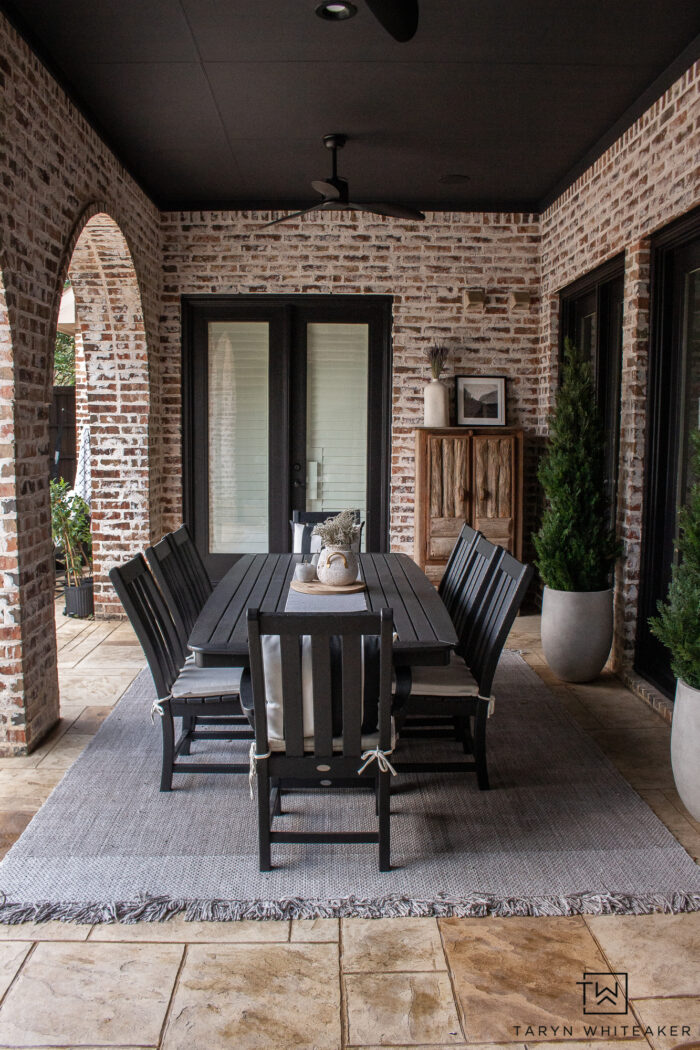 I have one more project in the backyard this week and then I'll be sharing a full tour of it.
SHOP THIS SPACE