We spent almost 2 years working on our dream backyard in our Washington home and it hasn't gotten the coverage it deserves on the blog! It was such a slow progression of projects over 18 months, little by little we saw our dream come together. We were actually finishing up projects right up until we listed our home in April. Now that we are settled into our new house in Texas ( and yes I'll share more on that soon), I wanted to do a full walk through of the completed backyard. So let's dive into this modern Pacific Northwest Backyard Design that will forever have a place in my heart.
Right before we moved out, we had the privilege of having Yardzen come out and shoot our completed backyard. Huge thanks to Sasha Reiko Photography for the beautiful photos. It means so much to have these final photos of our family in a space we loved so much and poured so much into.
Modern Pacific Northwest Backyard Design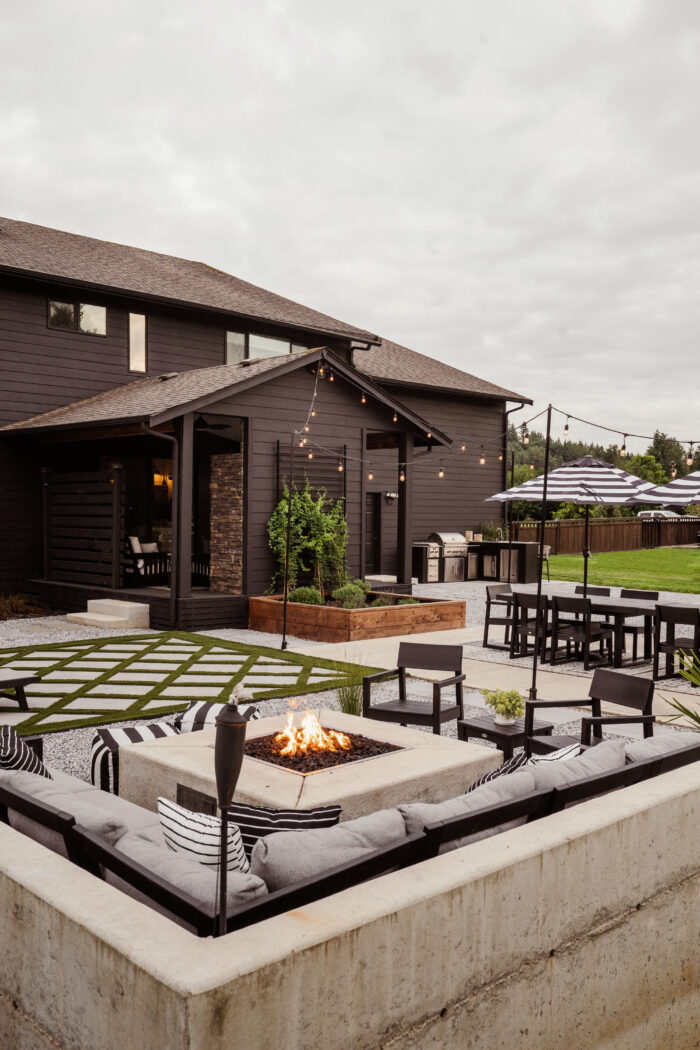 We moved out of this house over a month ago and looking back at these photos hits a little differently. After removing myself from the space for awhile, I am looking back and realizing just how amazing it was. I keep thinking, "wow, this looks amazing", I can't believe we did this. Every detail, every big and small project, every plant. I couldn't be happier with how the entire space turned out. Honestly, I'm just so proud of it.
Our main goal for this space was to create a place that not only we could enjoy as a family, but that we could share with friends and family. I wanted a large dining table that could seat our extended, lots of conversational seating, space for outdoor games and a fire pit that we could cozy up to and talk until the sun goes down. This space includes all of that and more. I only wish that we were able to have more gatherings out here.
Backyard Before
To really put things in perspective on just how far we've come. Here is what our backyard looked like in spring 2020! It doesn't even look like the same house! We lived on 1.14 acres and the backyard was just grass! We had so much space to work with but never took advantage of it. It was time to finally use the space we had!
During the design process, I turned to Yardzen to help bring all my ideas together. Since I'd never done landscape or hardscape design work before and knowing this was going to be such an investment, I wanted to do it right. I gave Yardzen all my inspiration photos, my wish list and general idea of what I wanted. In return they put it all into renderings and helped bring all the ideas together with a cohesive look. I took the plans and made them my own over time, but I loved the different spaces they created and all of the different paver pathways that connected them. You can see more of the renderings on this post.
Yard Game and Lounge Space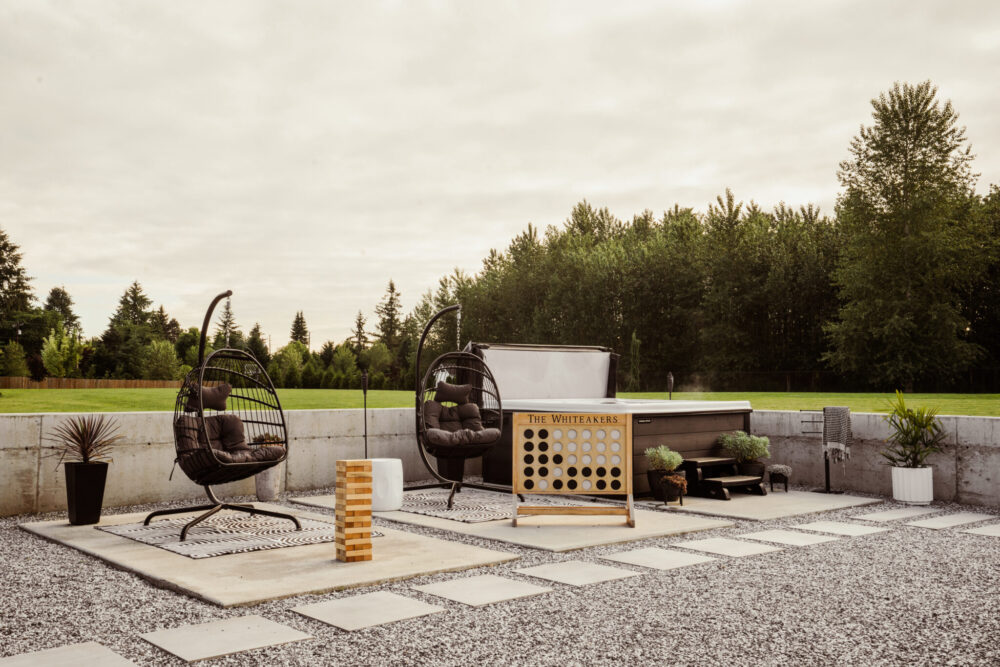 If you've been following the backyard renovation from the beginning, this used to be a space for chaise lounges. I shared the initial reveal here, but it never seemed to fit right. There was too much extra space around the chaises. We eventually purchased a hot tub for this corner (which was worth ever penny while we had it!) and added these budget friendly egg chairs and some favorite yard games!
This ended up being the kids hung out the most. I loved seeing them play out here with friends, hanging in the chairs and playing games. It was everything I had dreamt about. This oversized connect four and yard jenga were huge hits and we took them with us to Texas!
I love this view. Seeing the whole space come together. The way the turf pattern, greenery, wood tones and black modern furniture all work together for a cohesive look. I've learned that hardscape design is just like interior design. It's all about finding the perfect balance of materials, patterns and textures.
Modern Outdoor Kitchen Design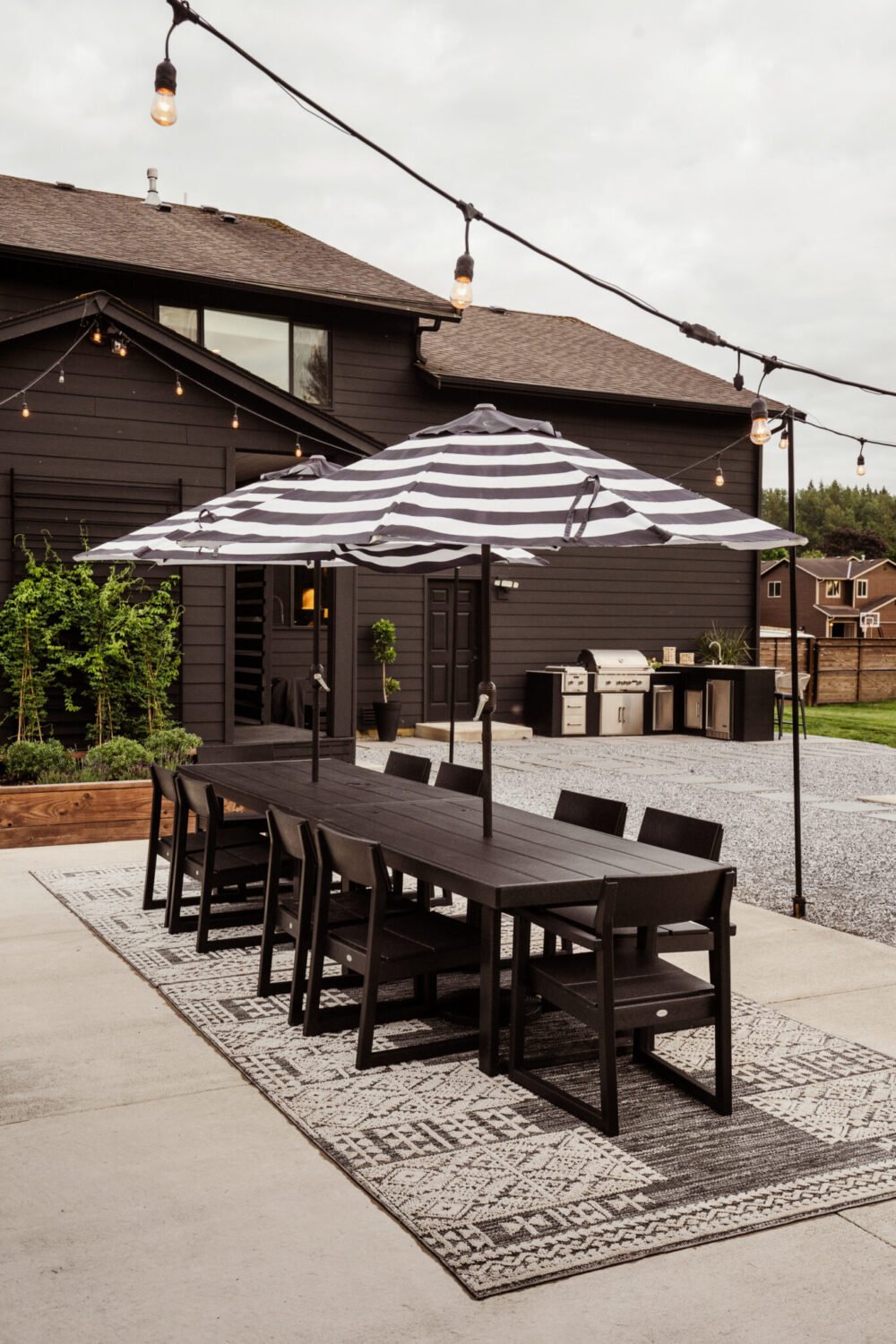 Moving over to the very last project on the backyard! Our outdoor kitchen! When we did the original design plans for the backyard we actually didn't take into consideration space for an outdoor kitchen. I think it was something that we felt would be really far in the future. But when it came time to landscape this corner, we realized it would be the perfect spot for am outdoor kitchen!
So I brought in more gravel and used left over Milestone Tiles to create the base, then built this DIY modular Kitchen using RTA Outdoors MOKS Kitchen design. I cannot believe how easy it was to put this together! It could easily be done in a weekend and hardly any tools are needed! It really polished off our backyard and I am so sad we only had a few months to use it! The grill is amazing, my husband would use it twice a day!
Modern Backyard Fire Pit Design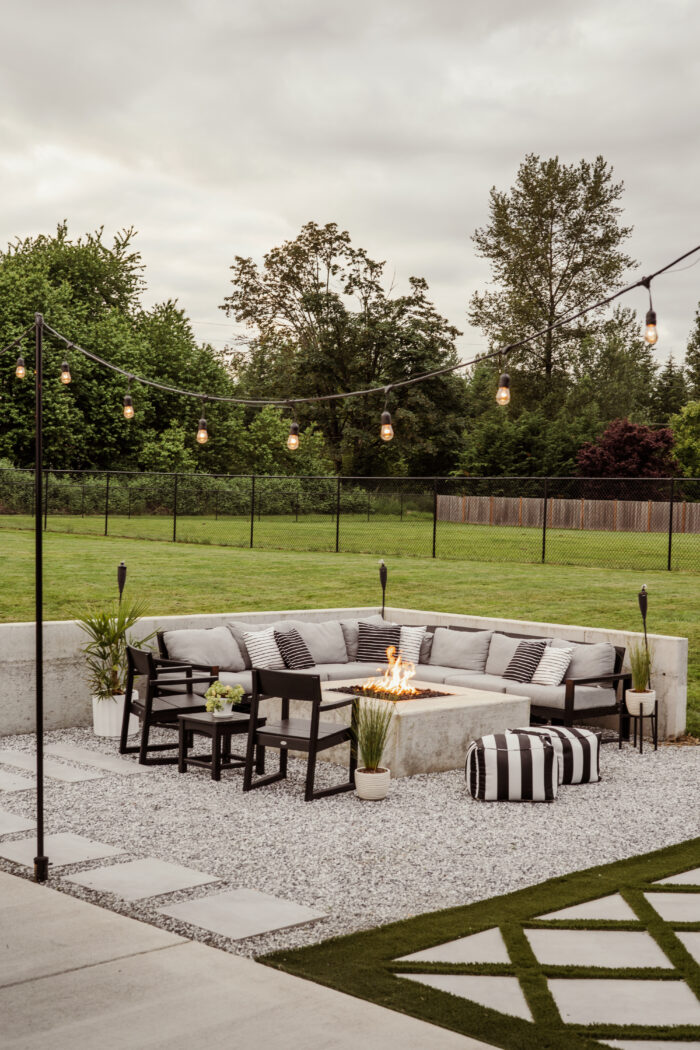 The fire pit was my favorite part of the design! If there is ONE thing I miss about this backyard, it's this space. I miss this huge fire pit to sit around. It was an area that we used year round. If it wasn't raining in the winter, we would often cozy up with blankets and sit out here for s'more nights. In the summer I was here every night and often drank my coffee out here in the morning. I love this space.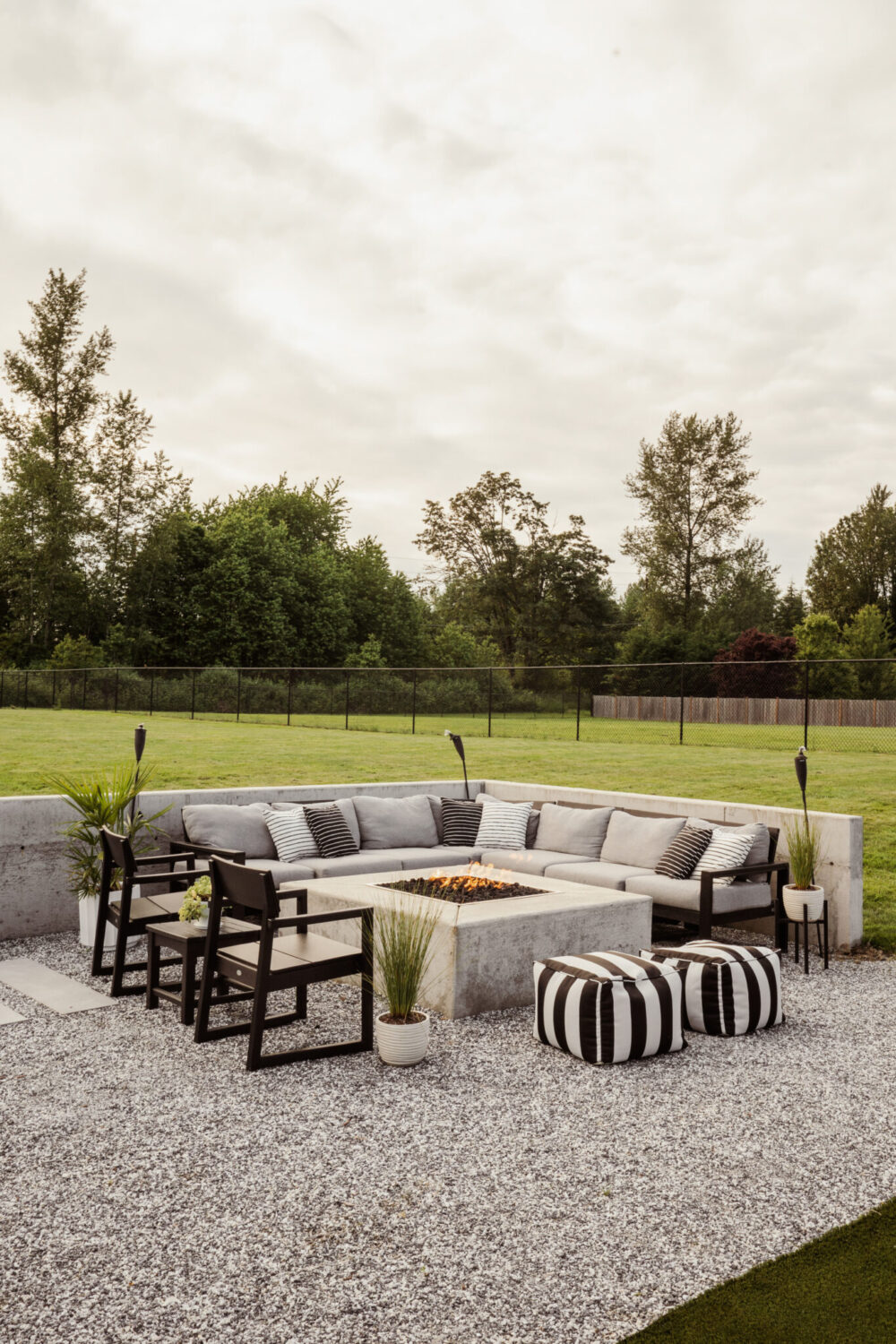 We did a custom POLYWOOD sofa that fit this space perfectly. You can read more about our selection in this post. I accessorized it with these striped outdoor ottomans, and large white planters.
The actual fire pit also changed during the design process! First, it was supposed to be a wood burning fire pit. And at the last minute, we decided to change it to propane. Here's why. It's cleaner. You don't smell like smoke. And it's much easier to just turn it on and off when you only want to sit outside for a small amount of time. I am SO GLAD we made this last minute change. It was definitely worth the extra cost on this one.
I originally had it designed to be 4'X4′ and once I drew out the lines, I decide it just wasn't big enough! I wanted it to be big enough for a large group to gather around. I also wanted a ledge wide enough to sit on, put your feet up and set your drink down. The final dimensions ended up being 5'X5′ with a 36″ insert. It was the PERFECT size. Here is the fire pit insert that I ordered for it, we had a plumber hook it up.
I will forever cherish the time we spent out here as a family and with friends!
PaverTurf Grids
My next favorite part of the backyard is this turf section. I was so fortunate to work with PaverTurf Grids on this project. They create custom turf packages that you can install yourself! You can choose a variety of designs, I went with the diagonal checkered to give the backyard some texture. The pattern really brings something to this backyard while still keeping it classic and modern. You can learn more about this entire project here.
Dark Exterior and DIY Planter Box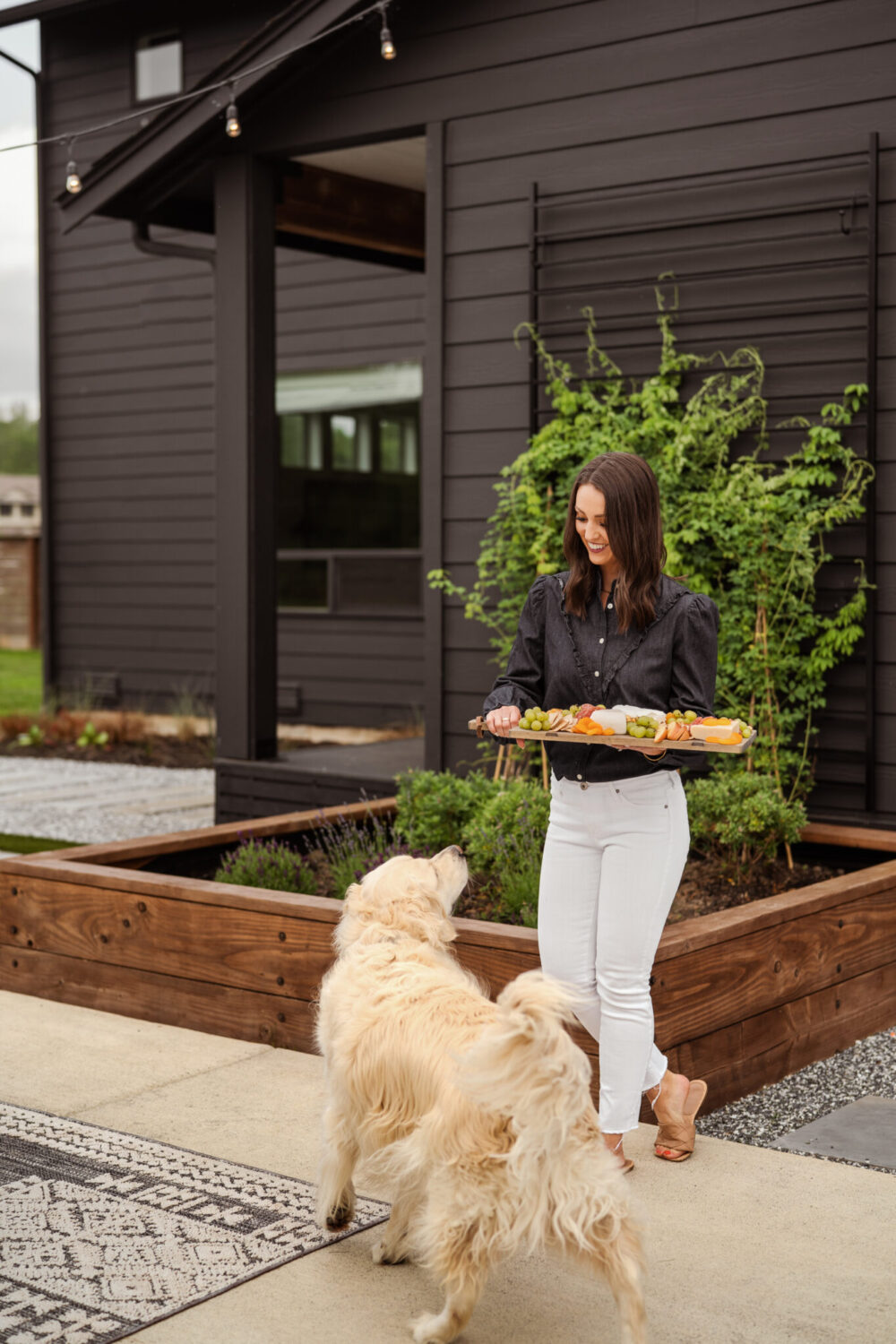 I should also mention that throughout the backyard project, we also had our exterior painted! I wrote an entire blog post on the color and what went into the exterior makeover. Changing the color of our home allowed for the monochromatic backyard to really pop against it. Especially the greenery!
This DIY trellis project was the perfect addition to this wall, seeing the climbing greenery just polishes it off. I also built this DIY large planter box that would one day grow to be a really lush bed of lavender.
Large Outdoor Dining Table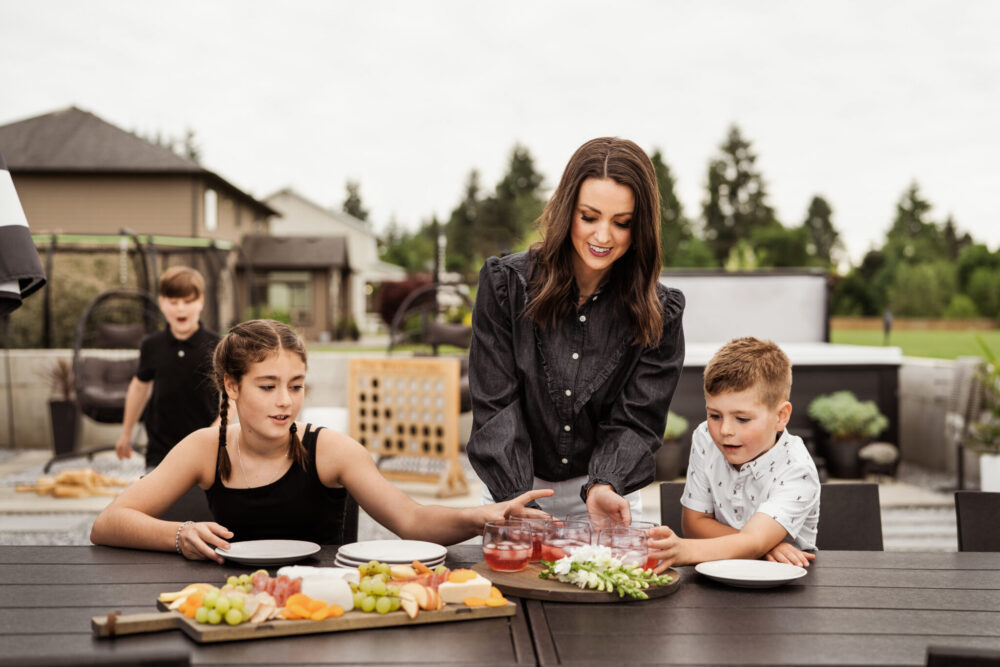 Having a large outdoor dining table was a must! I couldn't find a table large enough for this space, so I ended up putting two POLYWOOD EDGE tables together. You can read more about our furniture picks here.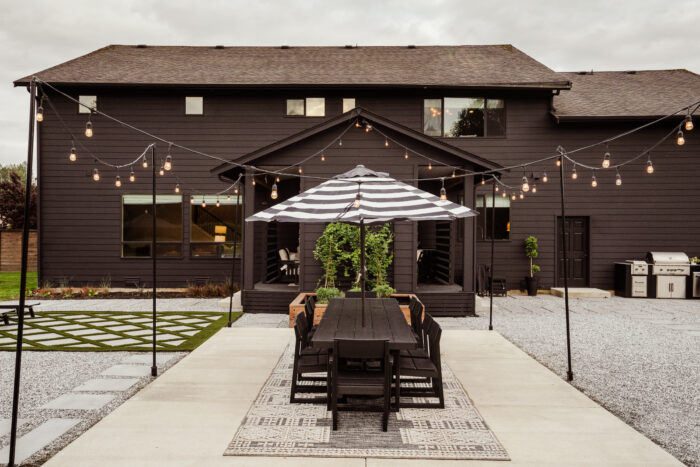 To polish off the outdoor dining experience, we added DIY string lights , striped umbrellas and two 8X10 outdoor rugs for a cozy element.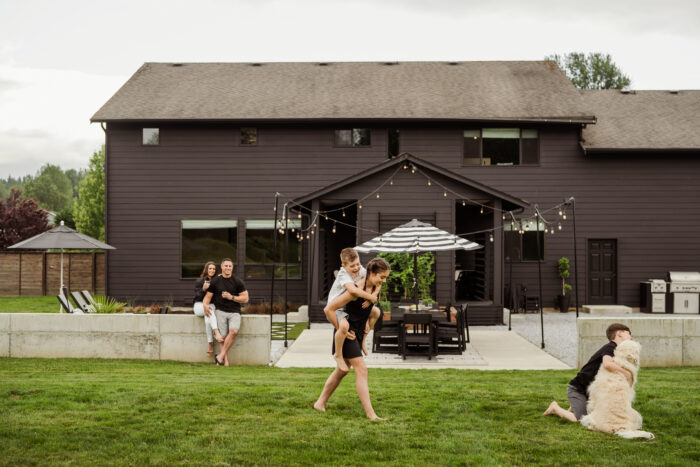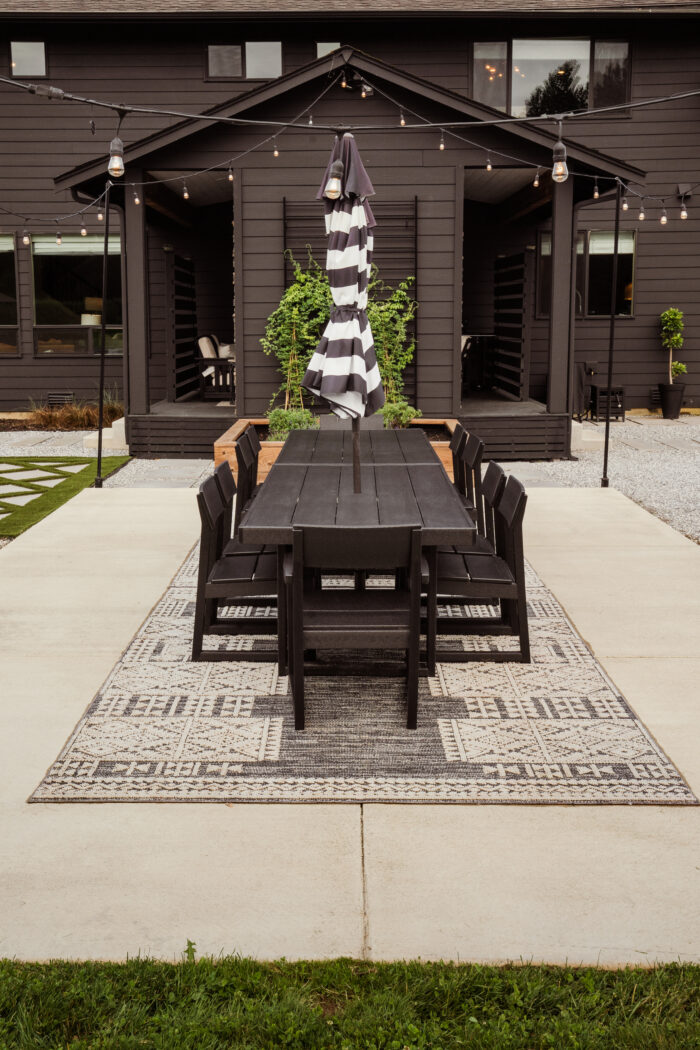 Modern Pacific Northwest Backyard Design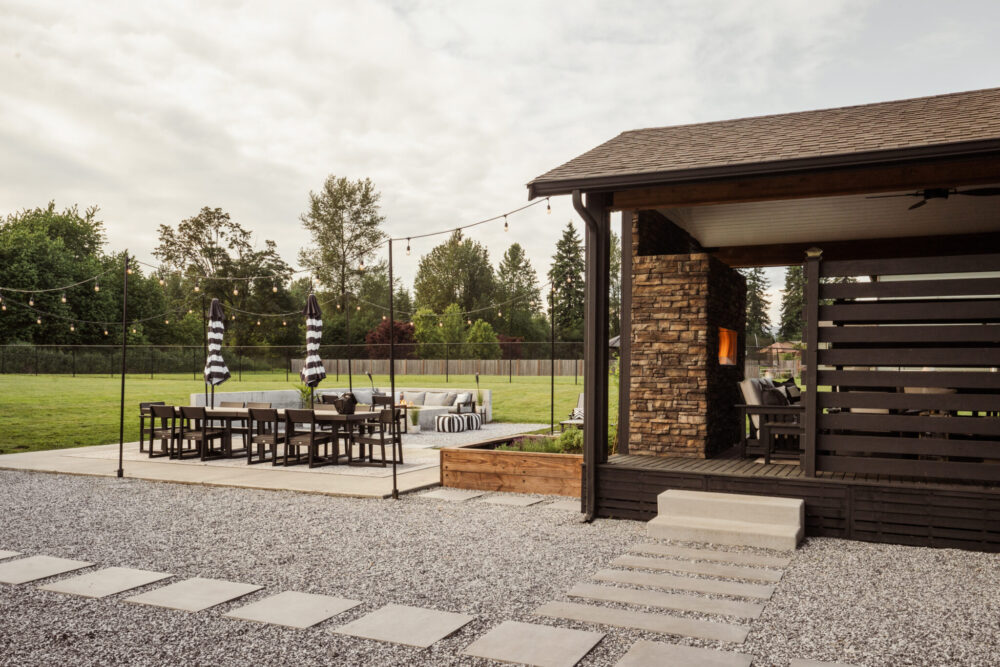 I will forever love this backyard. It will ALWAYS hold a very special place in my heart. I worked SO hard on this space. It was my favorite project to date and one that I am the most proud of. I'm so thankful to have so many pictures and documentations of it.
Covered Outdoor Patio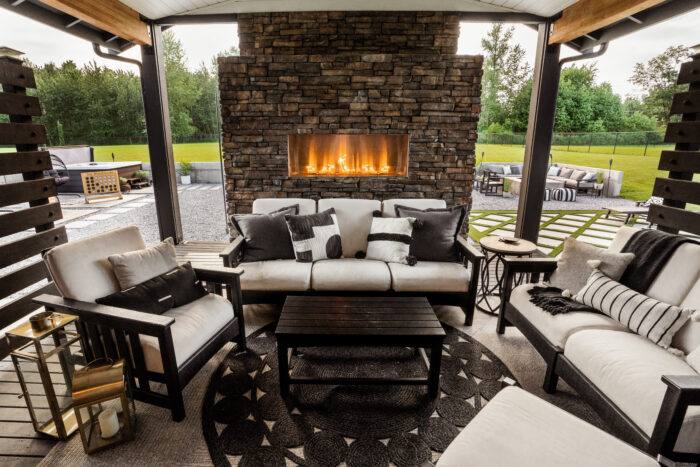 This little covered outdoor patio was already here when we moved in. If I were to design it myself, I would move the fireplace off to the side so that it didn't block the view of the backyard. But this served as a great place to hangout on rainy days. We used it so much when entertaining. You can see more pics of this space here.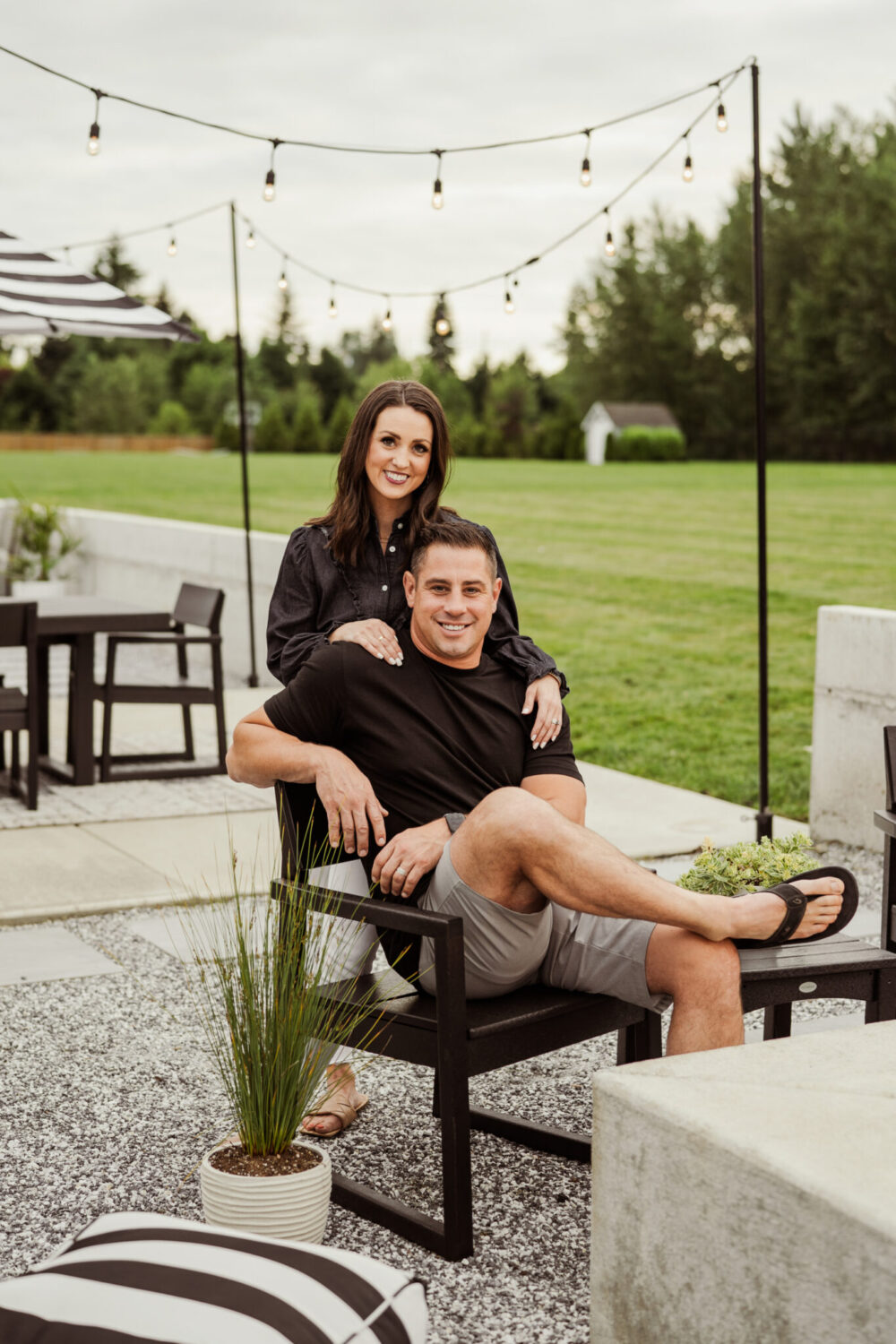 And lastly, to my husband. Thank you for always trusting me with our home and spaces. Thank you for letting me do what I'm passionate about. So thankful I was able to do this backyard and learn throughout the process.
SOURCES AND TUTORIALS
SHOP THIS BACKYARD