Disclosure: This post is in partnership with POLYWOOD, all opinions and creatives are my own.
You guys! We finally have our FIRST part of the massive backyard project done! We have been talking about our backyard since we moved in 6 years ago. About a year ago we finally shared our backyard design plans and in September we broke ground! We had the grass torn out and the concrete poured. Then winter happened. But, over the past few weeks I've been out here shoveling gravel and putting together furniture and making so much progress! This has been one huge project but so worth it. Today, I am so excited to be sharing our modern outdoor fire pit seating area with you. Completed right in time for spring.
Modern Outdoor Fire Pit Seating Area
Having a modern outdoor fire pit in our backyard was an absolute must for us! There is just something about sitting next to a fire with friends or family and hanging out under the stars. It's so cheesy but it really is one of those simple things in life that I love so much.
We went back and forth on a wood burning fire pit versus propane. At the last second we decided to run a propane line out here. We hired a plumber to do it and it was super easy. I could probably write an entire post on the pros/cons of each type of fire pit. Ultimately it came down to the ease of being able to turn the fire on/off. Also, the smell. I LOVE the smell of a campfire, but I didn't want to smell like one every night.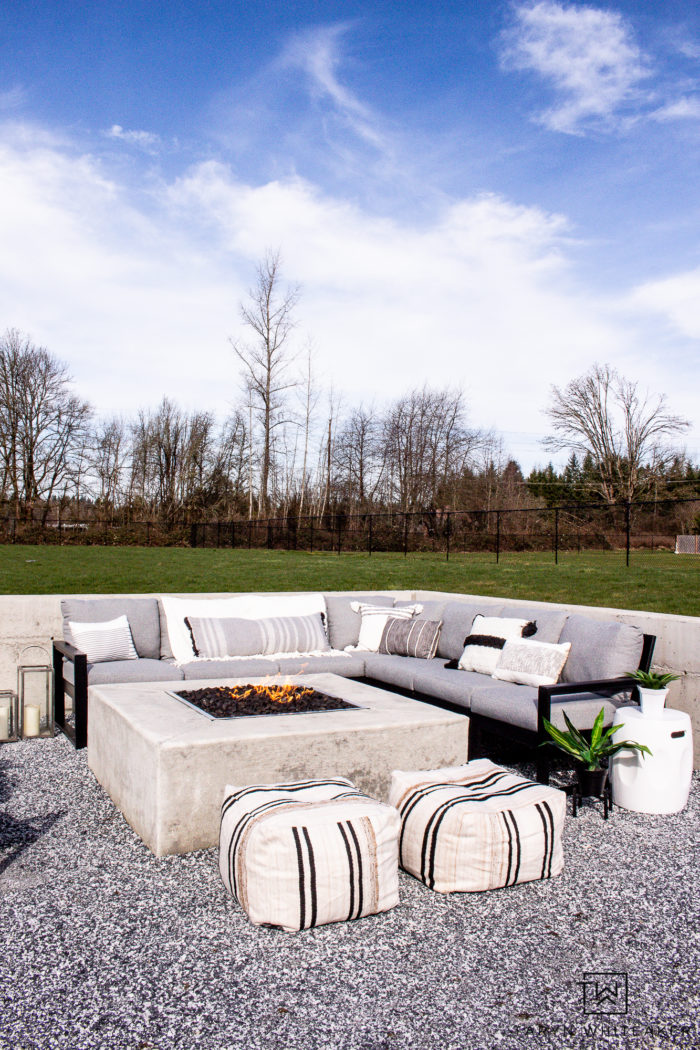 I ended up doing a 5′ X 5′ fire pit with a 36″ insert. The outside edge is roughly 12″ wide making it the perfect width to sit on the edge or put up your feet and that glass of wine! I'm so glad I made it a little bigger.
POLYWOOD Outdoor Furniture
When I started looking into outdoor furniture for our backyard, it didn't take me long to realize that we NEEDED POLYWOOD outdoor furniture. Living in the Seattle area, we get a ton of rain and snow and we need furniture that we can leave outside year round.
I first learned about POLYWOOD a few years back when I partnered with them on our covered back patio.I have been a huge fan ever since. What I love about POLYWOOD is that the base material is made out of recycled plastic materials making it extremely durable for all weather conditions. So durable that they have a 20 year warranty!
Fun fact, POLYWOOD recycles up to 400,000 plastic containers per day!!! You guys, how awesome is that? And the outcome is outdoor furniture we can enjoy.
POLYWOOD makes outdoor furniture collections for every style, but I of course fell for the EDGE Collection. The clean modern lines had me at hello. I went with the black but it comes in 12 different color combos as well.
One of the great things about this EDGE Modular Sectional is that each seat is a separate piece, making it very easy to customize the size. I ended up adding two more seats to mine so I could create a square sectional that fit perfectly around our fire pit.
These EDGE chairs actually belong to the dining table that I'll be showing within the next month! We don't need all of the dining chairs for daily use, so I moved a few of the arm chairs by the fire pit for extra seating. It worked out perfectly! These chairs are not only sturdy and durable, but very comfortable. They also make traditional Adirondack chairs in a few different styles and colors that would be great for a fire pit. I keep eyeing these too!
Creating A Modern Yet Cozy Space
I am a total pouf girl. I think I have a set in almost every room in our house! And now I'm taking them outdoors! With all of the clean and modern industrial lines out here, I wanted to add a little texture and softness with the pillows and the poufs. I love the neutral tones of these ones but I actually found that I loved how they looked a little more by our fireplace. Now, I'm on the hunt to find some black and white ones for out here versus cream.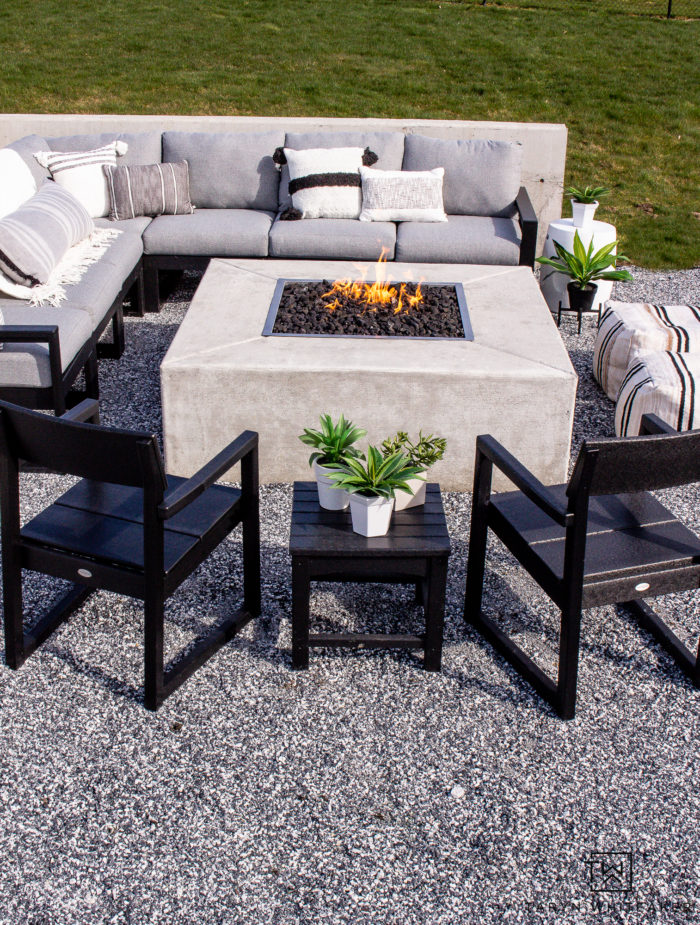 I couldn't be happier with how this space is coming together. It's everything we envisioned and it feels amazing to have quality furniture that we know will last.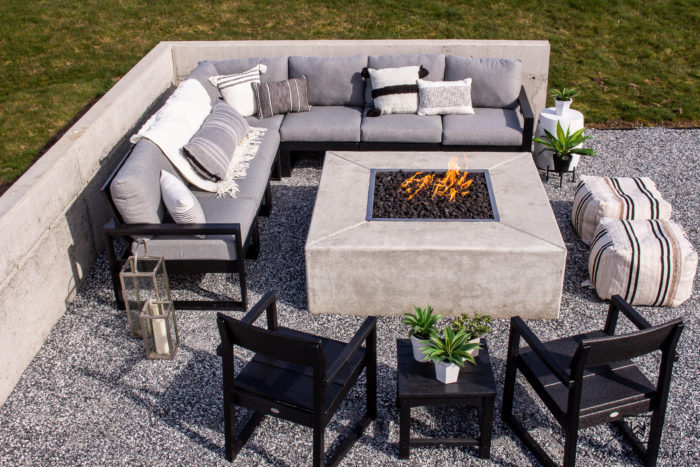 We have already had quite a few family nights out here by the fire. We may have to bundle up in winter clothes and blankets but we are taking full advantage of this space. But I'll be honest, I can't wait for those warmer nights!
This is just the beginning of many projects back here! I have even more plans for the fire pit area, starting with building a decorative privacy wall. Check out this one I built this one at our previous home. It will likely be something similar to this but MUCH larger and painted black :)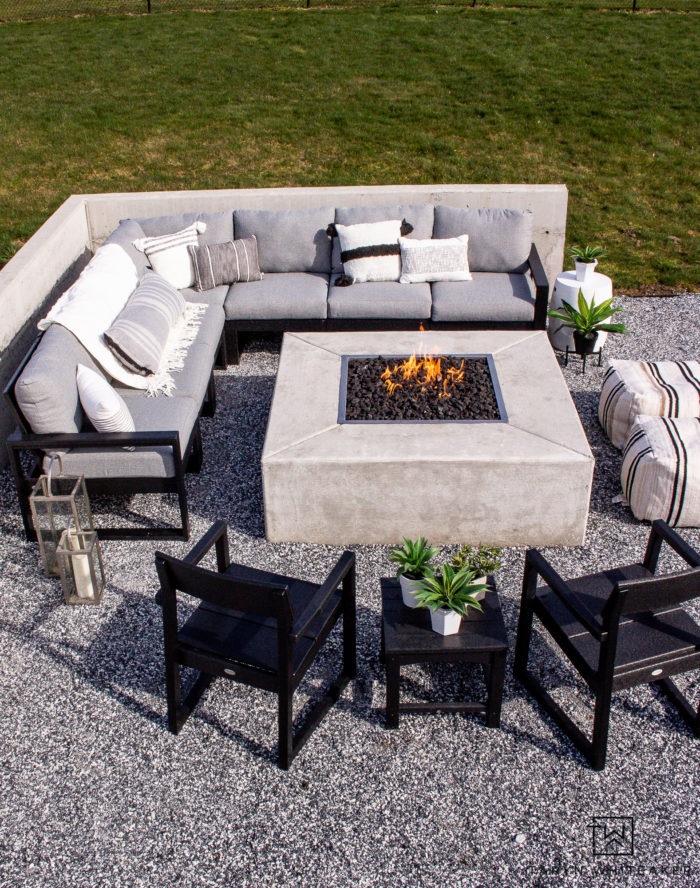 Outdoor Furniture Cover
One quick tip I wanted to pass along is the furniture cover I found for our sectional. I don't have to cover any of the other POLYWOOD pieces since they are weatherproof. However, I want to protect the cushions on the sofa. POLYWOOD doesn't carry furniture covers just yet, but I have been very impressed with this one for the price!
Shop This Post