Disclosure: This post is sponsored by POLYWOOD and Hayneedle. 
It's the first official week of summer around here and I am SO excited to kick it off by revealing our new black and white outdoor patio furniture! You should know by now our outdoor living space is one of my very favorite spaces and after almost four years it was time to give it a little refresh. I'll talk you through why I wanted to switch things up and why we went with this set.
Black and White Outdoor Patio Furniture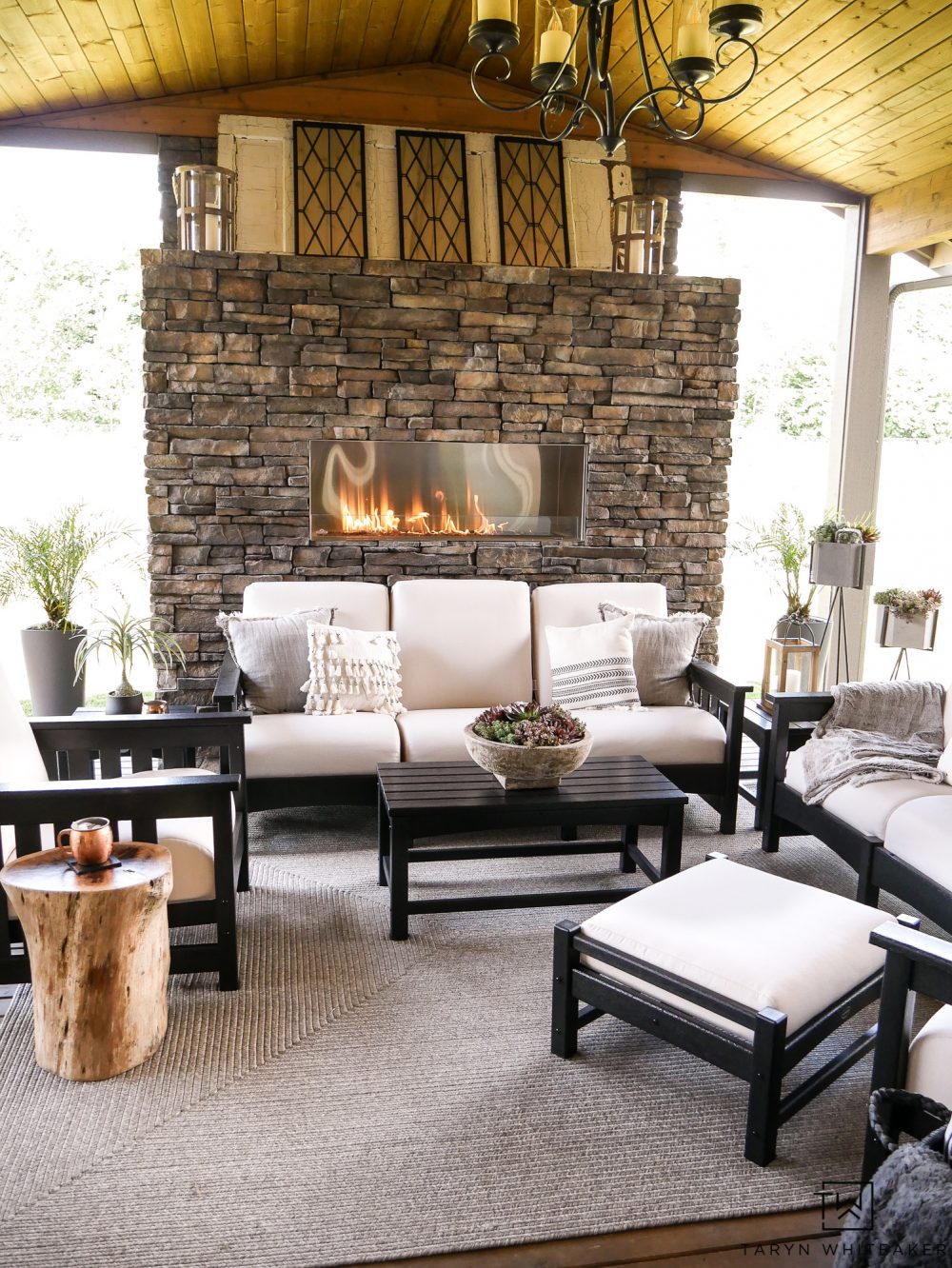 If you can't remember, here is a peek at what our previous furniture looked like back here. The set we used to have was actually purchased for our previous home with a much smaller patio. Then we moved into this home and well, it worked just fine and I liked it but I had always dreamed of finding a much larger, cozier and more luxe set for this space.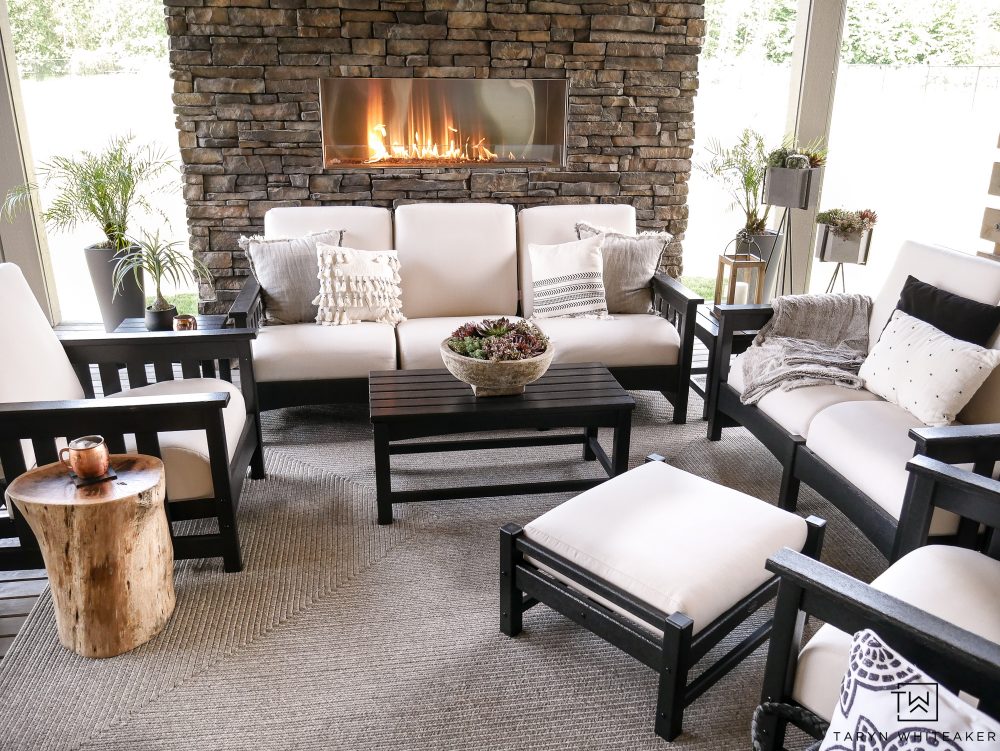 When I started my hunt for new outdoor furniture, my husband and I had a few specifications. We wanted a more modern set with black furniture base and white cushions and something that included a larger sofa and lots of seating! The second I saw this 8 Mission piece set from POLYWOOD I knew it was perfect. It had everything we were looking for. The cushion color is not a stark white but more of a warm white. I love how it looks in our space with warmer tones, but wanted to clarify for those of you wondering.
*They still carry the Mission Collection but it is a little different now! This is now an older version of it and the cushion style is different.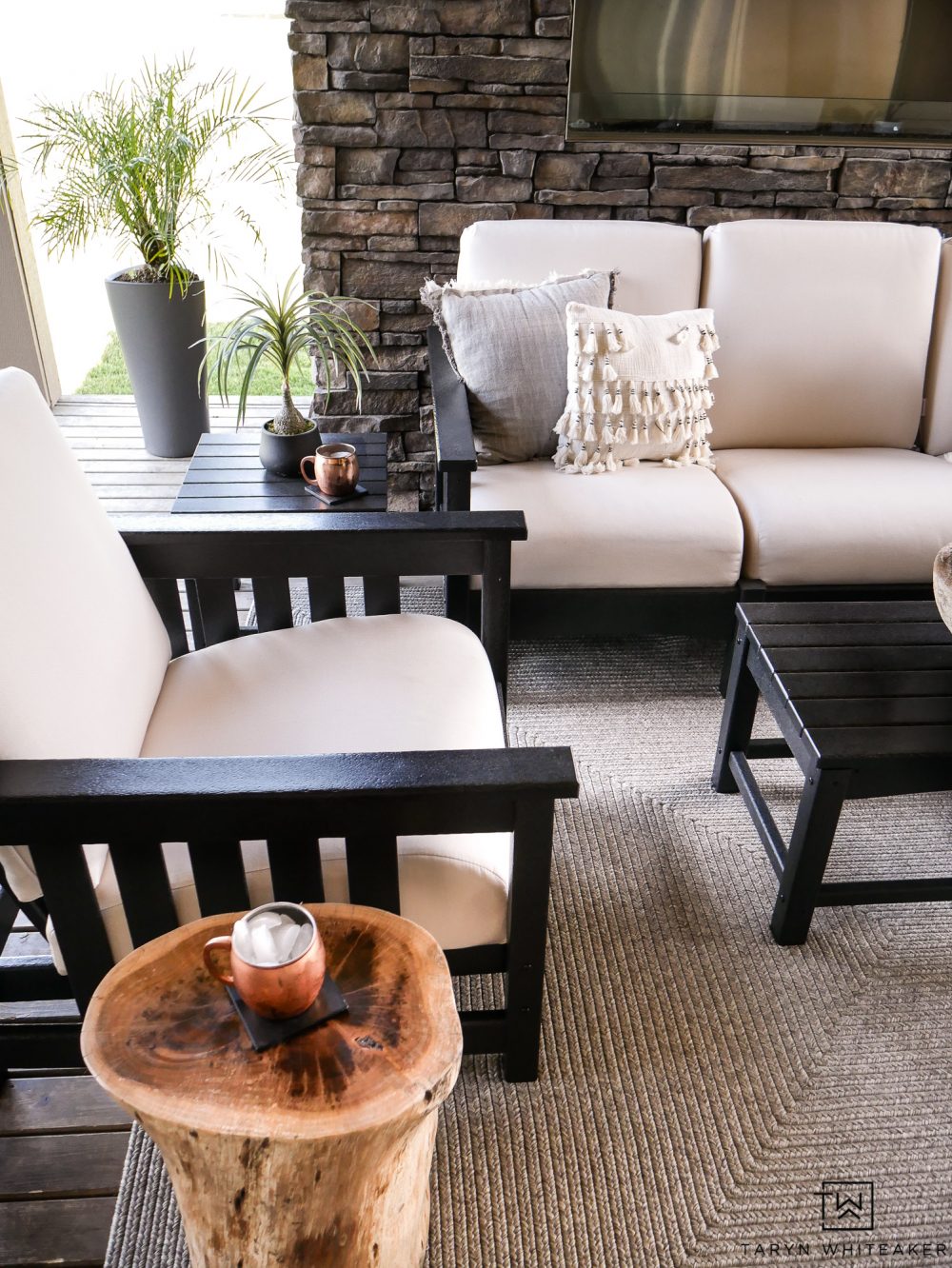 One of the things I love more about the POLYWOOD brand, is that it's eco-friendly and made from 90% recycled plastics. It's not actually wood but appears that way so it will never peel, splinter, chip, crack, or fade. This set is definitely on the pricer side but you are getting amazing high-end furniture. This stuff is HEAVY and sturdy and I'm not for one second worried about my kids on it! You can read more about their story here. The set comes with two of these end tables, they are great! With this much seating it's nice to have a place to set drinks and food. The ONLY thing I will warn you about this set is that you do have to assemble it and it does take a while. I did it all by myself, but I HIGHLY recommend making this a family building party :)
Decorating Your Outdoor Patio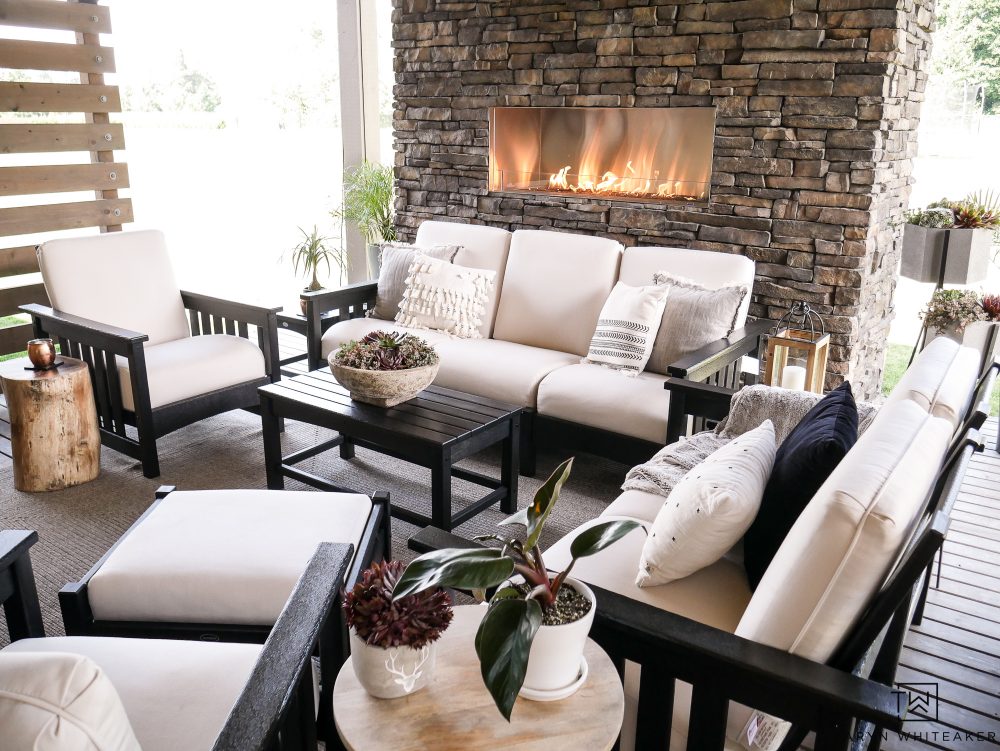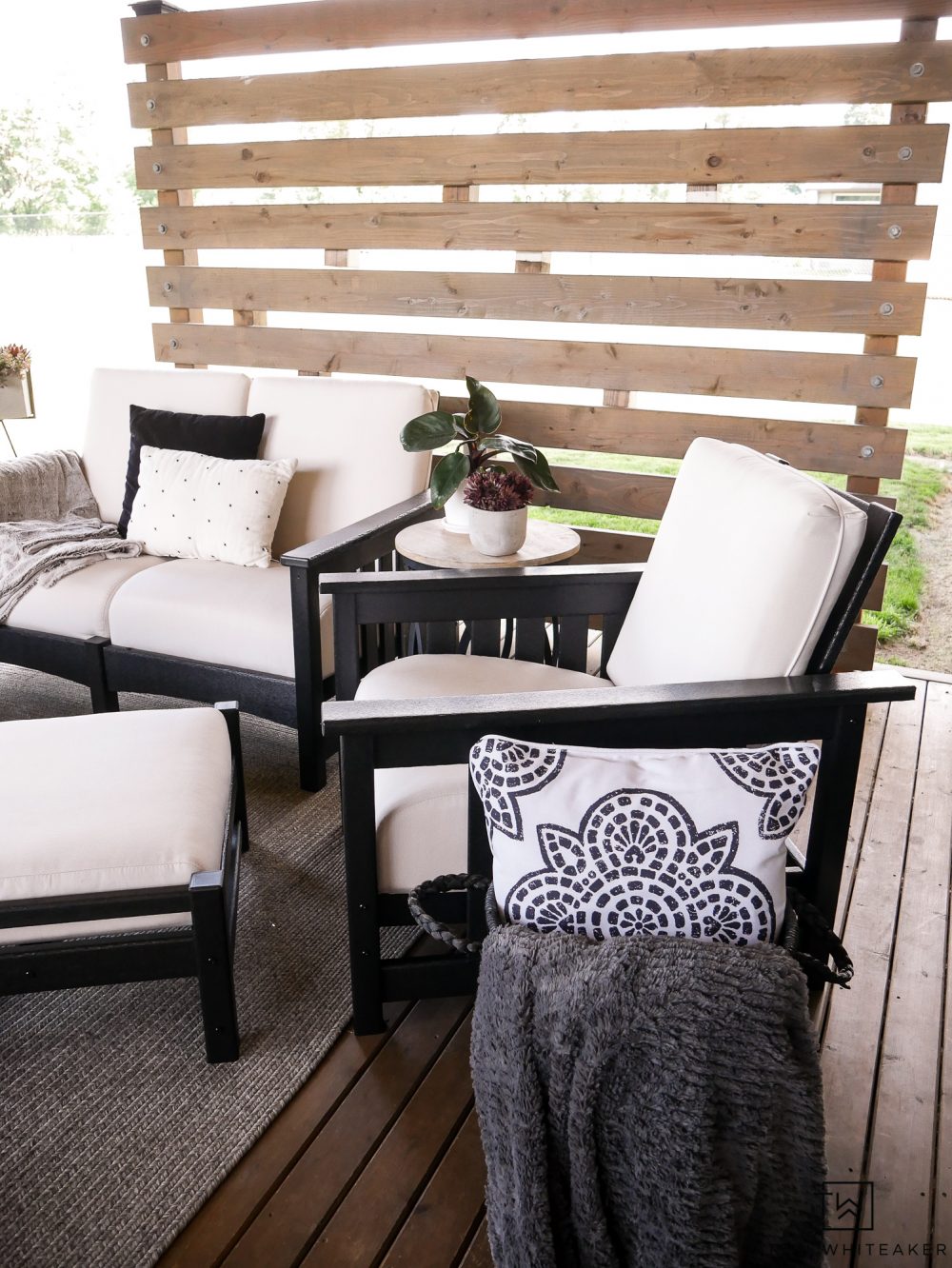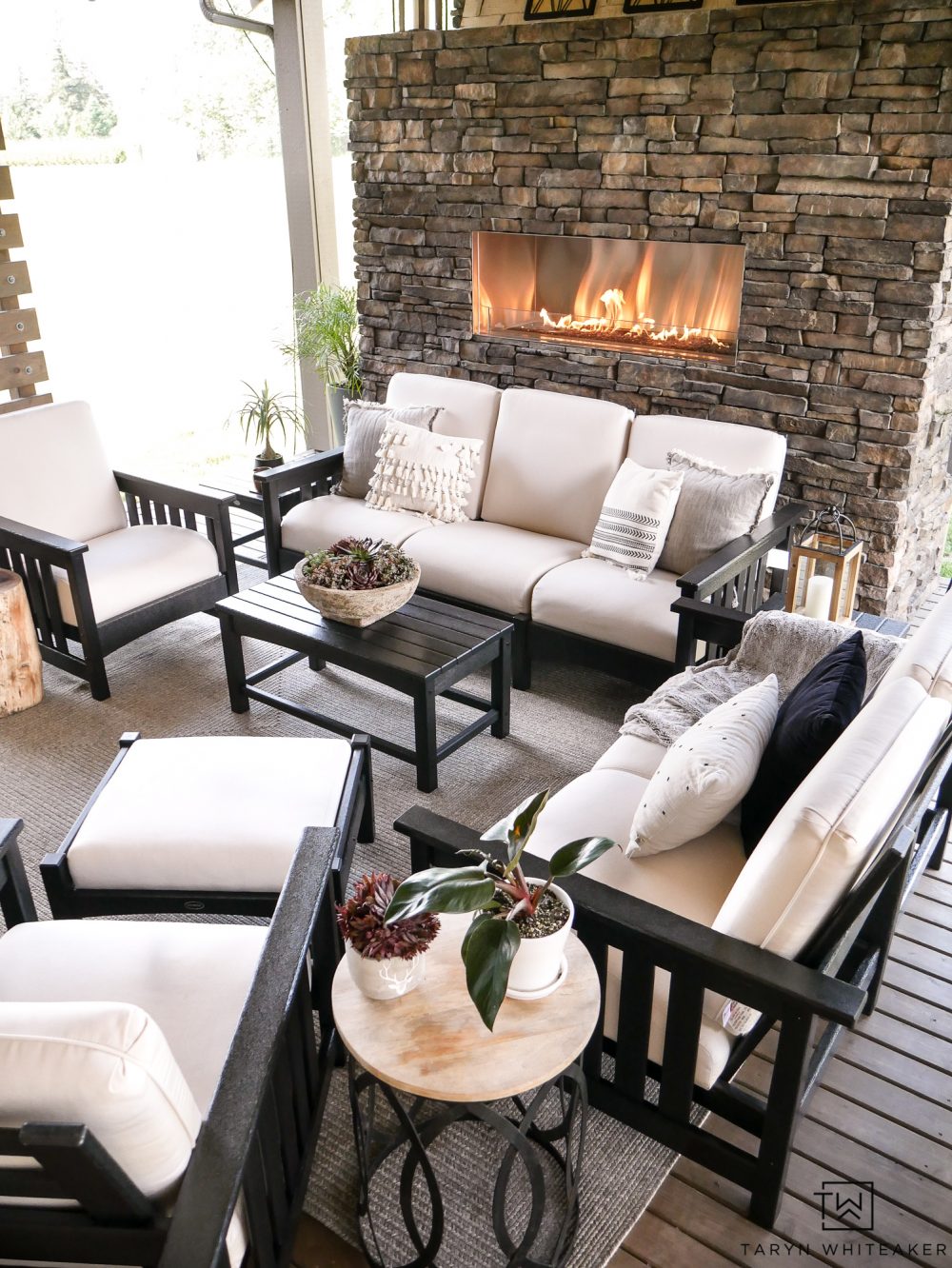 This view right here has been my view for the past week! I have officially claimed the corner chair with the ottoman as "mom's chair". Ha! But in all honesty, it's the best seat in the whole space. I can put my feet up, see the fire and watch the kids while they play outside. I accessorized the space using accessories from Hayneedle and lots of greenery!
I have wanted a stump coffee table for what seems like foreverrrr. I found this one that has gorgeous color tones ( and is actually on sale right now)! I love how this brings in the wood tones and adds that rustic touch that I always love to mix into my spaces.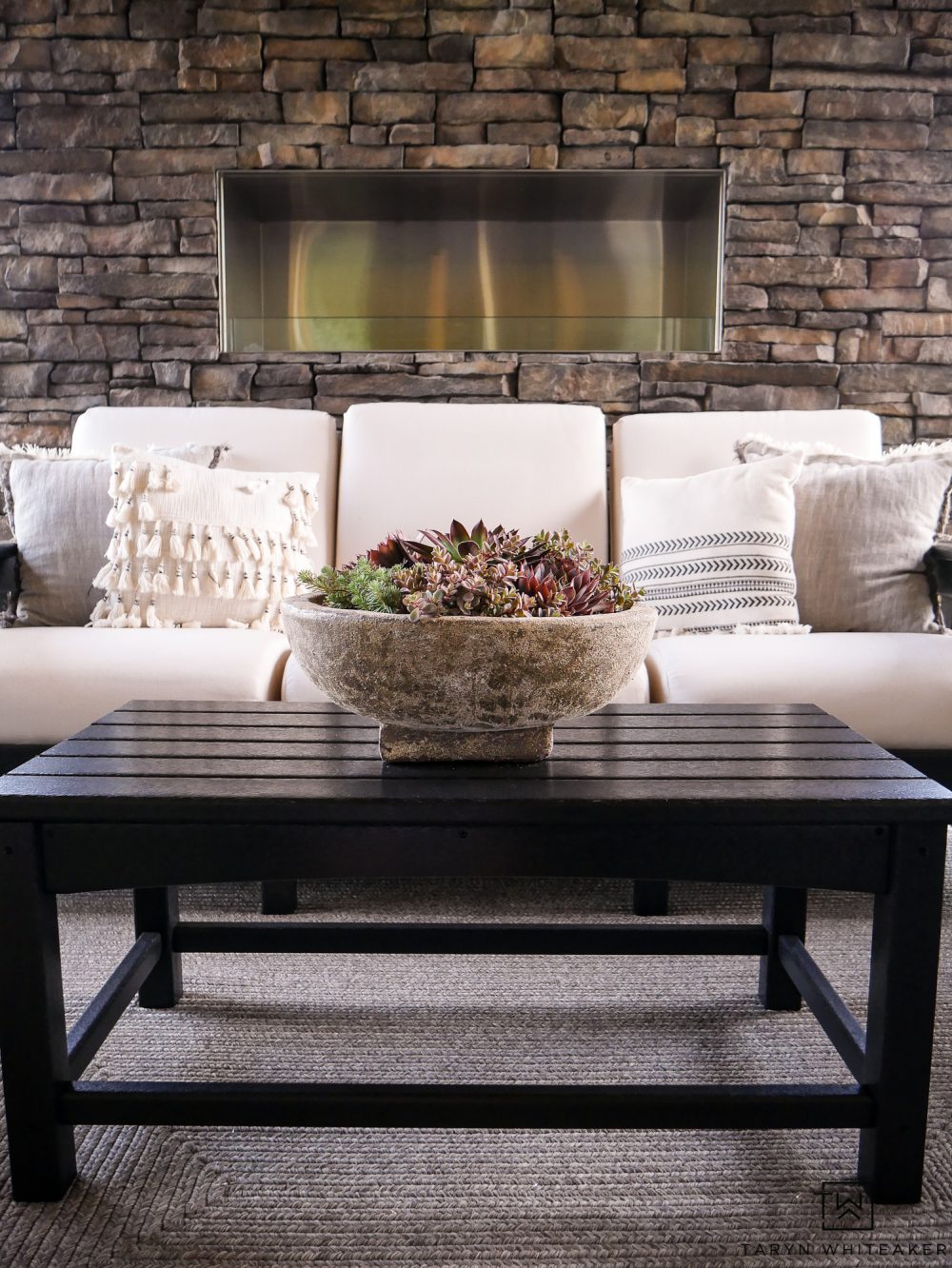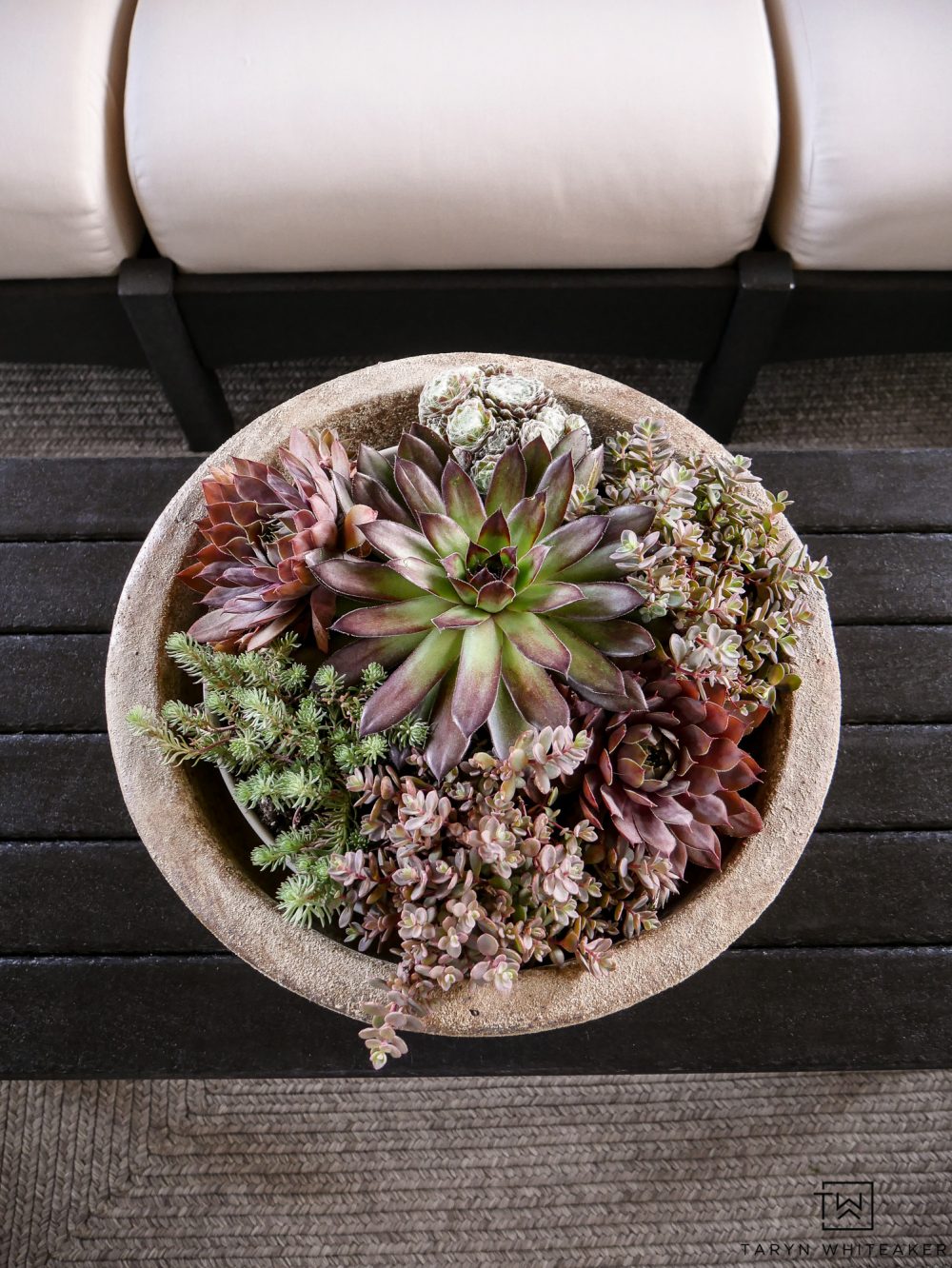 This bowl is another great find from Hayneedle. It is a very solid, heavy bowl and I filled it with a variety of succulents.
SHOP THIS SPACE

How We Enjoy Our Outdoor Patio Furniture
Since we set up our new POLYWOOD furniture, I can honestly say we have spent more time out here enjoying this space than we have in a long time! It's comfortable, fits our family (and then some!) and makes our outdoor living space cozier than ever.
I know we will be spending many more cozy nights out here to come!
SHOP THE POLYWOOD MISSION COLLECTION