It was right around this time last year that I started giving our outdoor fireplace area a little facelift and furnishing it for the very first time! A year later, and it has become one of my favorite spaces to decorate for the holidays! It's the perfect spot to add a little festive cheer. From the soft glow of twinkling lights to the simplicity of garland, let's explore ideas that bring a touch of Christmas and talk about my outdoor fireplace Christmas decor.
Outdoor Fireplace Christmas Decor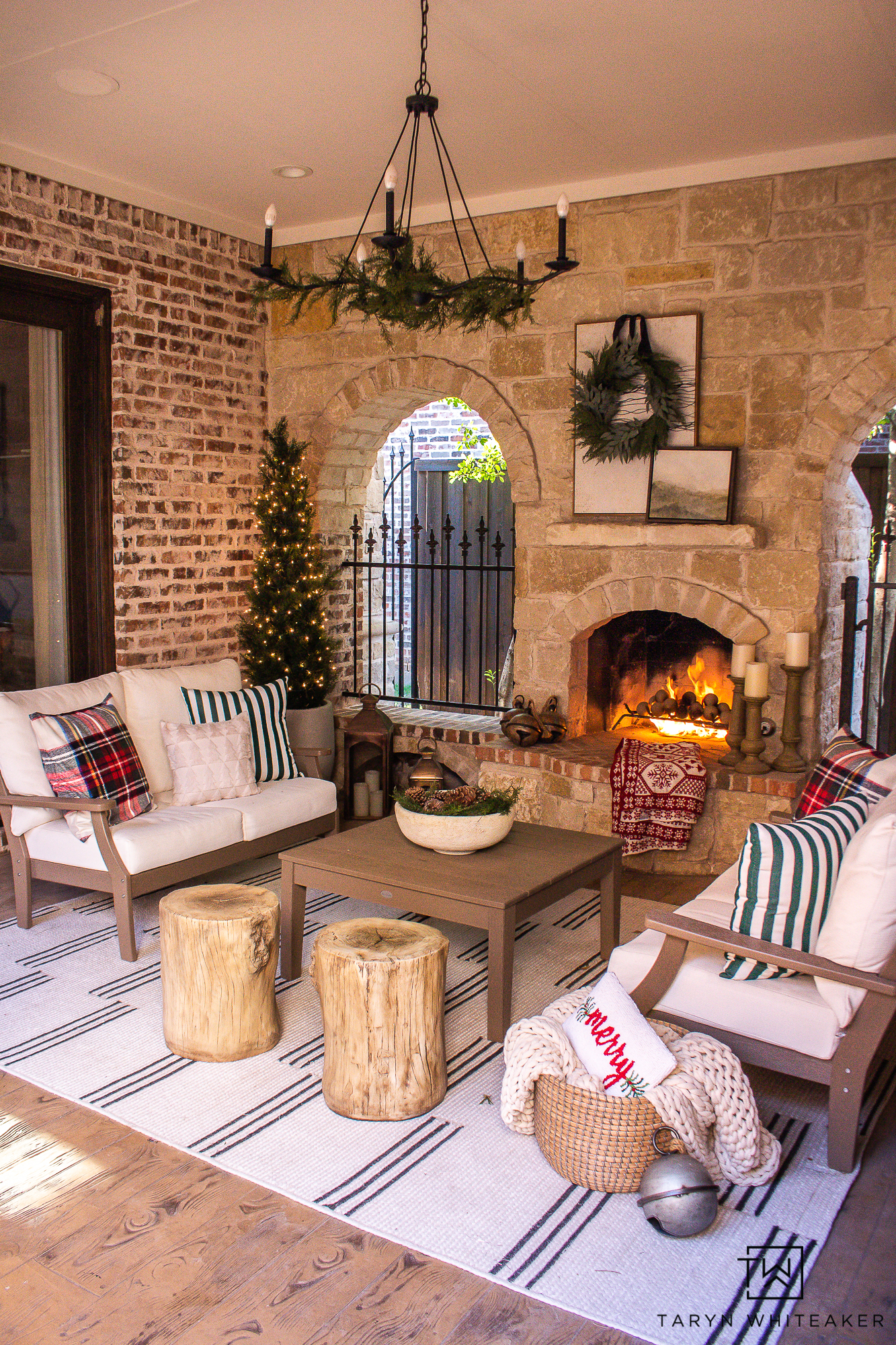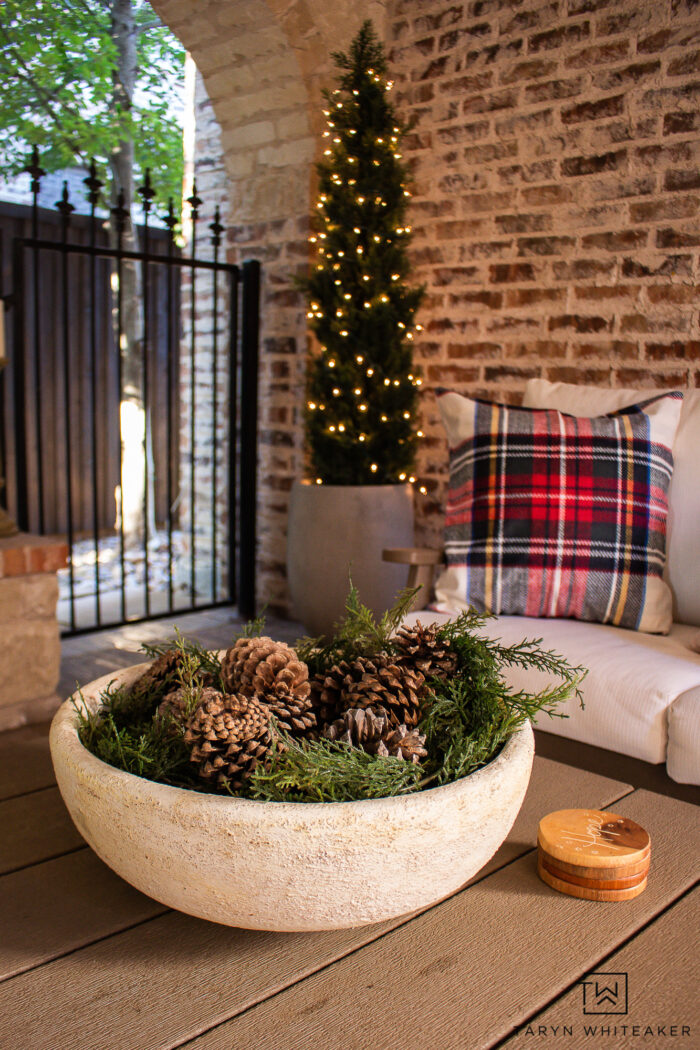 Center Bowl | Garland | Pine Cones | Similar Coasters | Coffee Table | Loveseat | Plaid Pillows | Striped Pillows | White Pillow | Merry Pillow | Area Rug | Wooden Stools | Oversized Bells | Pine Tree | Cement Pot | Woven Basket | Knit Blanket | Red Blanket | Wreath | Wall Art | Fireplace Lava Stones | Lanterns | Chandelier
Tips For Decorating Your Outdoor Space For The Holidays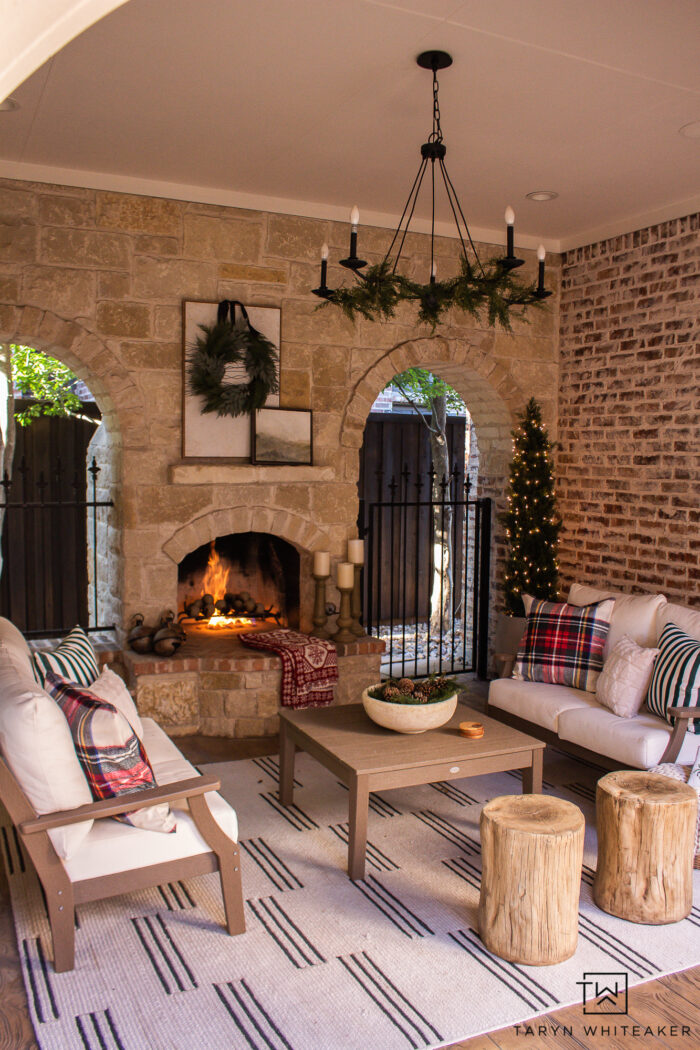 Creating a seamless look in your outdoor space can prove harder than you think. Mastering the art of mixing textures, playing with complimentary colors, and cherishing the importance of the small details are just a few things I think about when planning any space. I wanted to experiment with the contrast between soft, plush elements and rustic textures to create a visually engaging space. The soft neutral colors we see throughout the rug and pillows paired with the warm depth of different wood textures add depth and character to this cozy courtyard.
Center Bowl | Garland | Pine Cones | Similar Coasters | Coffee Table | Wreath | Wall Art | Fireplace Lava Stones | Red Blanket | Oversized Bells
Pay attention to the small details – a well-placed wreath, carefully chosen accents, and thoughtfully coordinated color scheme will make a significant impact on your room! It is the subtle nuances that breathe life into your holiday haven, turning your courtyard into a captivating retreat for festive family time or celebrations!

Embrace the joy of the season and let your outdoor space reflect the warmth and festivity that Christmas brings. Whether you opt for a more traditional style or want to dip your toes into a modern approach, make it uniquely yours. Wishing you a season filled with cozy moments, twinkling lights, and the simple pleasures of a simply adorned Outdoor Christmas Courtyard! Happy designing & decorating!
Crewneck | Leggings | Socks | UGG Slippers | Headband
Shop Outdoor Christmas Decor
Shop More Holiday Decor | Shop Christmas Courtyard | Shop Holiday Pillows
SEE THE PROCESS