We don't have many spaces to decorate for Christmas this year since we are still trying to just furnish our new house! But one space we ARE able to decorate is our formal living room that we started to style this year. It's the perfect space for our stockings to be hung and our tree. One festive room where we can gather and feel the magic of the season. Our house leans more traditional so leaned into the style and put together a very classic Christmas tree and mantel. Featuring golds, bronze, neutrals, cozy textures and pops of red.
Classic Christmas Tree and Mantel
It's been really fun playing around with a differently decorating style while also working in my modern touches. I am excited to see how this room looks next year! How will it change? How will the style evolve in this home? I like to think of this year as my starting point in this house. Is it exactly how I want it, no. But it's a fresh start and the first Christmas in our new home, which makes it so special.
Elegant Neutral Christmas Tree Decor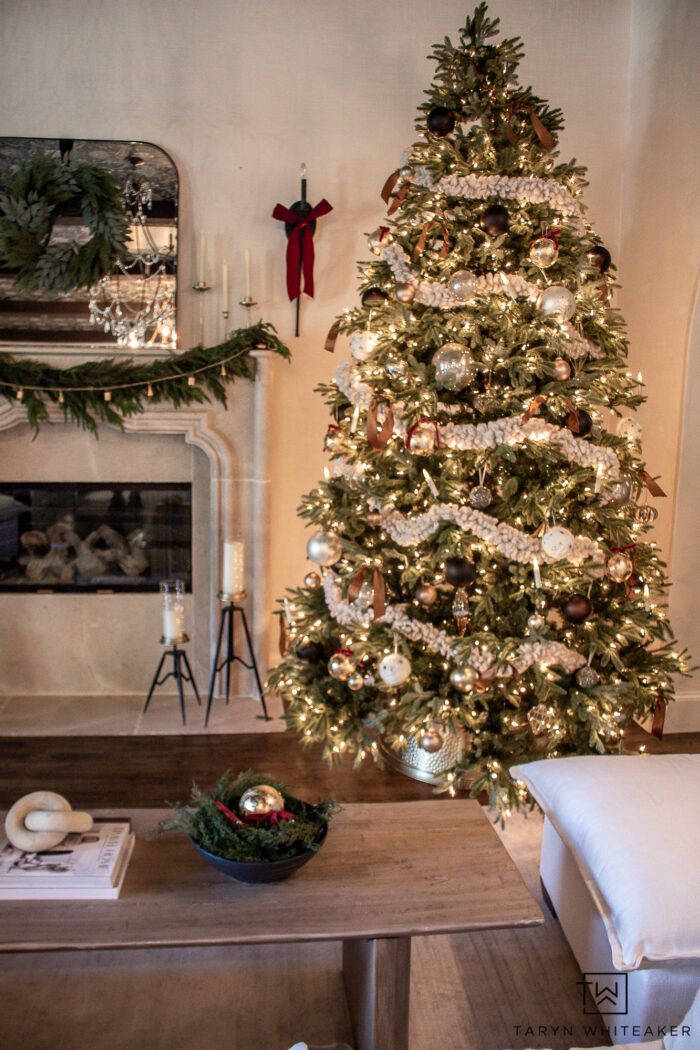 This is the first year we don't have a real tree as our main Christmas tree. I've had this 7.5′ artificial fraser fir for years, it's one of my favorites. I would typically put it up in our bedroom as our previous home. But this year we are using it as our main tree. It's the most realistic tree that I've owned and the quality is amazing.
I went with a combination of champagne, antique gold, bronze and some cozy cream ornaments. I always use a mixture of textures and sizes to bring your eye around the tree. A lot of the ornaments on our tree I've collected over the years. I love adding new fun finds each season. So I don't have links to most of them.
I DID DIY the gold leaf balls though, so I'll be sharing that tutorial here on the blog soon. Or you an see the IG Reel video here.
Classic Christmas Decor
I love this wood coffee table we got for this room! It was the perfect size for this space. I added just a few Christmas accessories to keep it simple and festive.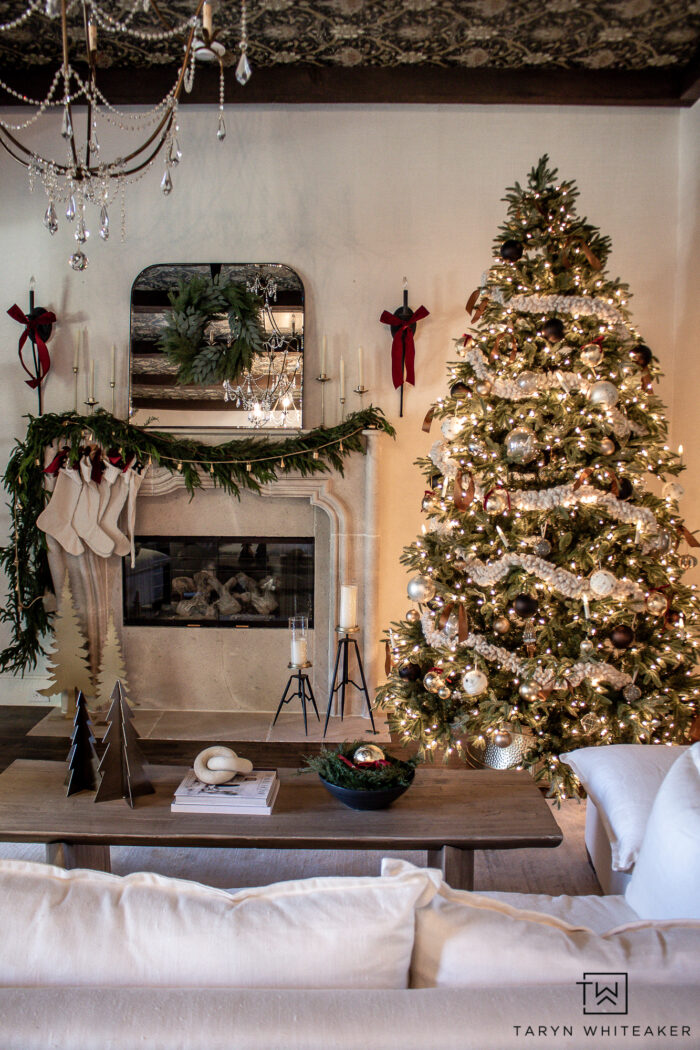 You can shop all the items here, or through the links at the end of the post.

Shop My Christmas Decor