What a whirlwind project this was! Just last week, I was sharing my design plans for our outdoor fireplace area and here we are with a full reveal. I hate to use the word reveal or final, especially with this house, because I know there will be many variations in the next year or so. So let's just call this phase 1 of this makeover project. This space was already so charming, it really only took a few small changes and some new furniture and decor to make this modern European outdoor fireplace seating area the cozy space we dreamed of.
Fair warning ahead for picture overload. I even narrowed them down quite a bit but I just had so much fun shooting this space I couldn't help myself.
Modern European Outdoor Fireplace Seating Area
My goal for this house has always been to keep the original charm and character and very carefully work in a more modern, transitional design. I want to give it a fresh more updated look, while also maintaining the gorgeous architecture.
BEFORE Space
Here is what the space looked like before. I love the stone and the brick and the stamped concrete floors. But the beige ceiling and the chandelier were weighing down this space. They were making it look a little too dark and heavy.
Outdoor Fireplace Decor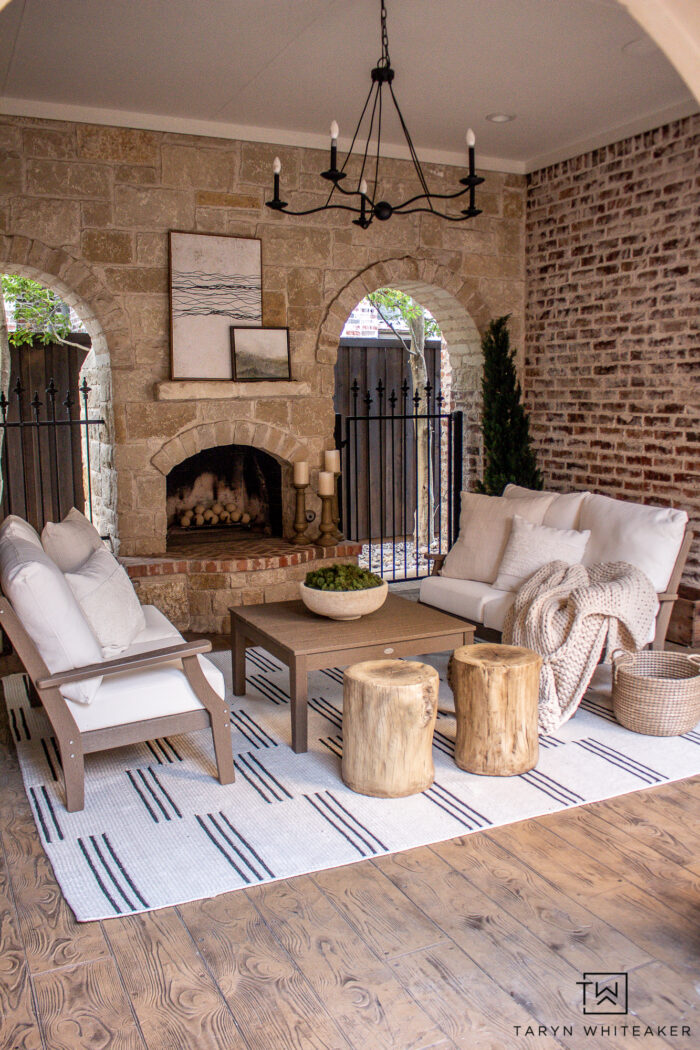 First things first, I painted the ceiling "Creamy" by Sherwin Williams and updated the chandelier to the Sawyer 40″ Forged Black from Lamps Plus. The lines of the light fixture still read colonial while the whimsical shape make it airy and more modern.
This space is right off of our courtyard between the main casita and the kitchen entrance of the house. It's the space that guests will hang out for coffee or we will enjoy in the winter months with the cooler temperatures. I wanted it to be cozy yet elegant, charming yet practical.
Choosing Outdoor Furniture
Unlike our previous backyard furniture AND our new backyard furniture, I actually went with a lighter tone for out here. I am almost always drawn to high contrast black and white outdoor furniture. But in this case, I wanted to keep it more tranquil, a little softer against the stone.
I went with my trusted POLYWOOD furniture for out here. They are the only out door furniture brand I have used for the past 5 or so years. They come with a 20 year warranty and are made to withstand all weather. The furniture is made from recycled plastics and
Since the backs of the sofas will be open on both sides, I picked a styled that had beautiful detailing and were a little more design oriented. These are the Braxton Deep Seat Loveseat in Vintage Sahara finish with the natural linen cushions.
The coffee table is the Newport 36″ square in the Vintage Sahara finish . It's the perfect size for between the two love seats. If you go with a larger sofa, I would do a larger coffee table or put two of these together.
Transitional Outdoor Decor
Picking the outdoor furniture for here was the most important part, but choosing the accessories and final styling pieces can change the entire look. I was deciding between two different styles out here (see them both here), I think both would have looked great but I ultimately went with the black and white outdoor rug and these concrete "wood" stools.
In all honesty, I ordered the other rug option and striped ottomans, but they kept getting delayed and delayed again with no true delivery in sight. So I ultimately went with what arrived on time. And I do love it! But who knows what the future holds. I can always do a little switcheroo if I want.
These stools are seriously so awesome. They are specifically made for outdoors, they are sturdy and heavy and I think they look fantastic in person. You could easily use them as end tables as well!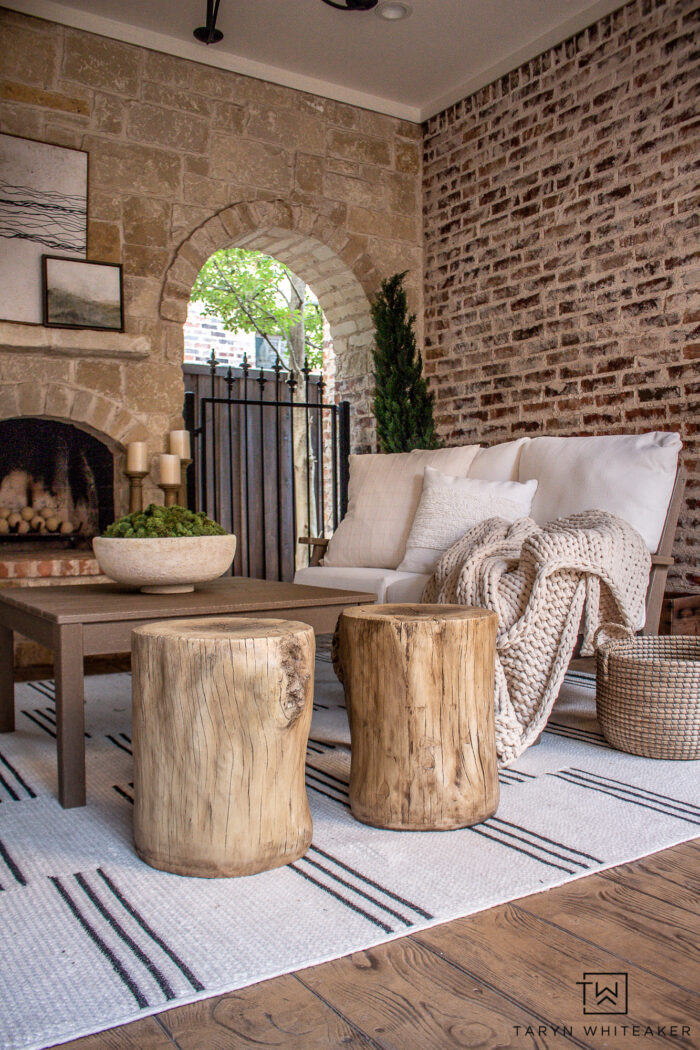 To finish off the space, I also added two neutral throw pillows. These oversized linen window pane pillows and these small white textured pillows. This white ceramic bowl is also a new find from Pottery Barn, totally worth the splurge because it's perfect. I filled it with this super soft decorative moss.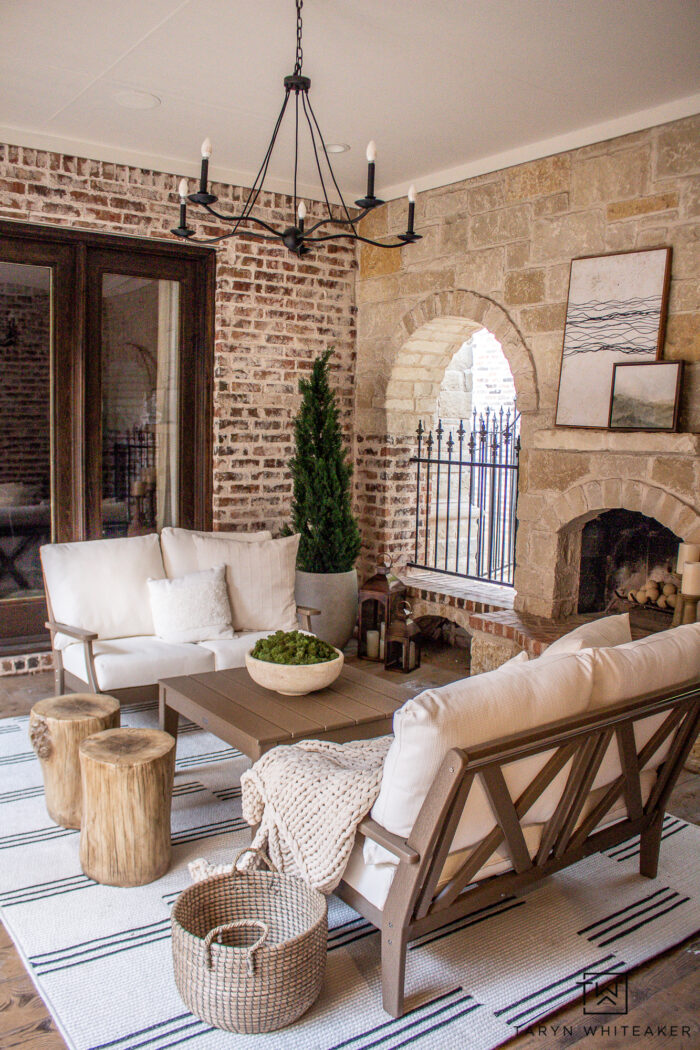 I am incredibly happy with how this turned out. It's exactly what we wanted for out here. But I am also not quite done out here yet! I plan on adding a new ceiling out here to give it a more elevated look. I am trying to decide between beams, a coffered ceiling or planking it.
Cozy Nights by The Outdoor Fireplace
I've already chatting your ear off with details! So here are some final pics of how this space looks at night in the evening hours. When we typically use it the most! I won't lie, I stayed out here for quite a few hours the night I finished it. Cuddled in a blanket with the fire on. And yes, it does get cold here in Texas!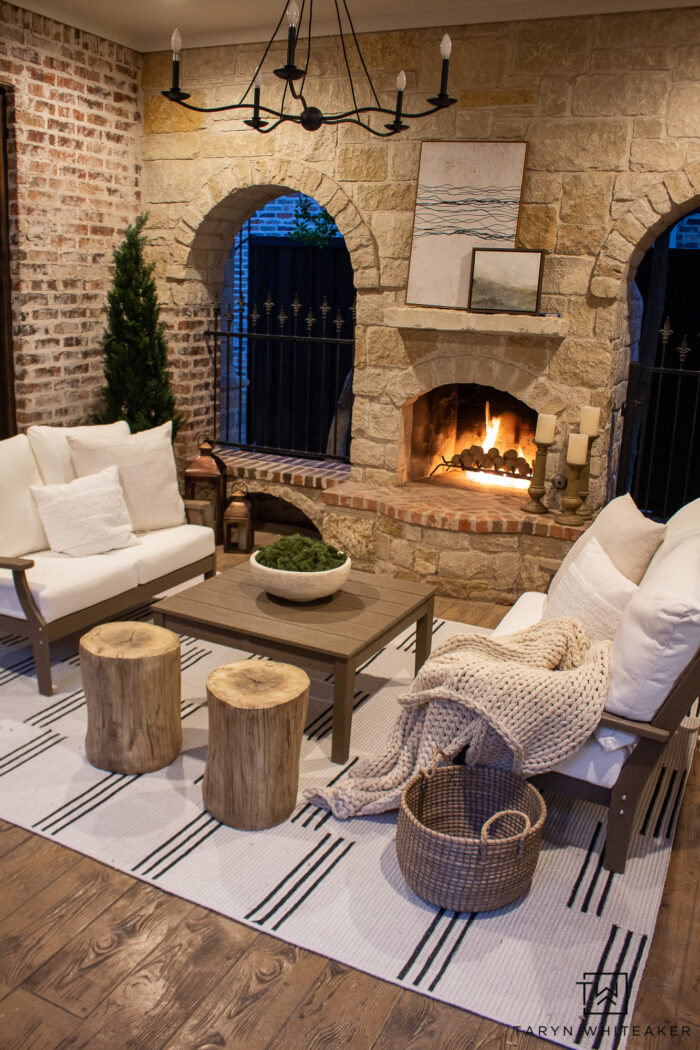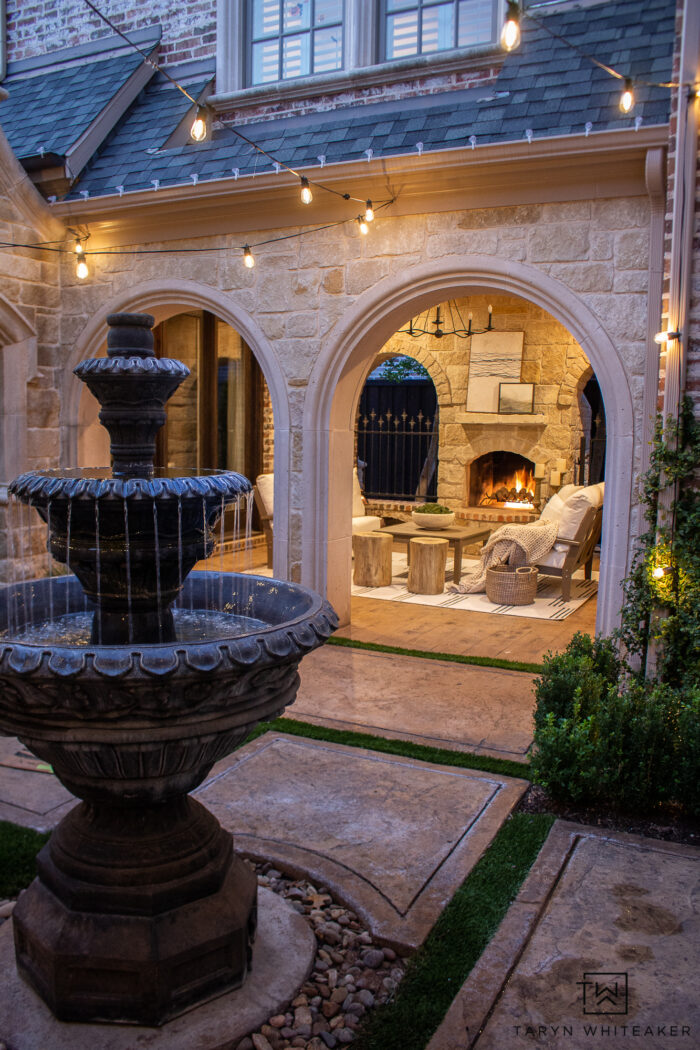 Watch The Process
SHOP THIS OUTDOOR SEATING AREA SPACE