Disclosure: This post is sponsored by POLYWOOD. All opinions are 100% my own.
It's taken a whole year to get this space put together but you know what, it's been worth it! SO much work has gone into this backyard over the past year and we are SO close to having the whole design done. Then we'll work on some smaller projects down the road. One area I haven't talked about in too much detail is our modern outdoor dining space I put together with the help of POLYWOOD. You've already seen me talk about our outdoor sectional and my fav chaise lounges, now it's time to talk about our massive 12 person table that made all our entertaining dreams come true!
Modern Outdoor Dining Space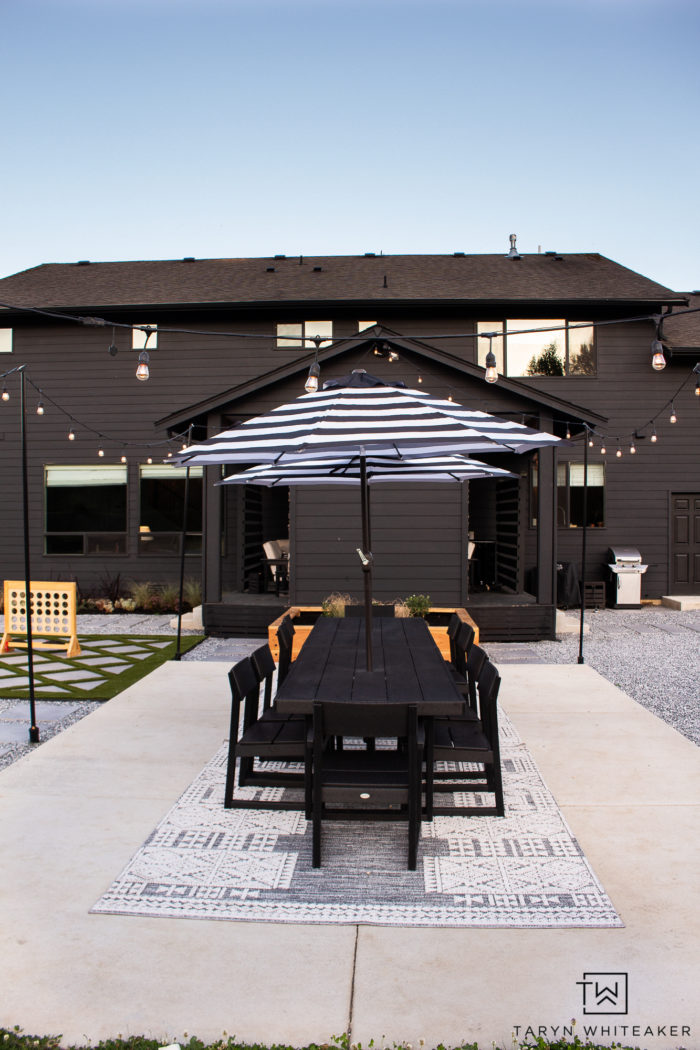 For the past six years, we didn't have an outdoor table in our backyard. In fact, we had nowhere to eat or relax. It was such a pain point for me. We had this huge yard and no where to eat outside. This table and this space has been such a dream come true for us. I now come out here to eat at least once a day if not twice! We have already used this space SO much this summer and I can't wait to continue to use it through the fall.
12 Person Outdoor Table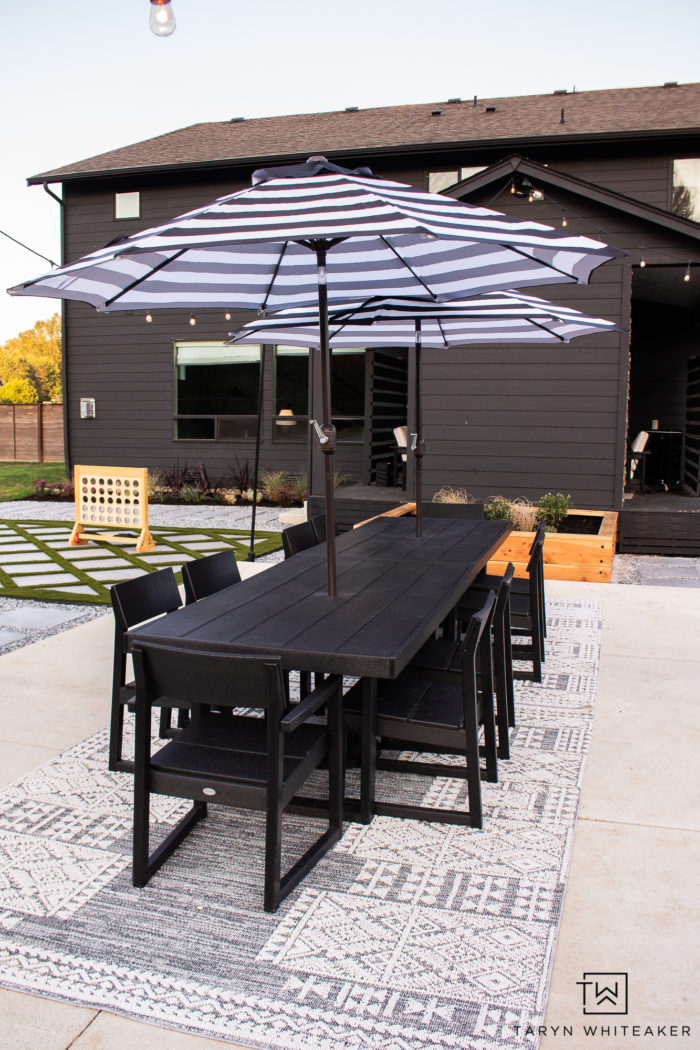 Years ago when we discussed our dream list for our backyard, my absolute must-have was a 12 to 14 person table that would fit our family and friends. It was a go big or go home moment for us. When I discovered the EDGE 7-Piece Dining Set, I knew this was the perfect solution for our space. I got two dining sets, and the clean lines made it easy to set two tables end-to-end  giving the look of one large table.
That far right corner that you can barely see against the house is the very last space we have to complete, and then we'll finally have the entire backyard design done! We have something VERY exciting going in that will truly finish off the backyard and make our outdoor dining experience even better. Can you guess what it is?
Polywood EDGE Collection Dining Table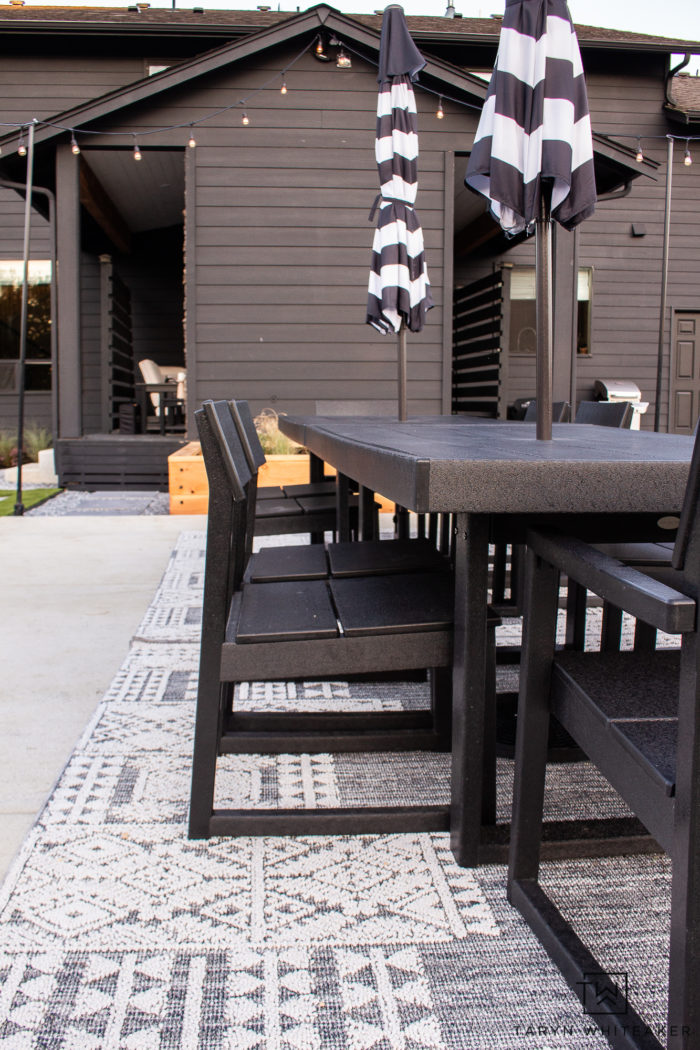 I went with the POLYWOOD EDGE Collection tables and chairs because of the modern lines, the ability to get it in black, and the durable material. With how much rain we get in Seattle, I wanted a table that we could leave out year-round and not have to worry about refinishing it every few years. I needed high quality and low maintenance. POLYWOOD checks both of those boxes.
Black Modern Outdoor Dining Table and Chairs
The dining sets we purchased each include two EDGE Dining Arm Chairs  that have arms, four EDGE Dining Side Chairs, and one EDGE 39″ x 78″ Dining Table. When I put the tables together, I ended up with two extra arm chairs that don't quite fit all the way under the table because of the arm rests. So I have those styled next to our outdoor fire pit for everyday use and we bring them over to the table when we need them.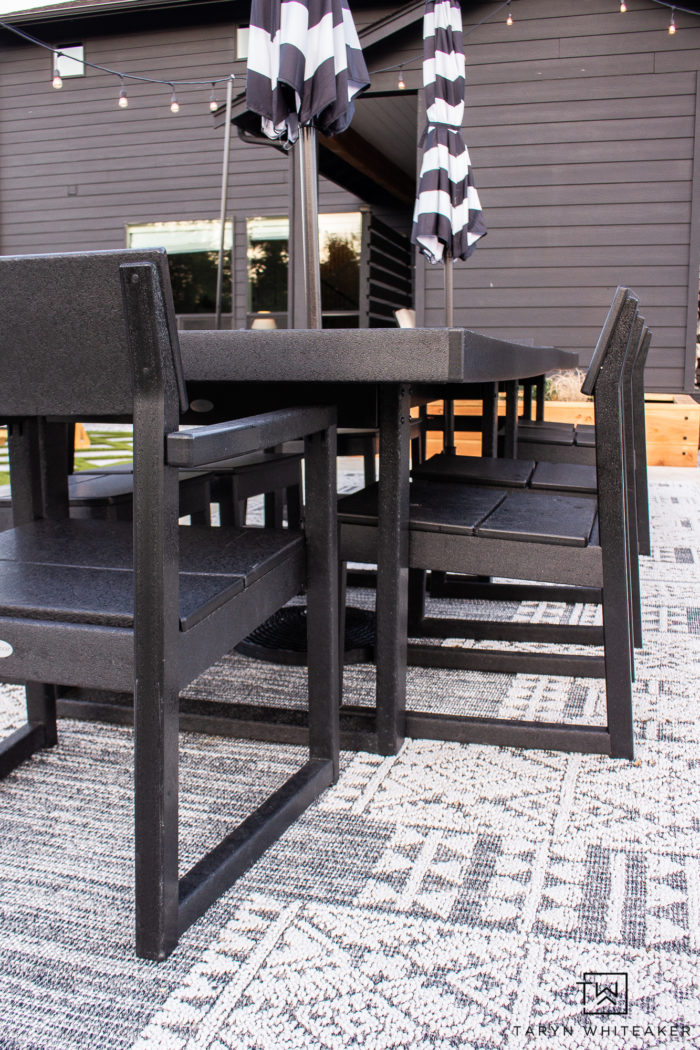 We have been extremely happy with this table so far. It's heavy, sturdy, and easy to clean.
One of the most common questions I get about this table is about the dark color and if it gets too hot in the sun. NO,it does not. It gets warmer for sure but it is never too hot to sit down — even when it was 104 degrees out this summer. I even asked my husband and young kids for their input and they all agreed that it never bothers them.
I can't recommend POLYWOOD enough. We love their outdoor furniture and will continue to turn to them in the future.
Click here to start browsing for your next outdoor piece!
You May Also Like:
Black and White Modern Chaise Lounges