Disclosure: This post is in partnership with POLYWOOD. All opinions are 100% my own!
Time for another backyard update! I've shared a lot of peeks into our backyard project renovation from out outdoor fire pit, turf project and DIY String Lights, and even more on Instagram! I have a lot more posts coming up this month, but today I want to dive deeper into our backyard lounging area. When designing our backyard, I knew I wanted a place for a few chaise lounges so we can relax (I'm realizing now this whole relaxing thing was a lofty goal!). Even though I haven't used them as much as I'd like this summer, I love having this space. Maybe next year when I'm actually done with projects, I'll be able to enjoy it a little more ;).
Backyard Lounging Area
When picking out furniture for this space, I turned to my friends at POLYWOOD, who make the best outdoor furniture. They have been my go-to for all of our outdoor furniture. Their products are all made using recycled plastics and are made to withstand all weather climates. This is a big factor for us in the Pacific Northwest. Hello rain!
POLYWOOD Black and White Outdoor Chaises
I chose the Coastal Chaise With Wheels in the metallic color with a black base. The sling material is incredibly comfortable to lay on and is very ergonomic. The adjustable back makes them perfect for sitting up and chatting with friends, reading a book or laying all the way down for an afternoon snooze.
The wheels are a great feature, making them easy to move around the backyard without having to pick them up and awkwardly carry them around!
As much as I love laying out in the sun, shade is just as important! I added the 9′ Tilt Market Umbrella and Base. I really like the material of the umbrella. Be cautious of any wind with this umbrella, I had it up and had one very small gust of wind come through and it picked up the umbrella and base and moved it about 10 ft.
Future Plans For This Space
This area of our backyard is definitely a work in progress. I ended up having the pad poured a little larger than the original design plans, and now I feel like the chaises look a little small out here. But for now, this works! Our plan is to add a hot tub to this corner soon and move around some of the seating. I have a feeling these chaises will end up on our turf area soon!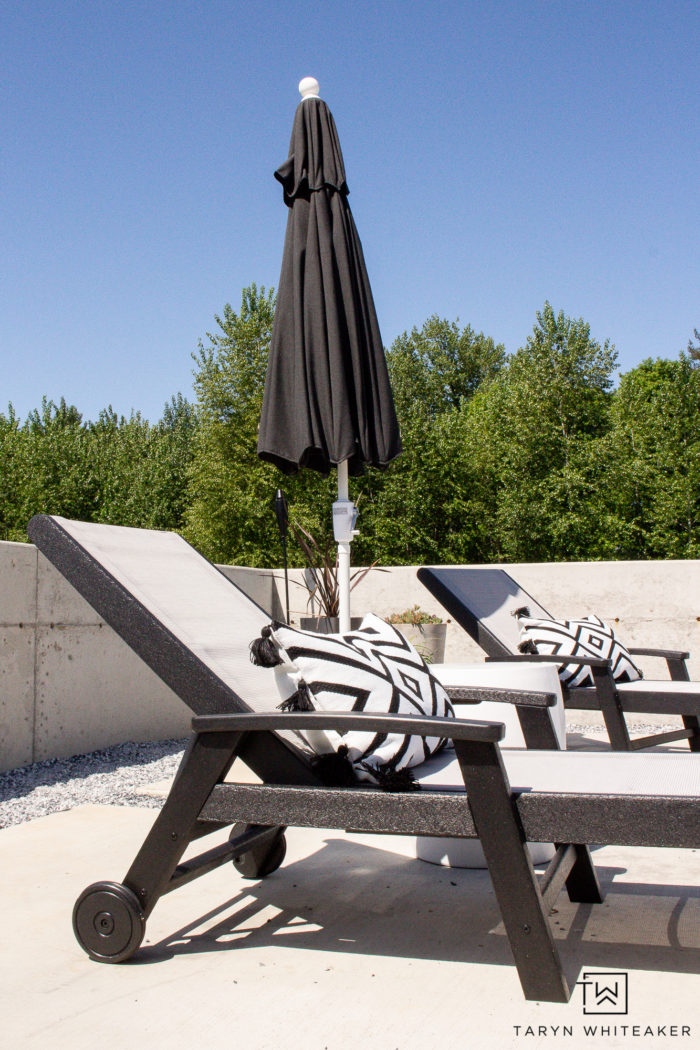 Click here to check out the chaise lounges!