We have lived in Dallas for just about a year and it's finally time for a full tour of our backyard. Our backyard was one of the last huge projects we finished at our Washington home and since we never had a chance to fully enjoy it or use it to it's full potential, I knew I wanted our backyard to be one of our first projects in this house. Especially since we are outside almost year round now and entertain a lot. This time, we didn't design our backyard or make any structural changes, we simply styled and decorated the space we already had to work with. We freshened it up and made it into the modern english country backyard that we love so much.
Modern English Country Backyard
When looking for a house in Texas, we promised the kids we would chose a house with a pool! The downside of that is I wouldn't be able to design my own pool and you may be surprised to hear that I am a little picky about design :) We found that the majority of homes we were looking at had more lagoon style pools, which wouldn't be my first choice. When I saw this pool I fell in love with the unique shape, modern but has character, and I LOVED the walkway between the pool and the hot tub.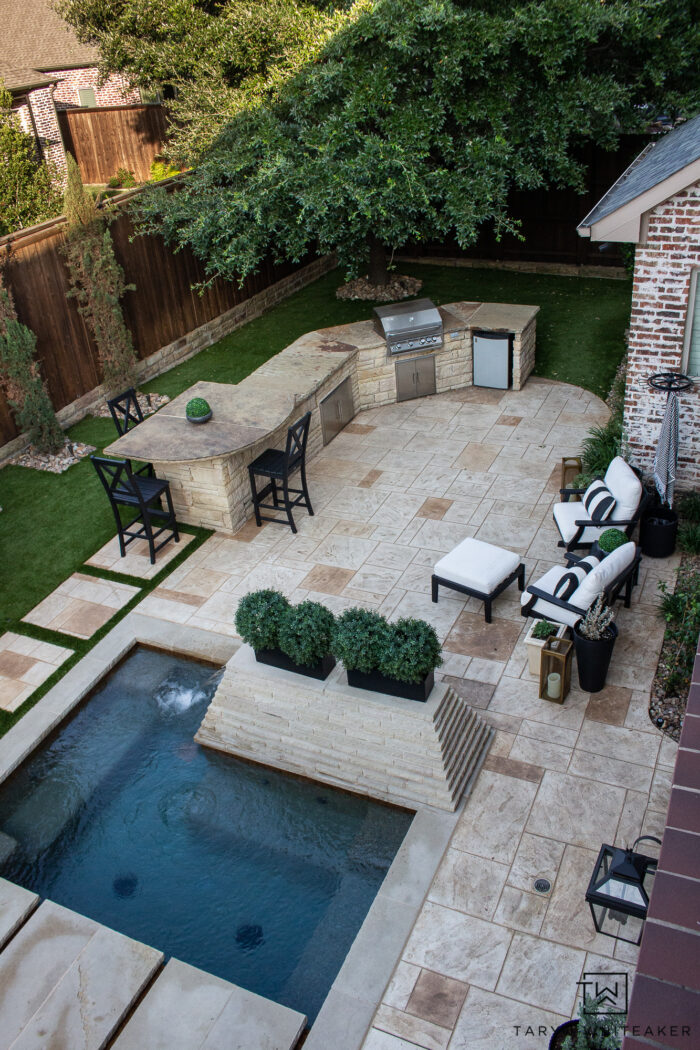 Off to the right is our outdoor kitchen and more space for lounging and conversation sets. We have a much smaller backyard than we did in Washington, but it has everything we need! We have all the essentials, dining area, pool, hot tub, outdoor kitchen, and a little space off the side for the kids to play ball and catch.
We truly do spend almost year round out here. We ate outside until November, we go in the hot tub all winter and heat the pool on special occasions. I'm so glad we made it a priority to finish up our backyard and make it feel like 'us'. There are definitely things I can see us doing in the future, I'm still torn on the pyramids. But for now, I love this charming space.
Backyard Before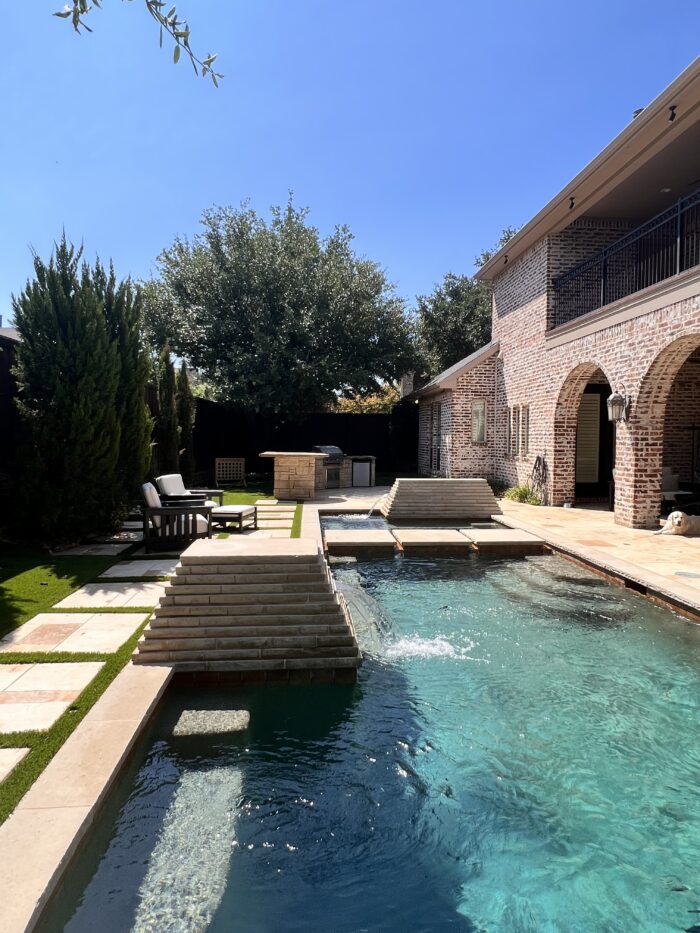 Here is how the backyard looked right when we moved in. My only complaint is that there is just SO much brick and beige and my goal was to bring in more contrast with black and white furniture and more warmth with lush greenery. I also started painting the trim a darker shade to bring in more dimension to the exterior. I hope to have the full trim painted soon!
Backyard Tour
When we purchased the house, we asked the previous owners if we could keep the tree swing. I love it so much. It's the perfect spot under the tree and looking out at the backyard. I remember the very first morning we woke up in this house I came out here with a cup of coffee and sat in this swing by myself. It was such a memorable feeling waking up here for the first time, taking everything in, envisioning our life here, and now it's been a whole year.
Outdoor Conversation Area
When picking out furniture for this space, I was focused on create spaces where people can gather, have conversations, or simply kick up their feet and enjoy a good book.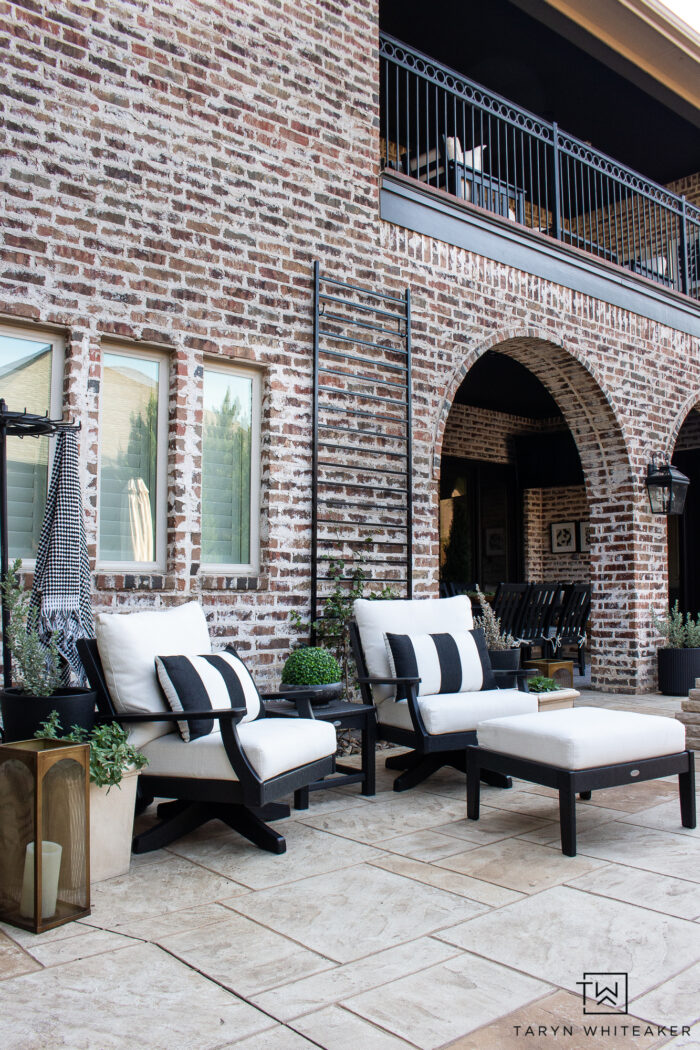 I added the Braxton Swivel chairs with an ottoman. I love the back design on them. I added planters along each side with drought tolerant plants : )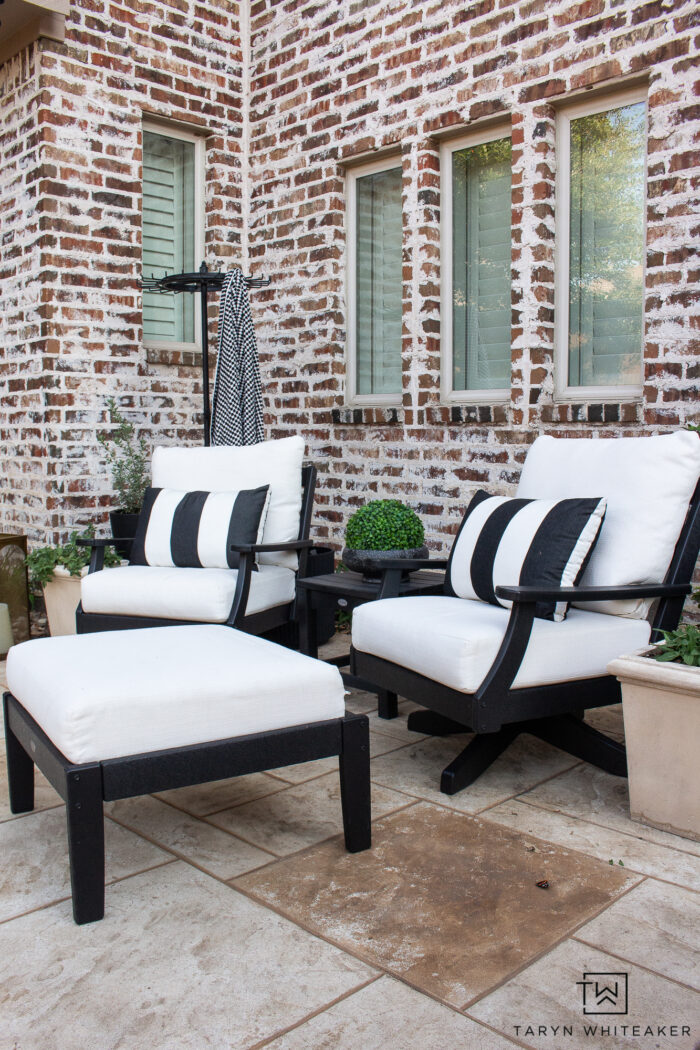 For a pop of pattern, you can never go wrong with classic black and white cabana striped pillows.
Outdoor Kitchen Area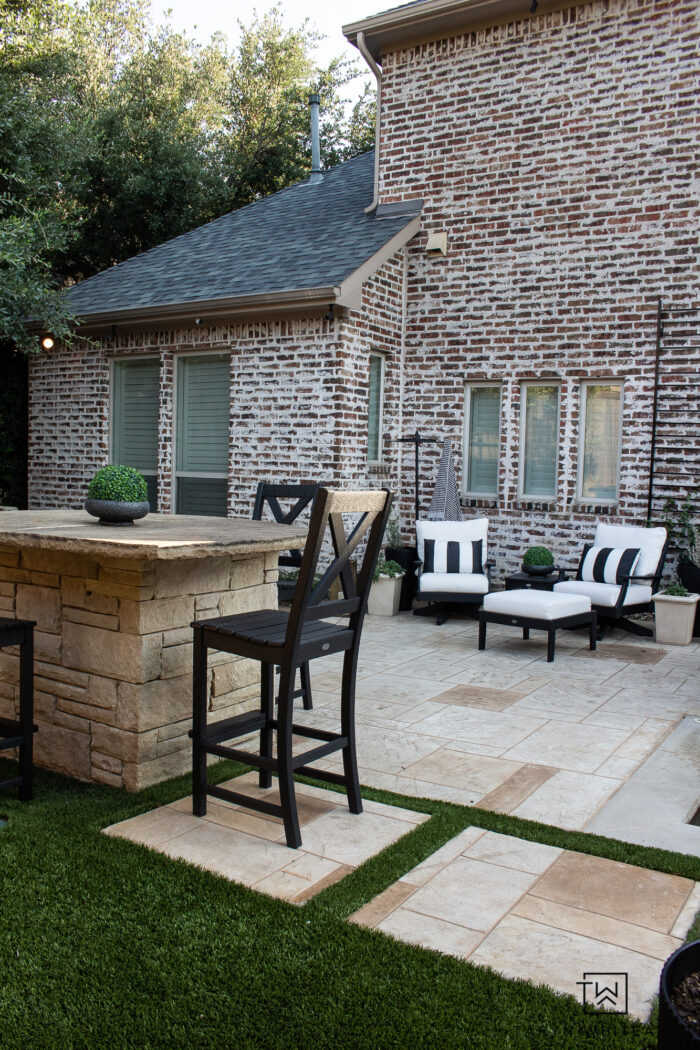 Our outdoor kitchen area was already here when we moved in. There are a few things I'd like to change and update in years to come but it's a great space to have for entertaining. Surprisingly, we have found that we use this tall bar table a lot more than our outdoor dining table, especially when we are in the pool. I have the Braxton Outdoor Bar Stools out here, in fact I ordered two more so we could sit out here as a family of five. That's how much I love this extra seating area.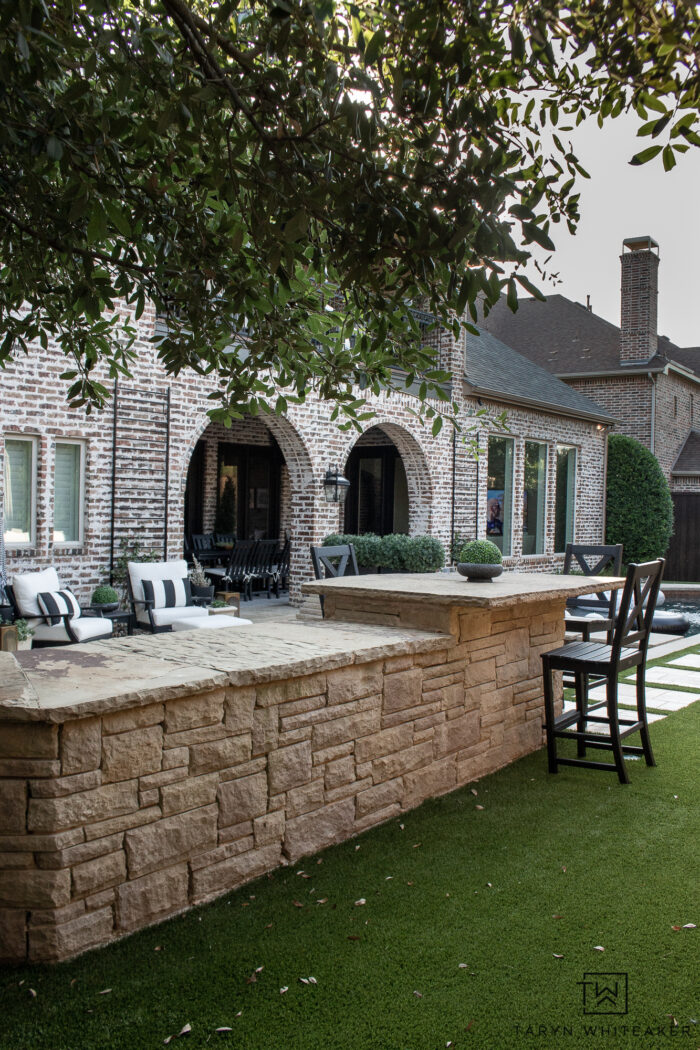 The stone countertop needs to be replaced down the road since it's starting to chip quite a bit, we also have plans to cut a space out to put a green egg smoker in.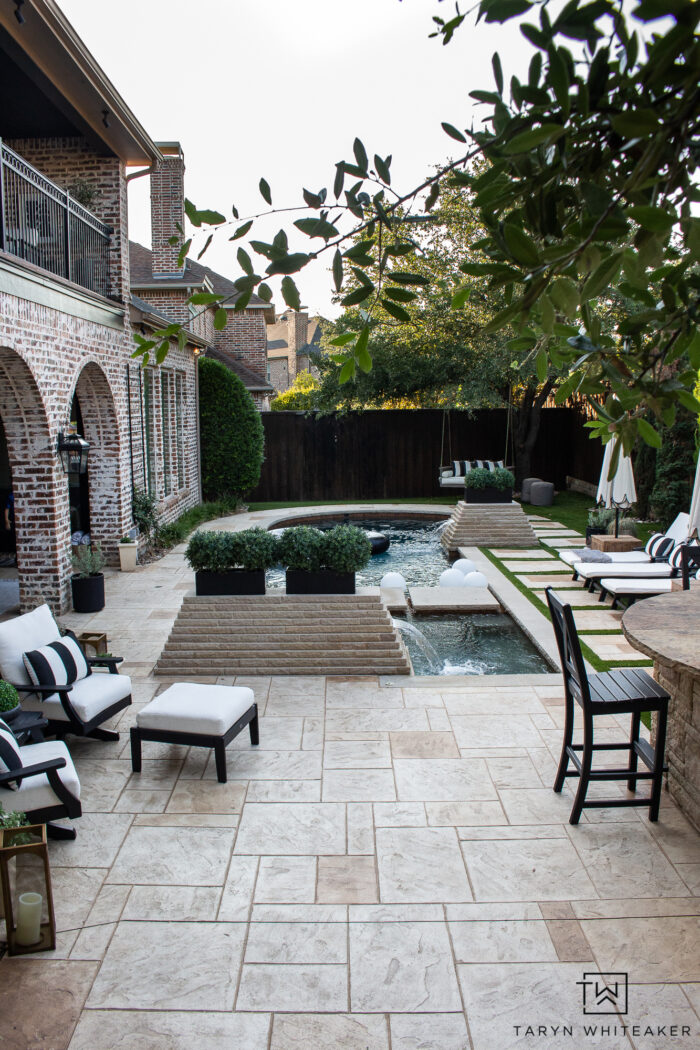 Here you can see a full view of how all of the seating areas work together. From the swivel chairs, bar stools around the outdoor table, chaise lounges, outdoor swing, and then the covered outdoor dining table off to the left and upper balcony.
Backyard Chaise Area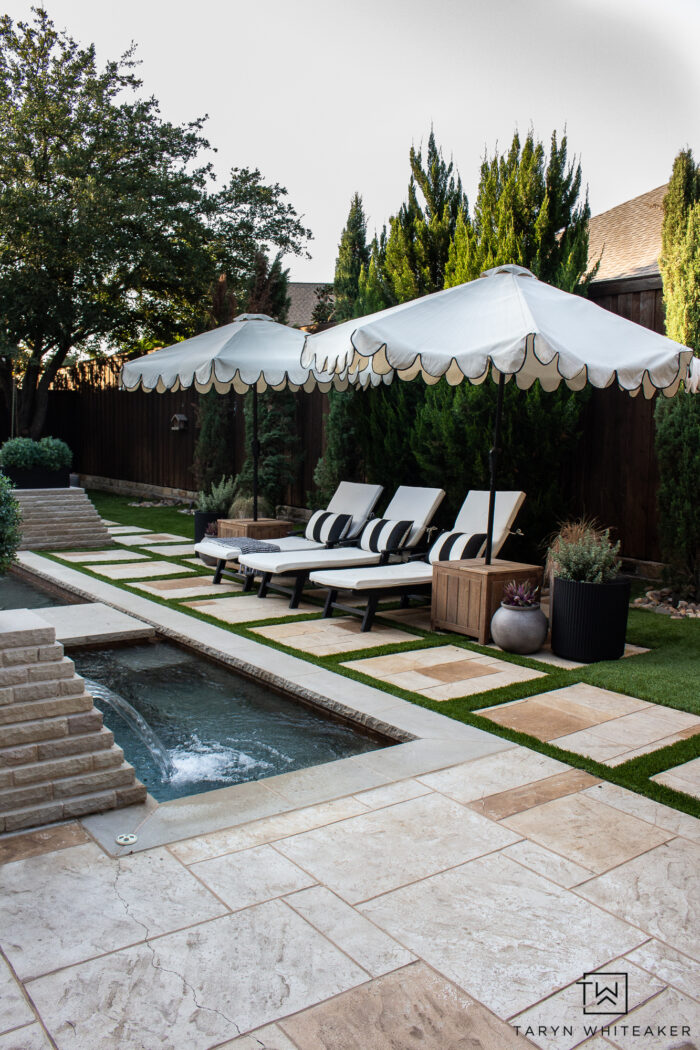 If you have a pool, you have to add a row of chaise lounges, right? They just go together. I added three POLYWOOD Signature Chaises with natural cushions along with scalloped umbrellas with the umbrellas tables and a collections of modern planters.
Side note, I'm now looking at this picture, analyzing the spacing of the chaise lounges. I might need to space them out a bit more. It looks so different from birds eye view!
We are fortunate in the summer to have a shaded backyard starting around 5:00pm. It does help cool things off at the peak of the summer heat. But during the rest of the year, I wish we had sunlight a little longer!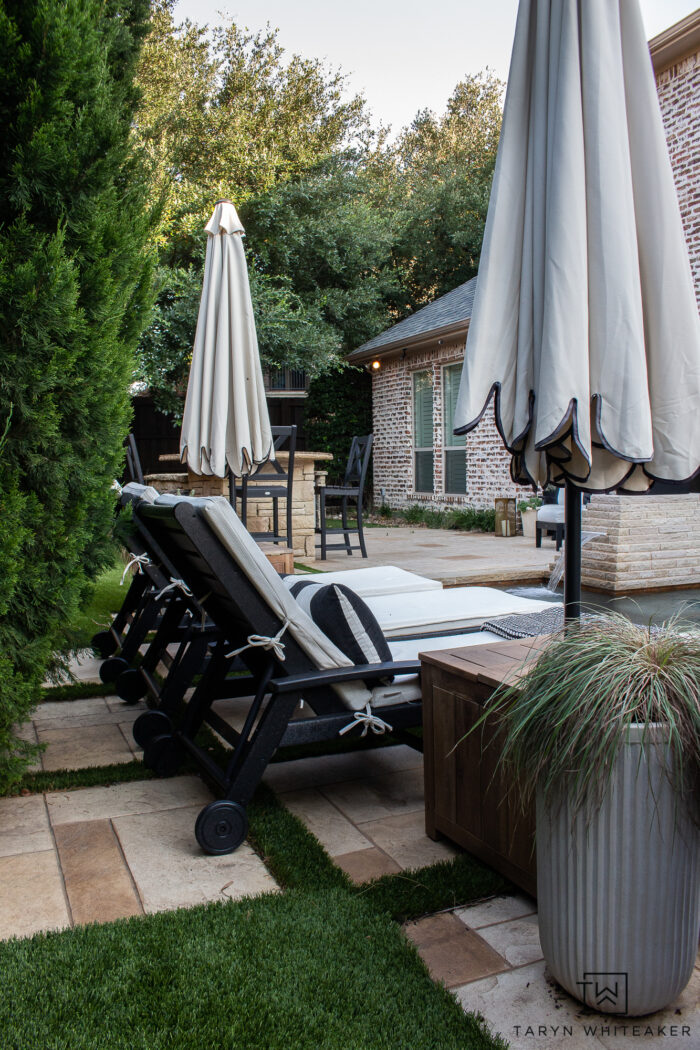 The chaises on on wheels, making them easy to move around and adjust. The cushions come with cute little ties too.
Decorating With Brick Exterior
I think out brick exterior is incredibly charming, but it can be a little busy and beige. Especially with the tan stone and previous beige trim and ceilings.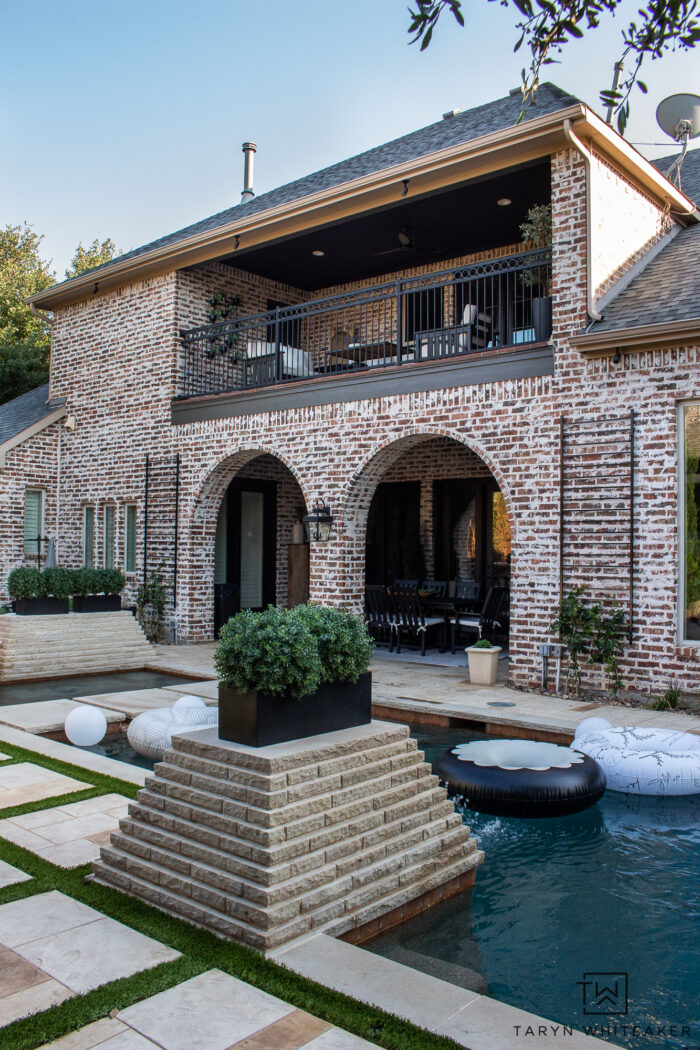 I envision lush greenery climbing the brick, adding to the modern english country design. I added these DIY Trellises to either side of the arches along with Star Jasmin plants. The Star Jasmin does well in the heat and varying temps and it said to grow 3-6 ft a year! You can read more about my trellis tutorial here.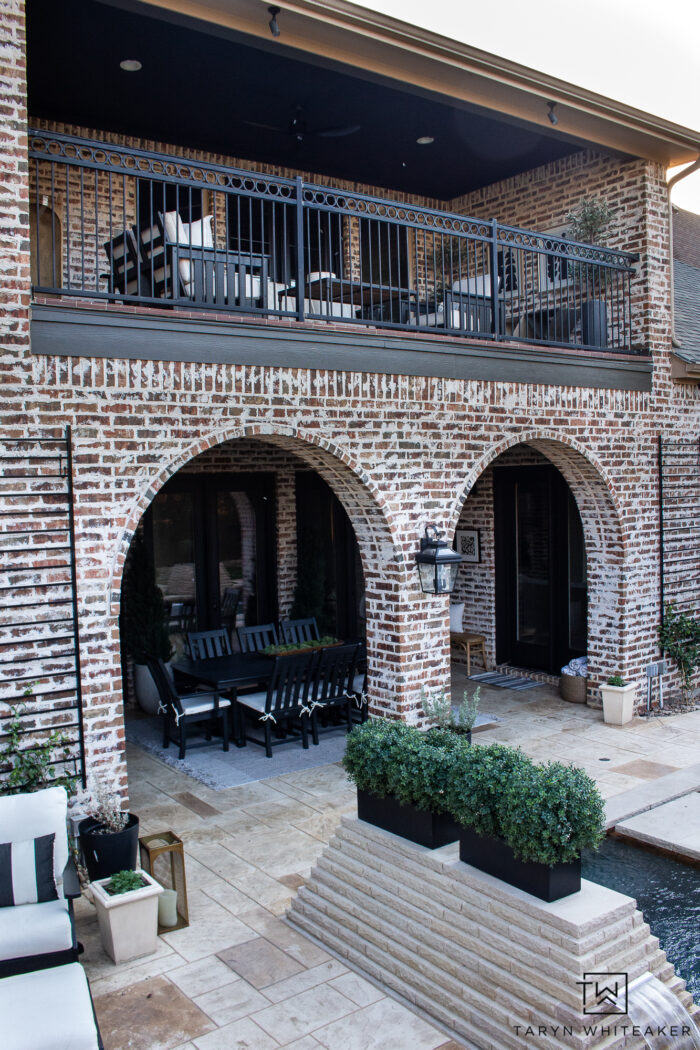 Throughout this spring I updated both the upstairs balcony area and the downstairs dining space. Painting the ceilings Black Magic to give them an updated modern look and painting the french doors really added dimension to the overall exterior. You can read about how I added faux french door panes here too!
Swapping out exterior lights and fans were also an easy fix that made a big impact I went with this black exterior lantern and black exterior fans. FYI I'm undecided on how well the fans works.
We love how the space is coming together and hope to continue adding to it over the years! But for now, it feels like a dream to have this space to call our own.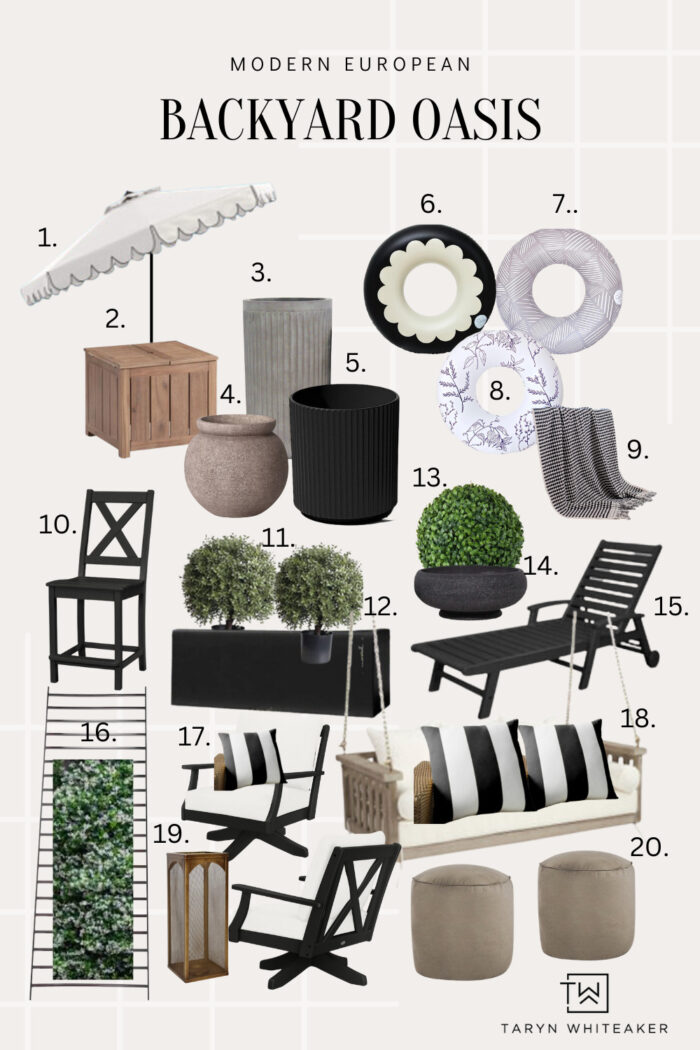 For Additional Exterior Details:
Brick Outdoor Dining Space Refresh