Disclosure: This post is sponsored by Modern Masters, all opinions are my own.
The power of paint! After 10 years of DIY, it never ceases to amaze me how much paint can completely change a room, a piece of furniture, accessories, or a front door! My brother and his family recently moved into a "new to them" home and it's been so fun watching them turn it into THIER home. One of the projects on their list has been painting the front door, so I decided to jump in and help them tackle this project!
The front door is the first impression of your home and the place you welcome guests. It should be the first glimpse of YOU and your personal style. I think that's why this front door makeover was such a rewarding project. We took this door from "that's not my style" to "that's MY home" and that's the best feeling.
Front Door Makeover
Are you ready for an extreme before and after? Just look at the difference paint made in this space. I'm going to walk you through the decisions we made along the way, but wow. The moulding is SO pretty, why did the previous owners hide it?!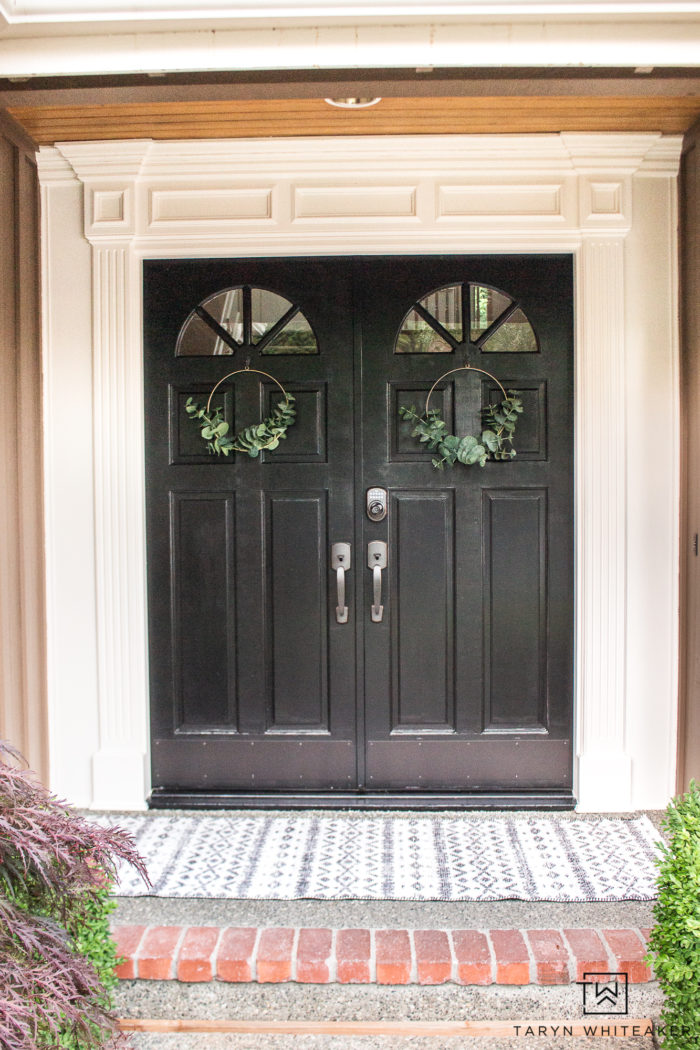 For the paint color we ended up using Elegant by Modern Masters. This paint is designed specifically for front doors. They have tons of colors and we tried a few different combinations, but ultimately the true black won. The new off-white trim with the black door makes this space feel so classic yet modern at the same time. It is an updated look that will last years to come.
And of course with any makeover, a few accessories are necessary to polish it off! I love the new diamond printed runner we picked out, it adds a pop of pattern and makes the entry feel cozy. And I topped the door off with these minimalistic faux eucalyptus wreaths. I love the touch of gold against the black!
Tips For Painting Your Front Door
I've painted a few doors over the years and each one is a learning experience. This is a project that is completely doable on your own. Since this seems to be a very popular type of project, I wanted to share some of my tips and products with you.
Here is what their front door looked like before. The previous owners of the home chose to paint both the doors and the trim work a crimson red. By doing this, the gorgeous details in the trim work get lost in the sea of red. The goal for this project was to paint the trim the same color as the existing house trim (as it should be!) and then paint the front doors a bold neutral color.
Supplies:
Prepping Your Door For Paint
Cleaning Your Door! Before you paint you want to properly prep your door. Micro fiber cloths are my favorite to use when prepping surfaces since they easily remove all the dust particles.
Apply Zinsser Primer To Your Surface
Since the door and trim are a darker color, I prepped the surface with Zinsser all surface primer. This primer doesn't require you to sand before you paint. Which helps eliminate an extra step. Since we were painting the trim white, I did two coats of primer on the trim.
I seriously can't believe how different the entry looks simply by priming the trim work! It's already so much brighter and more distinguished.
Next step is to prep the doors. Taping off the surface is definitely recommended unless you have an EXTREMELY steady hand. In this case we were only painting one side of the door, so you want to be careful not to let it bleed to the other side. Also tape up your windows!
I did just one coat of primer on the door and then got to work on the paint! When painting doors, I alway start with a brush on the reveals and fine details and then move onto the roller.
Painting Your Front Door With Modern Masters
For the color, we went with "Elegant" which is a deep rich black color. We tried several of the Modern Masters colors on the door until we landed on the right one. The dark color adds a classic yet modern touch and contrasts with the white trim.
TIP: Don't be fooled by the container! The paint appears to be a dark blue in the container, but after mixing it thoroughly, it goes on black. I promise! But this confused me at first!
The best advice I can give on painting doors, is slow and steady. I suggest very thin coats to prevent paint drips and build up. I ended up doing three coats to get a full coverage on the doors. I found that the paint is a little thinner, so you may need more coats than expected. But thinner coats help create a smoother surface.
Speaking on smooth surfaces, imperfections will happen. You can always sand in-between coats and I suggest it. The first two coats I had a few corners with a little paint build up and those were easy to sand down.
Also, I found that the Modern Masters paint has a slight sheen to it. Even though it is just a satin sheen, it does have a little shine to it.
Here is a look at how the coverage looked after each coat. You can see how after the second coat, it definitely needed one more!
You can learn more about Modern Masters Front Door Paint and take a look at all of the color options they have!
Where to purchase:
Watch The Front Door Makeover
More Paint Projects
You may also like this easy vase makeover using Rustoleum Stone Texture Spray.