Disclosure: This post is sponsored by Rust-Oelum Imagine. All opinions are 100% my own.
Stone and ceramic vases are all the trend right now and I am LOVING the texture they bring to a space. The thing is, they can often come with a pretty price tag if you are buying designer ones are large ones. But here is the deal, I am going to spill the beans on how I did these DIY Stone Vases using Rust–Oleum Imagine Stone Texture Spray for so much less. Best part is, I got all three vases AND the lamp for just $21 at the thrift store! I forgot how much I love thrifting.
DIY Stone Vases
Thrift Store Vase Makeover
I haven't done a good thrift store makeover in a long time and now I'm kinda hooked again. I mean all of these pieces for $21 plus some spray paint? SO good.
And to be honest, I really lucked out. I was planning on stopping by a few different places because I had a very specific look in my mind for these items and I can't believe I found this lamp at the first store, the perfect shape and texture. I was SO happy. And it was only $4.99!
One thing to know about the Rust-Oleum Imagine Stone Texture spray, is that it is not a full coverage spray, it's more of an accent texture. If you want to completely cover the item you are working with you want to start with a base color. I gave each item a solid coat of Rust-Oleum black flat spray paint (my fav, I have this on hand ALL the time). For the taller vase, I did one accent color in a light cream.
This is already an awesome makeover just giving the one coat of paint! But why stop there?
Now, let's have some fun with the texture! I picked out my fav three neutral Stone Texture Spray. Black Granite, Granite and Bleached. They are so pretty.
Ok, here is how they turned out! You guys, they really look like authentic stone and ceramic vases and lamps! I am so impressed with this stuff!
I put together a little video below to show you just how easy it is to apply!
Aged Stone Vases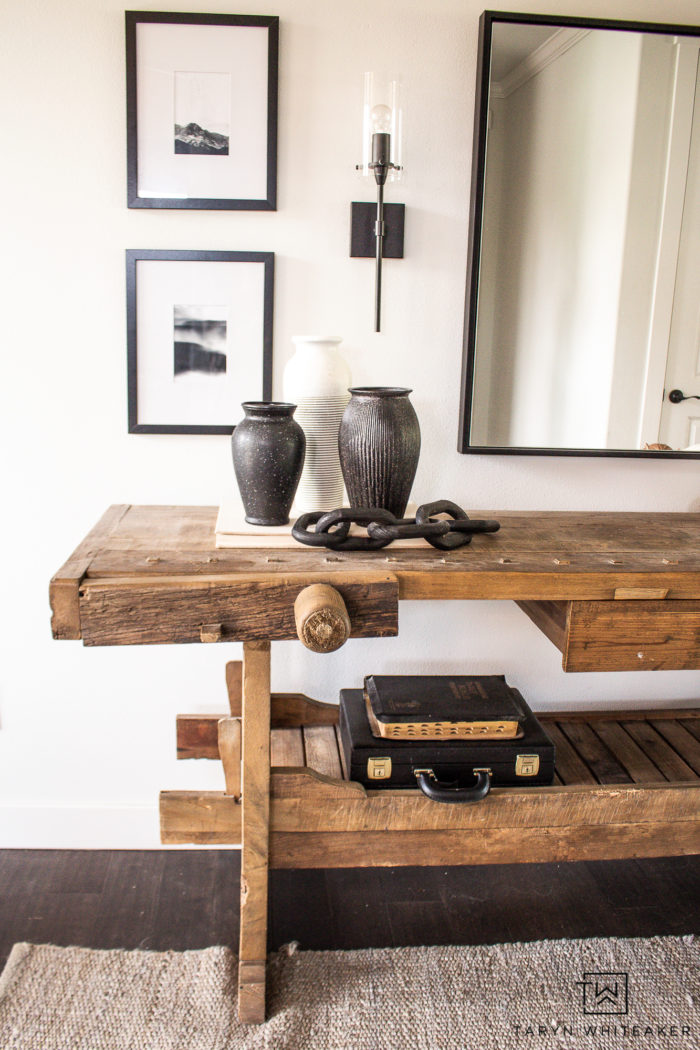 I styled the vases in our entry way. I love seeing them all three together in varying heights and colors.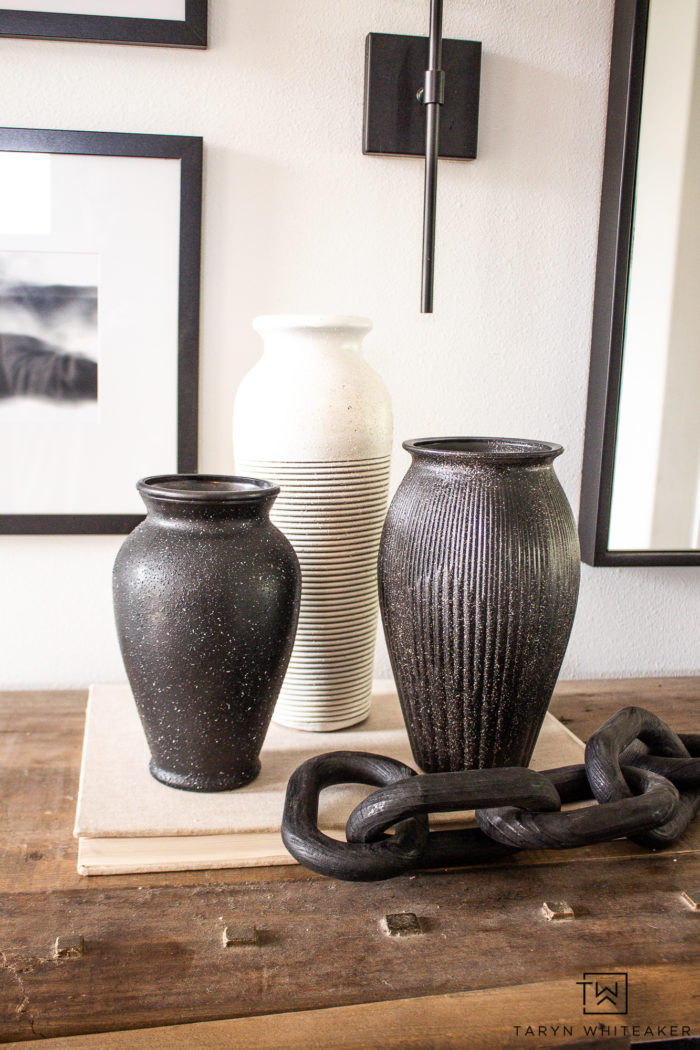 For this project picking out the right pieces was key. You really have to look past the color of the items and look for the right shape and texture. So when I applied the base coat and stone texture spray, the whole look really came together.
Gah so pretty!
DIY Aged Lamp Makeover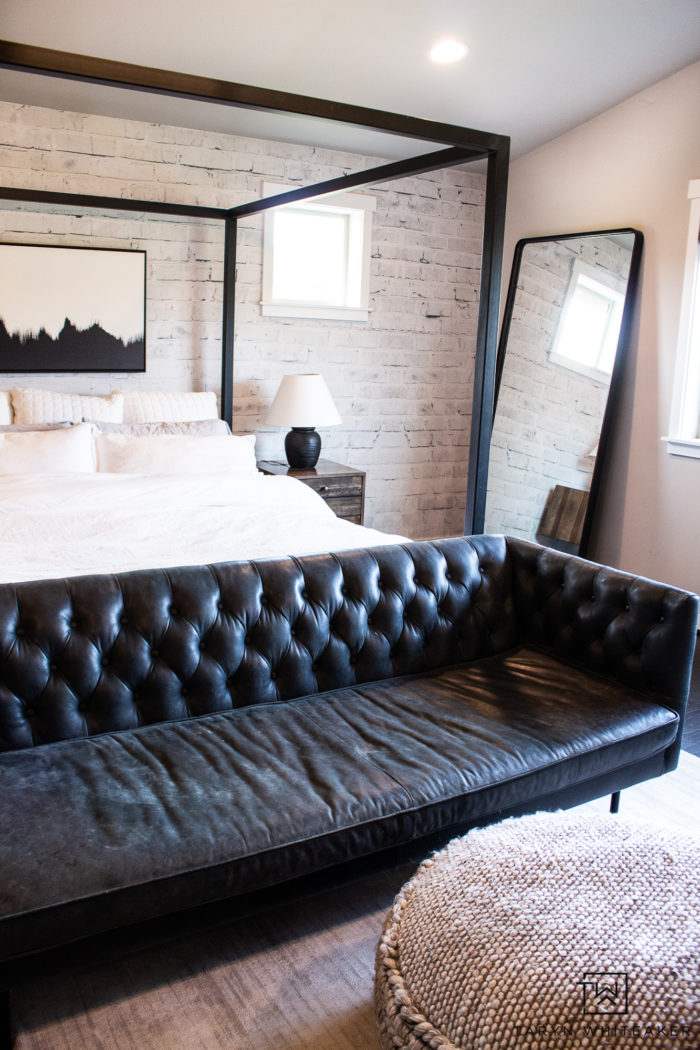 So what happened to the lamp? I found a $20 lamp shade for it and now it looks like a high end aged stone lamp!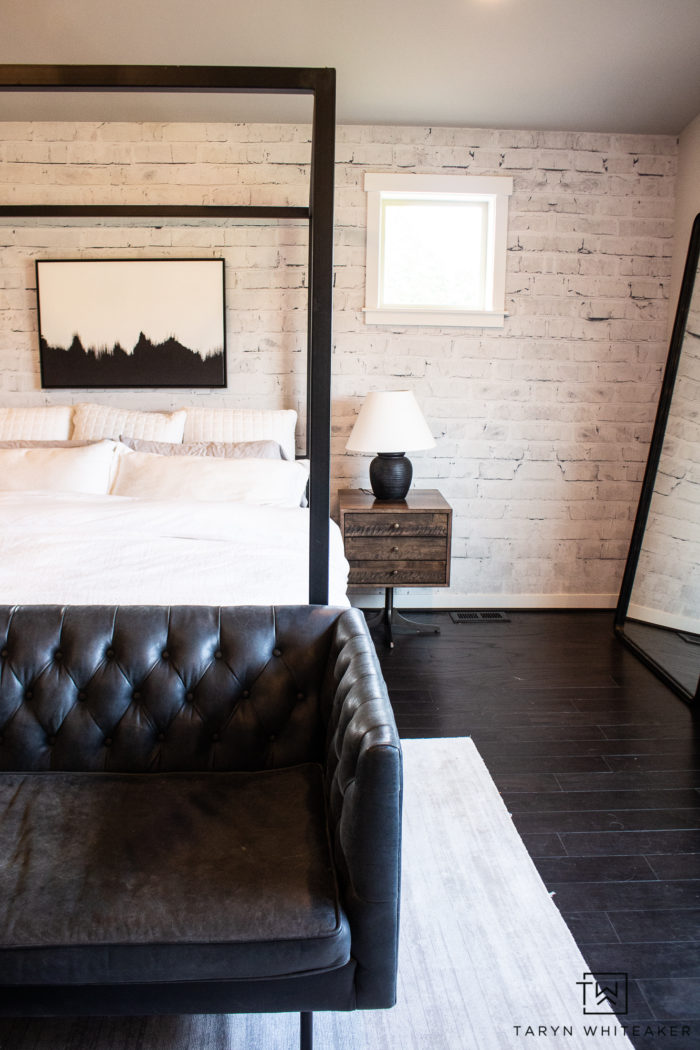 I love the new look in our master bedroom. Now I just need to find a similar one so I can do the same thing on my husband's side! Because now I'm obsessed.
Where To Find Stone Texture Spray?
You can find Rust-Oleum Imagine Stone Texture Spray at Joann Stores.