Alright folks! I revealed my mantel makeover earlier this week and I was overwhelmed by the response to it! I had so many people ask for a tutorial on how I made the mantel cover, turns out a lot of you have the same plain mantel and are looking for an easy way to cover it, without having to rip it out and build a new one! So here is my DIY Mantel tutorial, it is relatively easy and turned out even better than I expected.
DIY Mantel Tutorial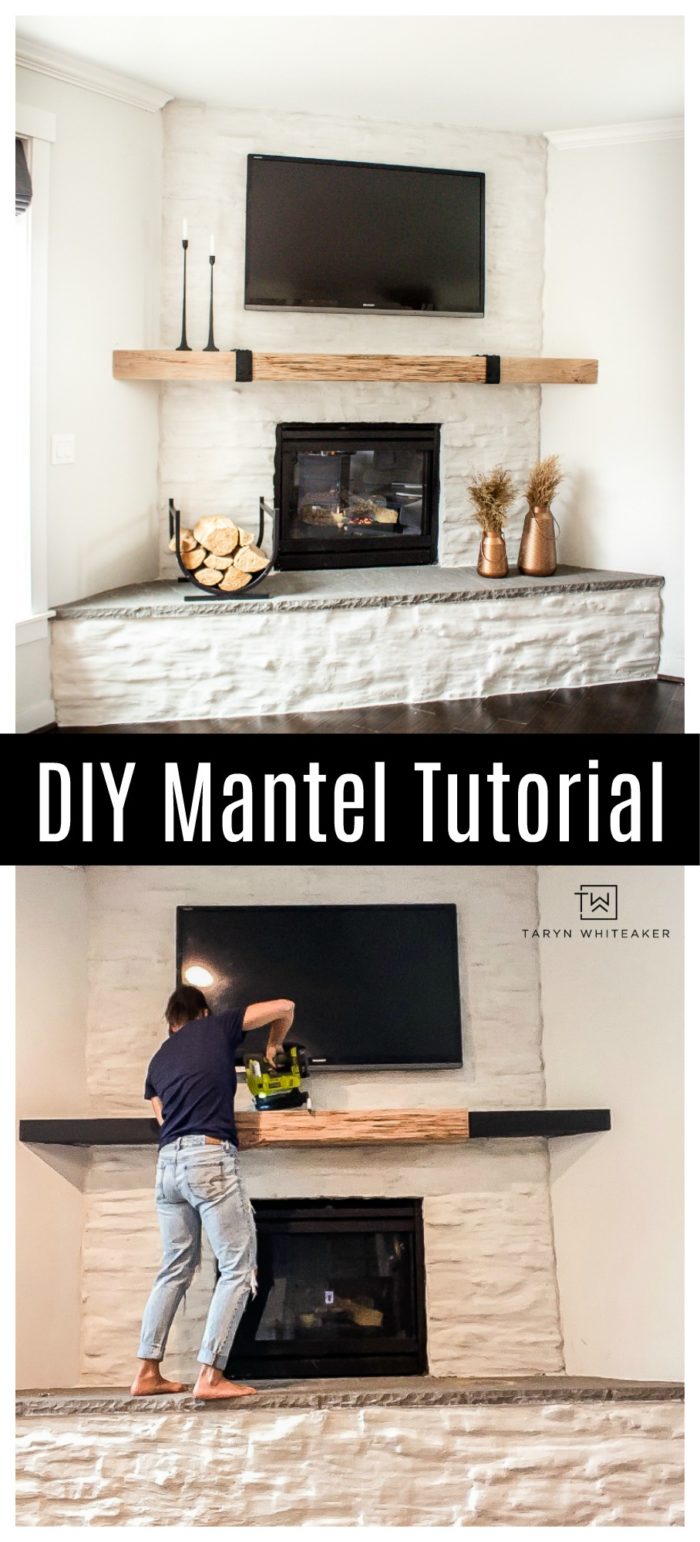 Rustic Modern Fireplace Makeover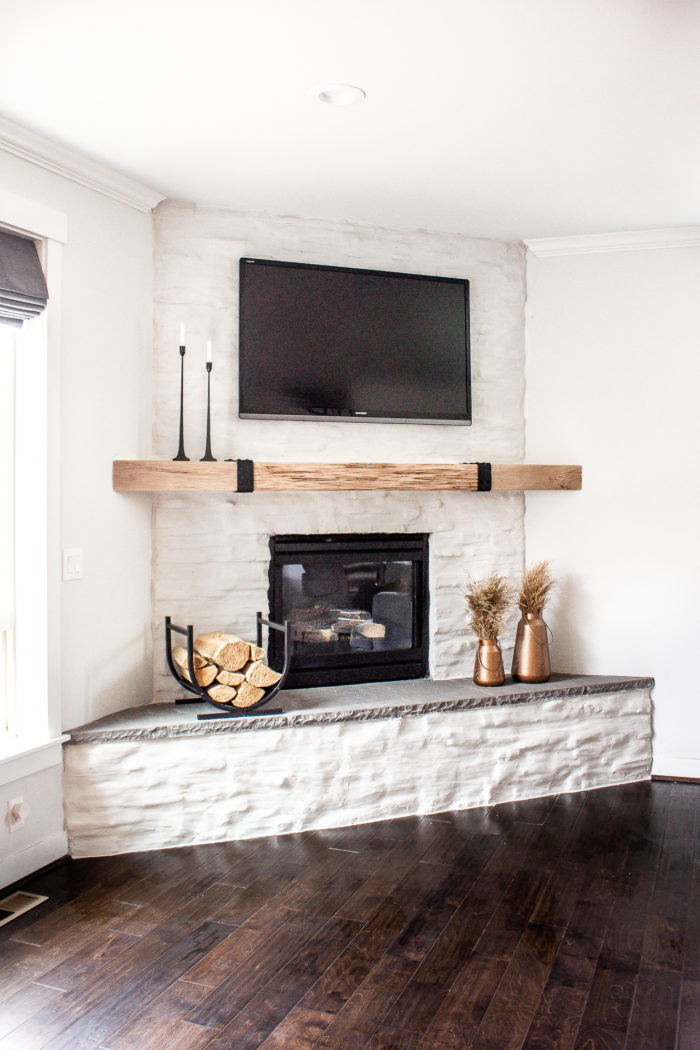 The new mantel really made the makeover! This was the priciest part of the refresh but worth it. The paint and the mortar for the first two steps were very inexpensive.
Mantel Supplies
Hammer
Circular Saw or miter saw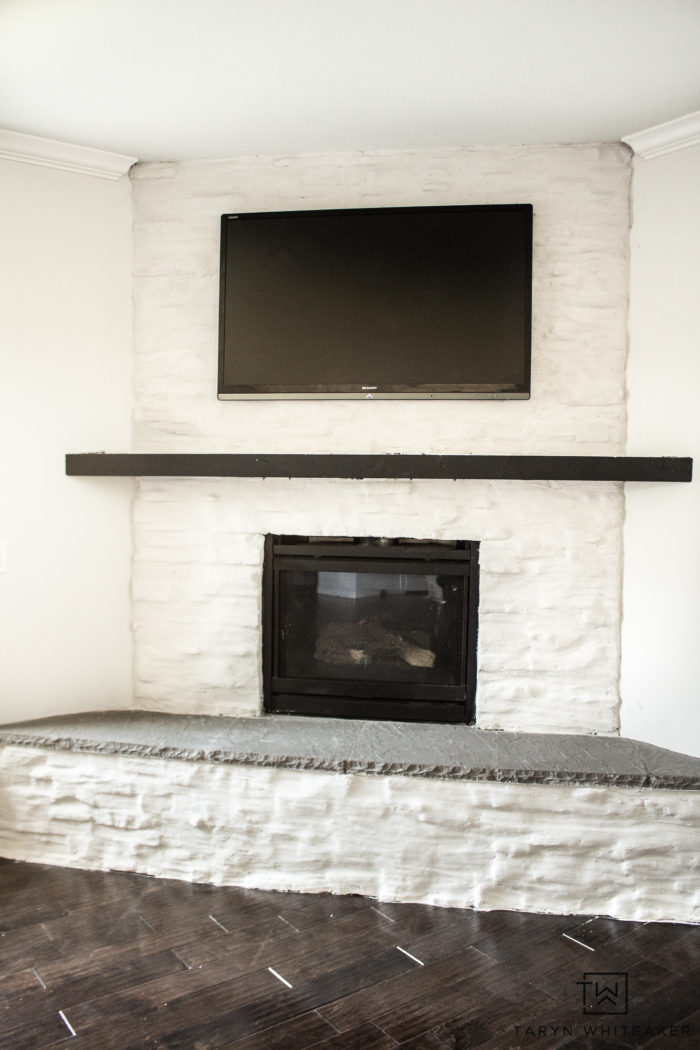 Ok so here is how we left off after I did the 2 coats of plaster, aka the "German Smear" look. Our existing mantel was just a piece of stained wood, nothing special at all. It was too thin for our fireplace and I just wanted something more unique and full of character.
Converting Your Open Shelves To A Mantel
I absolutely fell in love with the pre-made open shelving we used in our kitchen makeover! I had some left over pieces and decided to see if the opening was big enough to slip right over our existing mantel and… BINGO! It was a perfect match. Love it when that happens.
So I ordered two 4 ft. Open Shelving . Your sizing will depend on the size of your mantel, but this worked perfect for mine. Once they arrived, I gently knocked off the end caps and the two support pieces in the center with a hammer.
I had to use my saw to clean up the edges a little bit, but overall it was a super easy process to get them prepped.
The first piece, I left the full 4 ft , this will be the long piece in the center of the mantel.
For the second piece, I cut it in half, straight down the center. My miter saw worked great for this, I just had to use my circular saw to help with a few pieces and clean up the edges.
Because I have a corner fireplace, I had to cut the end pieces at an angle so they fit flush.
Installing Your Wood Mantel
You'll want to use a level to make sure your pieces are sitting level before you secure them. Then, I used my Brad Nailer to secure them to the existing mantel.
I also nailed under the mantel as well to make sure it was fully secure.
Since the stone is uneven, I had some gaps where the mantel met the stone, so I grabbed a piping bag of mortar and filled in the gaps to create a really clean and polished look. I also did this on the top and bottom.
Time to cover the seems! I tried to find metal u-shaped brackets, or beam straps to go over the seems, but I couldn't find any that fit the depth of my mantel. So I went on a search online and came up with these rubber faux "beam straps". I thought I'd give them a try! PS. They are solid black in person, not sure why they are more rustic in the picture.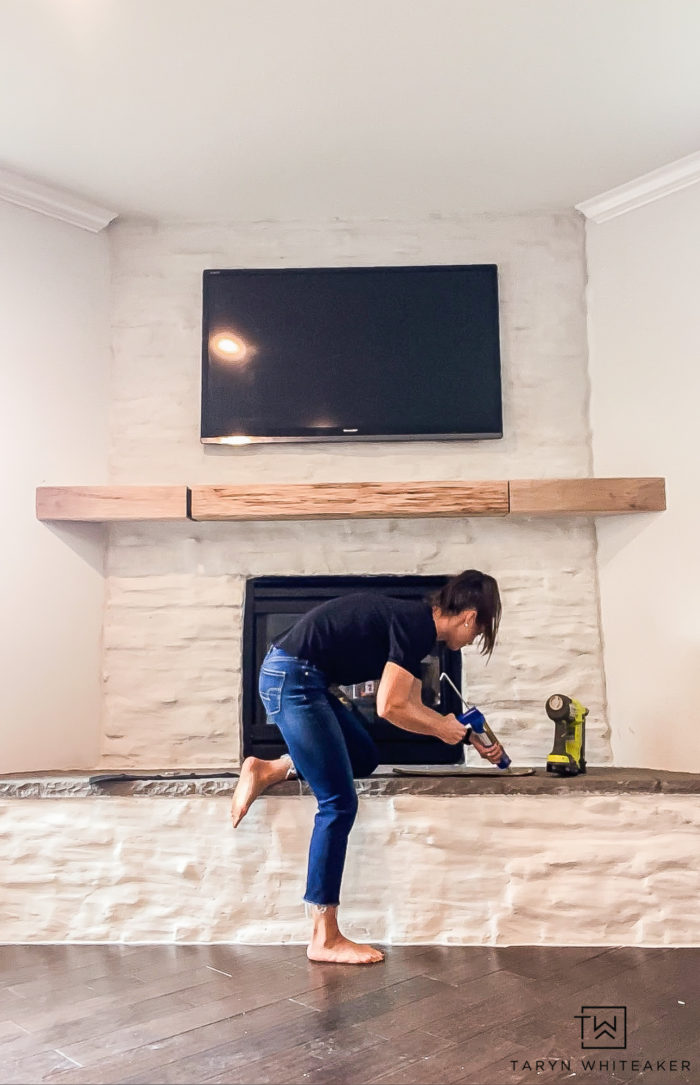 First, cut them to size. Then, you just want to apply liquid nails to the back and make sure you get all the edges and corners.
In the directions, it says to use a tack to keep the rubber in place and then remove them once the adhesive dries. I decided to put a few finishing nails in and it worked great. You can hardly see them.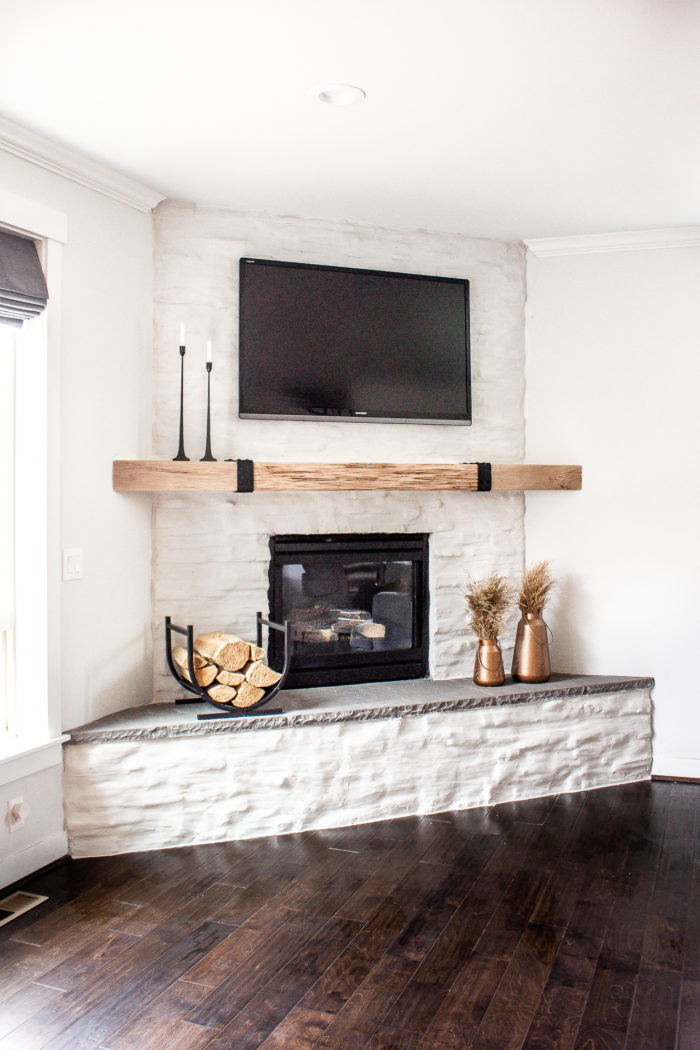 I absolutely love how it turned out. The whole process on the fireplace, from painting, to German Schmear was very tedious, the mantel was actually the easiest part!
Shop This Post
Other Posts You May Like: