Alright, are you guys ready for a big change to the family room?!?! If you've been following me on Instagram, you know I've been on a mission to choose the perfect paint color for the interior of our home. The thing is, I didn't dislike the previous color of our walls, but we HAD/NEEDED to paint the entire interior of our house so I thought I'd change it up. I wanted something much lighter and brighter than what we currently had, so I knew I was either going to go with white or a very light gray. So you are ready to see how our Living Room Paint Refresh turned out?
It's been a much bigger project than I anticipated, filled with a million samples, trips to the paint store and indecisiveness. But I finally did it and I'm sharing all my thoughts on it today. Do I love it, hate it, wish I would have done things differently? Get ready for a lot of brand new pictures of our living room and tons of talk about paint!
Let's Talk Paint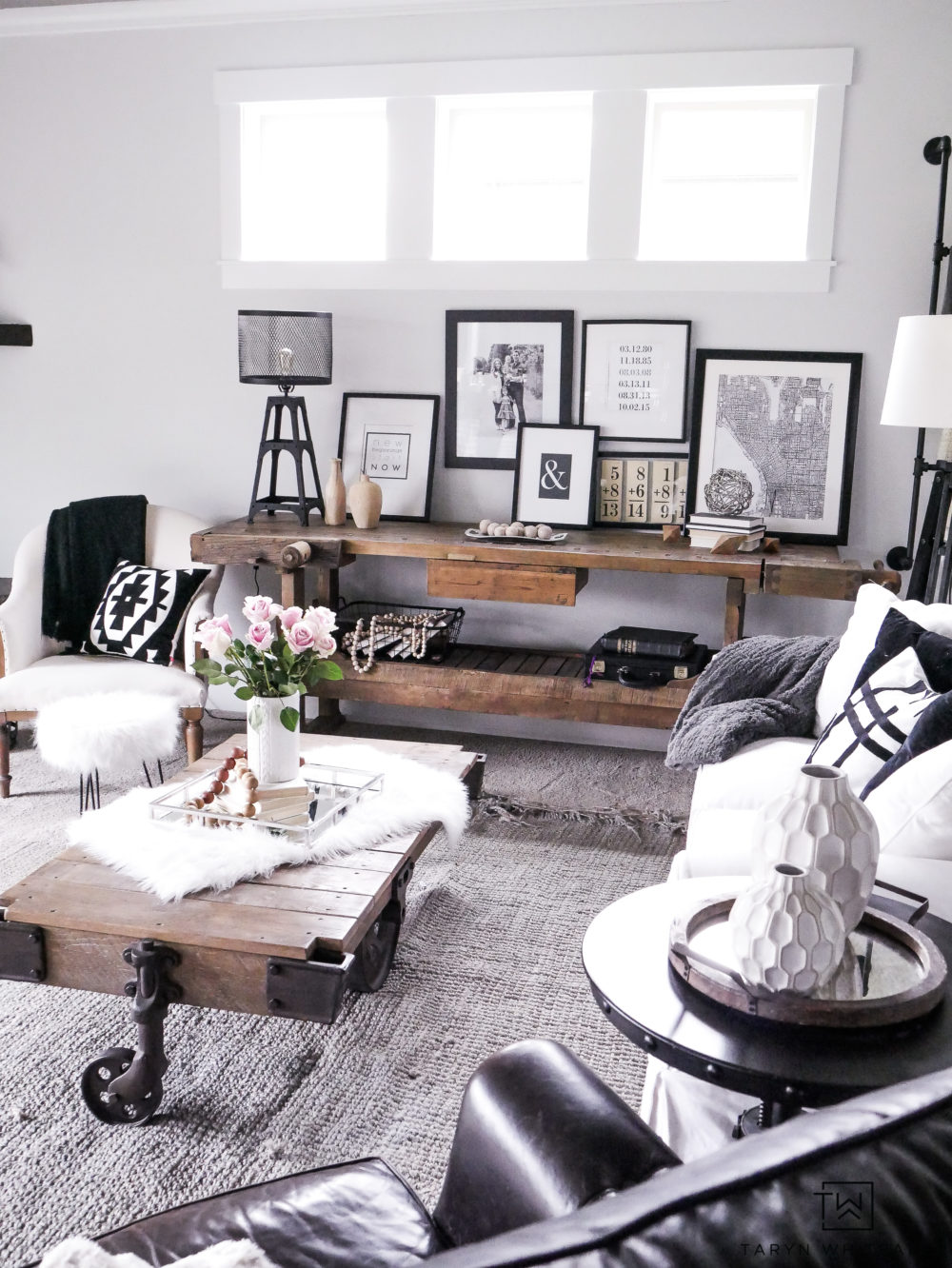 Alright guys, let's get down to the honest raw truth about picking paint colors for this room. I'm getting really honest with you guys. Hope you are ready for it. Over the last year I have found myself really drawn to white walls. Every IG account I fall in love with, pretty much every space I pin, all white walls.  12 years ago was all about beige, 7 years ago gray started taking over and today, I just want everything white. So I thought.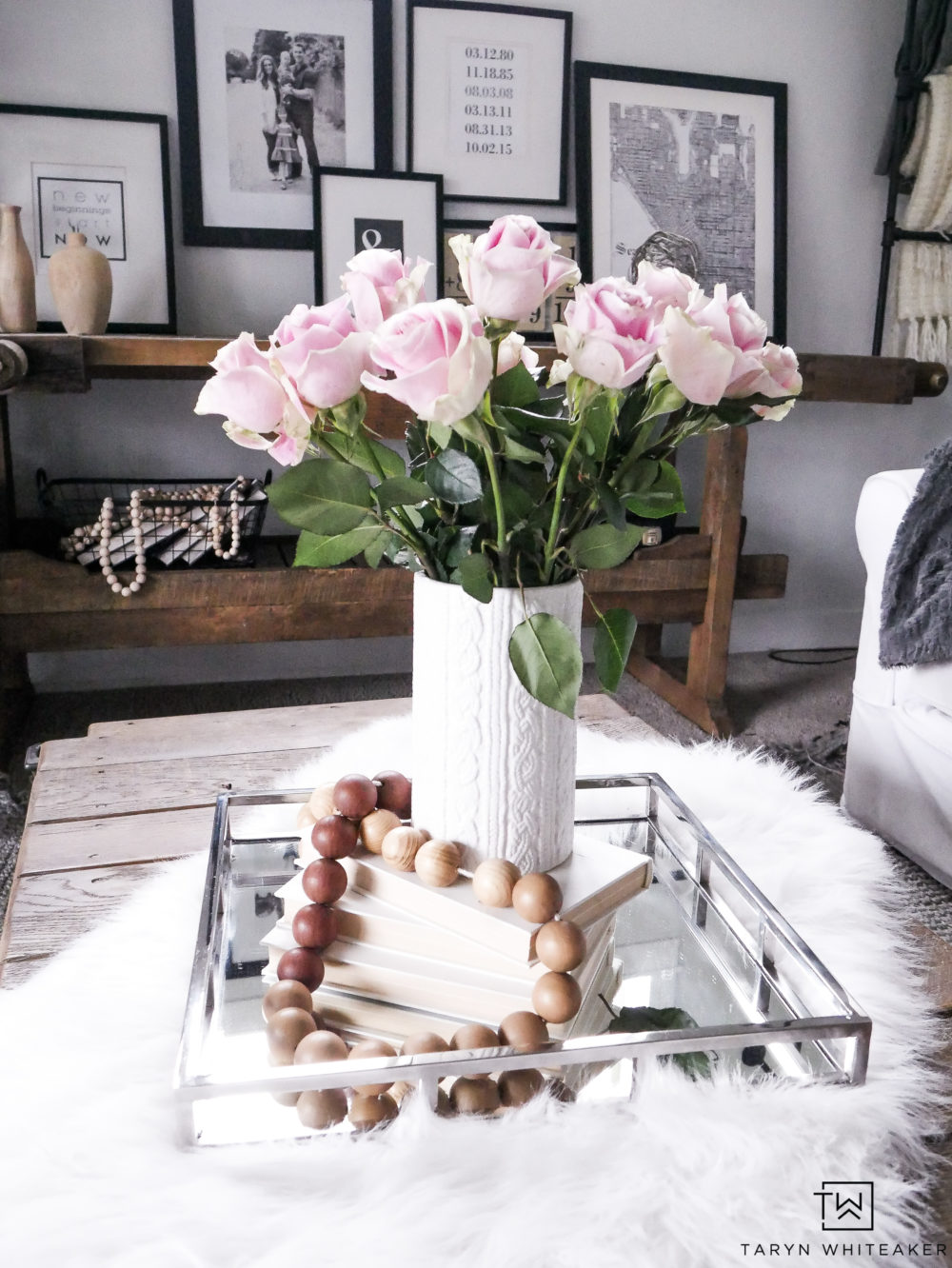 Picking The Right White Paint
I headed to the paint store and picked out about five different white paints. PS, who knew there were SO many different shades of white that all look so different?!?! I started out with Sherwin Williams Snowbound, Pure White, White, Alabaster and . After painting samples on all the different walls in this space I decided to go with Pure White. I was so excited to get started on this project, I couldn't even wait until the morning to get started so I stayed up late and painted an entire wall….. and I stopped. I HATED it. I I strongly dislike using the H word, but it needed to be said. I panicked. I literally looked like I just primed my wall and it didn't look finished. Soooooo what happened next?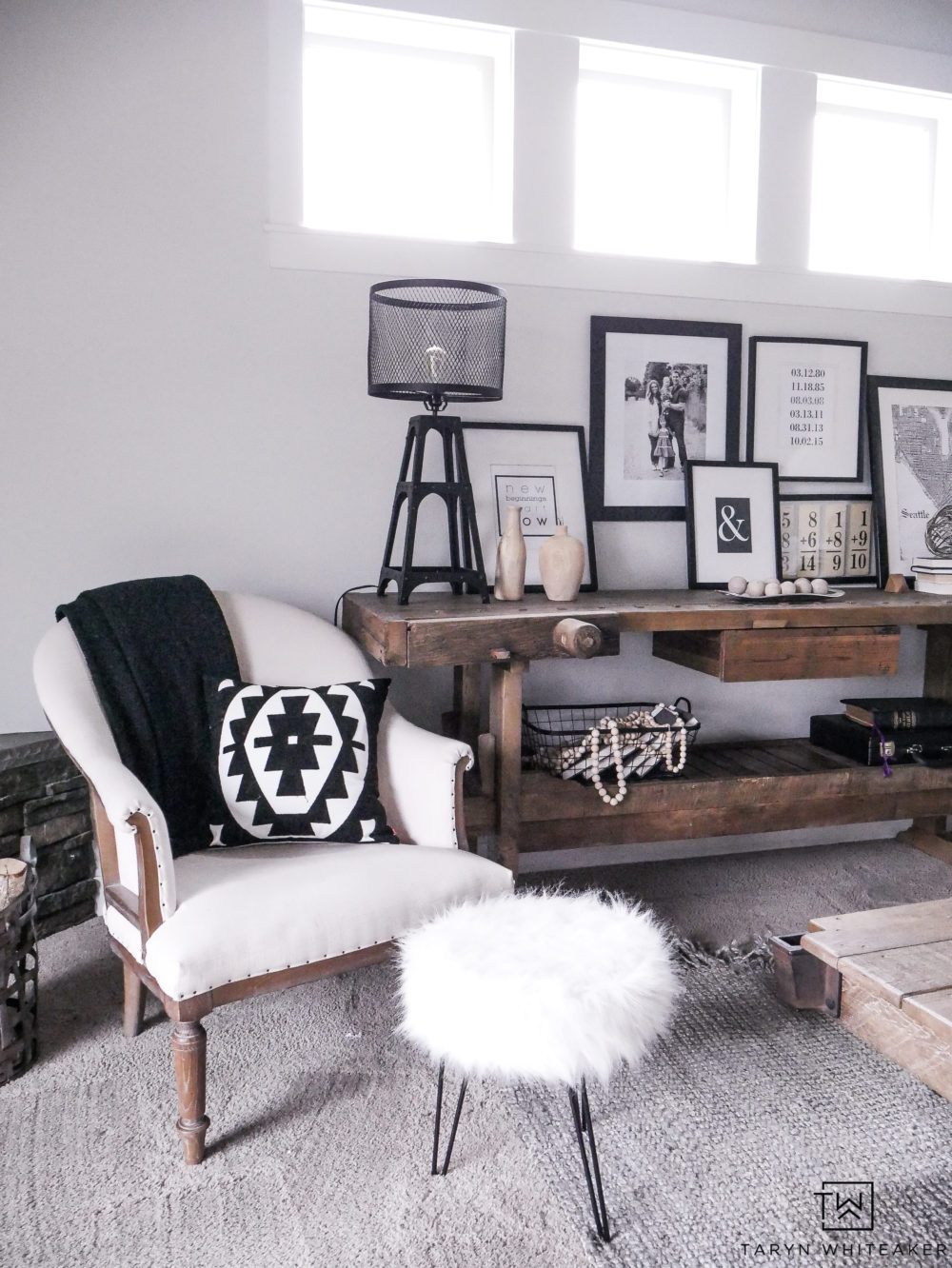 I waited and waited and stared at the wall tirelessly hoping I would start to like it. Because I THOUGHT I really wanted white walls. Then my husband came home and expressed his dislike for the color as well. SO it was back to the drawing board. At this point, I really wasn't sure I wanted to go with white. I thought it wasn't for me and this house.  I decided to try a few medium gray tones that would still lighten up the space but also keep a little bit of warmth to the walls. Well, I didn't like those either. You guys, why is it so hard to find a paint color when it looks SO different on every wall? Not to mention those tiny patches are hard to visualize sometimes.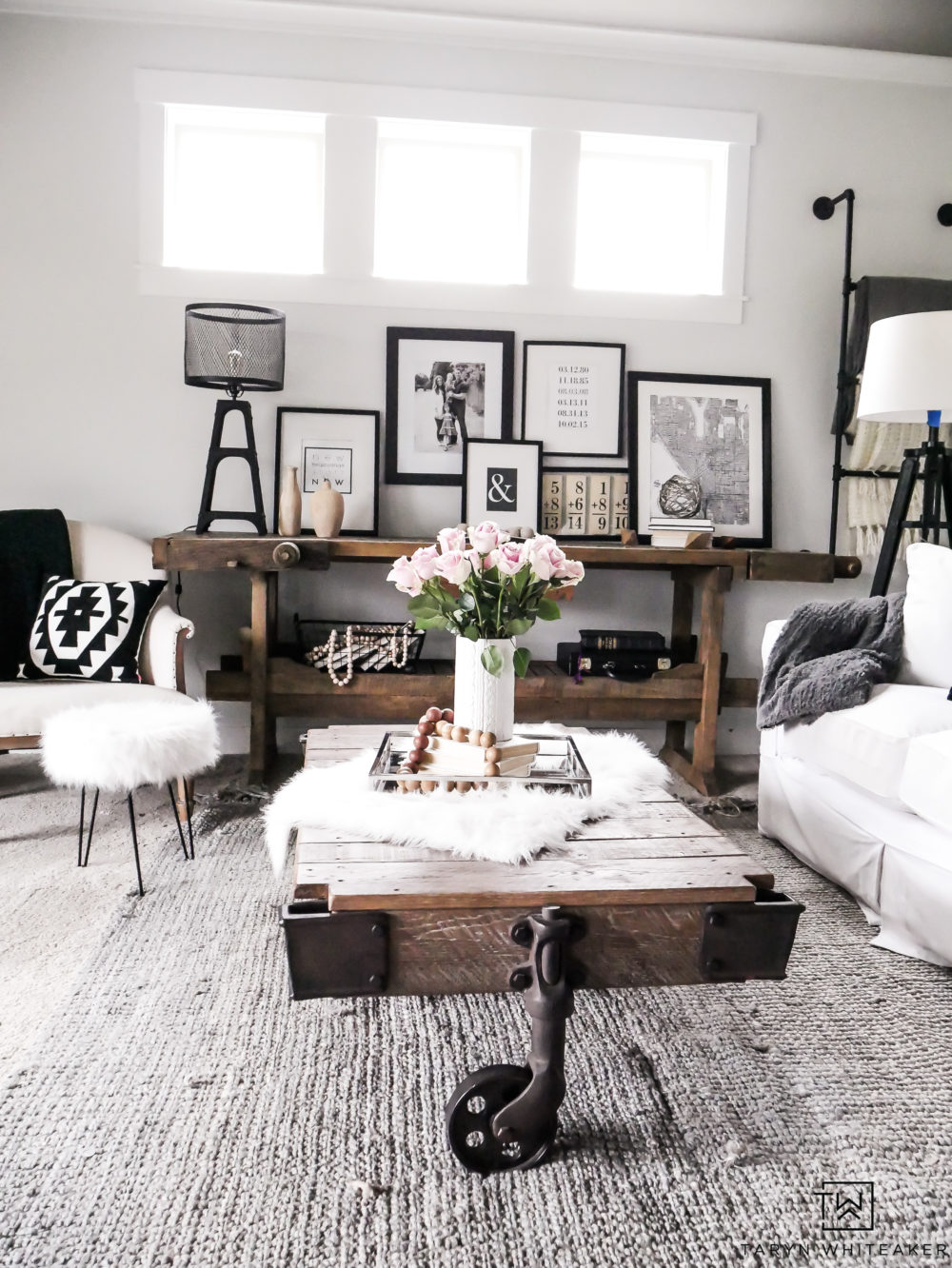 After a few more trips to the paint store, I ended up picking Reserved White by Sherwin Williams. I loved this color because it was still in the white family, but it's a very rich white with a subtle gray tone to it. The fact that you could still see our molding pop against it was a big seller. After 3 weeks, I finally found a winner!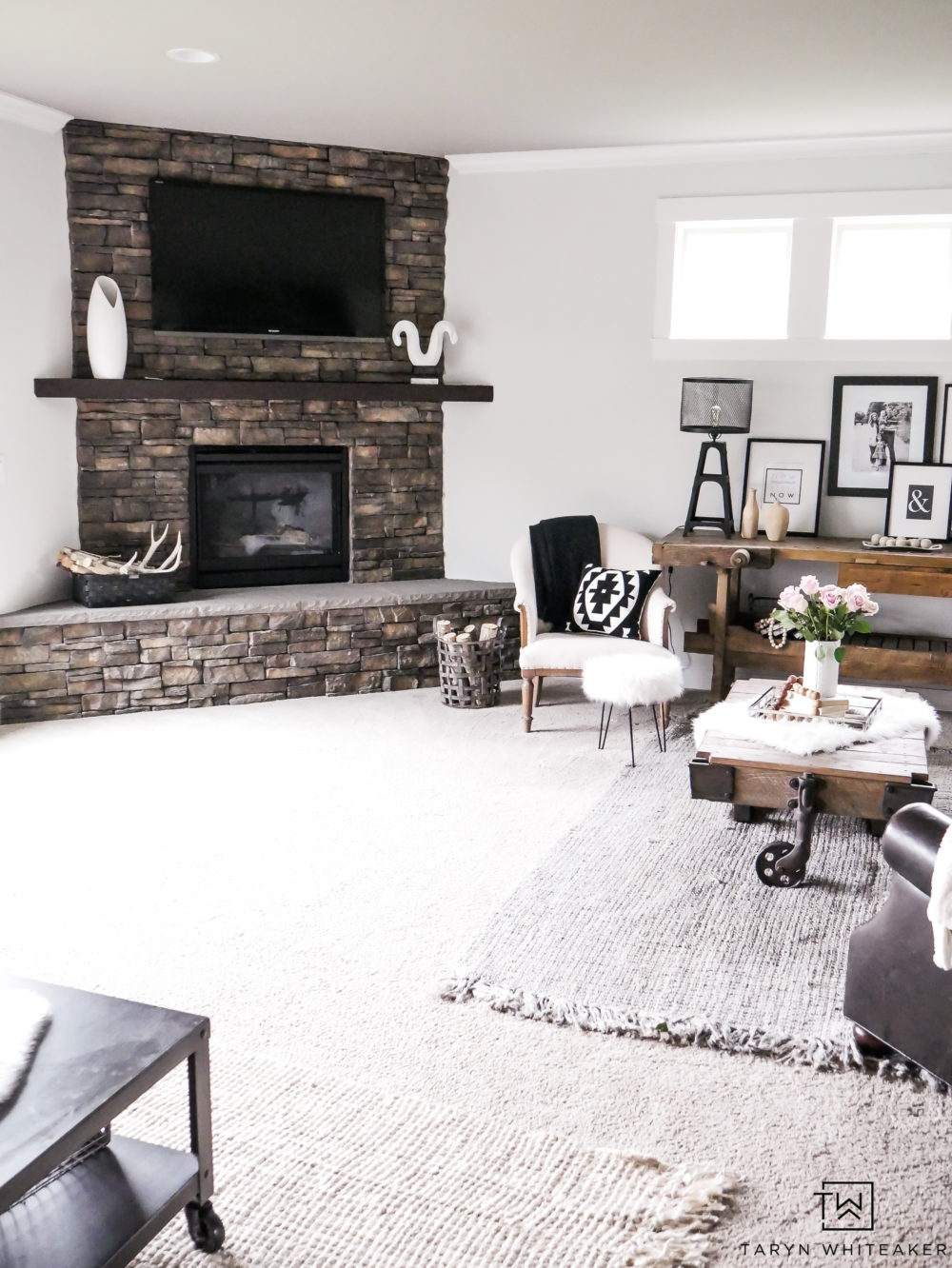 So how do I feel about it now that the entire room is done? Honestly, for about a week I wasn't sure. I didn't love it nor dislike it. It was just really different. I was neutral on it. I felt like both paint colors were actually great, they just give the room two totally different looks. The Pavestone that was previously on the walls made the space feel super warm and cozy and made our molding pop, my husband thinks it gave our room a little more character. I would have to agree. But it was also a much darker gray than I wanted. The white makes the space feel SO much brighter, more modern and I love the crisp look it gives everything. It really makes the furniture and art pieces I pick out for our house really pop. Both are great colors in my opinion,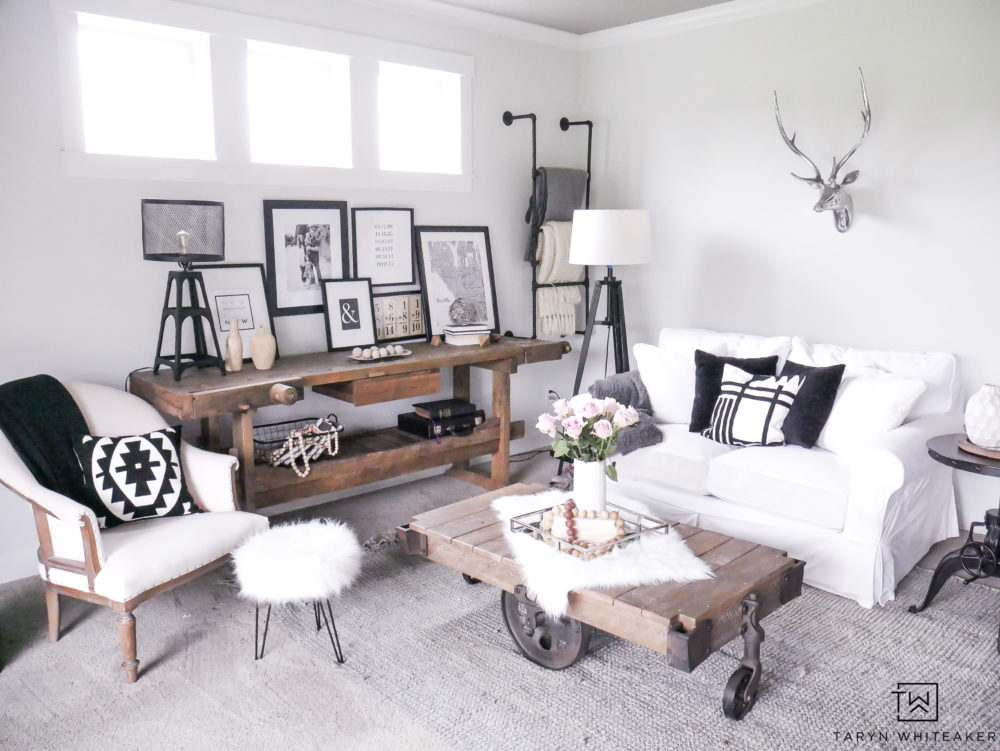 It wasn't until I was taking pictures for this post that I LOVE LOVE LOVE how it turned out. Whew. I can honestly say I now have no regrets. I think I just needed some time to get used to the change and to see it in a different way. Blogger or not, taking pictures of your space and seeing them on a computer can help you see a room differently.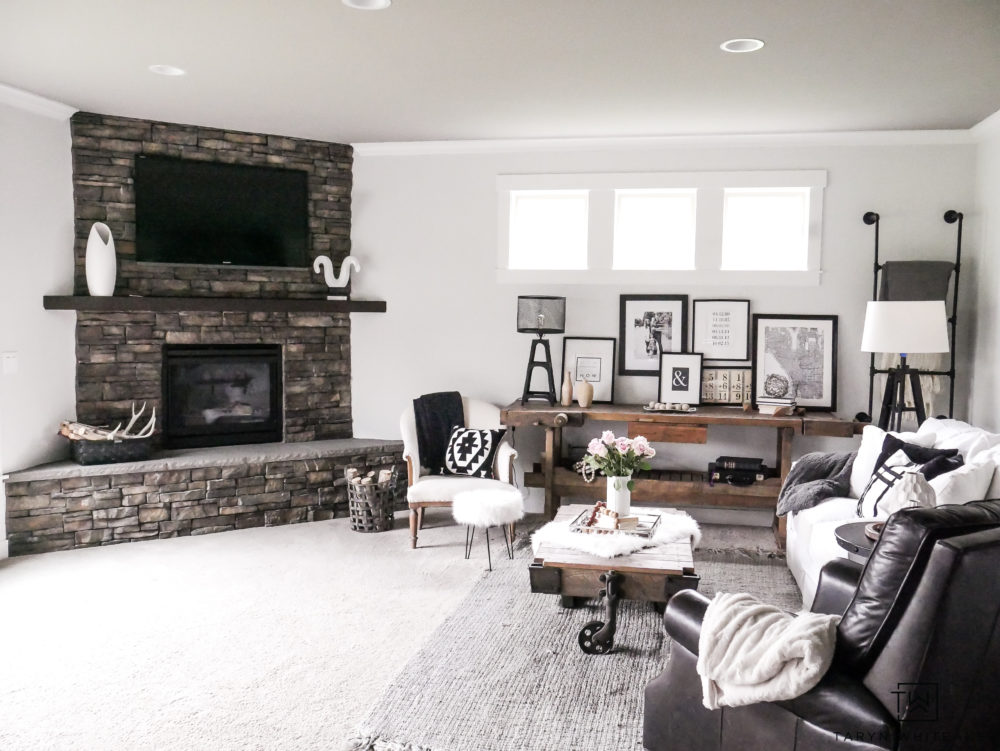 At the end of the day, I learned the same lesson I did when we painted the bonus room. Always trust your instincts and your original vision. I was terrified to paint that room charcoal gray, and now it's my favorite room in the house. I started to doubt my instincts with this paint color and I'm glad I stuck with it until I found THE white paint. It's so exciting to see my original vision come together It was worth the very long stressful journey of finding the right paint color for this room!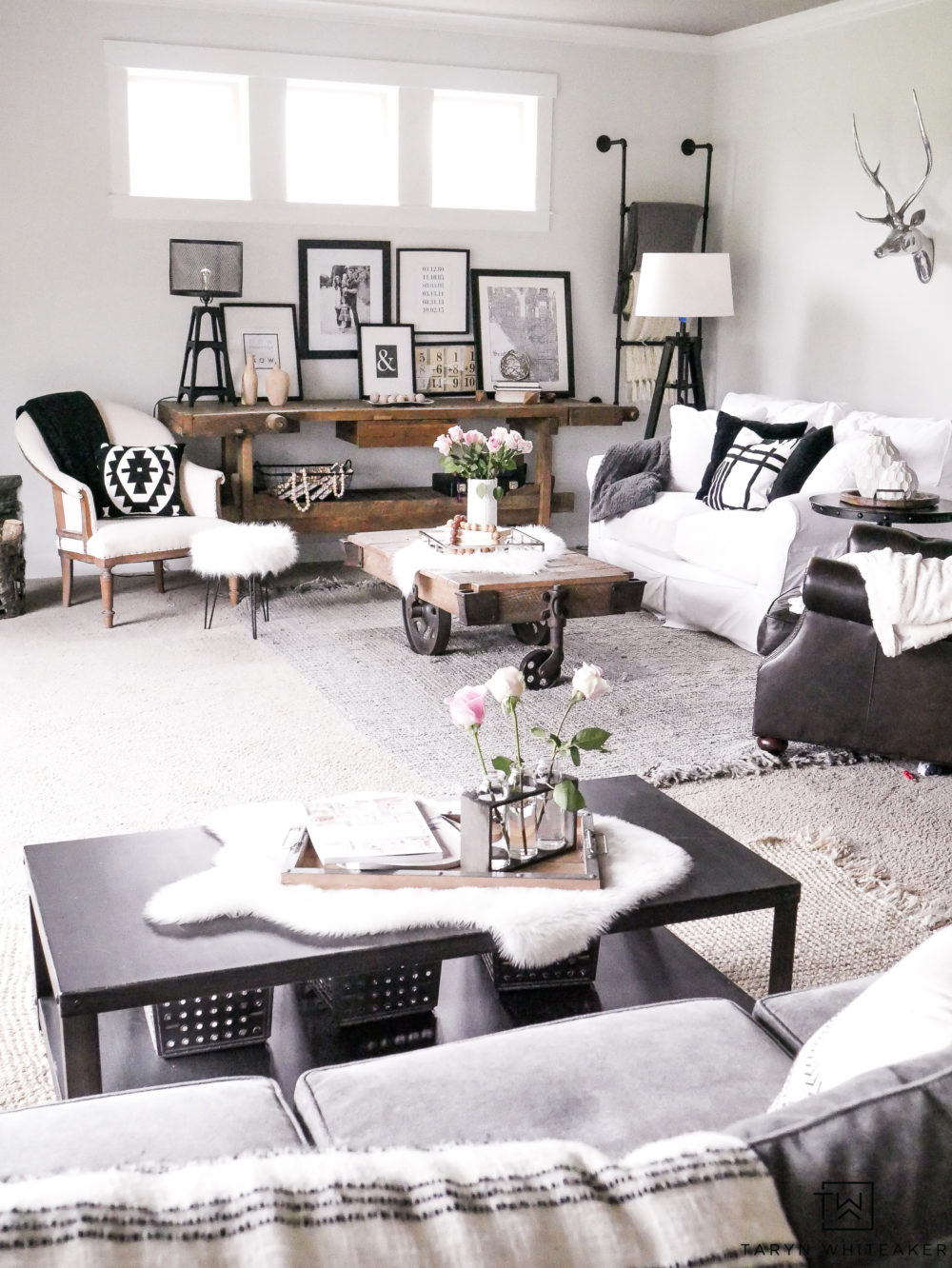 As much as I liked the gray, I think the white paint just works better with my personal style. But it also had my head spinning with new ideas too! I'd really love to get a new piece of artwork for behind the white sofa. I feel like it needs something larger in that space. I'd also love to update the mantel on our fireplace. I have sone ideas, but we'll see when it gets done!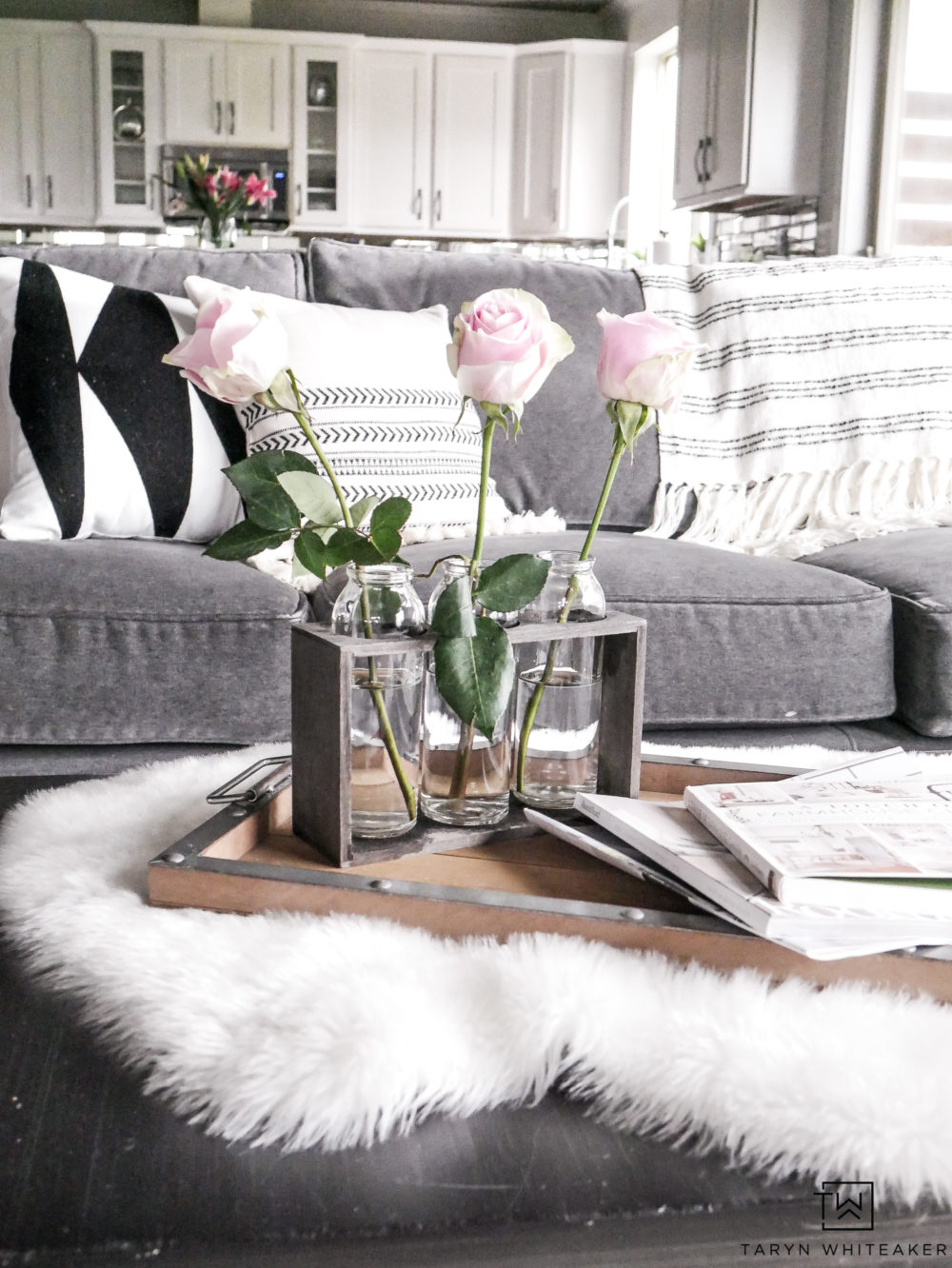 In the past week, I've finished the entire family room and half of the kitchen. I'll hopefully be finishing up the downstairs soon and moving onto the upstairs! I'll keep you updated as I progress.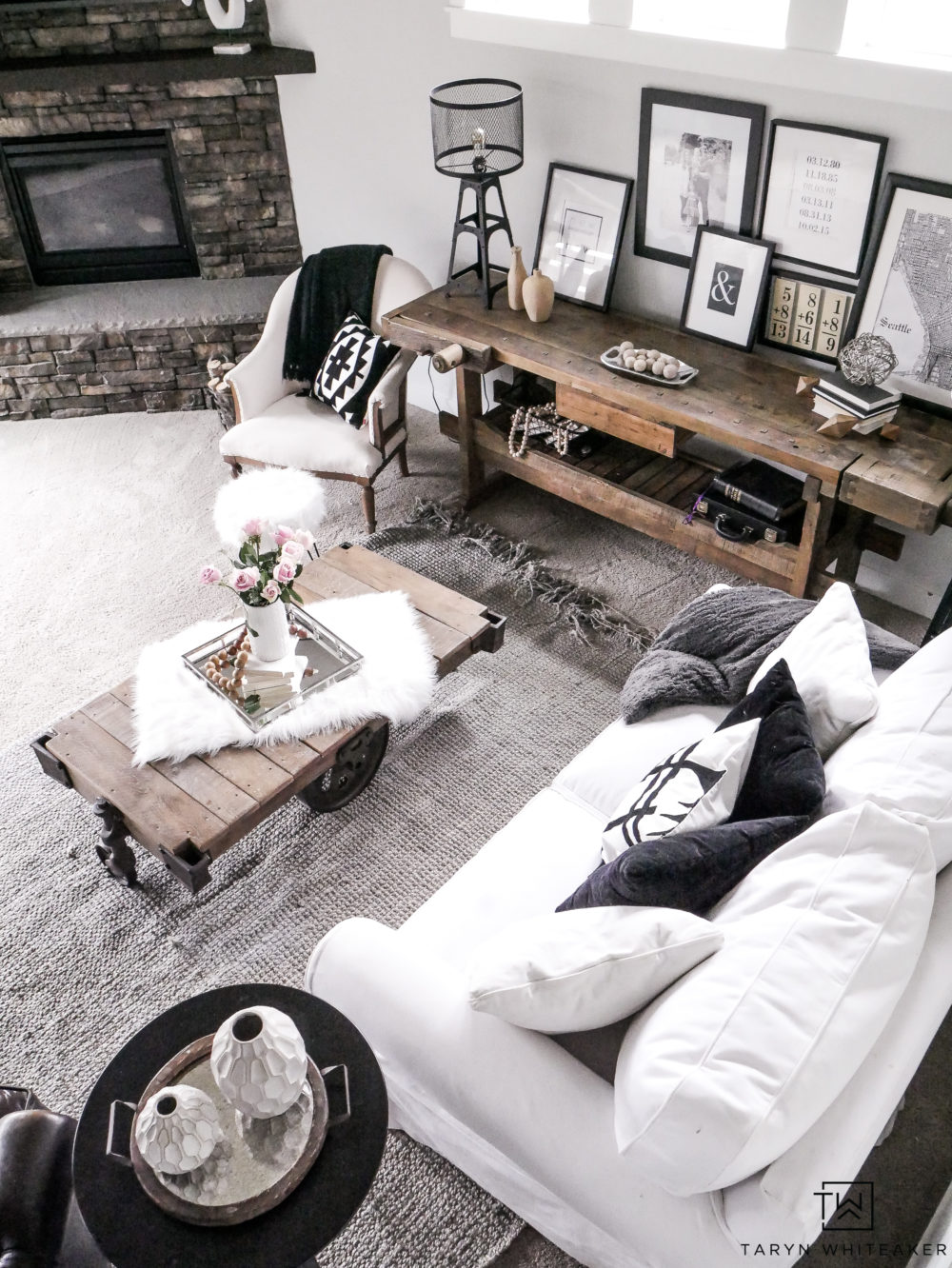 I didn't realize this post would end up being over 1,000 words. Who knew I could write so much about picking a paint color? I wanted to share with you guys my entire thought process for a few reasons 1) to show that change doesn't happen overnight, it's a process 2) be patient and wait to find the RIGHT color, don't settle to speed up the process 3) Trust your instincts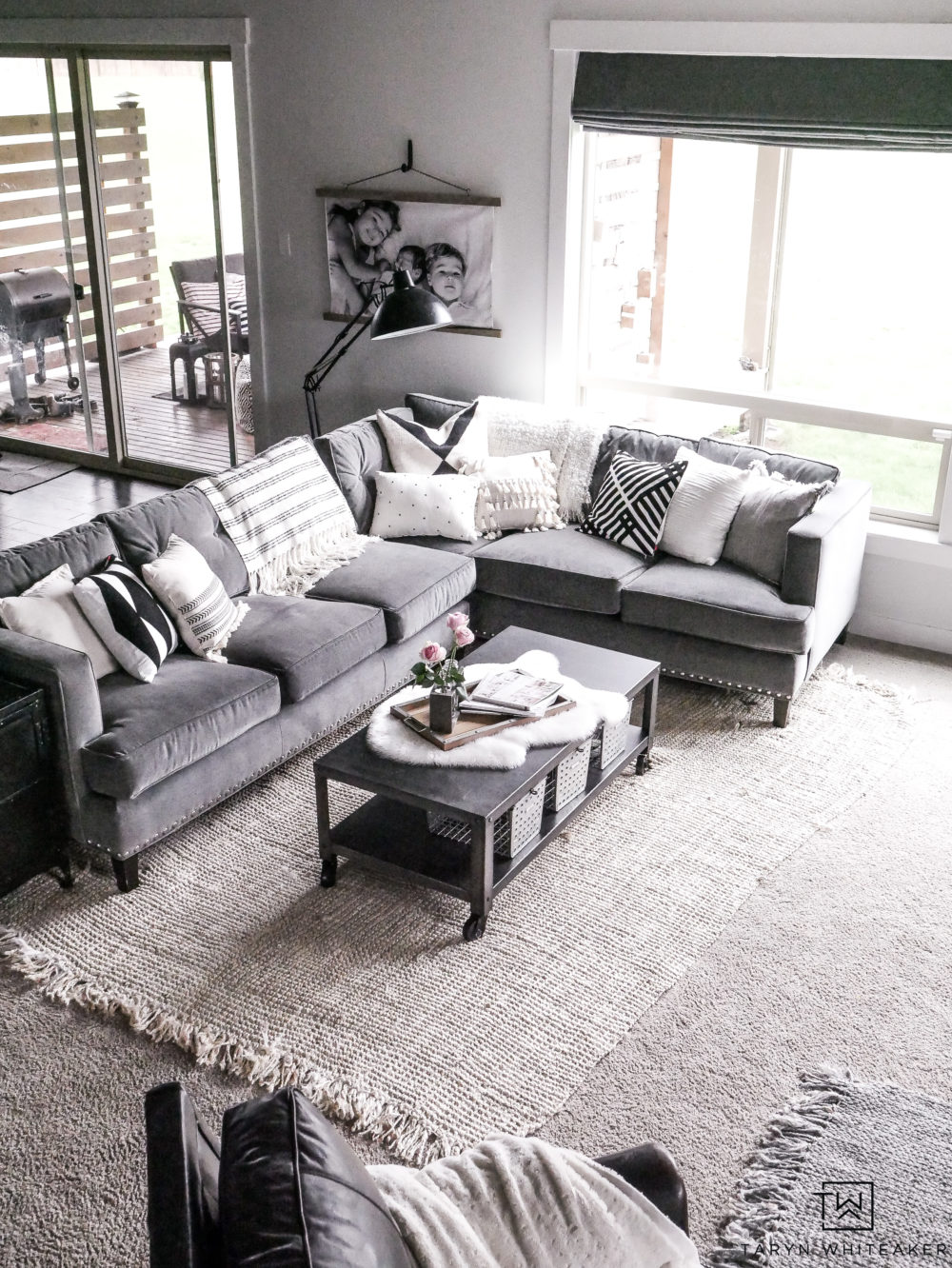 Here is a peek at the opposite side of the room. I just added some new pillows for spring and fresh blooms for a bit of a pop!
I've come to the conclusion that whether you like the old paint color (see previous room tour here), or you like the new white color, you are right either way! I think both colors look good, they are just different.
SHOP THIS ROOM