Disclosure: This post is sponsored by National Hardware. All opinions and creative ideas are my own.
I'm squeezing in one last DIY project of 2020! I've had this makeover on my list for a LONG time and I'm so excited to finally tackle it! It's another one of those spaces that almost everyone has, and don't always think about doing something with. But once you do you wonder what took you so long? Our upstairs is one long hallway, one boring beige hallways. I thought it was time to spruce it up a bit and I am in love with how it turned out. I'm sharing the full reveal of our black and white hallway gallery wall today, you don't want to miss out on a big tip for hanging pictures!
Black and White Hallway Gallery Wall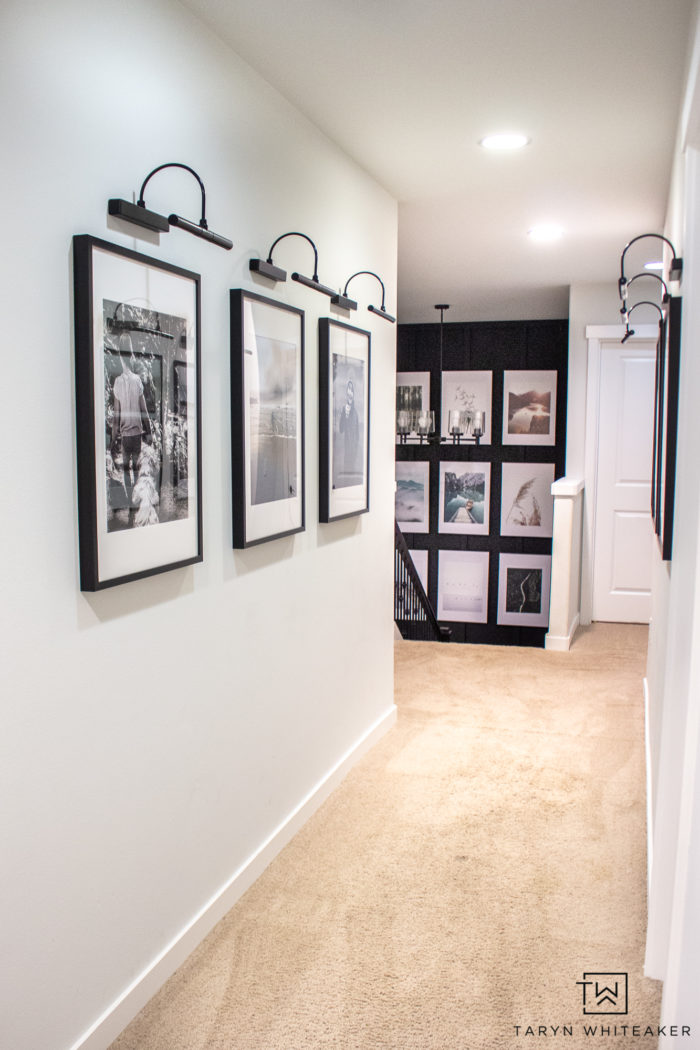 I want to add more personal photos to our home but I also want to be really intentional about it. I still want to maintain the overall aesthetic of our home but find a way to add more pictures of the kids and our favorite memories.
Creating this gallery wall down the hallway to all the bedrooms was the perfect place to add some of my favorite photos fo 2020 and make it a little less boring. The love the contrast of the black and white, it feels modern yet classic at the same time.
So let's dive in a little more to the details and how I put this together.
Tips For Creating A Hallway Gallery
Supplies
Before Hallway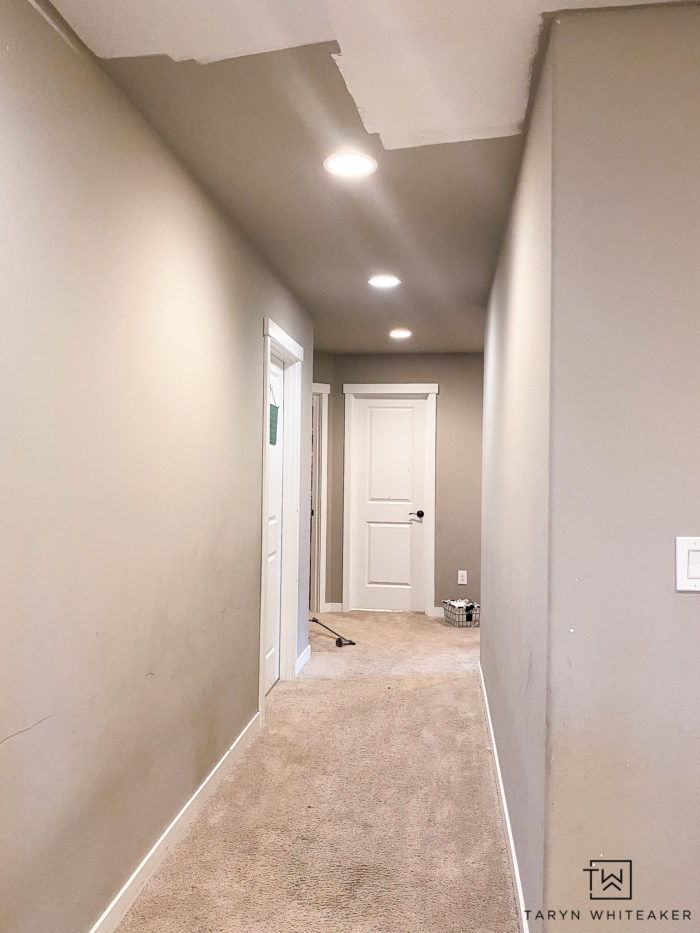 This is how the hallway looked before! It was a big beige box. So boring! Just waiting to be decorated.
In February I gave the ceiling and walls a nice coat of white paint to match the rest of the house. That feels like years ago at this point, but it instantly felt so much brighter. Just took me a little longer to get to the decorating!
Tips For Hanging Pictures
Ok do you guys want in on my newest secret for hanging pictures? This Level Art Tool from National Hardware is honestly one of the coolest 'toys' I've used lately. I will be honest I was a little skeptical at first to see how this worked and if the nails would be secure. I was blown away.
This tool has a built in level and also comes with nails to hang your pictures. You simply insert the nails in the small holes on the back, center it and make sure it's level, and give those buttons one hard push. Seriously, this tool is the only thing you need to hang photos on your wall. Ok, maybe a measuring tape. But that's it!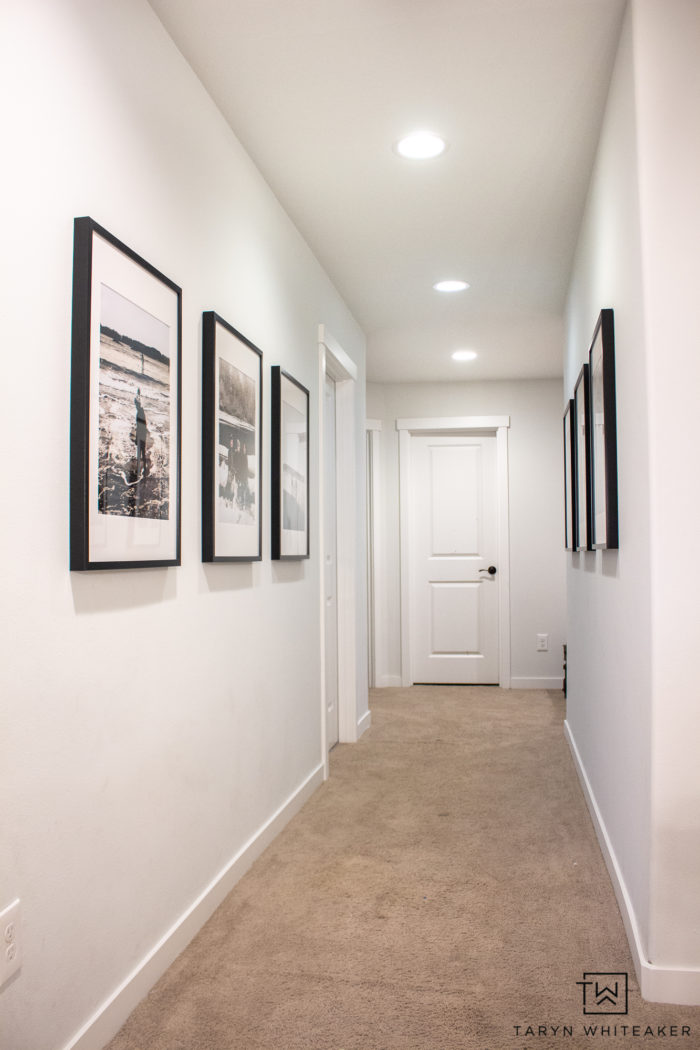 The nails go in really tight and at a great angle to insure they go into the drywall securely. It says each nail can hold up to 5 lbs, my pictures weigh 4 lbs (yes, I weighed them), and I used two nails. They feel secure and so far the nails haven't slipped at all.
You can also use this awesome Picture Hanging Kit from National Hardware to hanging your pictures if they don't have proper hanging gear on the back.
To finish off the look, I added some wireless sconces! These are AMAZING!
Here is a quick video of the install!

[adthrive-in-post-video-player video-id="ulanhPOU" upload-date="2020-12-28T17:22:26.000Z" name="DIY Hallway Gallery Wall " description="" player-type="default" override-embed="default"]
Black and White Gallery Wall
I am so glad I finally did something with this space! I love how it turned out. I feel like our house feels a lot more polished now that this space is done. It really is all about those little details that makes a home feel like it's all coming together!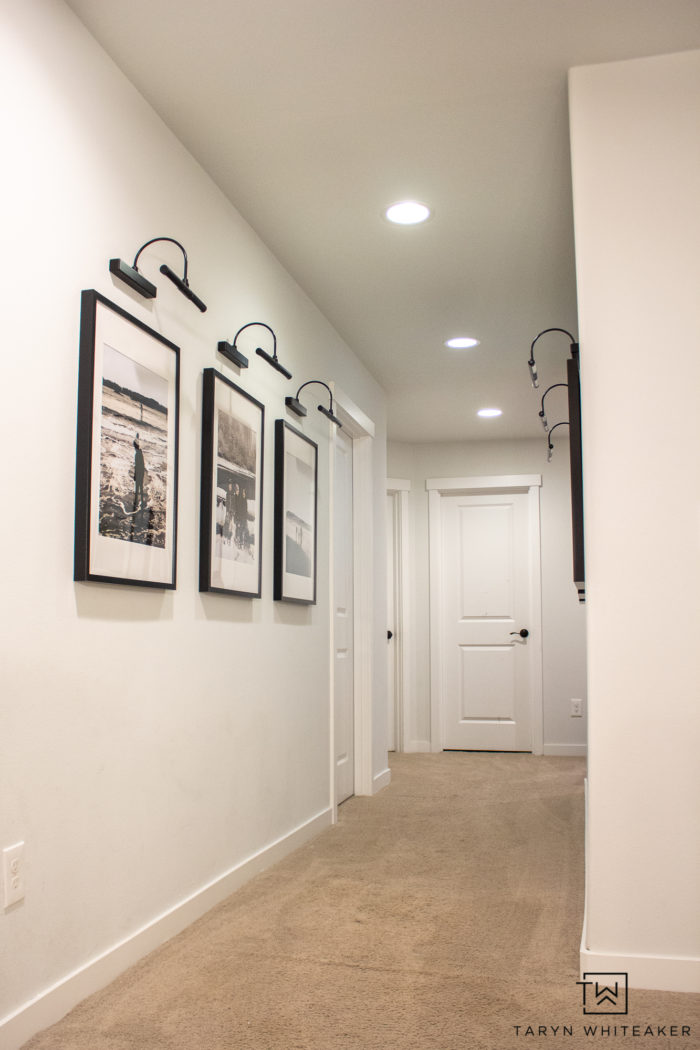 As I walk down this hallway I am reminded of so many wonderful moments with our kids. I really need to add even more photos around our home this years. Let's put it on the 2021 goal list!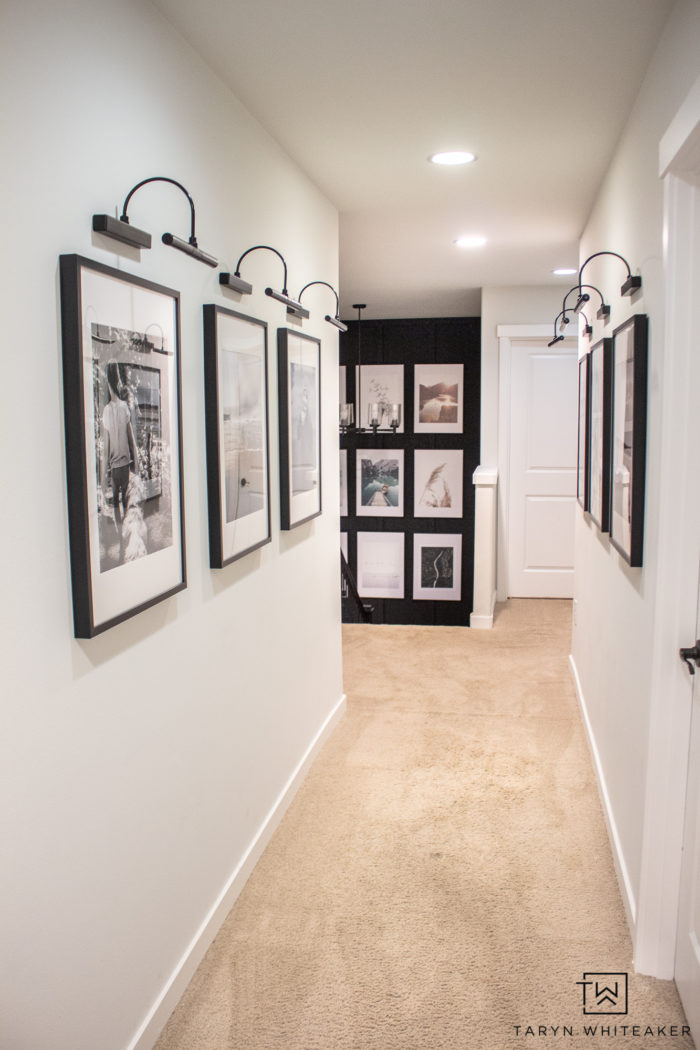 For more great hardware tips and tricks, head to National Hardware to see what new tools they offer!